Gmail Contextual Gadgets
Zoho Projects Gmail Contextual Gadget greatly accelerates user adoption by bringing the application directly to the user in context with their project work flow. In addition, it drastically improves productivity, saves lot of time and makes it much easier to see the benefits for your team.
Add tasks, post topics, file bugs and log hours in timesheet from Gmail
Log into your Google Mail. Click any email and at the bottom you can find Zoho Projects gadgets enabled for your Google Apps domain along with an array of options like New Task, New Forum, File a bug and Timesheet.

 Add a new task
Click New Task link
This opens the new task form
Type the task name, select tasklist name and choose task owners
Set start and end date using Advanced Options link (optional)
Click Add Task button
This creates a new task under the specified project. If you had selected the start and end dates then tasks are added along with the dates in Zoho Projects.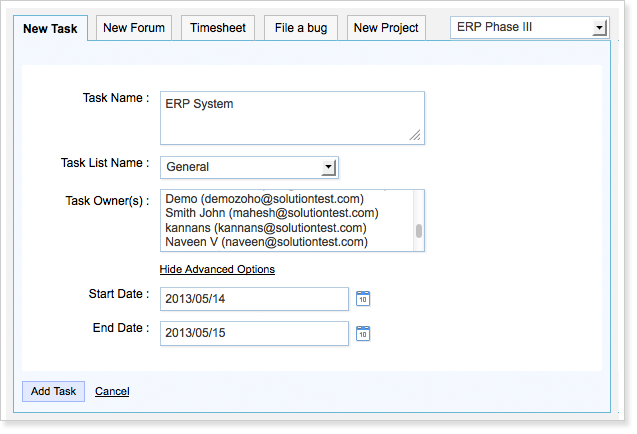 Post a new forum topic
Click New Forum link
This opens the new forum form
Type post title, category and type contents in content area
Click Add Forum button
This creates a new forum topic under the specified project in Zoho Projects.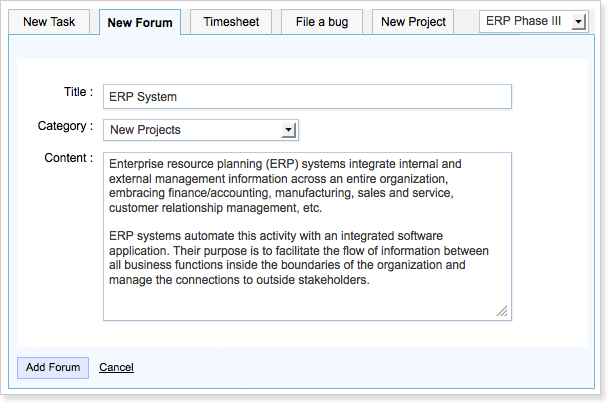 Log hours in timesheet
Click Timesheet link
This opens the new timesheet form
Select the task, specify the date and billable hours
Click Add Time button
This logs the time for that task under Timesheets of a project.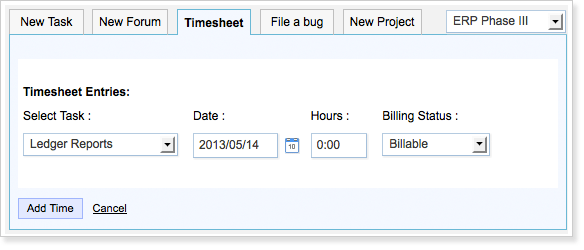 File a bug
Click File a Bug link
This opens the new file a bug form
Type the bug title, description, specify the date
Choose the severity and classification for the bug
Select the project for which the bug has to be filed
Click Submit button
This files a new bug from the gmail for the selected project.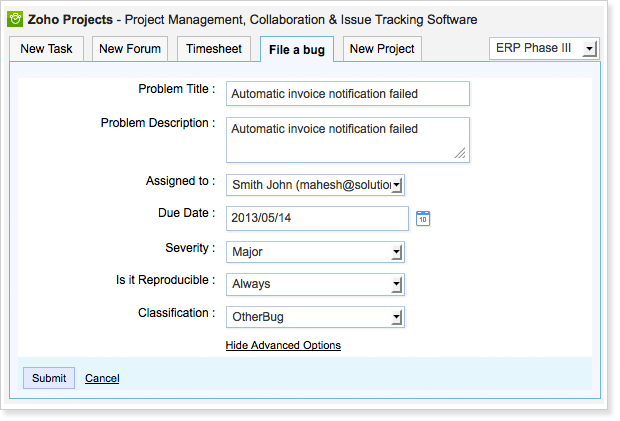 Create projects
Click New Project link
This opens the new project form
Type the project name and description
Select to add users for this project
Click Add Project button
This creates a new project from the gmail
 Disable contextual gadgets in Gmail
Log into the Google Apps domain and access the Dashboard
Click Organization and Users tab
Click the domain name listed on the left side of the page
Click Services link, displayed to the right side of Users tab
Look out for Zoho Projects in the list of services and click OFF button
Go to Gmail. Click any email to find the gadget disabled for all emails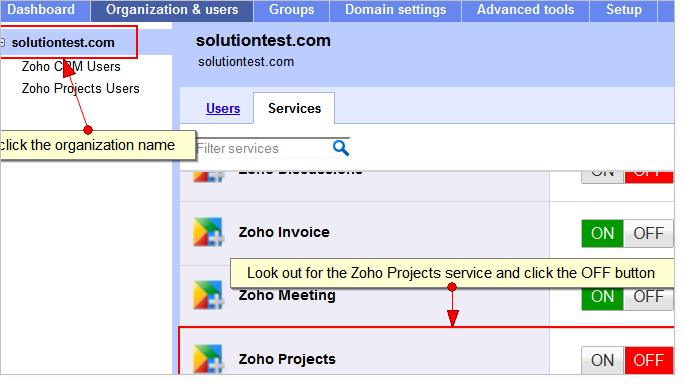 If you want to have the gadget enabled for certain users, follow the steps mentioned below.
Click Add Suborganization button, displayed on the right side of the page
Look out for the Zoho Projects service and click Override this setting link
Click ON button and then click Save changes button
Add the required users to the newly create sub-organization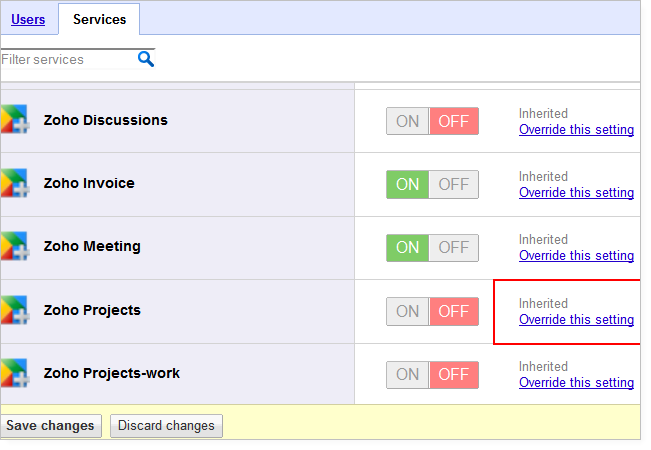 Now, instantly connect to Zoho Projects in Google Apps!
Related Topics