Resource utilization & Gantt charts
Gantt charts are visual representation of your open and closed tasks, tasklists and milestones of a project. In addition, you can select reports based on duration like current month, current year, etc and userbased reports are also supported. The Resource utilization chart accurately captures how your resources are being under, over or optimally utilized all from a single place.
Table of Contents
In Tasks and Milestones tab, select Tasks and then click Gantt View to view the gantt chart for tasks .

Note :
Now you can edit all your gantt charts. To edit a gantt chart just hover over the task bar and drag it in either direction to automatically update the dates. In addition, you can also drag the tail end of the chart too when the task is delayed. Furthermore, when you edit the parent tasks the related dates of child tasks will get automatically updated.
Open / closed tasks
By default a gantt view of all open tasks in a project for current month and for all users gets displayed. If you wish to view reports for a user or duration you can make use of the filter options. In addition, we've furnished option to take a print out of the report for future use.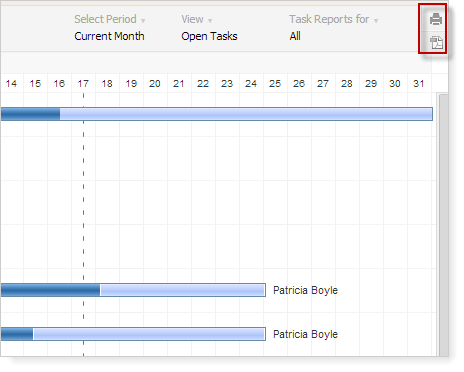 If you select Closed Tasks in the View option, gantt view of closed tasks is displayed based on planned and actual completed tasks.

Open / closed milestones
If you select Open Milestones or Closed Milestones in the View option, gantt view of open / closed milestones gets displayed based on complete and incomplete milestones.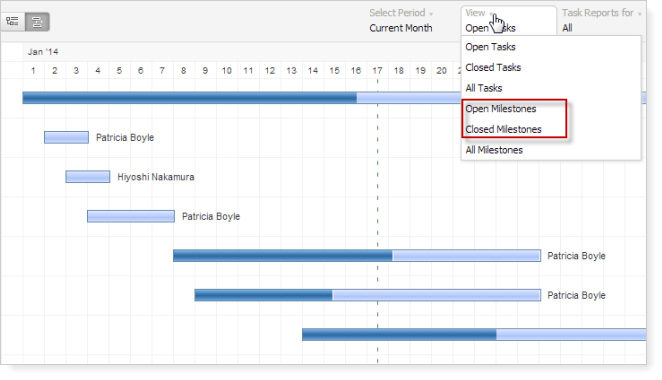 Userbased reports
To view reports based on users, click Task Reports for option and then select the required user.
Resource utilization chart
In Tasks and Milestones tab, click Resource Utilization from the submenu to view the resource utilization chart.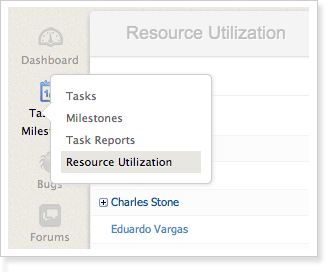 This displays resource allocation based on under, over and optimally allocated colored blocks. The following are the color codes:
Red - indicates over allocation of tasks
Green - indicates optimal allocation of tasks
Gray - indicates under allocation of tasks
You can click on a particular username and this displays the tasks allocated for that user along with the indications as under, over and optimal allocation of tasks.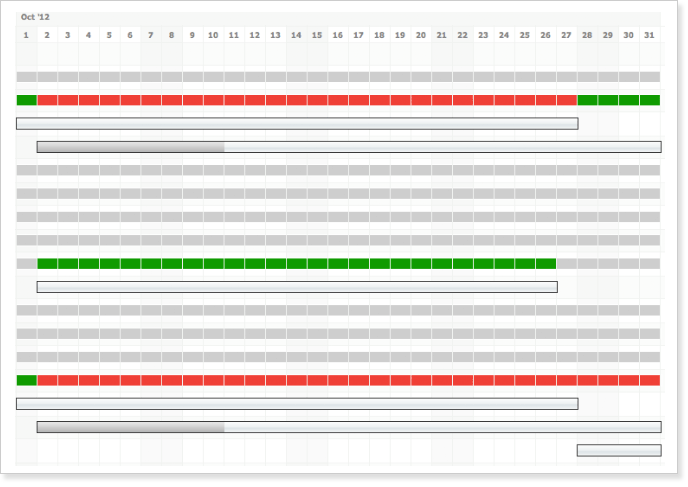 Tasks Report By Owner, By Milestones and By Priority
Task reports view provides a consolidated view of all the tasks in a project based on status, priority and owner.
In Tasks and Milestones tab, select Task Reports from the sub-menu to view the tasks report.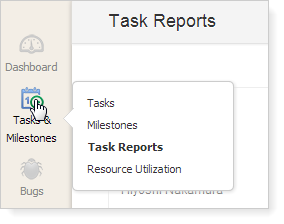 This displays a consolidated view of tasks and milestones based on task status like open / closed, priority and milestone. In addition, you can also get user based tasks report. Click on the individual link to display a task summary report based users / priority / status.
For Example: Click the task report of a particular user displays a summary report for that user.