Forums
If your team needs to communicate outside of the office, across vast distances, or with a lot of people, a forum is the perfect facilitator. With an online interactive forum, you can post a topic, discuss critical ideas and help retain knowledge in a central place. Any group project involves discussions, and unlike emails, all forum topics are available in a central location. Through forums, exchanging information with colleagues can make big ideas come alive.
Click to learn more about access privileges for Forums.
Benefits
Improve decision making through access to relevant knowledge.

Interact with team members scattered across the globe.

Escalate critical bugs and get a instant solutions from experts.

Tap the knowledge, skills, and ideas in your team from a single place.
Start a New Discussion
Open a new thread and post an idea so your team members can participate and share comments, or post a review process and check your team's opinion before implementation. If you want to generate timely solutions, Zoho Projects lets you create an online group chat anytime.
Post a Topic
Select the required project and then click Forums.
Click New Forum Post in the upper-right corner, to create a new forum post.
Enter the following information in the appropriate fields:  Title for your forum, type a brief on your title in the Content section, attach files, choose a Category, enable the Make it as sticky post or Make this as an announcement, and select the users whom you want to notify on the forum post. You can also post forums as a Q&A session.
Select a flag for the post. Posts can be Internal (only for project users) or External (for project and client users).
Click Save to post the forum.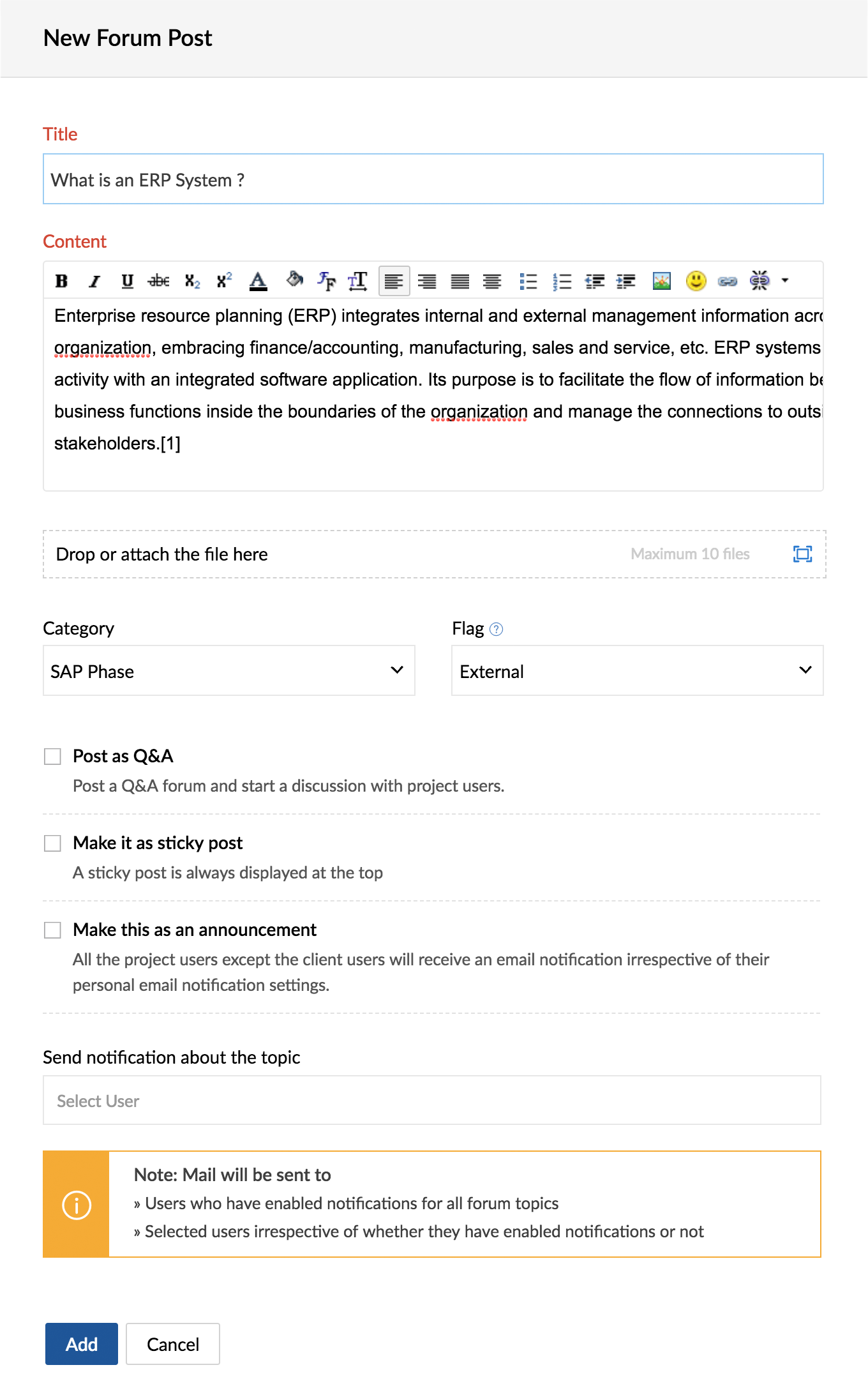 Q&A Forums
Q&A forums are ideal for people to ask question and have them resolved by other members of the project.
Check the Post as Q&A box and then click Add.
Post replies to Q&A forums as questions or answers. You can also add comments to the post.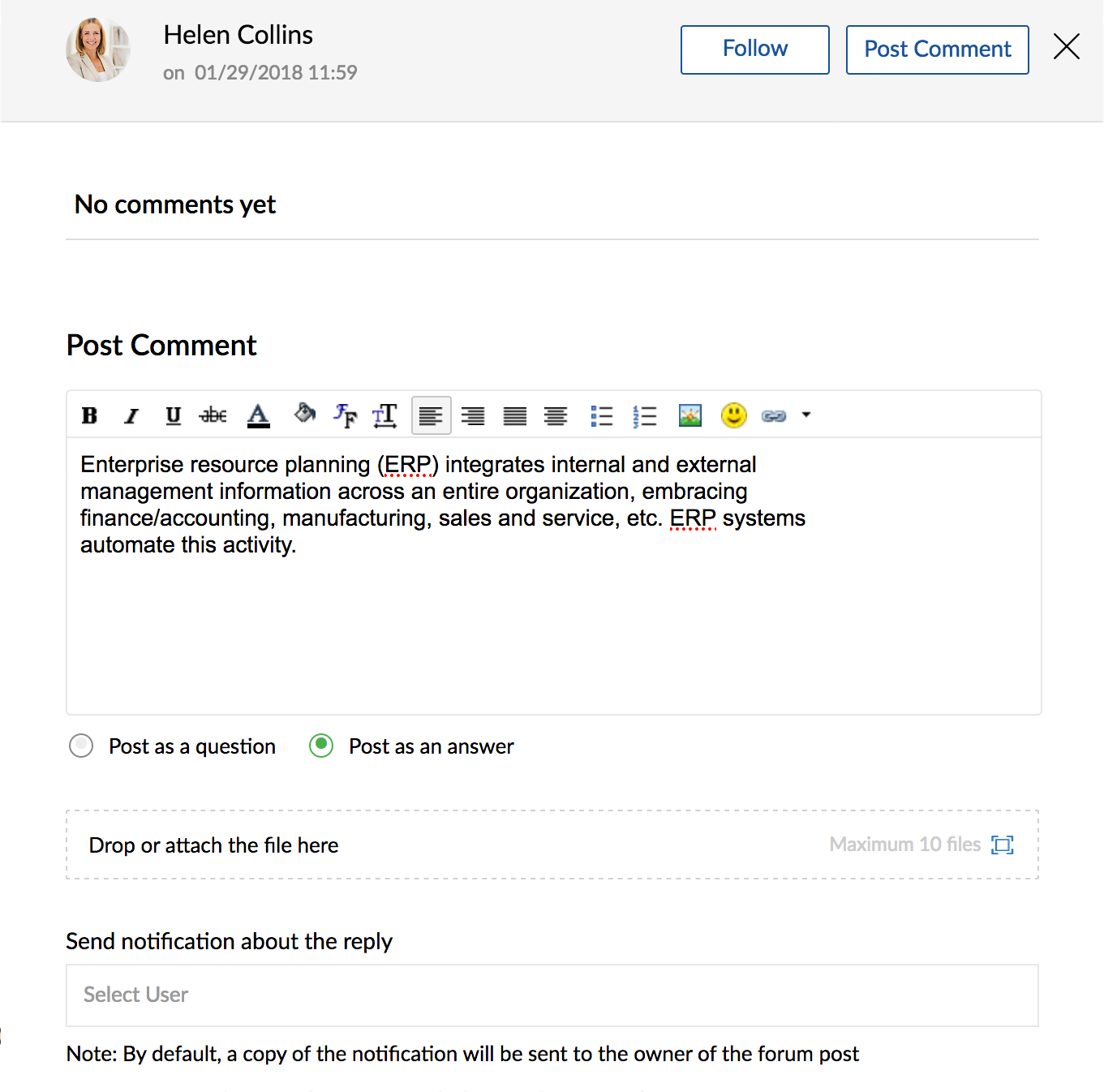 Threaded view groups replies to comments/questions together and retain the flow of the conversation.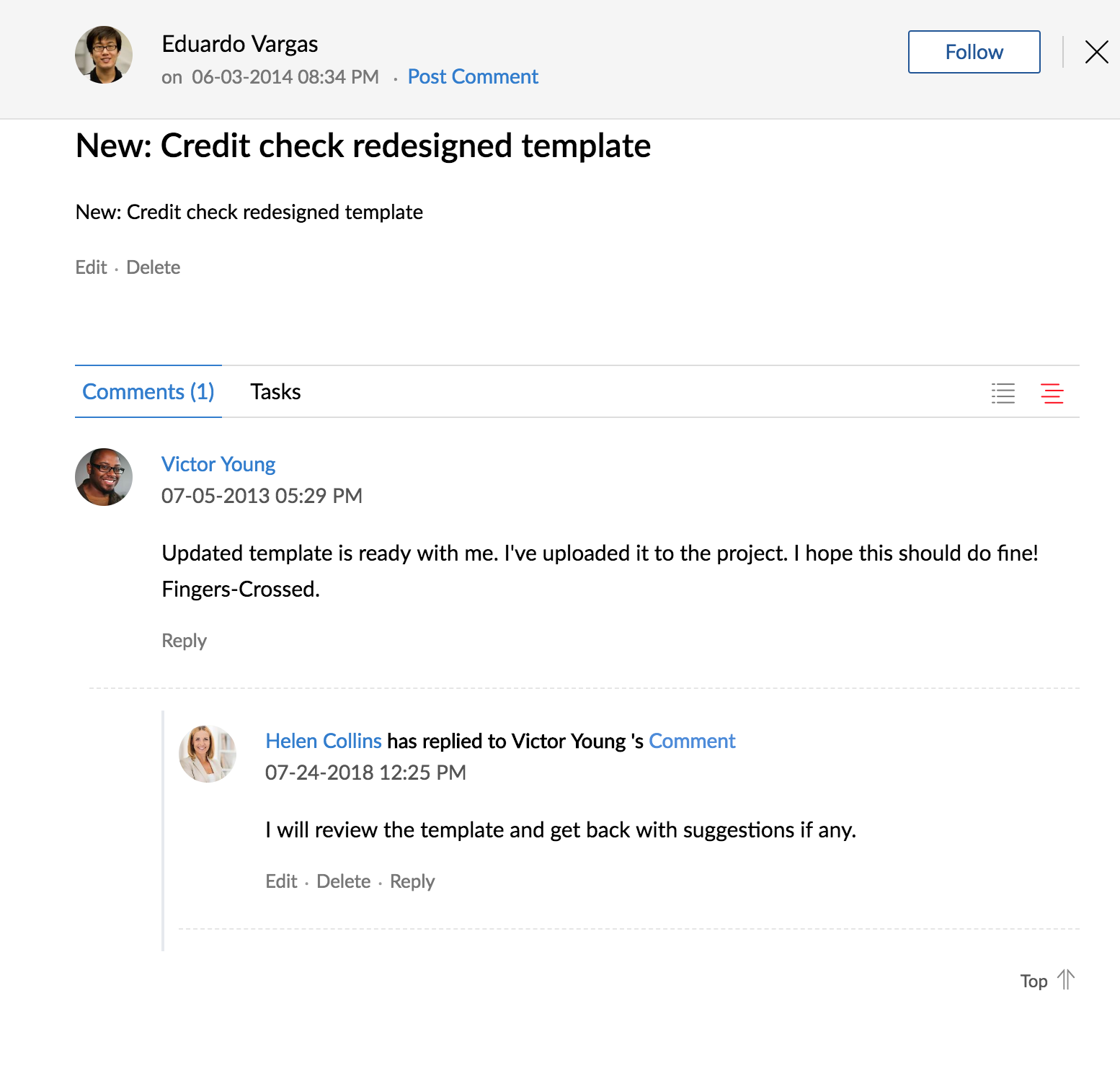 A new forum topic will posted and discussions can start right away. When you announce a forum post, all project users will be notified (client users will not be able to view announcements), whereas if you choose to make it a sticky post, it will only notify selected users. 
Edit/Delete a Topic
You can edit or delete the forum topic.
Click the Forums module and you can view all the forum topics that you have posted. 
Hover over a forum and the click  or .
Associated Tasks
You can associate forums to tasks from the task details page. All tasks that have a forum associated with them will appear under Tasks.
Engage Project Users
Post a forum topic and engage with users to share their ideas as comments. You can view the total number of replies, post a new reply, or update comments that you've posted. 
Post a Reply    
Click on a forum topic to open it.
Click Post Comment next to forum date. You will be taken to the comment section

You can also scorll down to the comment section.

Enter your comments and click Submit.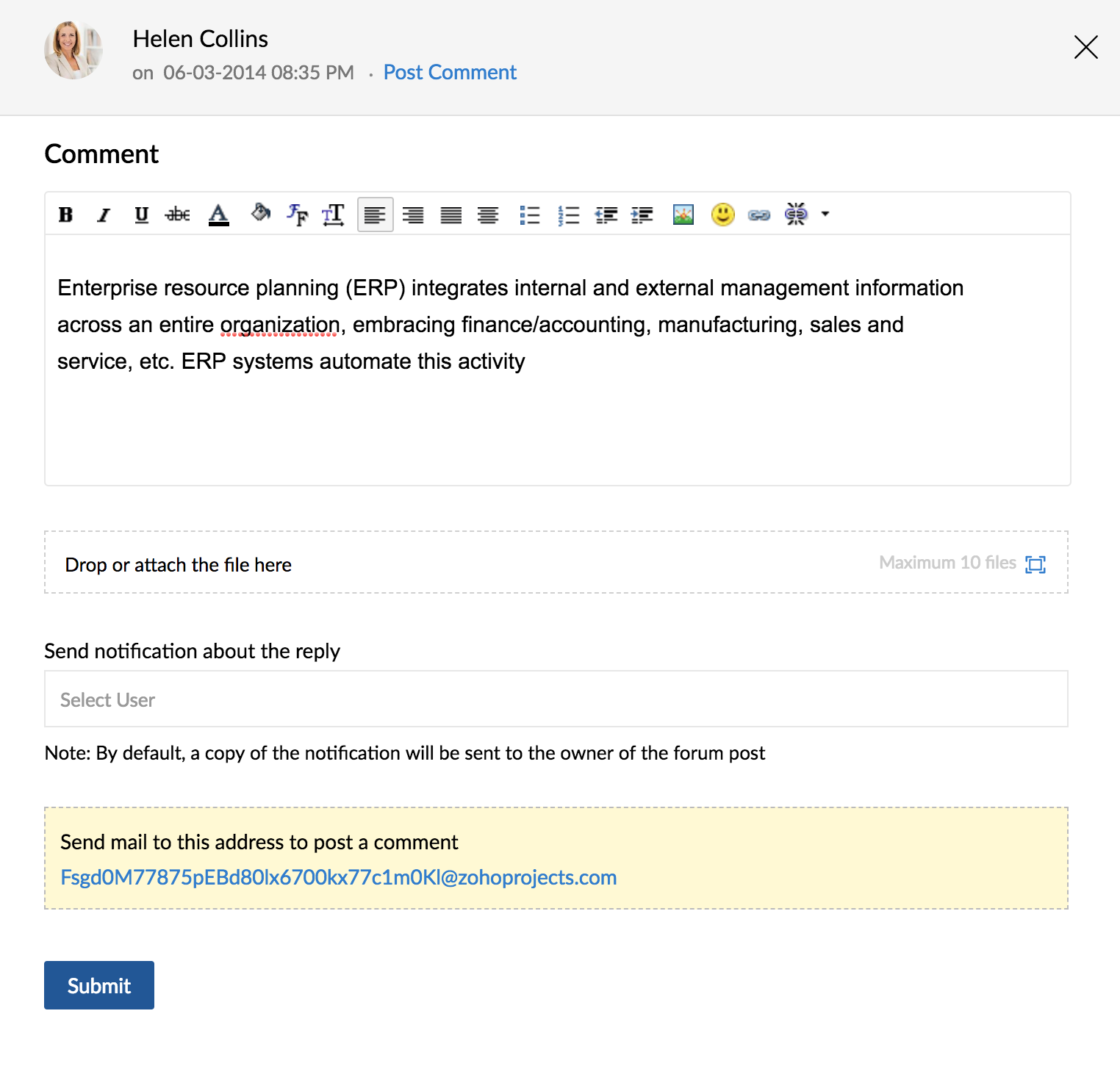 Respond directly to a comment by clicking Reply button below it.
View and Edit/Delete Replies
Select a forum post and scroll down to view the replies.
Click Edit to make changes.
Click Delete to delete your comment.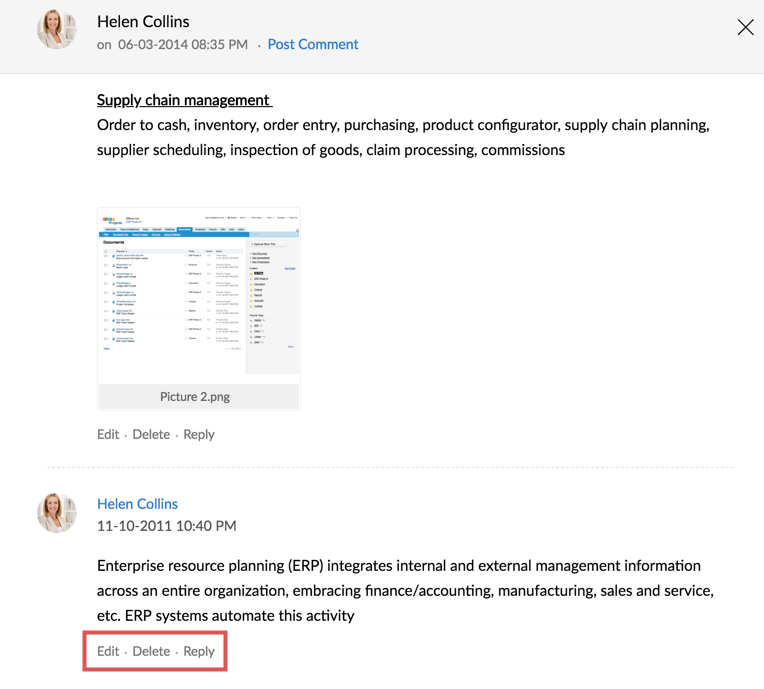 Organize Topic Across Categories
You can organize forum topics within their categories, making it easier to sort, view, and reply to forum posts.
Add a Forum Category
Select the required project and then click Forums.
Scroll through the right panel and then click the Add Category.
To edit or delete categories, hover over the required category and click or .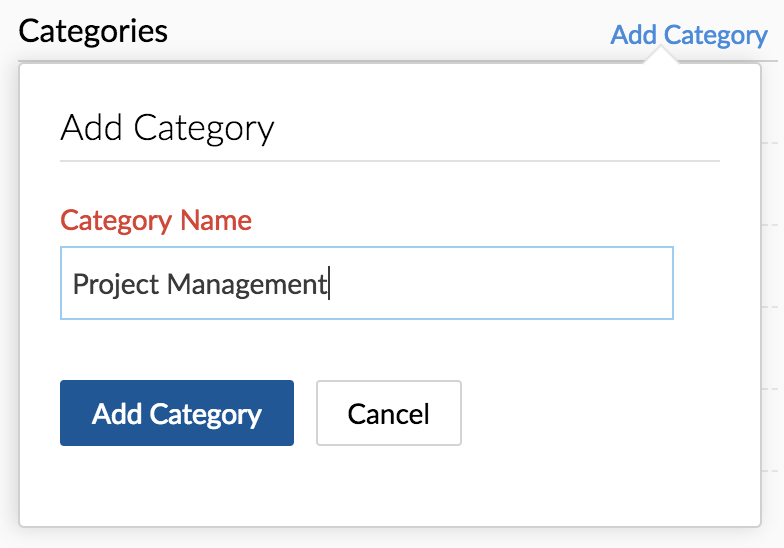 Follow/Unfollow Topics
Receive instant notification on a particular topic using the Follow option. However, this option is enabled only when you do not participate in the forum discussions.
Select the required project and click Forums.
Click Follow in the upper-right corner to watch a topic (or) click Unfollow to stop watching the forum topic.
Notifications will be sent to you on the latest updates for the selected forum topic.