Create Pages
Create pages in Zoho Projects to collaborate within your team.
 Create a page
In Projects, select the required project and then click Pages. Click the Create new page on the Right Panel and create contents in a matter of minutes using the WYSIWYG visual editor. You can create a new web page or import a page or import a Google document.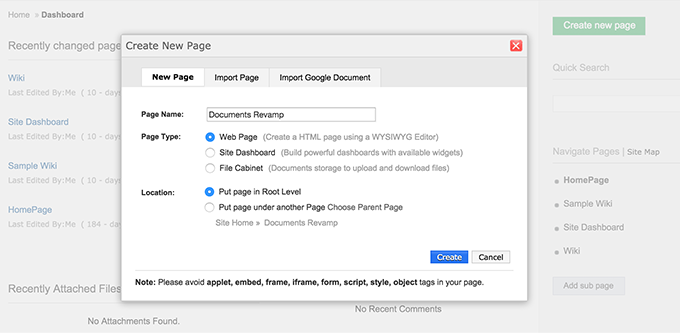 Post comments
Of course, no page is complete without posting a comment as it involves real time collaboration among the group. Click open the required web page and type your comments and click Post a comment.

 Attachment details
For your web pages, you'll have to add various kinds of images, screen captures, video clips, etc. Also you would like to know the attachment details for a page. Click Attachments or click Attach New File, to attach files. You can also attach files from Google Docs.

More about Pages
In Pages, you can also view your most recently added and modified pages, files and comments.
Navigation Panel lists down the wiki pages in a hierarchical folder fashion.
Navigation Panel also includes :
    Create new Page - Create a page in matter of minutes
    Quick Search - Fetches pages based on your search query
    Add Sub Page - Add a sub page in a minute
Our SiteMap helps to build hierarchies of pages in a folder fashion. Only Administrators can reorder pages in the sitemap.