Add Google Apps Users
Zoho Projects provides a friendly wizard like interface so that you can quickly create a project, and import Google Apps users into Zoho Projects and start collaborating with your team. These Google Apps wizard screens are displayed only once during the first import after integration. The subsequent import of Google Apps users in to Zoho Projects are done using our inbuilt import screens.
Create Projects and Add Google Apps Users :
Step 1 : In the Google Apps wizard's text area type in your project name and click Create Project Now. This creates a new project in Zoho Projects. Now start importing users from your Google Apps domain. 
Step 2 : Now, click the Import Users link. This displays all the users belonging to your Google Apps domain. Select the required users with their roles and click Import Users Now. This automatically imports users from your Google Apps domain into Zoho Projects.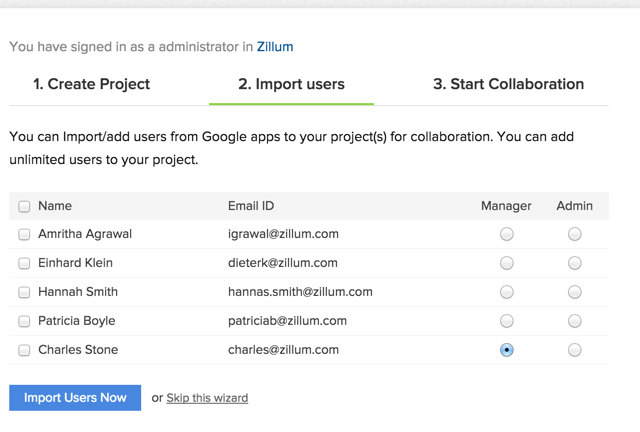 Step 3 : Click the Start Collaboration link and this displays a welcome wizard which lists the features supported for Google Apps Users and a 2 minutes video to get started with Google Apps Integration.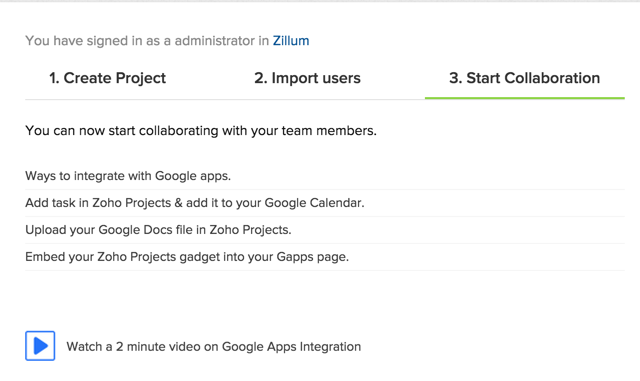 Related Topics