Bug Tracker
1. Is bug tracking module available as part of free plan?
No. Bug Tracker is not available as part of our free plan. You need to upgrade to a paid plan. For more details see Plans and Pricing.
Note: In addition, you can also take a look to know the benefits of the new Bug Tracking.
2. What is a Business Rule? How can I define business rules for my project?
Business Rule is a kind of filter that you will apply to all your bugs. You can define Business Rules that will enable you to organize the bugs and perform action such as changing the severity, status, module, classification and assigning the bug to a user. Business Rule will be triggered when the bug is created and whenever there is an update in that bug.
For example, When a particular bug classification is feature request/ enhancement, then "is it reproducible" has to be updated to Not Applicable there. This can be defined as follows
Click Add Rule. Give the name and description for the understanding and future reference
In Define Criteria section, Give the criteria (using More Criteria link you can give multiple criteria)
In Actions, Choose is it Reproducible and its value as Not Applicable
Save the Rule.
Now, Whenever a bug classification is updated to "Feature(New)" or "Enhancement", "Is it Reproducible" will be updated to " Not Applicable ".
In a similar way, you can configure your own set of business rule as per your project needs.
3. Is there an option to create modules?
Yes. The portal administrator is the only person who can create a module for your bug tracking module.
To create a module :
Login as Project Portal Administrator
Select the Bug Settings tab.
Click Create Modules link
In this click the Add Module link present at the bottom.
A small dialog box will open. Here typein your module name and save it.

In addition, we've provided options to edit / delete your modules.
4. How to configure issue status and workflow for my bug tracker?
Each issue has a status, which indicates the development stage of the issue. The following are the default statuses:
To add a client user :
Open - All issues which are posted newly will be assigned the Open status by default.
In progress - The owner of the issue is working on the issue.
To be tested - The issue is to be tested.
Closed - Resolved and Tested issues, fixes for which are brought into runtime.
Reopen - Closed/To be tested issues are reopened. From reopened status, the issue can be moved to In progress or Resolved or Closed.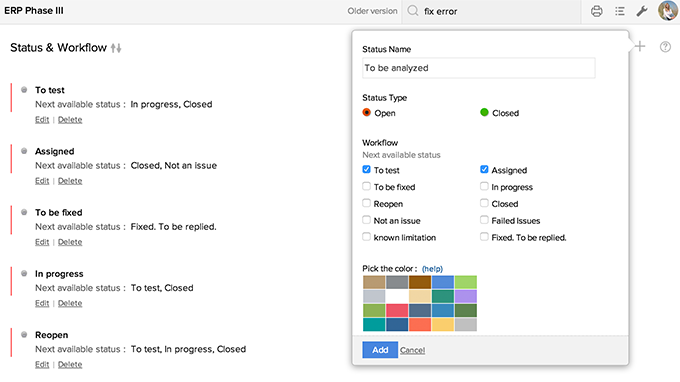 You can modify the statuses as per your requirement. If you want to change the default status, click the edit link corresponding to the status for which you want to set as a default one. Also you can add your own statuses using "Add Status" link present at the bottom. In addition, you can reorder the status using the drag and drop option. Further, you can delete the existing statuses (Default status cannot be deleted).
5. Can I associate a bug with an existing milestone?
Yes. You can associate a bug to an existing milestone when submitting an issue. The following screen capture explains how to associate an bug with a milestone.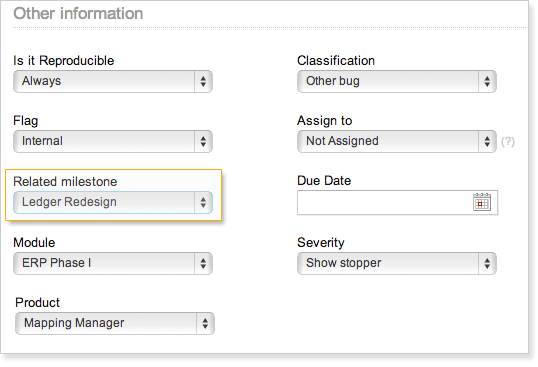 6. Is there a consolidated view to see the bugs filed by me / assigned for me?
Yes. My Bugs view provides a consolidated view of bugs filed by you or assigned to you for a project.
Go to Home tab and click My Bugs tab
This lists all the bugs reported by me or assigned to me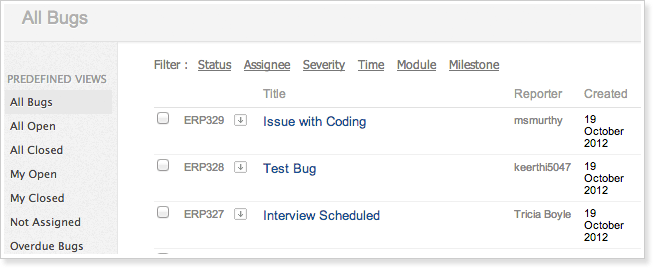 7. Is it possible for the client users to change the status of the bugs?
Yes. The client user will be able to change the status only when he/she is assigned to the bug.
To assign the bug to the client user, two conditions must be met.
1. The Assign external bugs to client users option must be enabled: Once you are in the Bugs module, click Bug Settings --> Client Permission menu and enable this option.
2. The bug's flag must be external: You will be able to see the list of client users while filing the bug only when External flag option is opted.
8. Is there a way to associate a bug/defect to a task?
Currently it is not possible to associate a bug to a task. A bug can only be associated with a milestone.
9. Can I change the custom fields order, while submitting a bug?
No, you cannot change the order of custom fields.