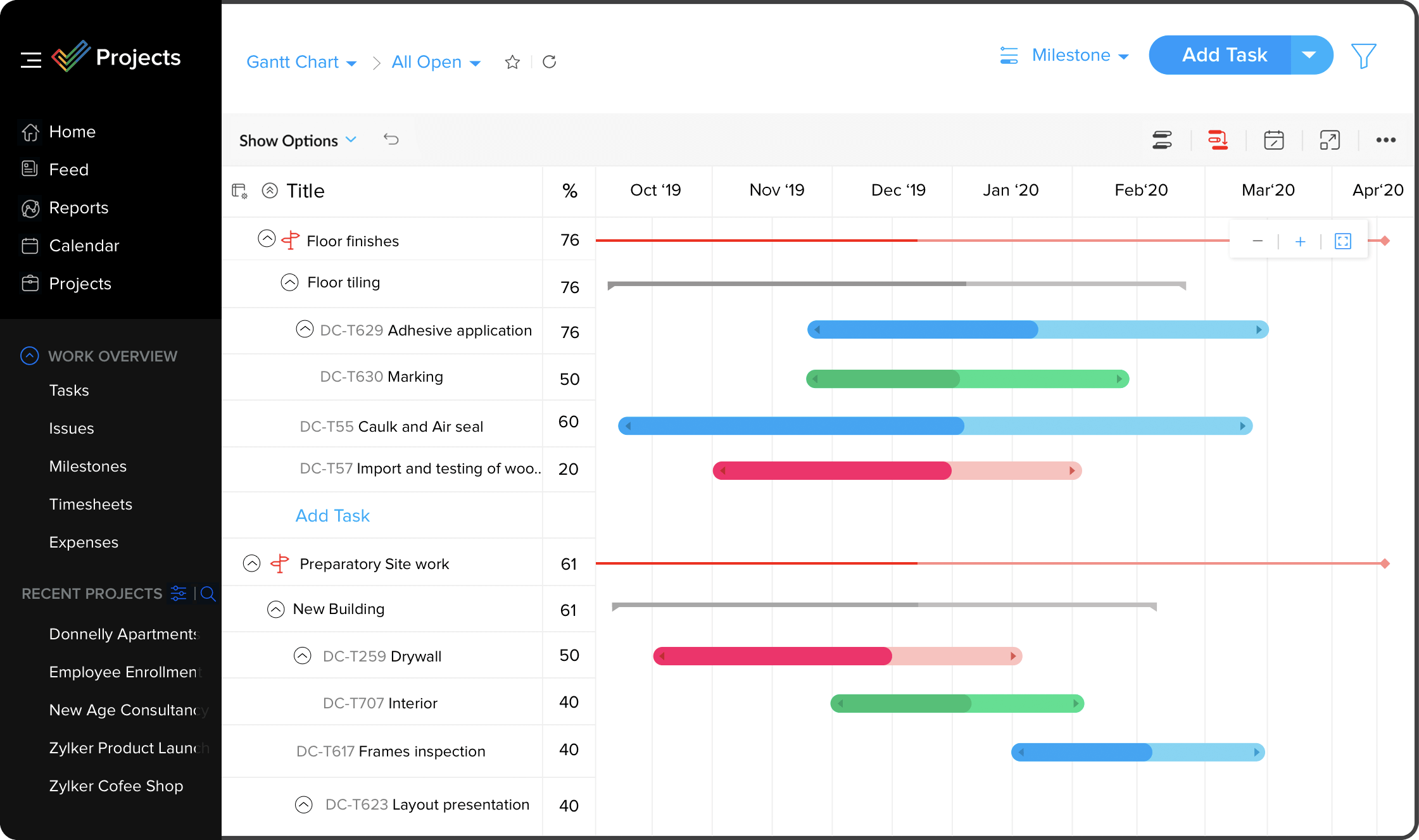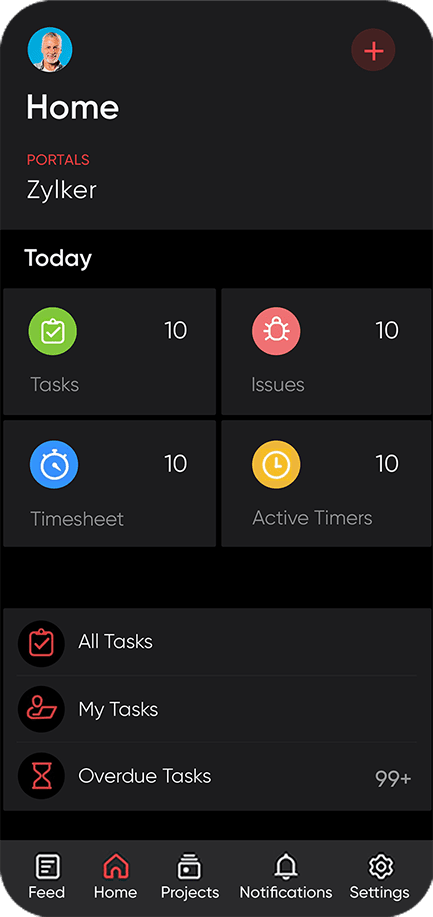 Trusted by great brands
The TATA Chemicals Limited

The stanford university

Dell

ancora education

vodafone

bigbasket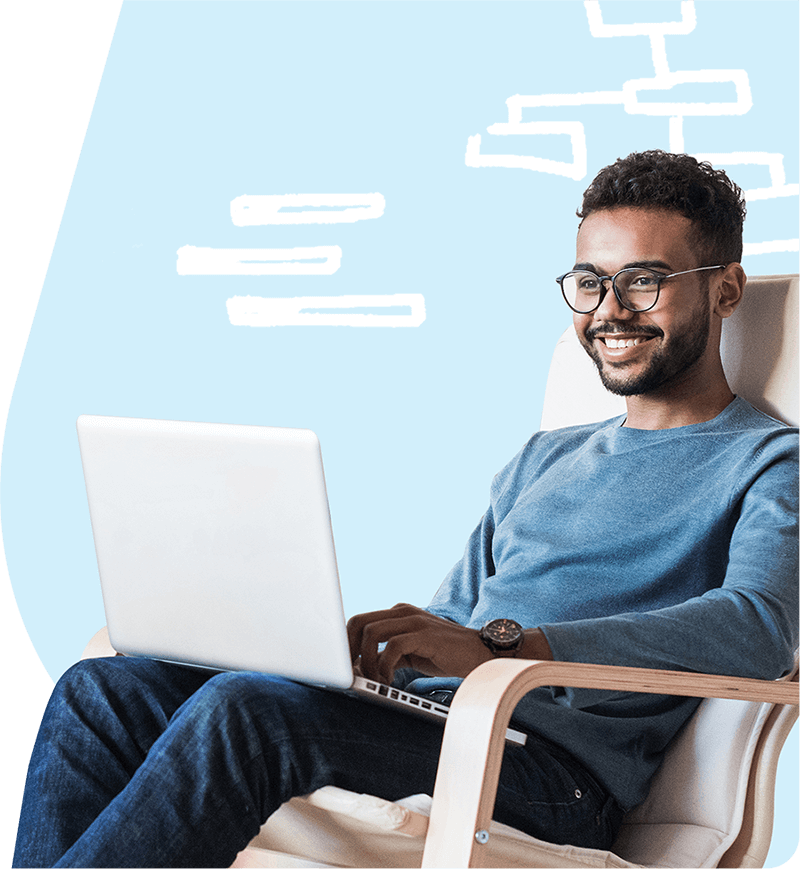 Get work done on time, all the time!
Plan your project activities, assign work, manage resources and collaborate with your team like never before.
Gantt Charts
Tasks
Timesheets
Customize
Intuitive UI
Our easy-to-use interface helps you find your way around the product easily with little to no learning curve. Moreover, views are more colorful than ever yet easy on the eyes. Switch between the different color themes or the dark and light modes to suit your mood.
Learn more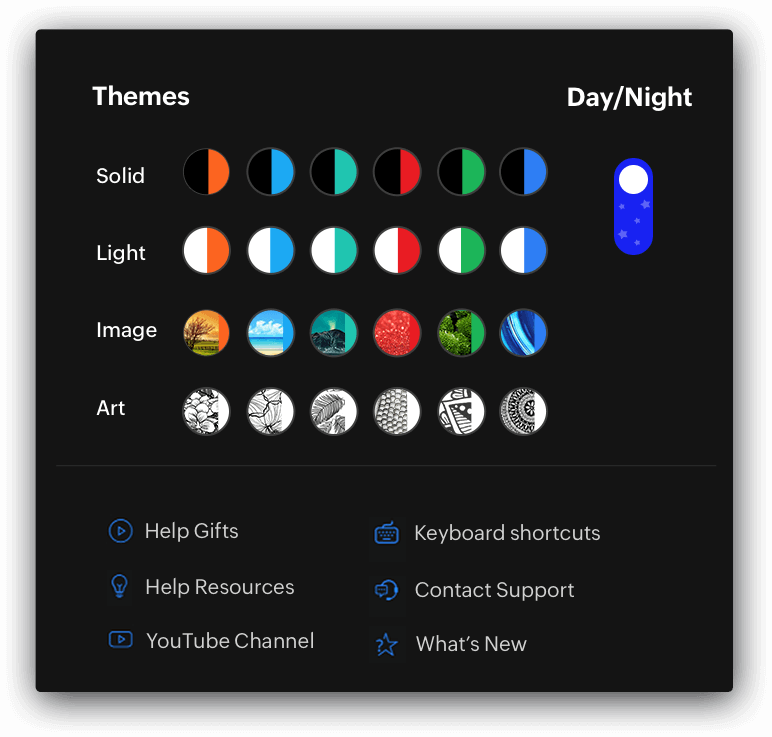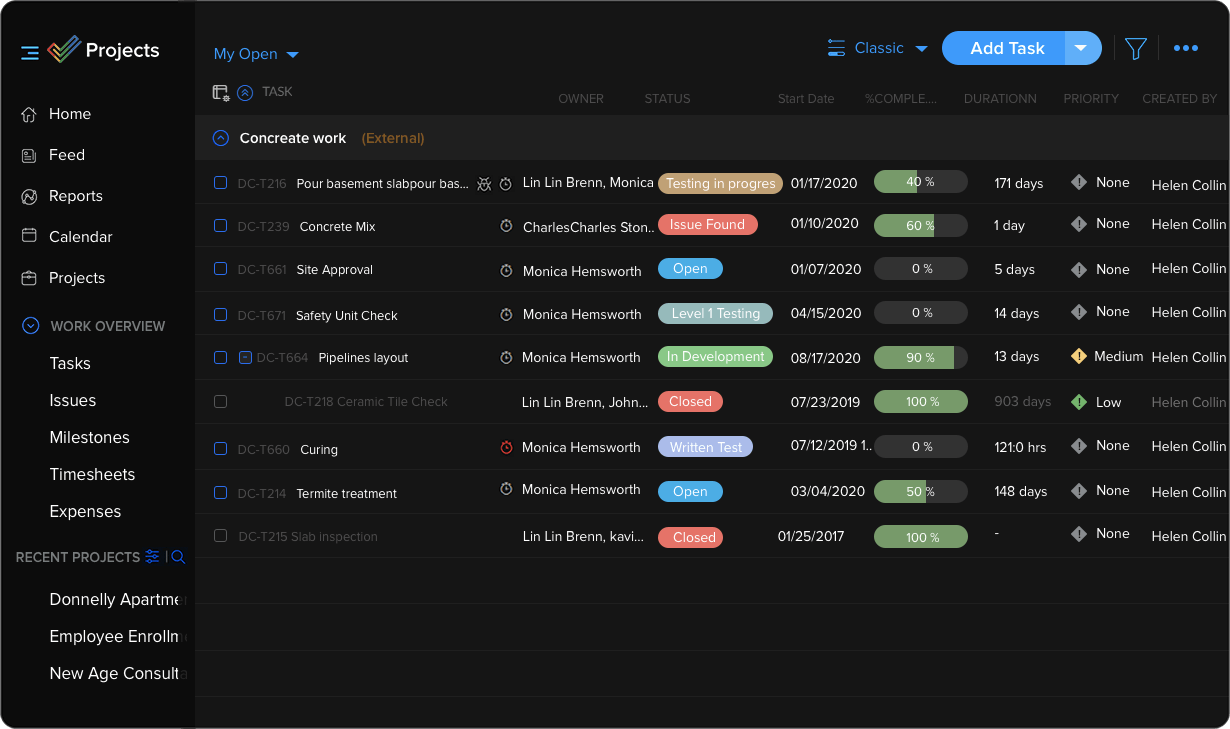 Integrate with your favorite apps
Zoho Projects gives you the added advantage of several other Zoho apps and third party apps through seamless integrations.
Projects

CRM

Invoice

Docs

GitHub

Google

Zapier

Slack
Turn every project into a success story
Read how our customers implemented effective project management in their organizations with Zoho Projects.
I believe that Zoho Projects is the kind of tool that every company needs to get, because its cloud services and multi-platform support makes it the best management tool ever.

Our presence is now completely virtual. We save a ton of money using Zoho Projects and appreciate that Zoho continues to evolve and improve.

We found Zoho Projects the best fit, as we got everything we were looking for at a very affordable price.
Mobile projects for mobile teams
Zoho Projects gives you the added advantage of several other Zoho apps and third party apps through seamless integrations.
Learn More
Project Management Software Decoded
1. What is project management software?

Project management software is the means to manage your projects effectively, right from project planning up to execution. It helps in organizing work while dealing with different factors like time, money, resources, clients, stakeholders, and more. There are many online project management tools and software options available to help you manage everyday work.

2. Why do businesses need project management software?

Online project management tool helps businesses meet their goals while making sure that their project doesn't exceed the planned constraints of time and money. It keeps all the necessary stakeholders on the same page and helps identify bottlenecks by tracking real time progress. It also provides a way to measure your performance efficiently and take swift recovery actions when needed.

3. Who uses project management software?

From a student using online project management software to track their academic projects to an enterprise managing their entire fleet of operations using cloud based project management software, it is used by anyone and everyone who has need of it. Individuals, small teams, small to medium businesses, enterprise organizations, project managers—there's no limit to who can benefit from using project management software.

4. Key features of project management software

Some of the key features of online project management software are the ability to plan projects by creating a work breakdown structure, track and manage tasks and issues, visualize progress using Gantt charts, identify bottlenecks and delays, manage and forecast budgets, and analyze reports to take informed decisions. Some other features are task automation, SLAs, time tracking, resource management, real-time collaboration, and document management.

5. How does project management software work?

Online project management tool keeps everyone on the team organized and accountable. It has good file organization and storage capabilities to carry out the planning stage without a hitch. It helps create a project plan, allocate time, resources and budget to the split-up work items and track the real-time progress of the project.

6. What makes a good project management software?

A good project management software is one which is intuitive, user-friendly and easily integrates with your existing work ecosystem. It should also fit within your budget and address your primary needs—be it issue management or just plain collaboration. Data security and customer support are other important factors to be considered.

7. What are the different types of project management software?

Project management tools can range from free project management software to enterprise project management tools. The main classification to be considered is if you prefer cloud based project management or an on-premise system. Apart from this, depending on the project management methodology you follow, you may choose a waterfall based tool or an agile project management tool. There are also systems that cater to specific industries like construction, education, IT and more.

8. How do I choose a project management tool?

Lay out your needs, requirements and budget first before delving into the type of project management software you want. It can be cloud based project management tool, project planning software or even a simple task planner. Narrow down your options using these factors and opt for a trial of these tools. Choose the one that fits your organizational needs and is easy to adopt and implement!

9. Benefits of using a project management software

The benefits of using online project management software include tracking work in real-time, establishing roles and responsibilities, using mobile applications to work from anywhere and anytime, instant collaboration, efficient resource management, automation to identify bottlenecks, report generation and analysis, scalability, security, and customization.

10. What is the best free project management software?

Zoho Projects! Yes, that's right, we take pride in being a free project management tool that doesn't compromise on quality and functionality. This is more than just a to-do list. With just the free version, you can break down your project activities, allocate resources, and schedule your work items using the Gantt chart. We also offer free trials to all our paid editions.
We keep moving forward! As Zoho Projects turns 15, let's look back at our journey so far. Learn more