2006

2007

Supported 11 new languages

Export project data in xls,csv

2008

Introduced Project templates

Capability to set Dependency

2009

Launched Projects 2.0

Google apps integrations

Zoho Projects API

2010

Launched Bugtracker

Integrated with Zoho Wiki

2011

Launched Projects 3.0

Integrated with Zoho CRM

Resource utilization chart

Task reminder/recurring

Weekly timesheets

2012

Zoho Projects native mobile app

Integrated with Dropbox

Task Duration

2013

Launched Projects 4.0

Integrated with Zoho Analytics

Google Chrome Extension

2014

Timesheet Approvals

Gantt chart enhancements

2015

Launched Projects 5.0

Global reports and Gantt charts access

Associate bugs with a task

Hashtag bug comments and status

Affected Milestone and Release Milestone for bugs

2016

Global timers

Project Custom Fields in Rest API

Planned vs Actual Reports

Slack Integration

Export Users

2017

Launched Projects 6.0

Project Templates

Office 365 Integration

Task Reports

2018

Kanban View

Quick access projects

Task Roll-Up

Critical Path

Blueprint

2019

Timesheet

Zoho Meeting Integration

Global Reports

Field-Level Permissions

Zendesk Integration

2020

Custom views

Tags

Currency

Zoho Expense Integration

Customizable Timesheets

2021

Launched Projects 7.0

Issue Kanban

Flexible Work Hours

Webhooks

Workflow Rules

Read a detailed account of the evolution of Zoho Projects here.
We couldn't have done it without you!
The seven versions we've released so far are a testament to how much you've helped us grow. Your support and feedback is what motivates us. This celebration wouldn't be complete without your encouraging words over the years.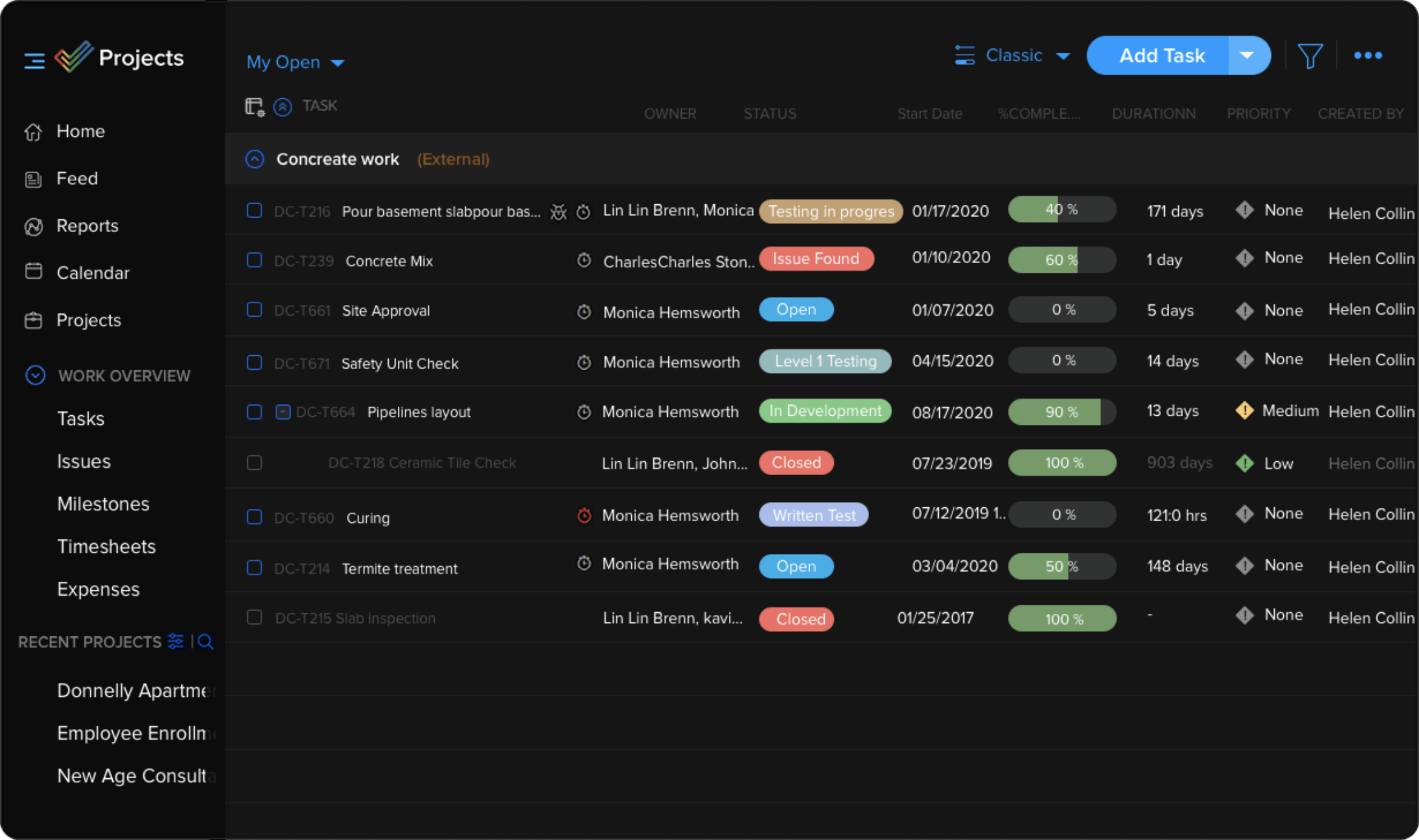 I believe that Zoho Projects is the kind of tool that every company needs to get, because its cloud services and multi-platform support makes it the best management tool ever.

Victor Navarro

MVA Engineering

Our presence is now completely virtual. We save a ton of money using Zoho Projects and appreciate that Zoho continues to evolve and improve.

Dr.Steven Goodwin

TurningWest

We found Zoho Projects the best fit, as we got everything we were looking for at a very affordable price.

Rakesh Nautiyal

Sunnyland Tours