Goals
Goals are measured ideals for achieving desired results. They serve as targets for performance and are essential for determining employee efforts. An ideal goal should be SMART - Specific, Measurable, Achievable, Realistic, and Time-based. Let us see how goals can be added, accessed and tracked for an employee's performance evaluation. 
From your home page, go to Performance > Team Mates
Under Peers view, click the employee's name
Go to the Goals tab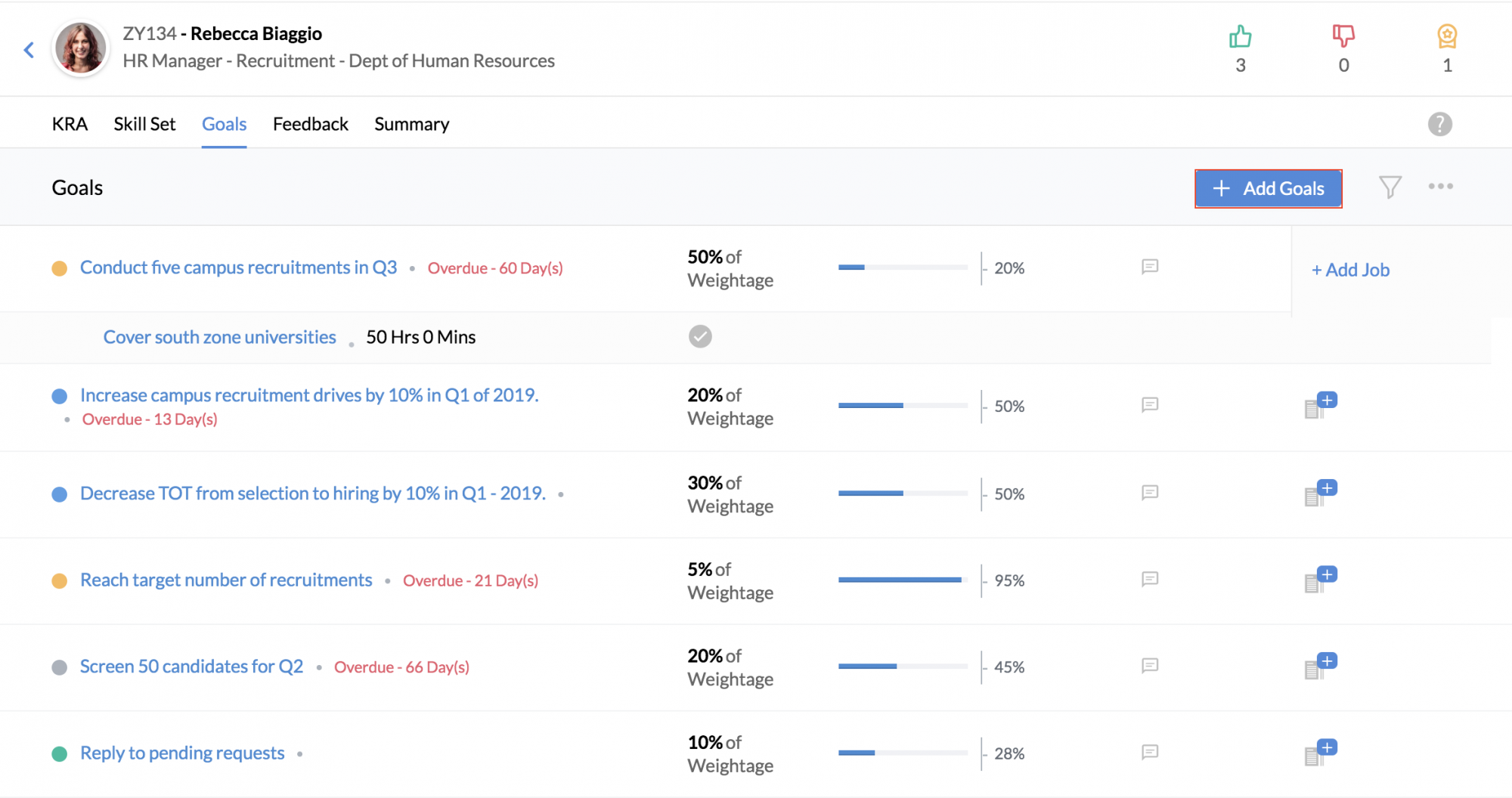 Click + Add Goals
Enter the required details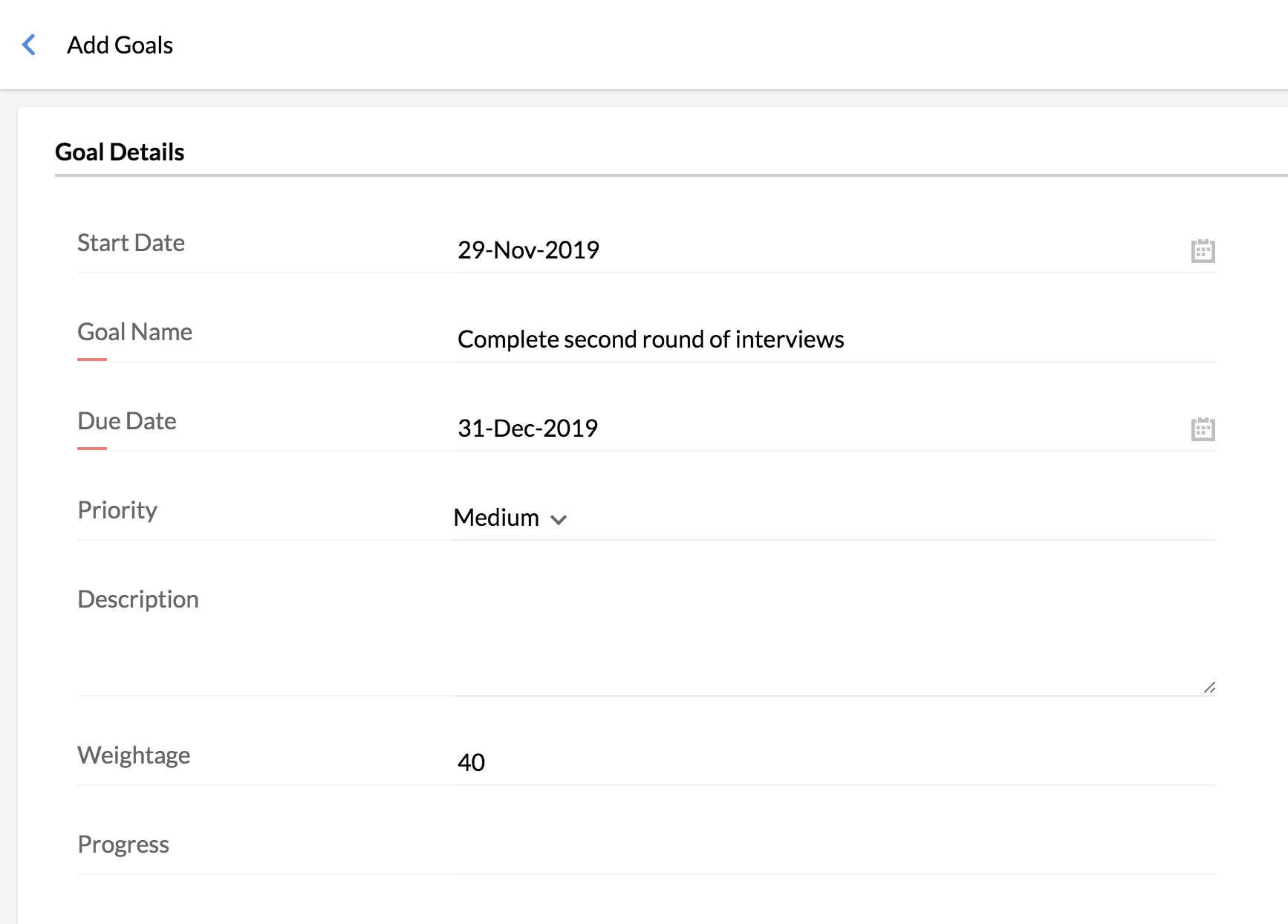 Comments can also be added to the goal. To edit or delete the goal, simply click the pencil or the trash icon respectively. 
Goals can also be added by employees by going to Self Service > Goals > + Add Goals. 
Permissions are typically enabled for Reporting Managers to access the Goals of their reportees. If you want a mentor also to access the goals, you can assign special permissions for them. In your employee form you can create a lookup field called Mentor and assign permissions for this field. Follow the steps given below to do this.
From your home page, go to Performance > Settings > General Settings
Under Goals Access, select the form field that defines for whom you want to give access

The field Mentor is a lookup field, which will have the values imported from the Employee form and the Employee ID field.

Under Permission, select the type of permission that you would like to give
Click Submit
Note: In the Employee form of each employee, the field 'Mentor' should be filled with the respective Mentor's name.
Depending on the permission that you have set, the Mentor who is chosen in the Employee form for each employee form will have access to the goals of the employee. 
Both new jobs and existing jobs can be associated with goals. 
To associate a job to a goal,
Go to the respective goal to which you want to associate a job.
Click the add job icon.

Click Add Jobs if you want to create a new job and associate it to the goal. Click on existing jobs to associate them to the goal.

By doing this, you can track the number of hours worked on each goal.
Once jobs have been added and associated with a goal, the job's estimated and logged hours will also be displayed below the job.
Goals can be archived in Zoho People, meaning they can be made in-active when not in need. If a company wants their employees to concentrate on certain goals for the time being, they can choose to archive specific goals temporarily. Archived goals are not considered for appraisal.
To archive a specific goal:
Go to Performance > My Review
Click the 3 dot button next to the goal you wish to archive
Select Archive​
​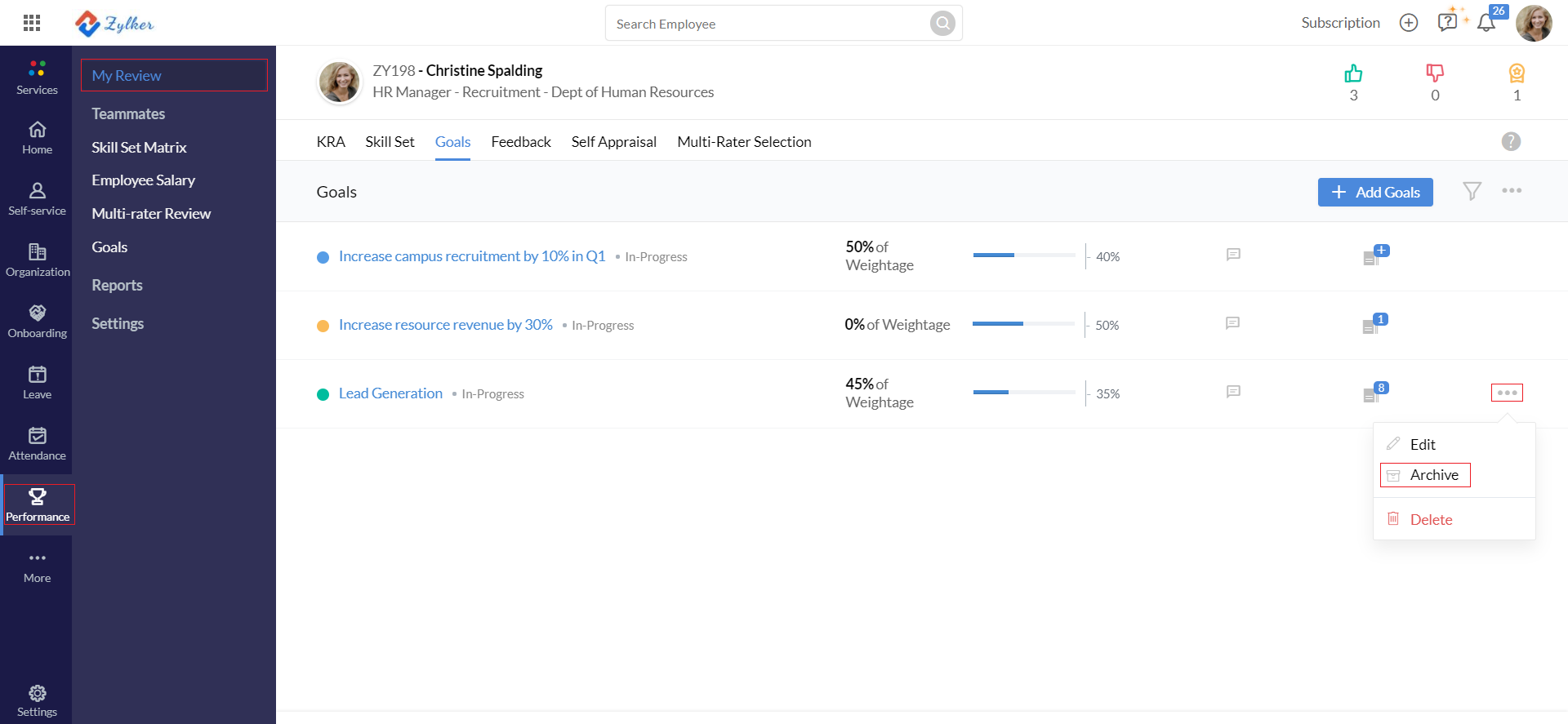 To unarchive goals or to view list of archived goals
Go to Performance > My Review
Click the 3 dot options button and select Archived List
Select the goal you wish to unarchive
Click Unarchive
​


Note: Goals cannot be edited when it is Archived. Multiple gaols cannot be archived at once. However, archived goals can all be unarchived at once.