Maintaining employee's health information
You can record and maintain employee's health information using the Employee health status form in Zoho People. The form collects data from a simple survey to record employees' and their family's health status.The survey contains three options, that are categorized into default categories.
..
Why is it useful?
When pandemics like the Covid- 19 and other diseases arise, and when employees resume to work after a long sick leave or after working from their homes, a simple survey to record employee's health information is useful to know and support the employee's health condition.
..
How it works...
A popup survey is added to the employee dashboard, using which employees can update their current health status and their family's. This information is listed in the Employee Health Status form for other organizational processes to follow.
Employee health status as a form under the Organization tab, remains disabled by default.To enable this,
From your home page, go to Organization > Settings and enable the form.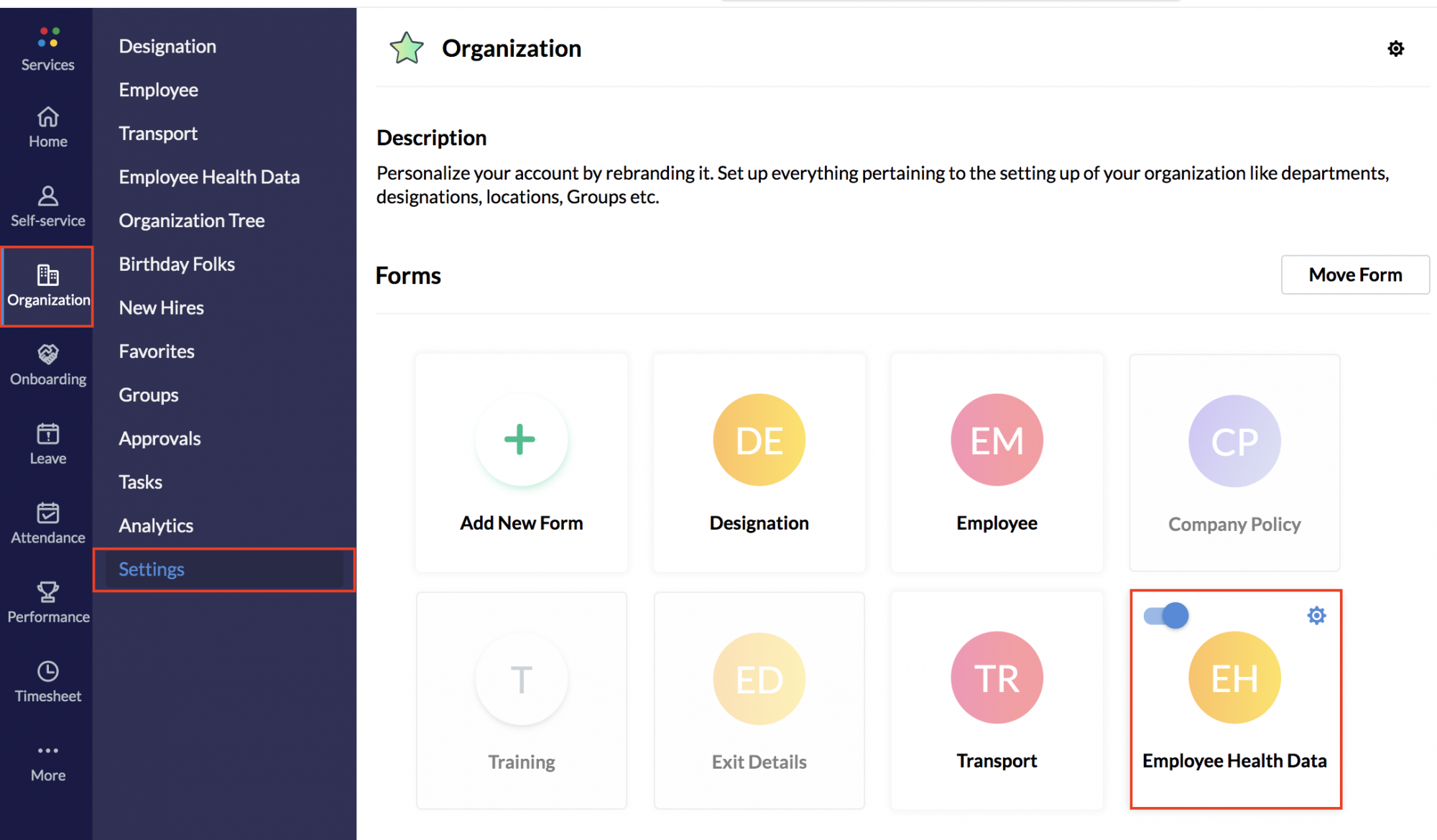 By default, employee location is captured before an employee fills the status form. To make this optional, uncheck Capture Employee Location at the top of the form.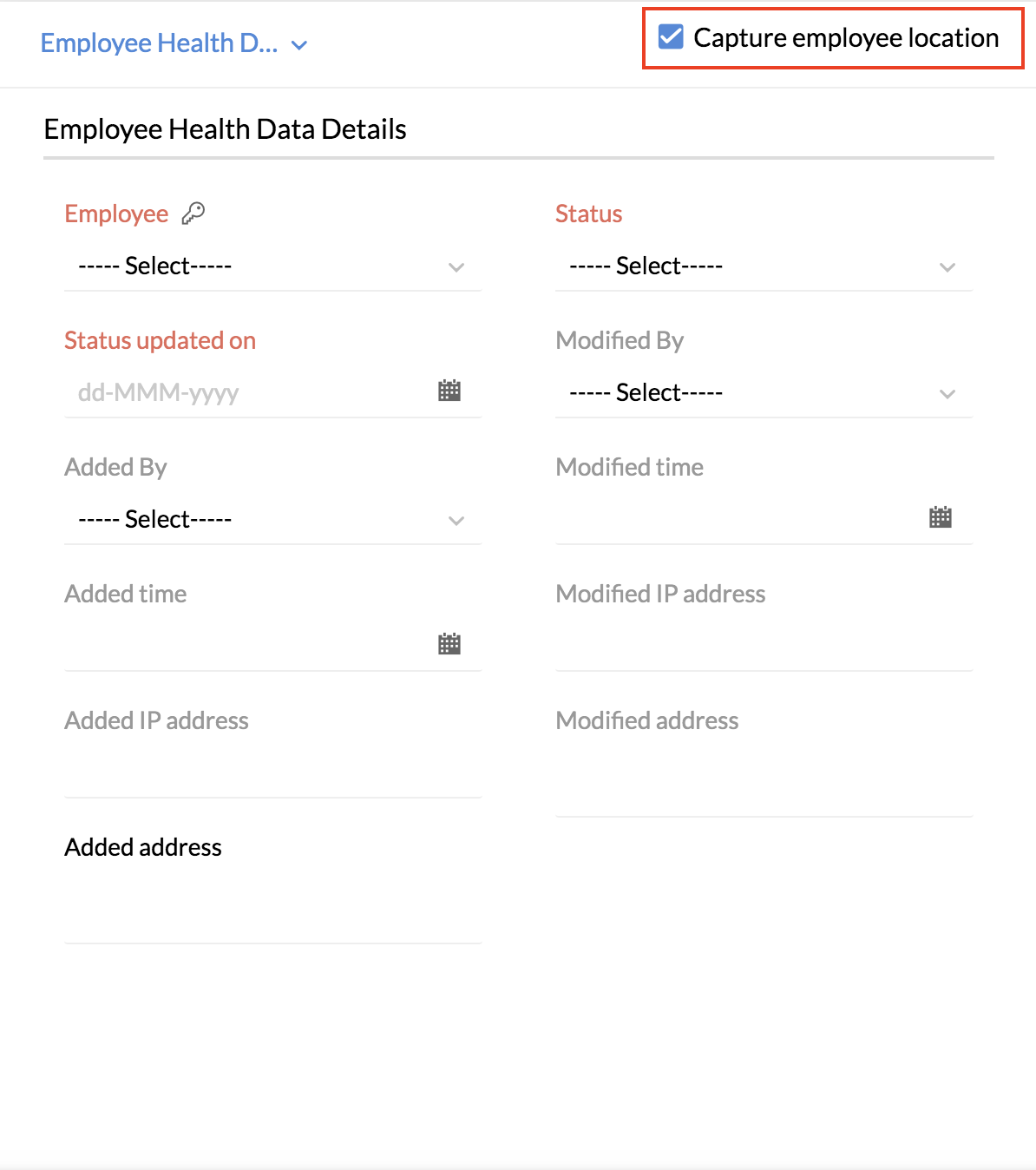 To collect health information of employees, a survey with customizable options is added in the employee dashboard.

Each option collects information based on three different, default categories as shown below.
| | |
| --- | --- |
| Status Options | Category |
| I am sick | Personal Sickness |
| My family member is sick | Sickness in family |
| We are in good health! | All in good health |
---
You can use the default options in Zoho People or you can edit and add new options based on your requirements. To edit the status options,
Go to Organization > Settings
Click on the gear icon on the form and click Customize. You will find all the fields of the form listed.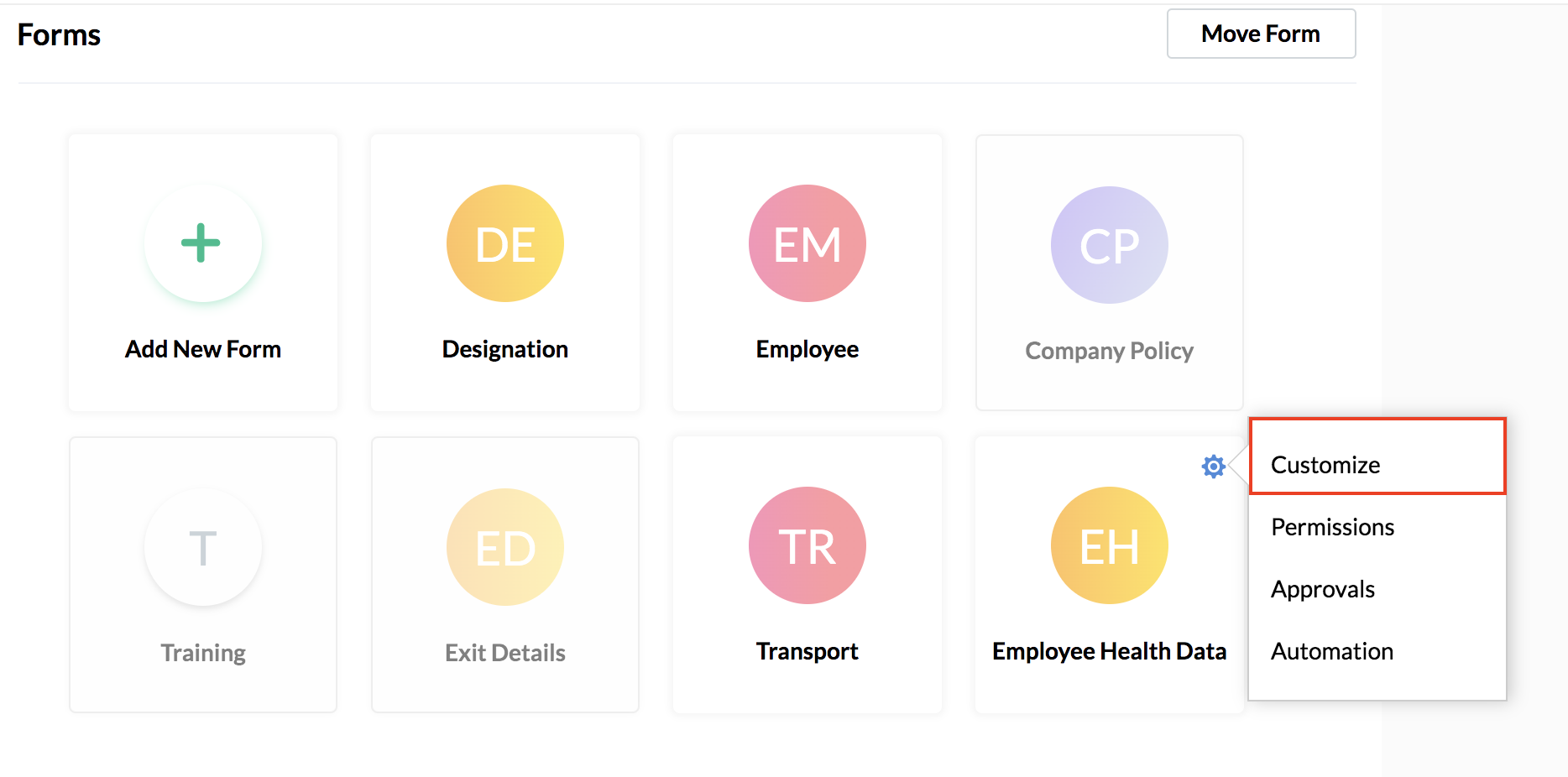 ​
.Click on the Status field and edit the options. The name of the form can be edited as required.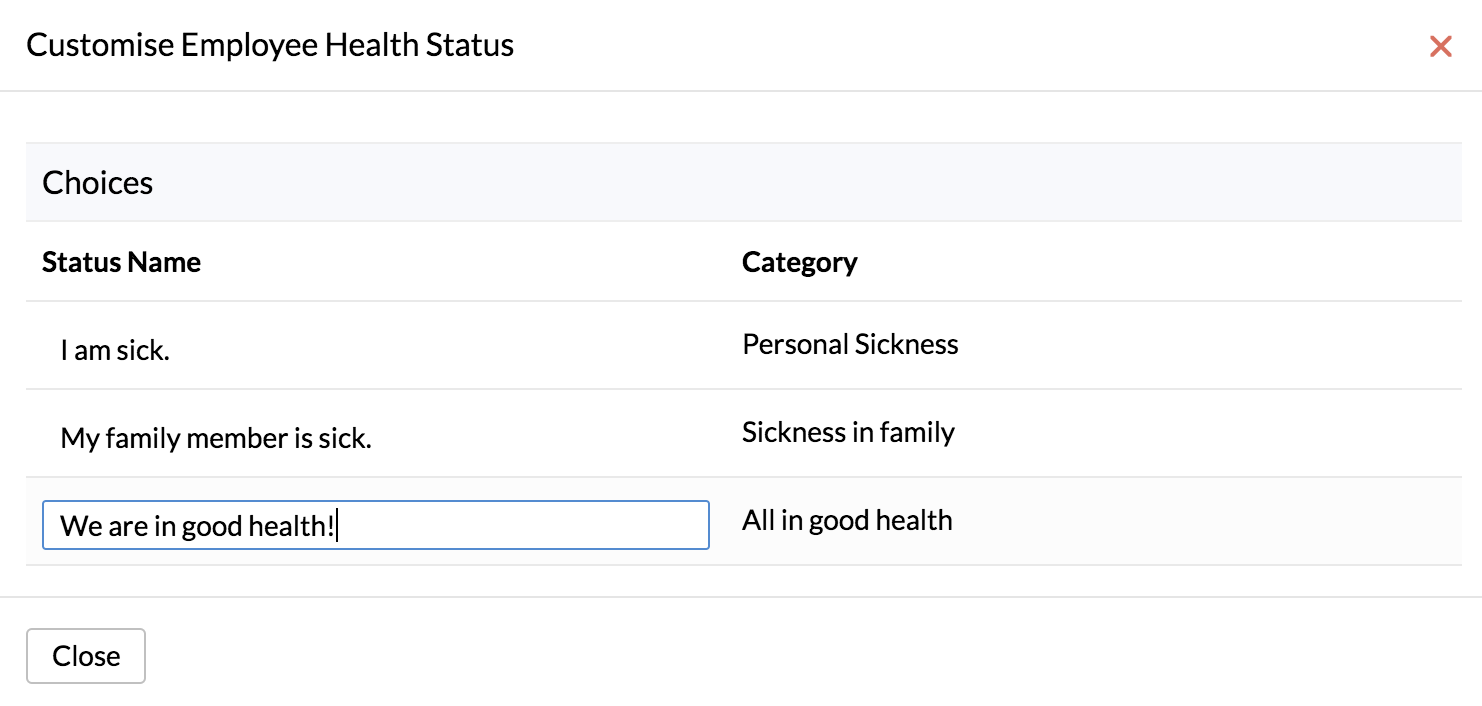 ​
Note:The categories are not editable. Ensure that you give options that fit the default categories.
Employees can update theirs and their families' health status in the survey pop-up added to their Dashboards as seen in the image.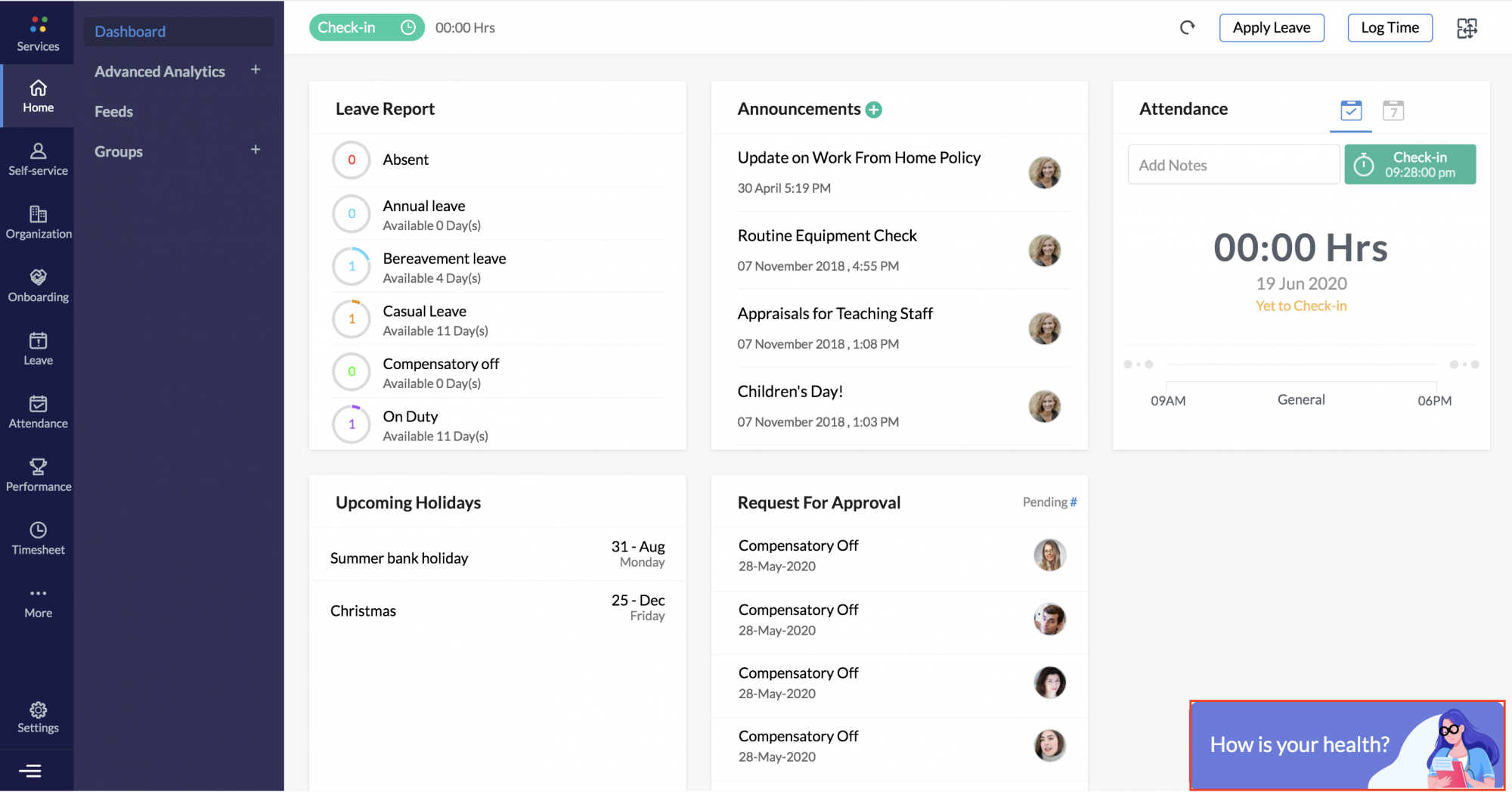 ​
The updated information will be listed in the Employee Health Status form under Organization. You can export employee's heath information if required, based on your organization's process. You can make use of filters to view employees of different entities alone.

​
Note: An employee cannot use the same status to update health information more than once a day.
Using the employee health status form, vital information from the employee about contact tracing and related symptoms related to Covid-19.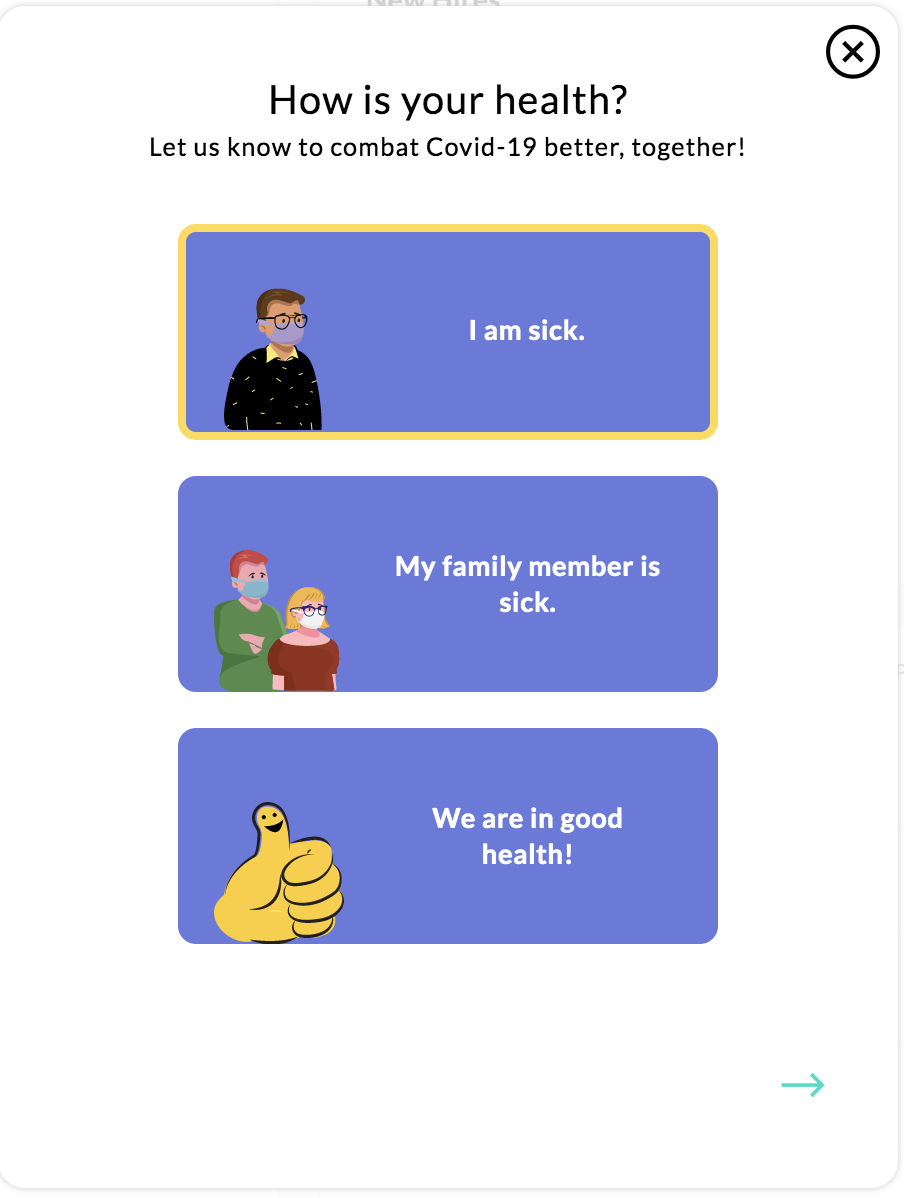 When an employee clicks 'I am sick' (or the equivalent custom text given in any organization), they are taken to the next following steps.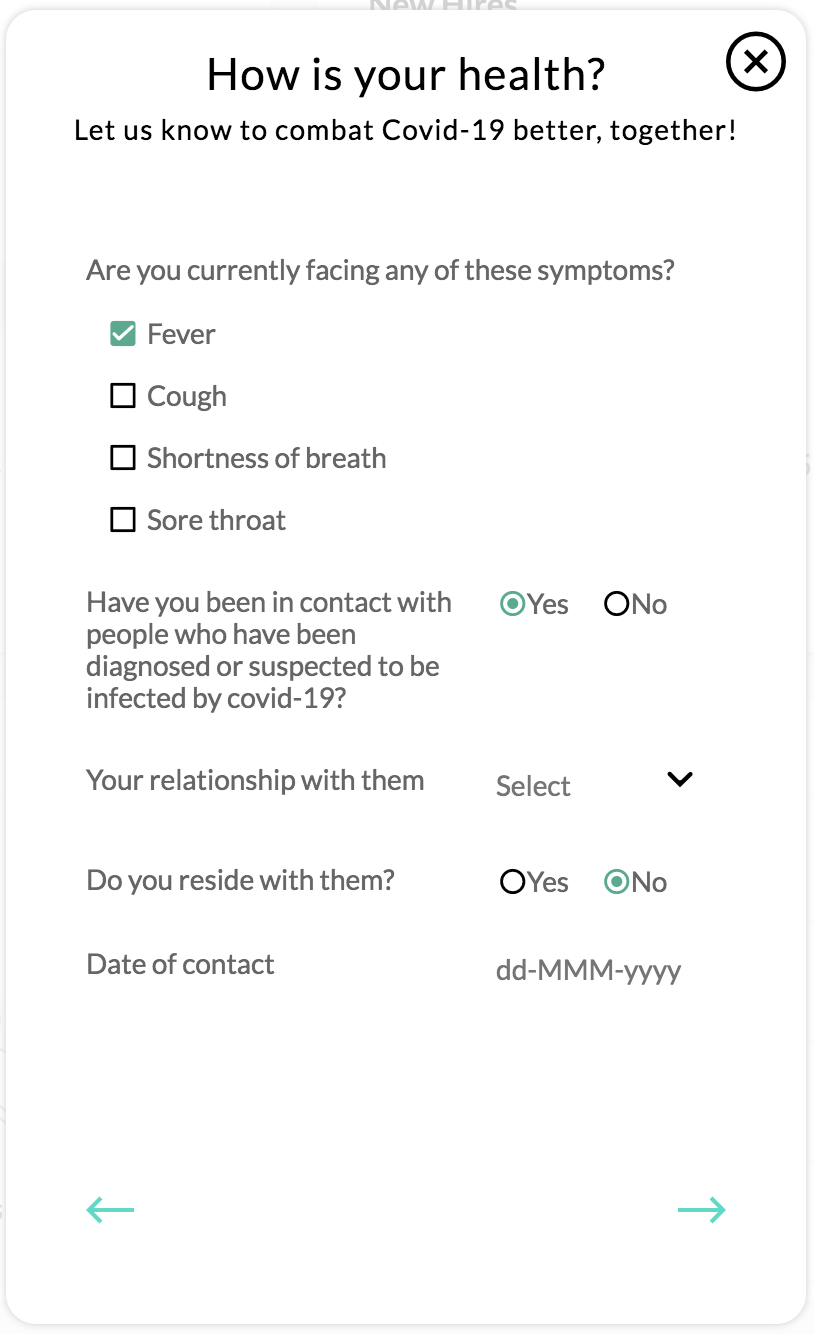 In this step, information about symptoms experienced, and details on possible contact with someone who may be infected with covid-19 is collected.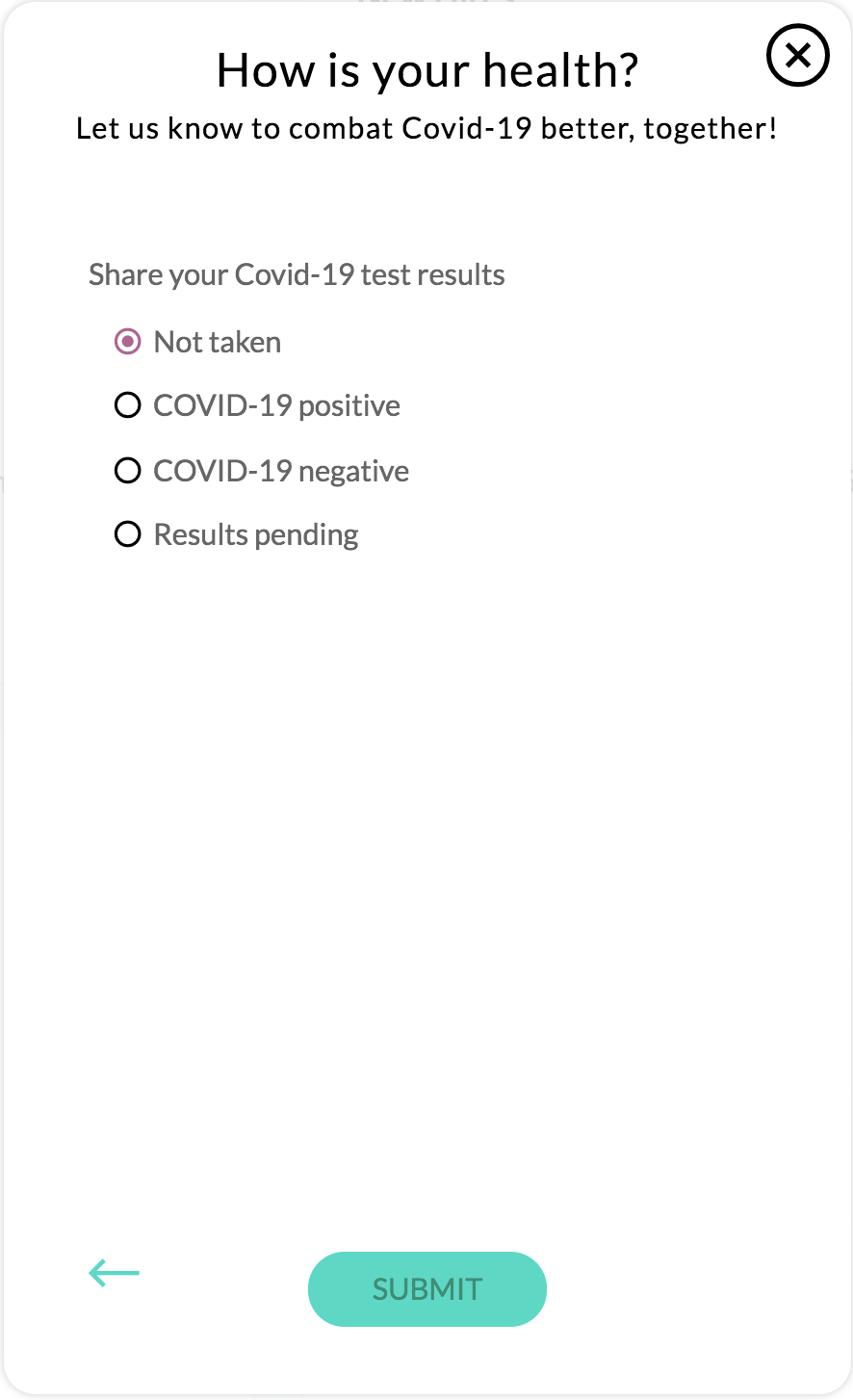 In the final step, an update on whether the employee has taken the covid-19 test is collected.
Note: The options in the form are not customizable.
Based on the employee's health status that is updated, an automated mail alert can be triggered using Workflows in Zoho People.
..
Usecase 1: An employee updates his/her status as sick. A mail alert informing the HR department of the employee's sickness has to be sent automatically.
To trigger an e-mail alert to members of the HR department automatically,
Go to Organization > Settings.
Click on the Settings (gear icon) on the Employee Health Status form and click Automation. You will be taken to the Automation page, where you can create a Workflow. Click on Add Workflow.
Give a name for the workflow and give a description if needed. Keep the status as Active.
Under Trigger Process, select Execute based on action.
The trigger action will be set as Create by default. That is, the mail alert will be triggered when the employee creates a new record in the Employee health status form or updates their health status.
Under Criteria, select employee health status as Sick. The criteria set here is "Status (employee health data) contains I am sick."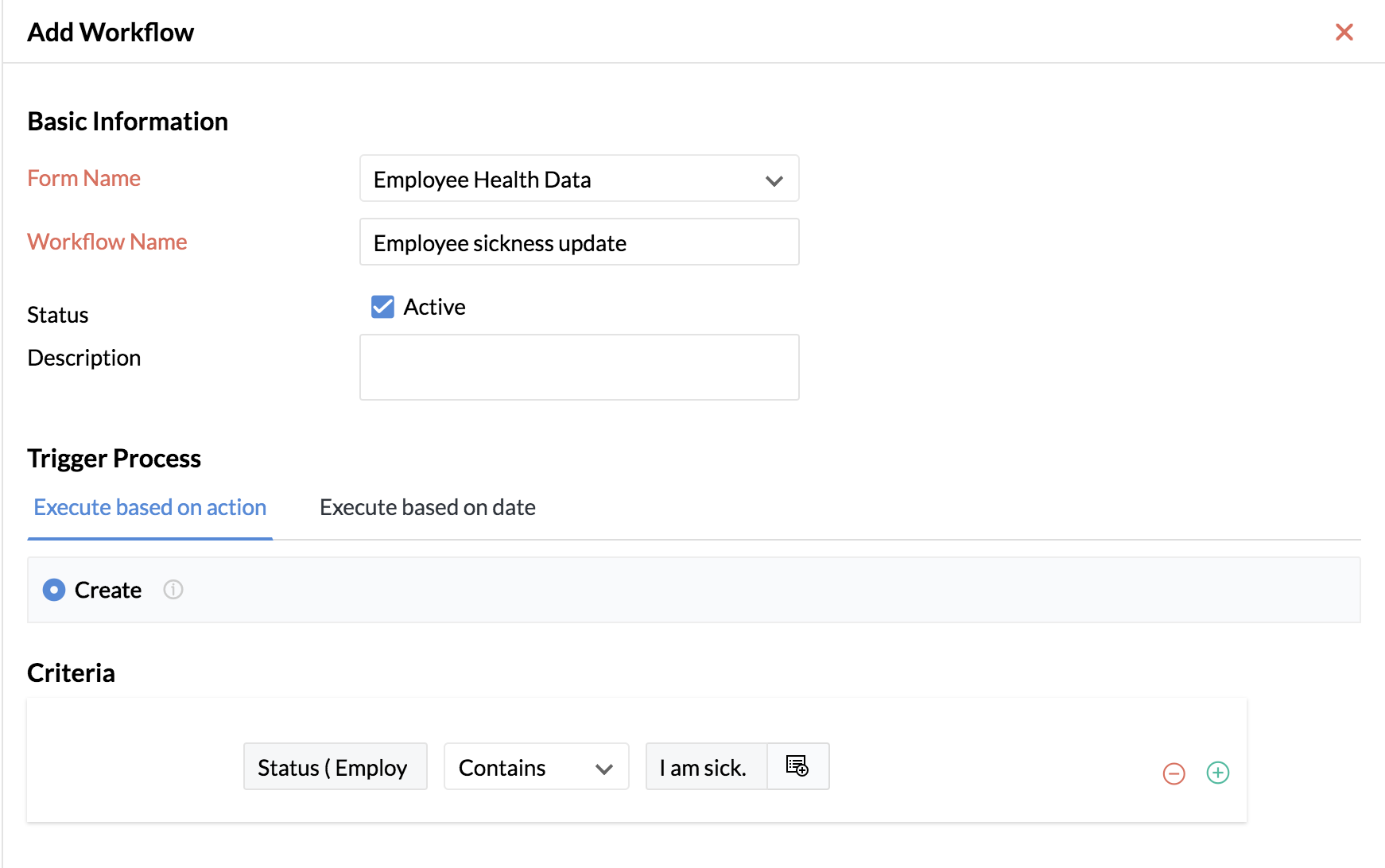 ​
Under Action, go to Mail Alerts
Click the + symbol to configure a new email alert or click on the listing icon to see the list of existing email alerts.
For a new e-mail alert,
The form name is set as Employee Health Status. Under Message, set From as Person performing this action
Under To, select Departments. In this case, the HR department.
Give a subject.
Under Message, create a new message by selecting Create New template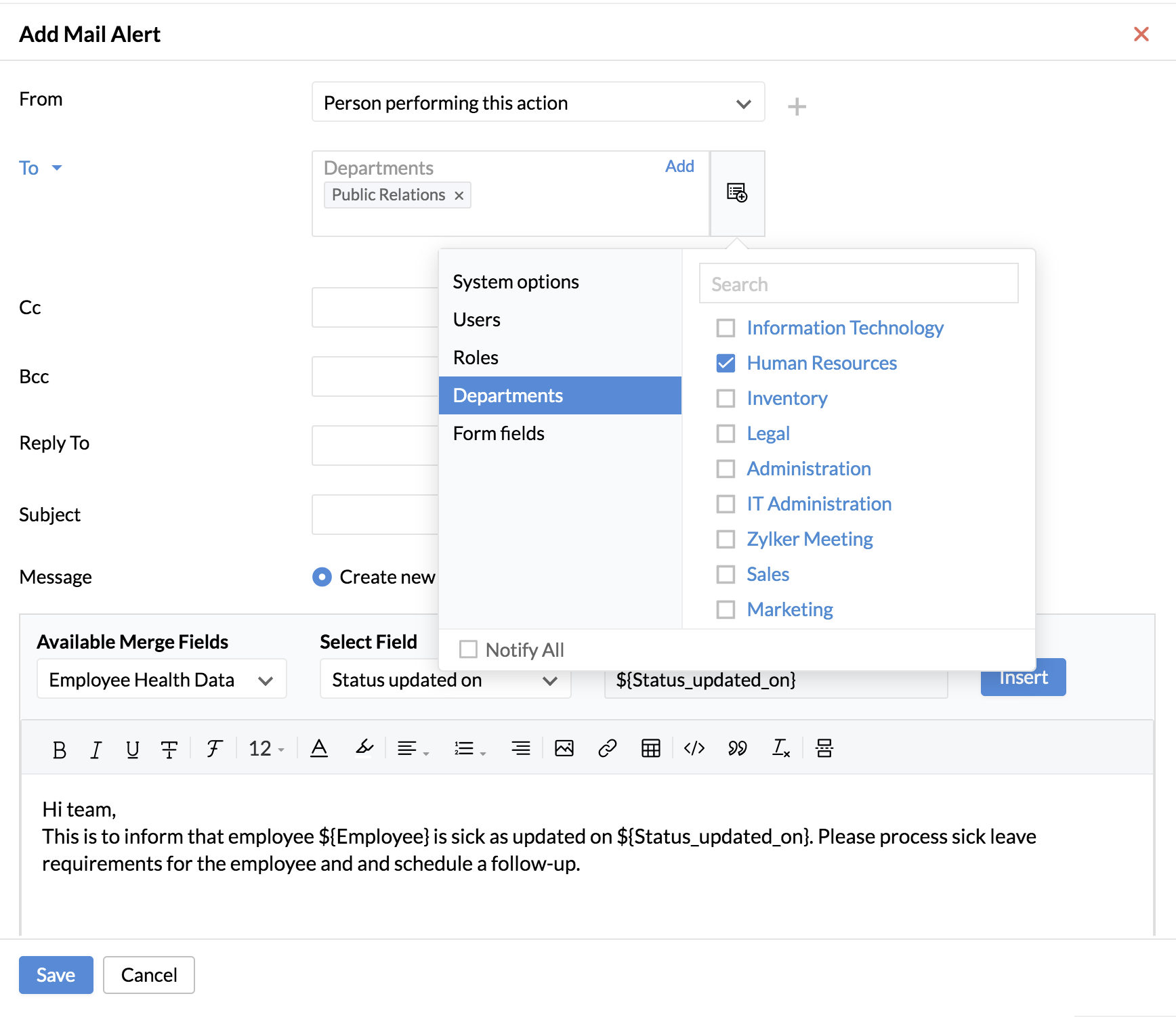 ​
Type in your message with required fields to inform the HR department of the employee's sickness.
Click Save. A mail alert has been added as part of the workflow.
Now an automated mail alert is sent to members of the HR department, whenever an employees update their status as I am sick.
..
Tip: Similarly, you can create time based actions, send reminders to employees to update their health status and other related actions using workflows. Click here to know more about workflows.