In many organizations, employees often work in other locations or from home in an official capacity. A system to track and mark their presence is much-needed in such circumstances.
..
What is On Duty in Attendance?
On Duty is used to mark the presence of an employee who is working away from their office location such as a work site, client location or working from home.
Organizations that want their employees' on duty time to be marked as 'Present' under Attendance can use this feature.
Moreover, employees have the advantage of applying for On Duty ahead of time, especially when they are going to work from remote locations that don't have internet access.
Note:On Duty is supported in the Attendance and Leave modules. An organization can choose one or both.
Configuring On Duty
Follow these steps to enable On Duty in Attendance in your organization.
Go to Attendance > General Settings > On Duty Settings.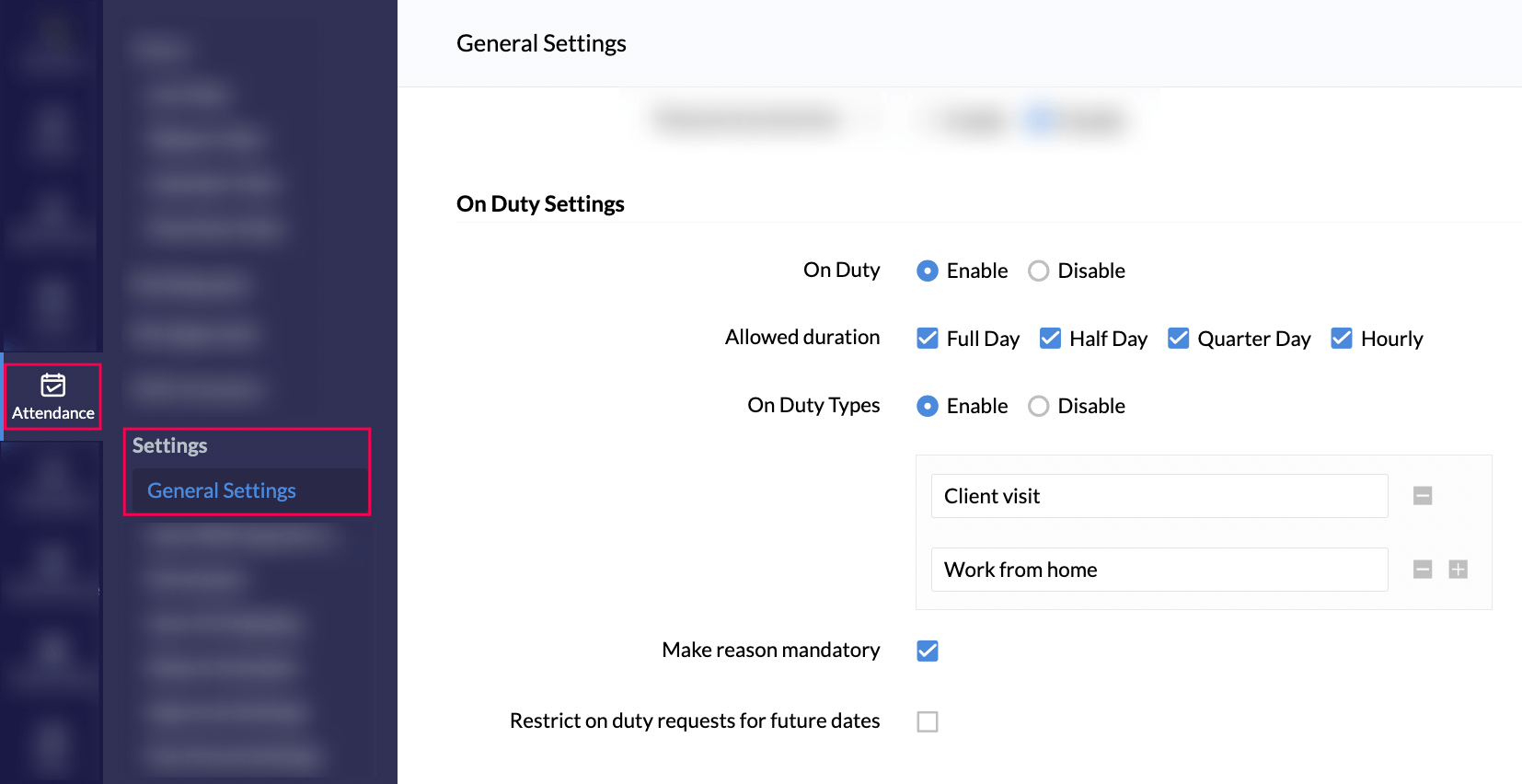 Select Enable beside On Duty.
Select the duration you want to allow for On Duty requests - Full Day, Half Day, Quarter Day, Hourly.
If you want to classify the types of On Duty taken, enable On Duty Types, and add the types you want to include.
You can also choose to make reason mandatory when on duty requests are raised using the make reason mandatory option.
Use the Restrict on duty requests for future dates option to prevent employees from raising on duty requests for a future date.
Click Submit.
On Duty Approvals
Follow these steps if you want your employee's On Duty request to go through an approval process.
Go to Attendance > Settings > Approval Settings.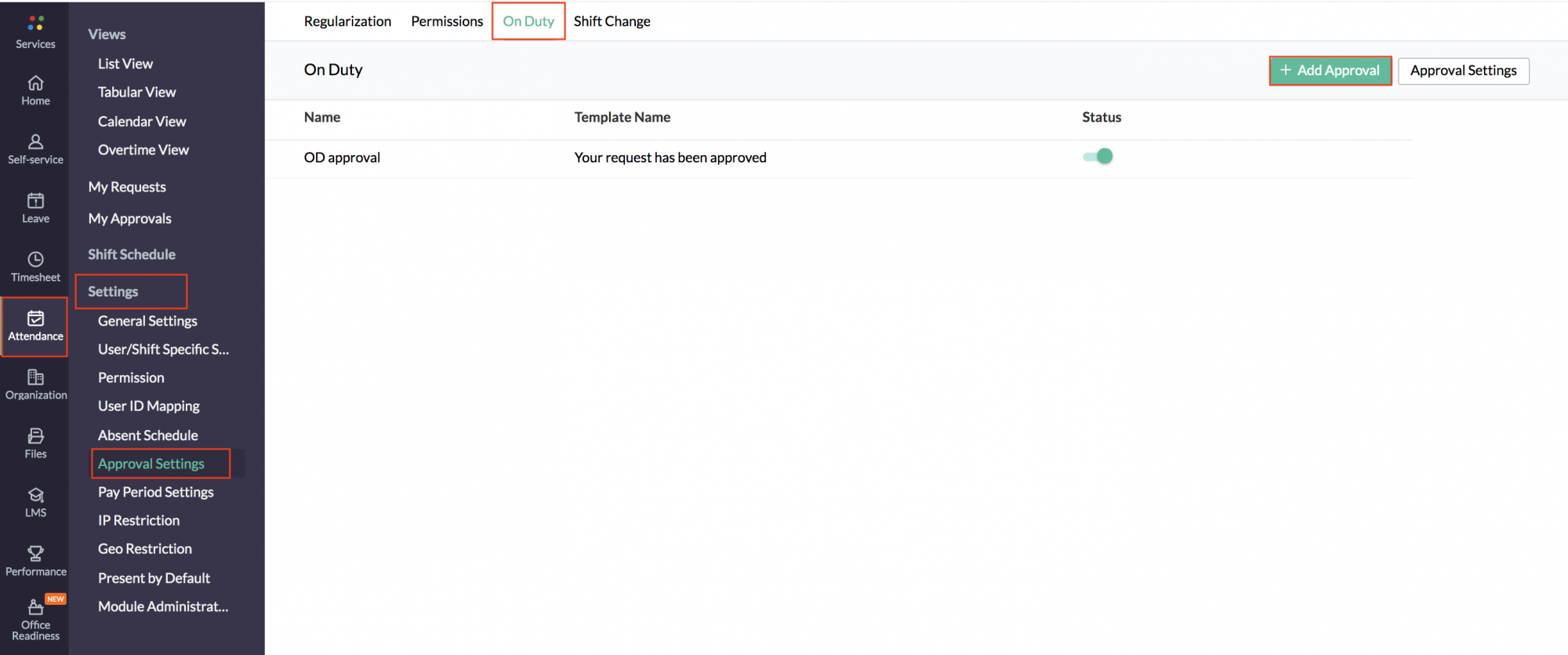 Go to the On Duty tab and click + Add Approval.
Enter a name for the approval.
Click Set Criteria if you want to add additional criteria for the approval.
Click Configure Approver if you want to define an approval chain such as Reporting Manager or Department Head. If you want the system to auto-respond, select Auto Approve or Auto Reject.
Click Configure Email Template to create an email to notify the approvers and other recipients, if required.
Click Save.
The approval can be also be configured under Settings (gear icon) > Automation > Approvals by selecting the Attendance On Duty form from the drop down and following the same steps as mentioned above.
Requesting for On Duty
An employee can request for On Duty from their List View page.

Click Request and select On Duty from the drop down.
Select the dates on which you want to apply for On Duty.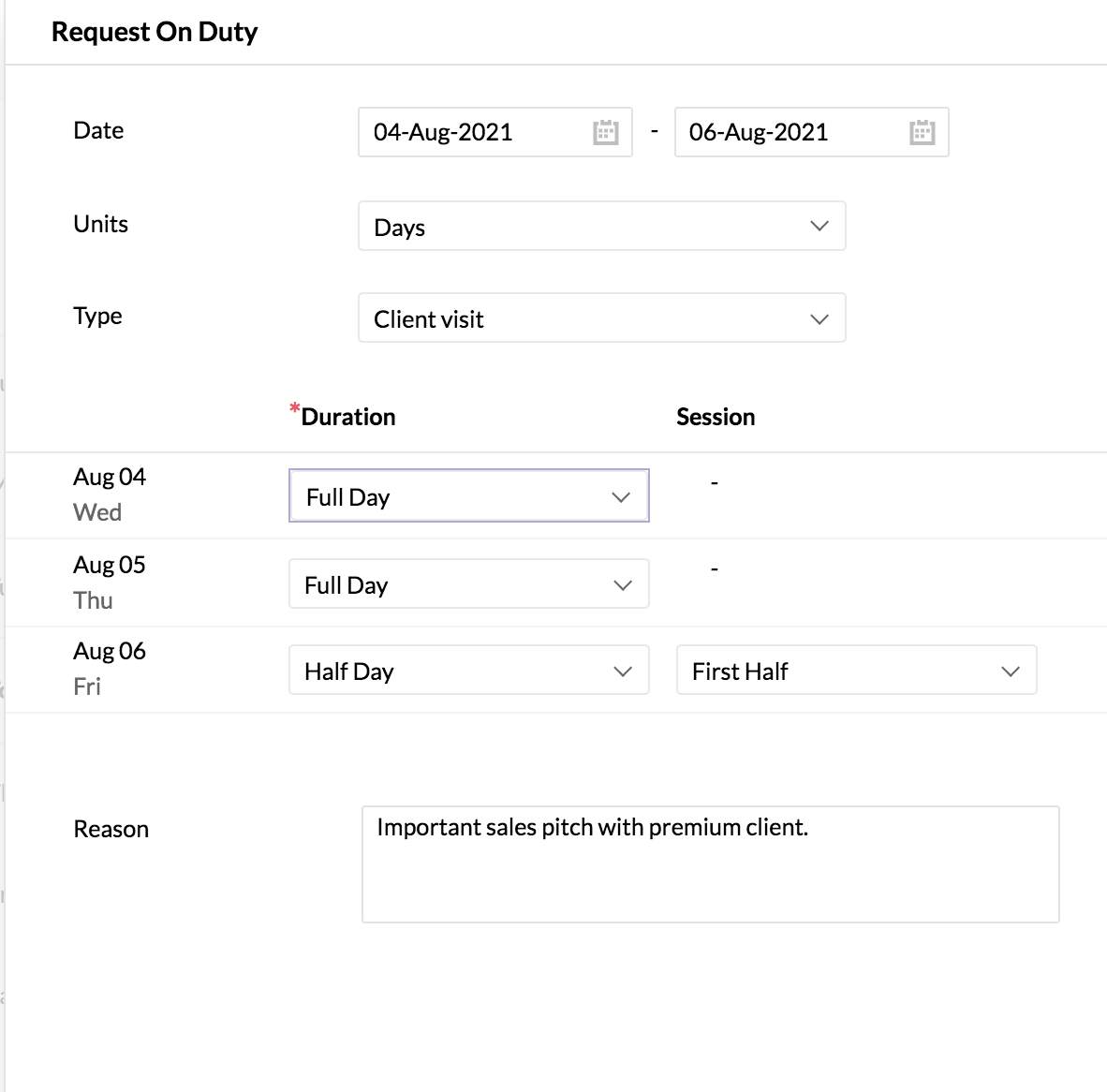 Under Units, select Days or Hours.
Select the type of On Duty you are requesting for.
Select the appropriate duration under each date.
Enter the reason for requesting On Duty.
Click Submit.
An approved On Duty request will show along with your other attendance days this way.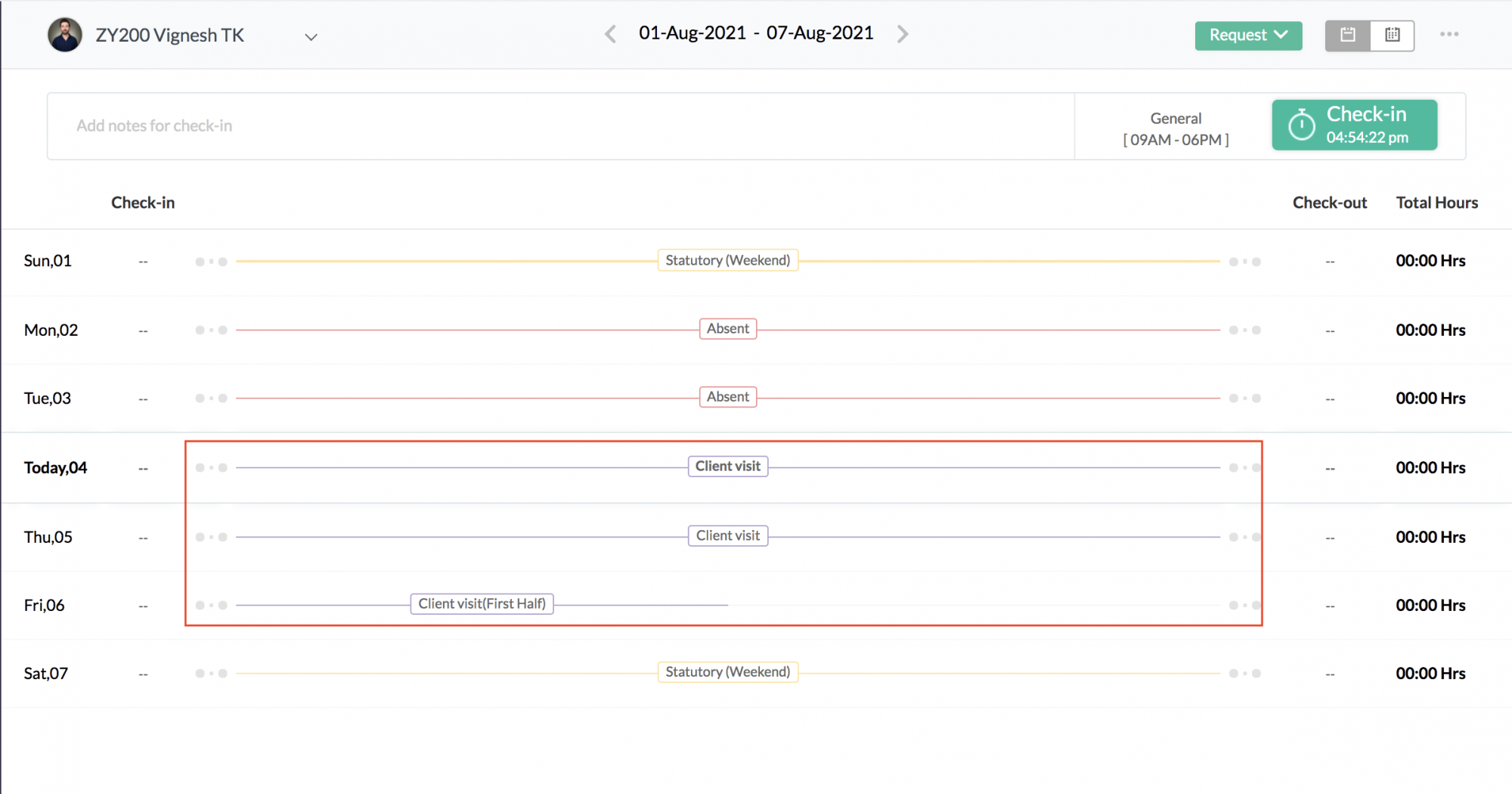 On Duty requests can be both imported and exported by clicking the ellipsis icon on the top right corner under My Requests > On Duty tab.
Since your Sales team frequently have client visits, you want to auto-approve On Duty requests only for the Sales team to accelerate the process.
Let's see how to configure this approval.
Go to Attendance > Settings > Approval Settings.
Click + Add Approval under the On Duty tab.
Enter a name for the approval.
Click Set Criteria, and select Department under System Fields, Contains in the middle field and Sales team in the last field.
Click Auto Approve under Approvals.
Configure an email notification if needed.
Click Submit.