Advanced People Analytics
Advanced People Analytics creates highly customized reports, going beyond simple pivot tables and charts.This customization gives you access to valuable statistics and data that help you analyze trends in your organization. The key advantages of Advanced People Analytics include:
Pre-defined and readily available reports for system modules. These reports include the Employee Hiring and Attrition Report, Employee Growth Rate Report based on Employee, and the Estimated vs Logged Hours Report based on Time Logs
Pre-defined dashboards with widgets that give you data in a single view and help you better understand organizational trends
Tabular sections and multi-select data while generating reports
Advanced options for writing custom queries on the tables during report creation
Note: To use Advanced People Analytics, you need any paid or trial plan in Zoho People and at least a Basic plan in Zoho Analytics.
To configure Advanced People Analytics:
Go to Integrations > Advanced People Analytics
Click Configure
Select the custom forms and fields you want reports generated for. System fields are selected by default and cannot be unselected
Select the Sync Schedule as None, Daily, or Periodic
If Daily is chosen, then you need to set the time for it. If Periodic is chosen, select the Sync Frequency as either Every 3 hours, Every 6 hours, or Every 12 hours. If None is chosen, then a manual sync needs to be performed in Zoho Analytics
Click Save and Sync Now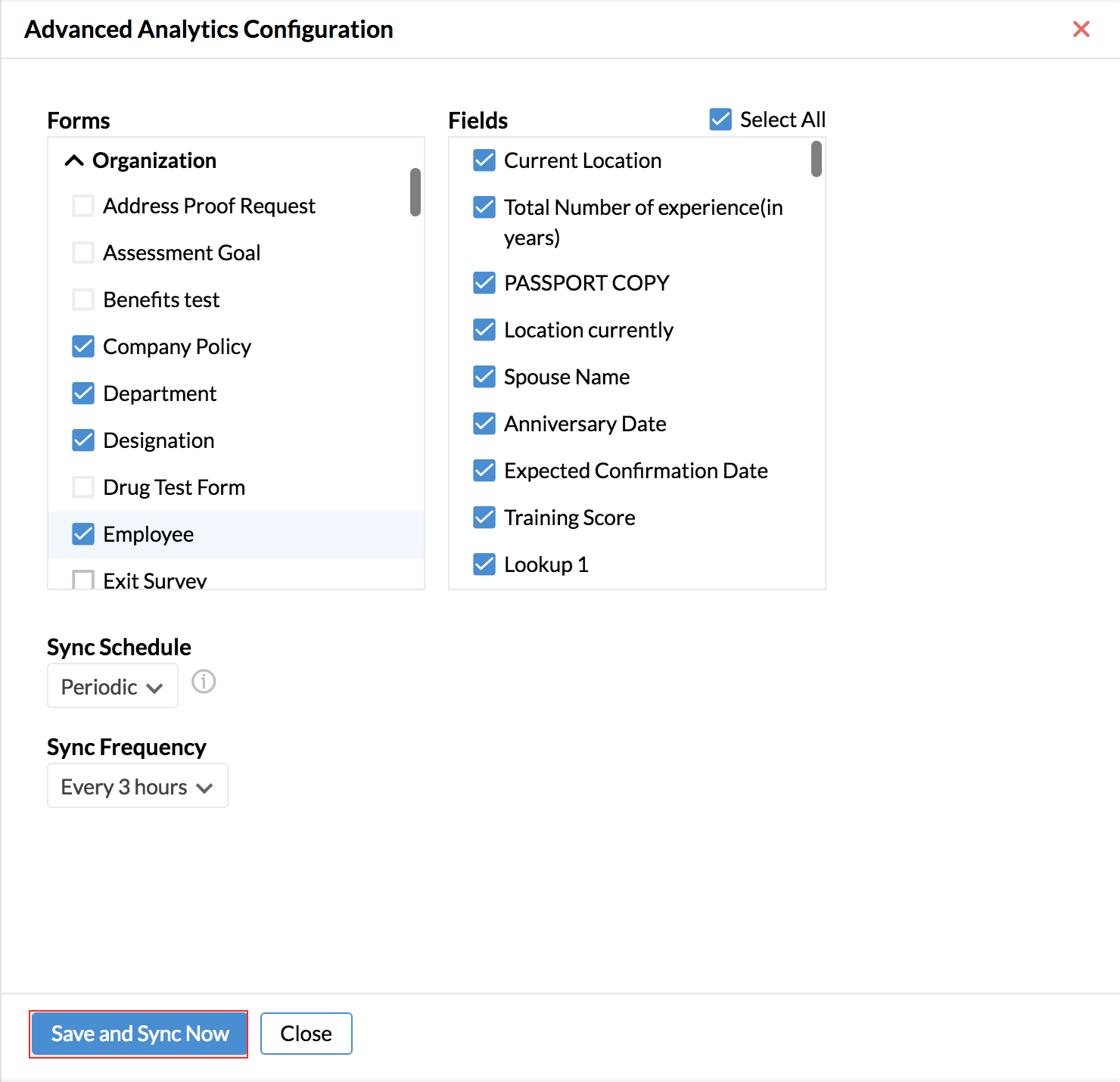 Once the configuration is complete, you will be able to see all the configuration details.
If the configuration needs to be edited, it must be done by the Database Owner by clicking Edit Configuration. Admins cannot edit the configuration. They can only view the configuration summary.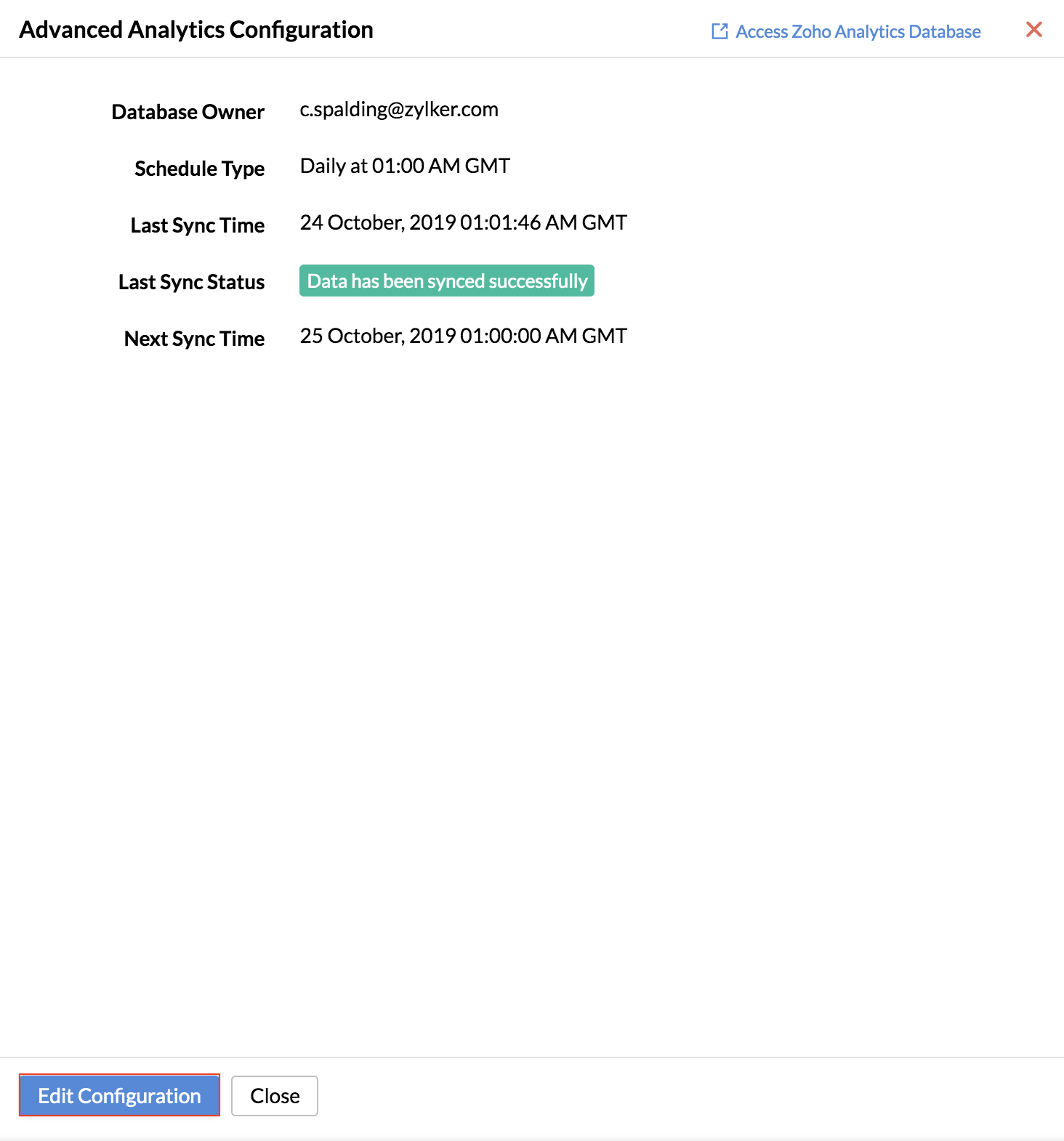 Note: This integration is not available for Leave, Attendance, and Performance Management.
Once you have integrated with Advanced Analytics, you can access it under Reports > Advanced Analytics tab.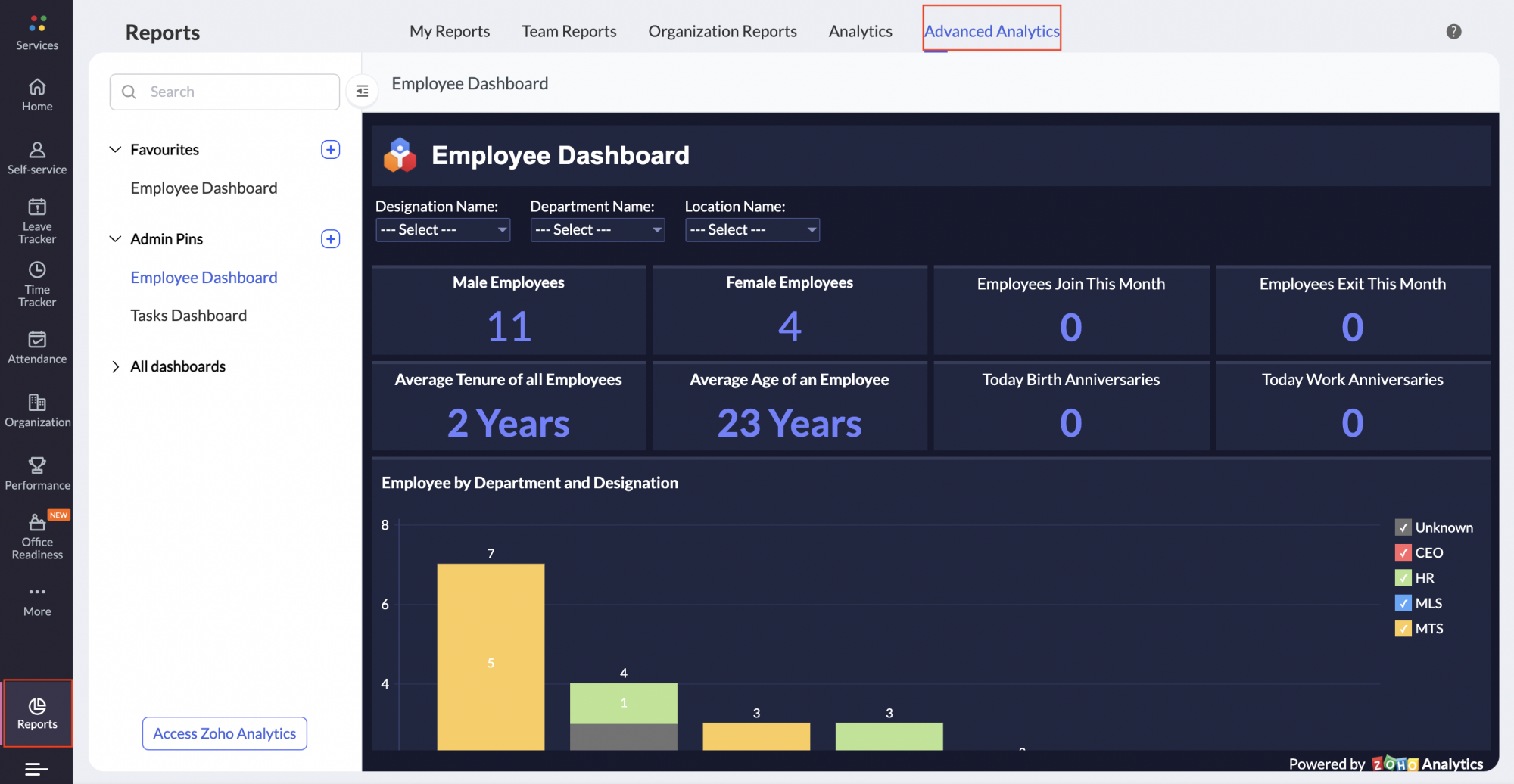 Frequently used dashboards can be pinned by the Advanced Analytics configuration owner under Admin Pins or under Favorites. Other Admins can pin only under Favourites. The Dashboards can be selected by clicking the + icon besides Admin Pins and Favorites and they will be listed for quick access.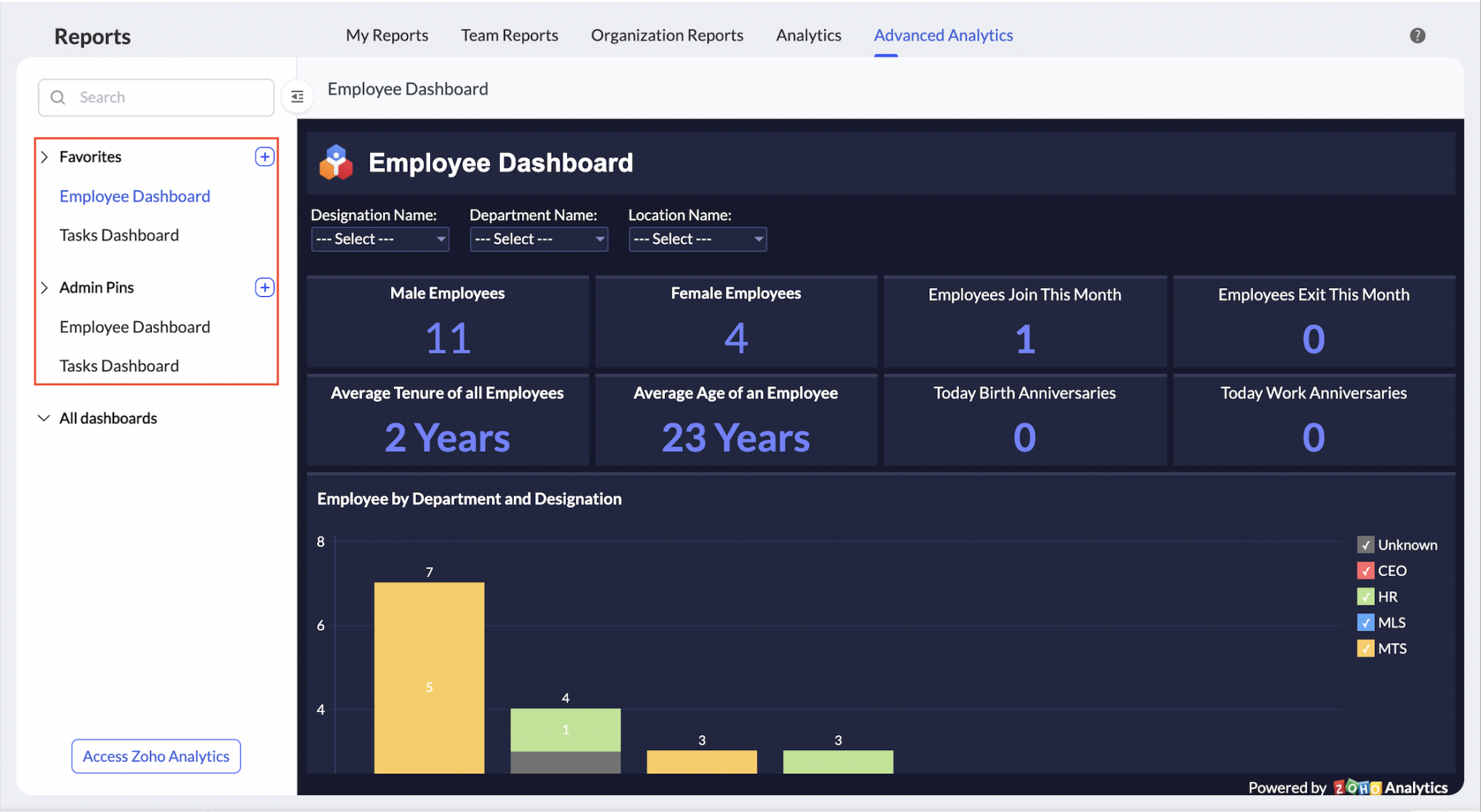 To access the Zoho Analytics database, click the Access Zoho Analytics Database link in the upper right-hand corner of the screen. You will be redirected to your Zoho Analytics account.

Under Dashboards, you will find various types of dashboards.
Employee Dashboard: This dashboard gives statistics and reports based on employee data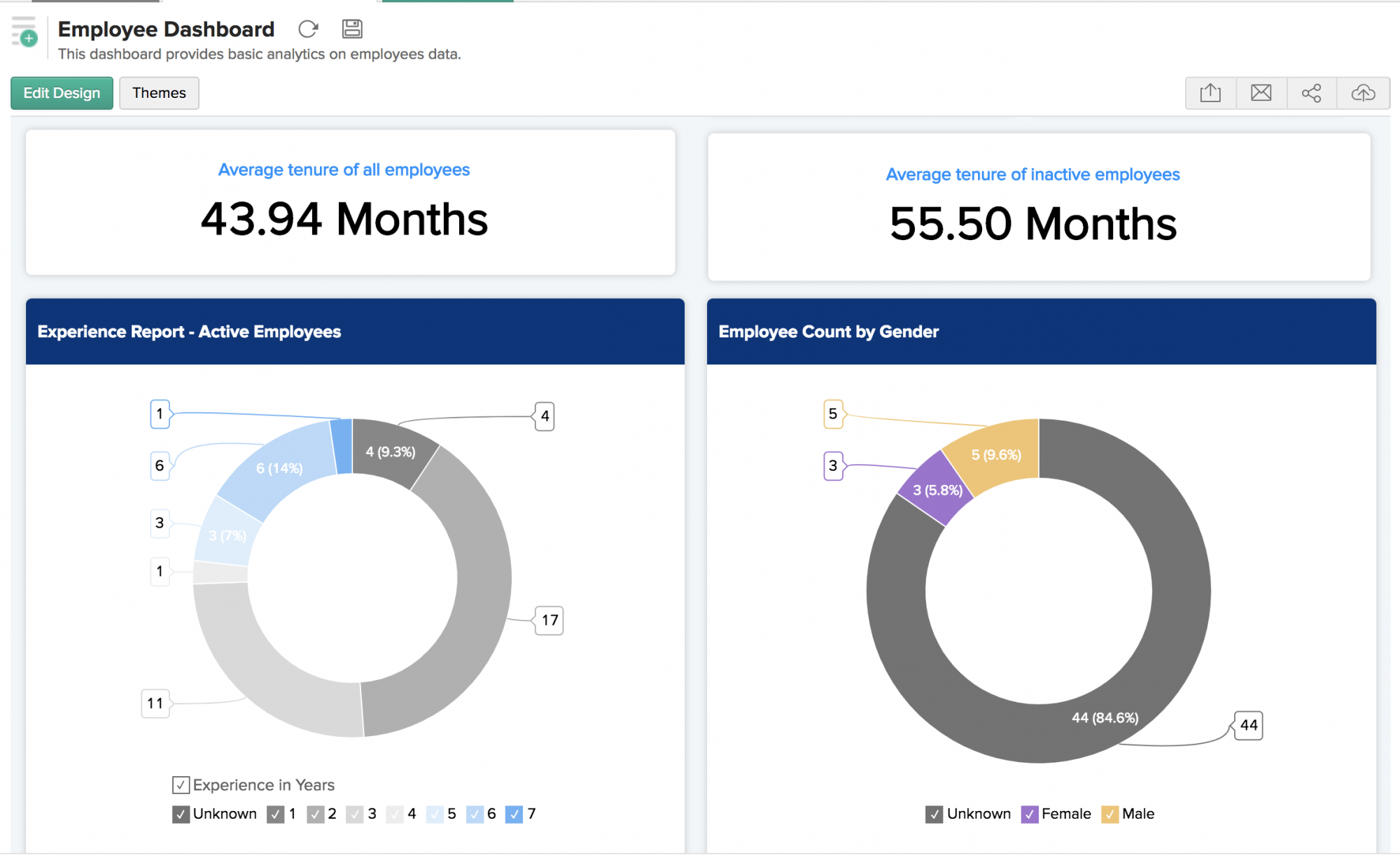 Employee Hiring and Attrition Dashboard: This dashboard gives hiring and attrition analytics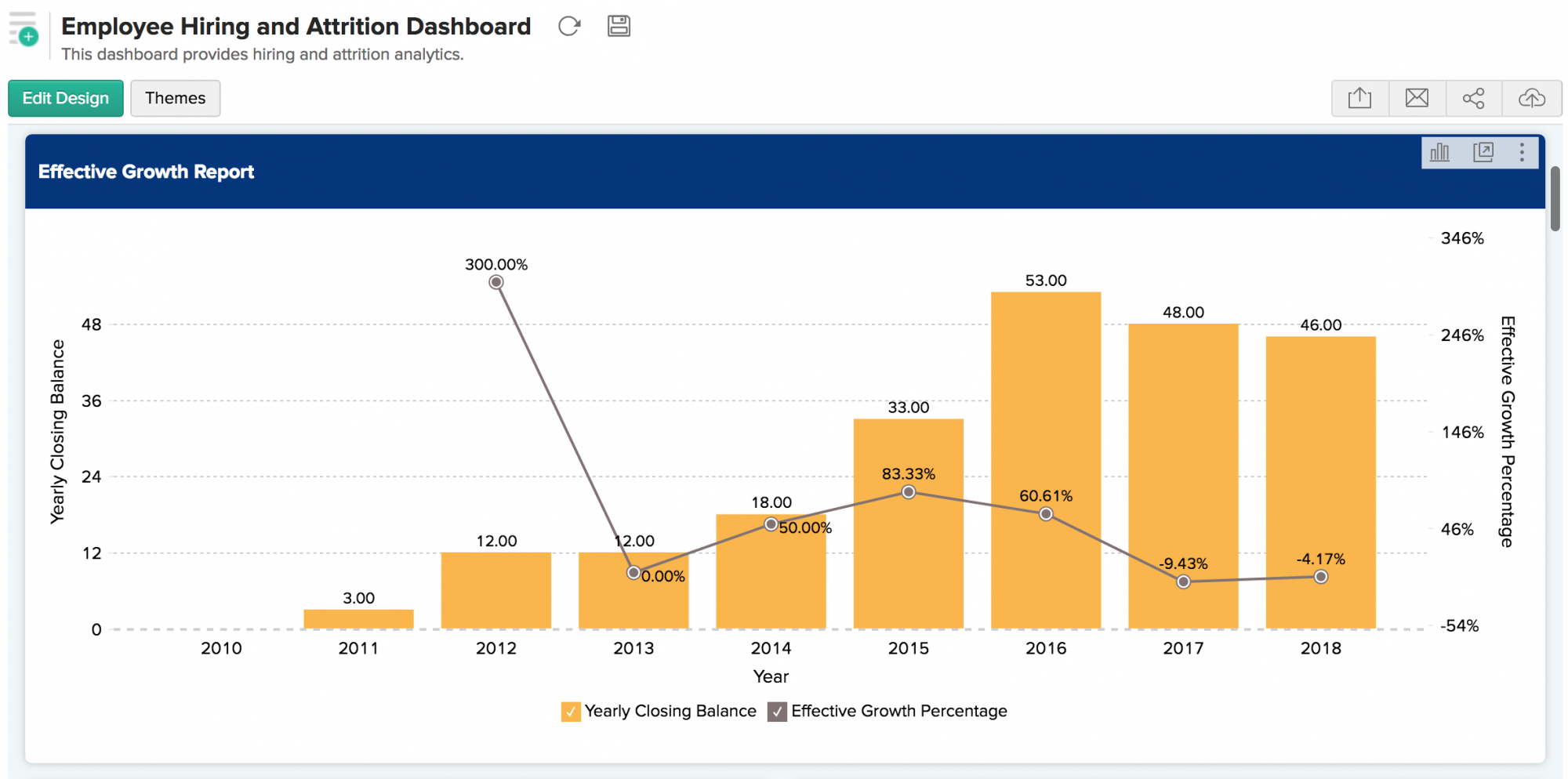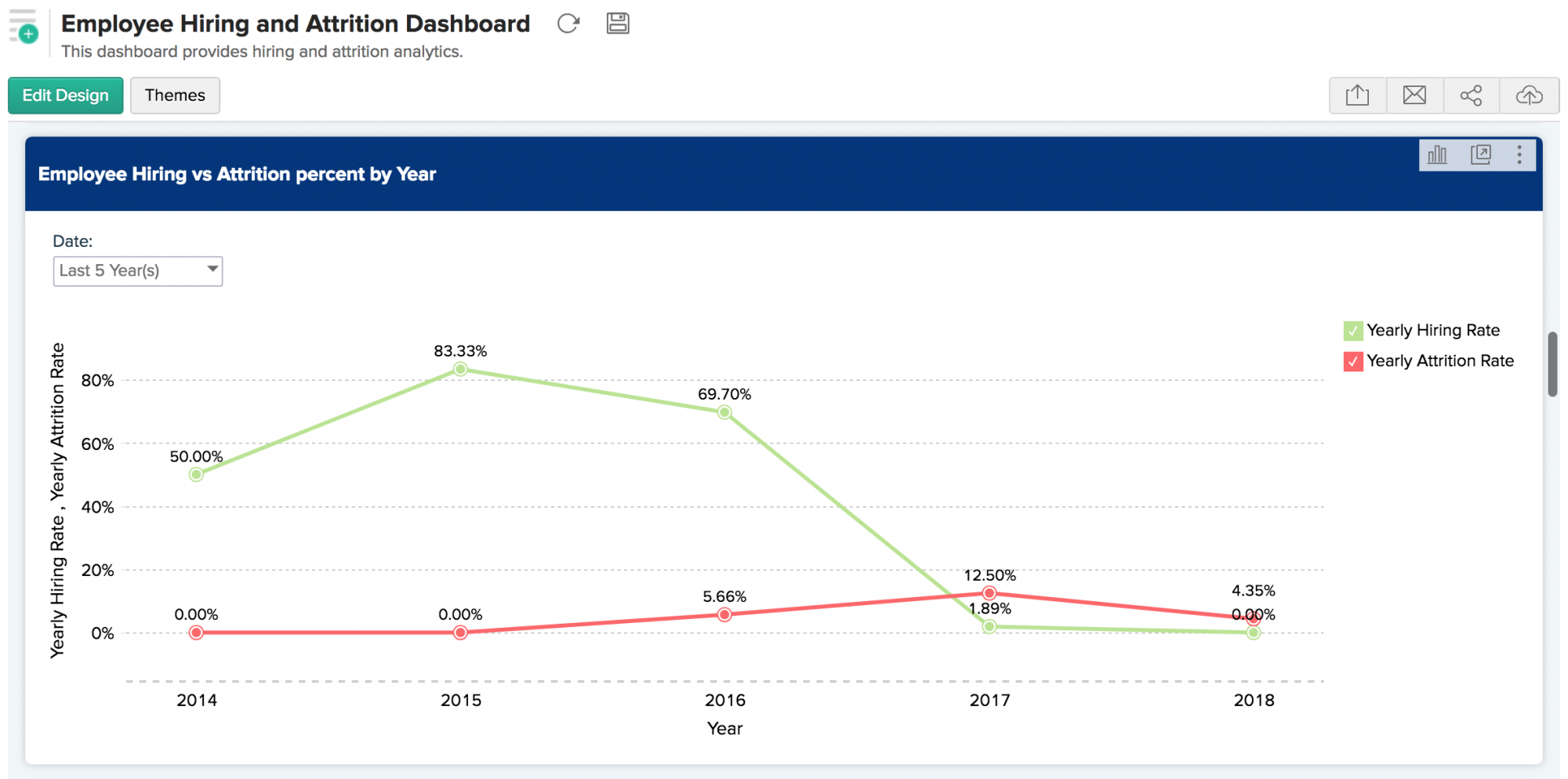 Tasks Dashboard: This dashboard generates analytics based on task data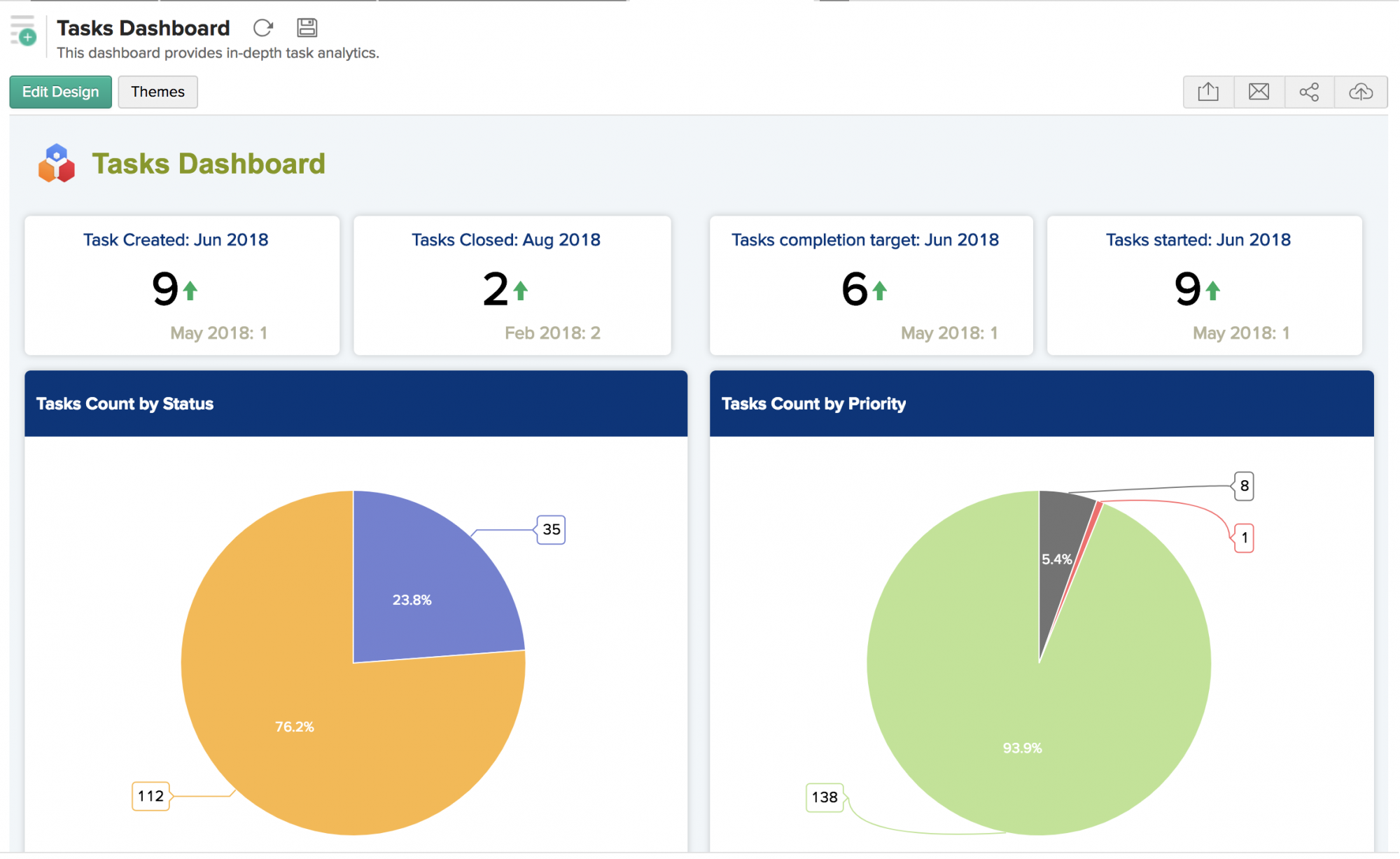 Time Tracking Dashboard: This dashboard generates reports from Time Tracker data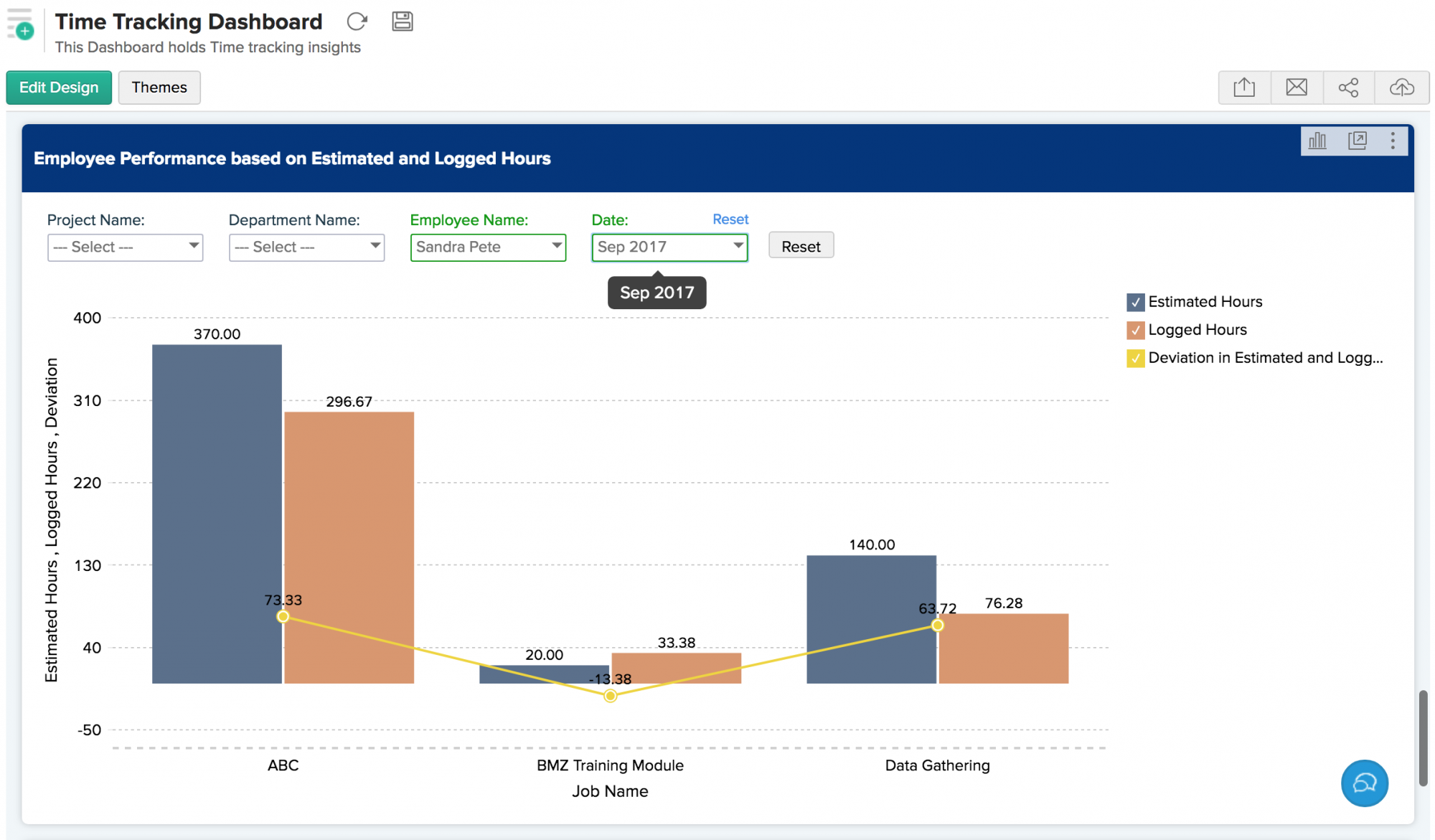 Note: Zoho Analytics is only visible to the Database Owner (Workspace Administrator) and anyone that reports have been shared with.
All the data synced from your Zoho People account is reflected under Zoho People Data
To create reports using data from Zoho People:
Go to Zoho Analytics > Zoho People Data
Click the Create tab in Zoho Analytics
Select the type of report you want to generate
Drag and drop the fields you want listed in the report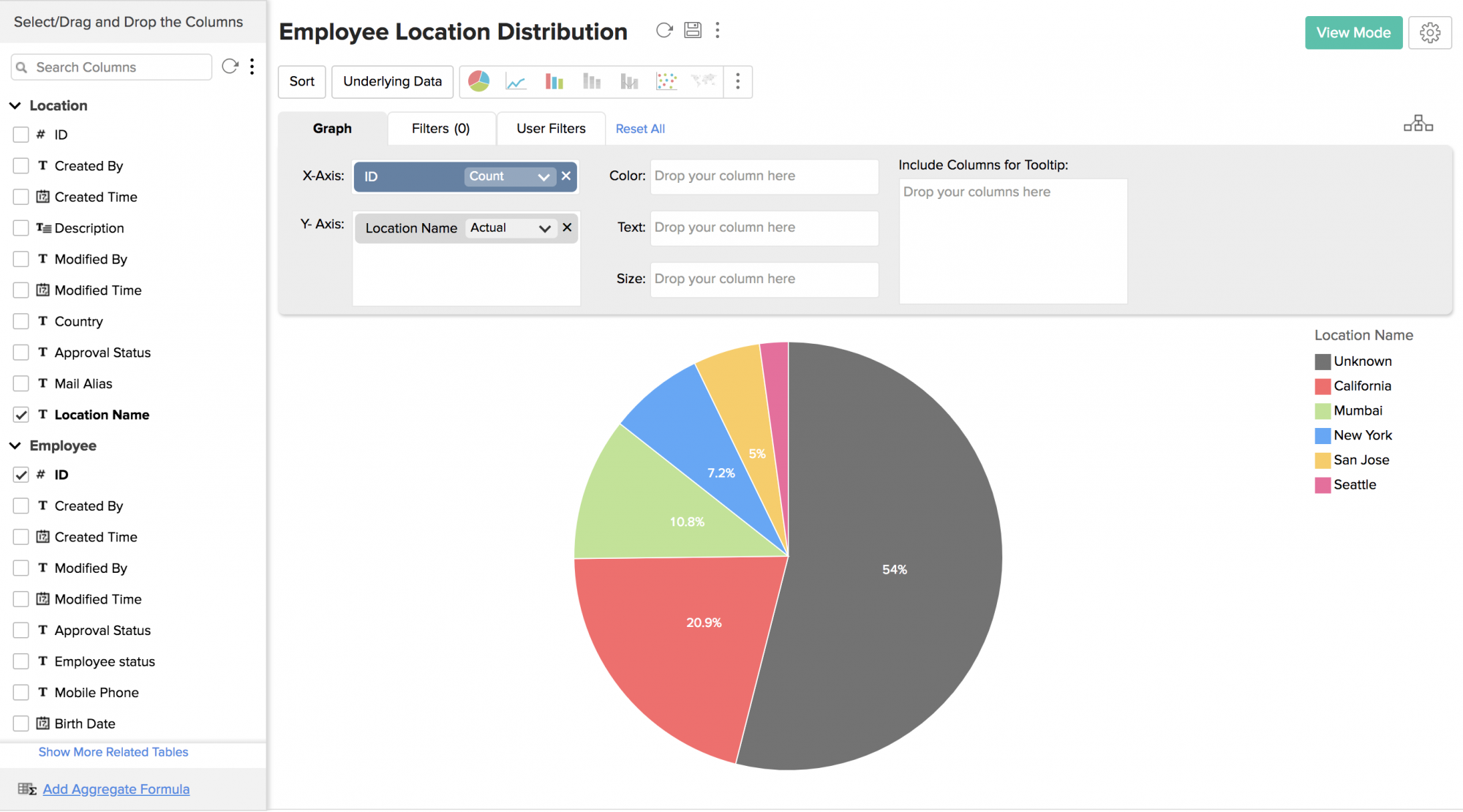 You have quick access to many auto-generated reports. These can be useful for various analytical purposes. They include the: Employee Report, Time Log Report, Employee Hiring, Attrition and Retention Report, Task Report, and Job Reports.
Permissions configured in Zoho People are not applicable in Zoho Analytics. The Database Owner (Workspace Administrator) can give view permissions by clicking Share and then Share Views. If you want to share your entire database with admin rights, click Manage Workspace Admins. The added Workspace Administrators can create reports, but cannot edit the pre-selected configurations.