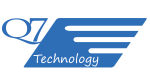 "It's easy and cost-effective. Approvals are now routed to the right person and the multi-level approval with criteria is simply amazing. It's great to be able to customize approval workflows for individual forms."
Kyle Lauton Support - Q7Technology
About the Company
Q7Technology is a locally owned Australian IT support company based in Ballarat. Besides hardware and software support Q7 offers customized IT solutions that would improve business processes. They have highly skilled technicians with years of experience in the industry. Their services include support for IOS, android & windows devices, website development & networking and software & cloud support.
Challenge
All HR activities were done manually and involved paper forms.
Leave applications were constantly misplaced, holding up the approval process.
Approval for time-offs and time sheets were not just delayed, but had no reports & could not be back tracked.
Managers lacked information on employees' leave affecting collaboration & productivity.
Solution
An HR software that is easy and simple to implement.
Timely approvals to ensure streamlined time-off and time sheet processing.
Intuitive and accurate reports to track employee time-offs and reassign work accordingly.
Improved collaboration within teams to effectively utilize both time and resources.
Why Zoho people
Customizable forms with effortless drag and drop.
Set up and configuration so simple that it can be done in a matter of minutes.
Time-offs based on days and hours, which most of the other HR products overlook.
Approvals are not just multi-level but can also be based on specific criteria.
Result
Automated HR eliminating the hassles of paper forms and manual HR methods.
Transparent and clear communication throughout the organization.
Seamless management of attendance and time-offs from beginning to end.
Approvals are done in a jiffy and recorded for future reference.
Cost-effective and fits within the budget, saving both time and money.