The pursuit of productivity, made easy!
End-user experience monitoring. In real-time.
Admins now have a single source of truth to track Zoho One adoption across their organization. Delve into the Admin Dashboard and discover ways to make your organization more productive. Monitor user activity, track app usage, and manage resources so you can constantly optimize.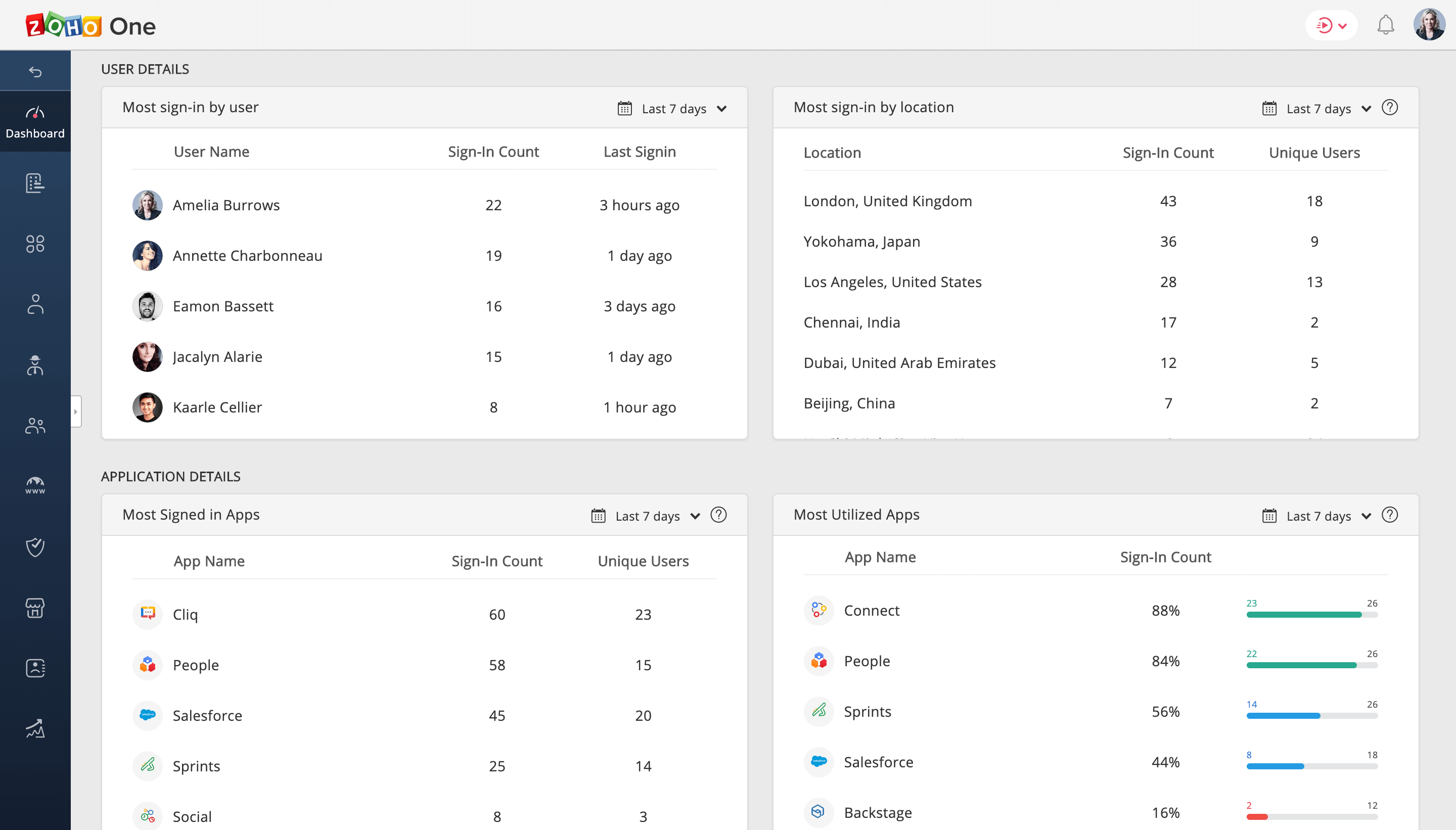 Need to do more? There's an app for that. 
Meet unique business needs and address specific pain points with One Marketplace. One Marketplace features ground-breaking apps and extensions to help you get more out of the Zoho One platform.
Click here to know more about One Marketplace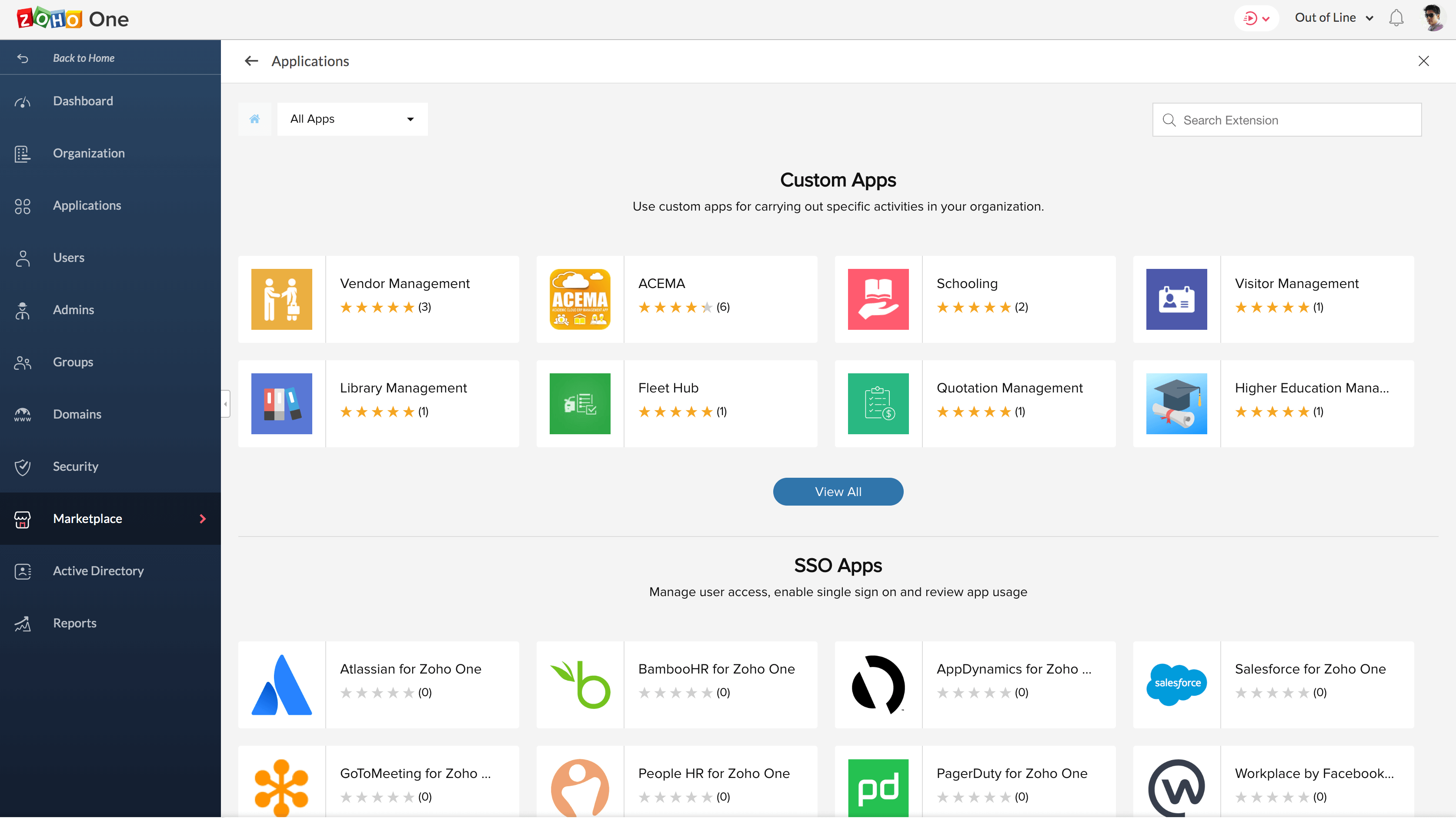 All-in-one launcher. Easy app discovery. 
Effortlessly launch applications with Zoho One. All business applications (Zoho Apps and Marketplace Apps) can be accessed from the My Apps launcher and can be used on different devices.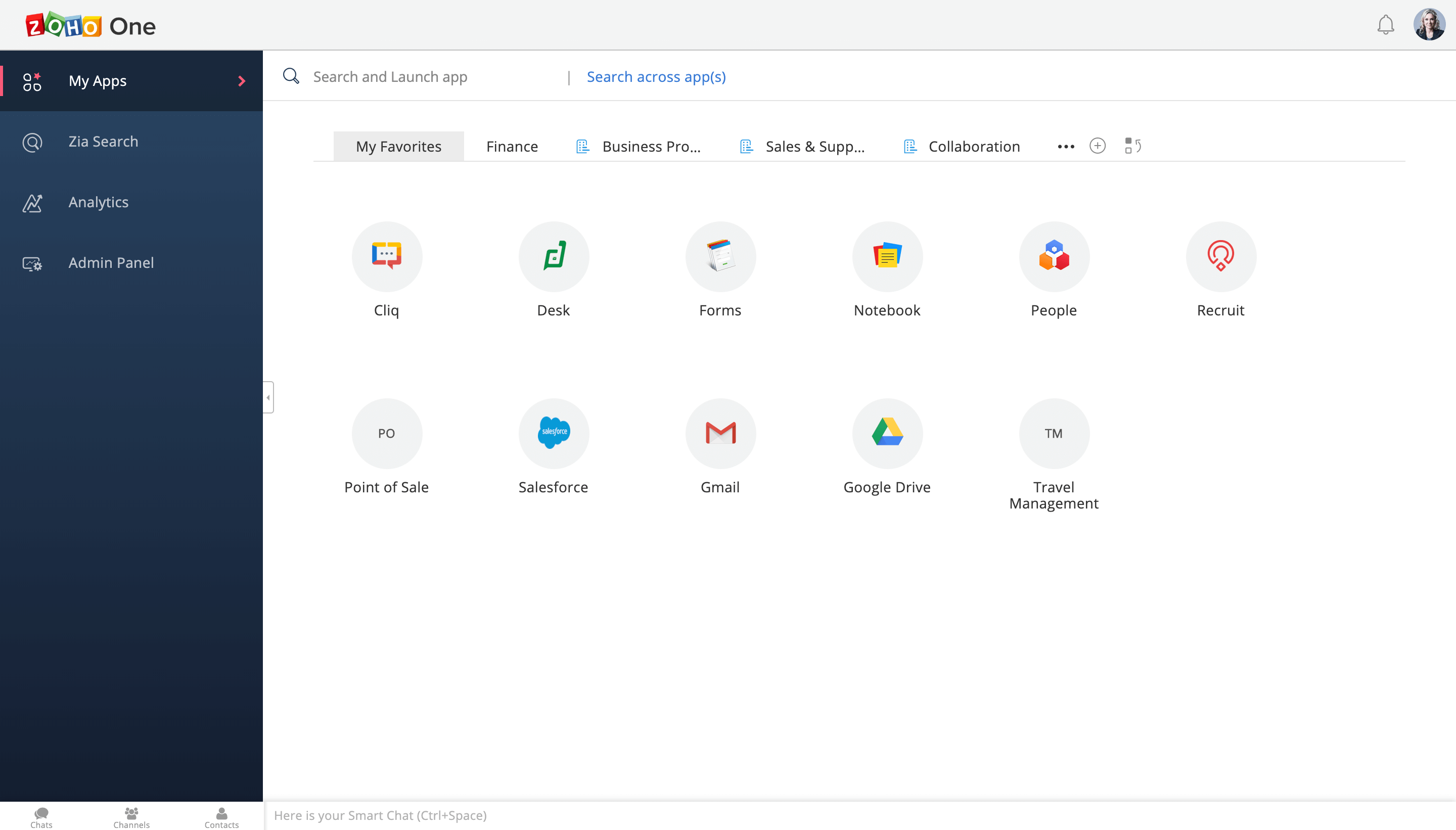 Want to provision apps automatically? Easy.
Administrators can automate app provisioning by setting up certain conditional rules in Zoho One. Conditional Assignment helps overcome the time-consuming process of assigning apps individually to users by automating the task based on preset conditions..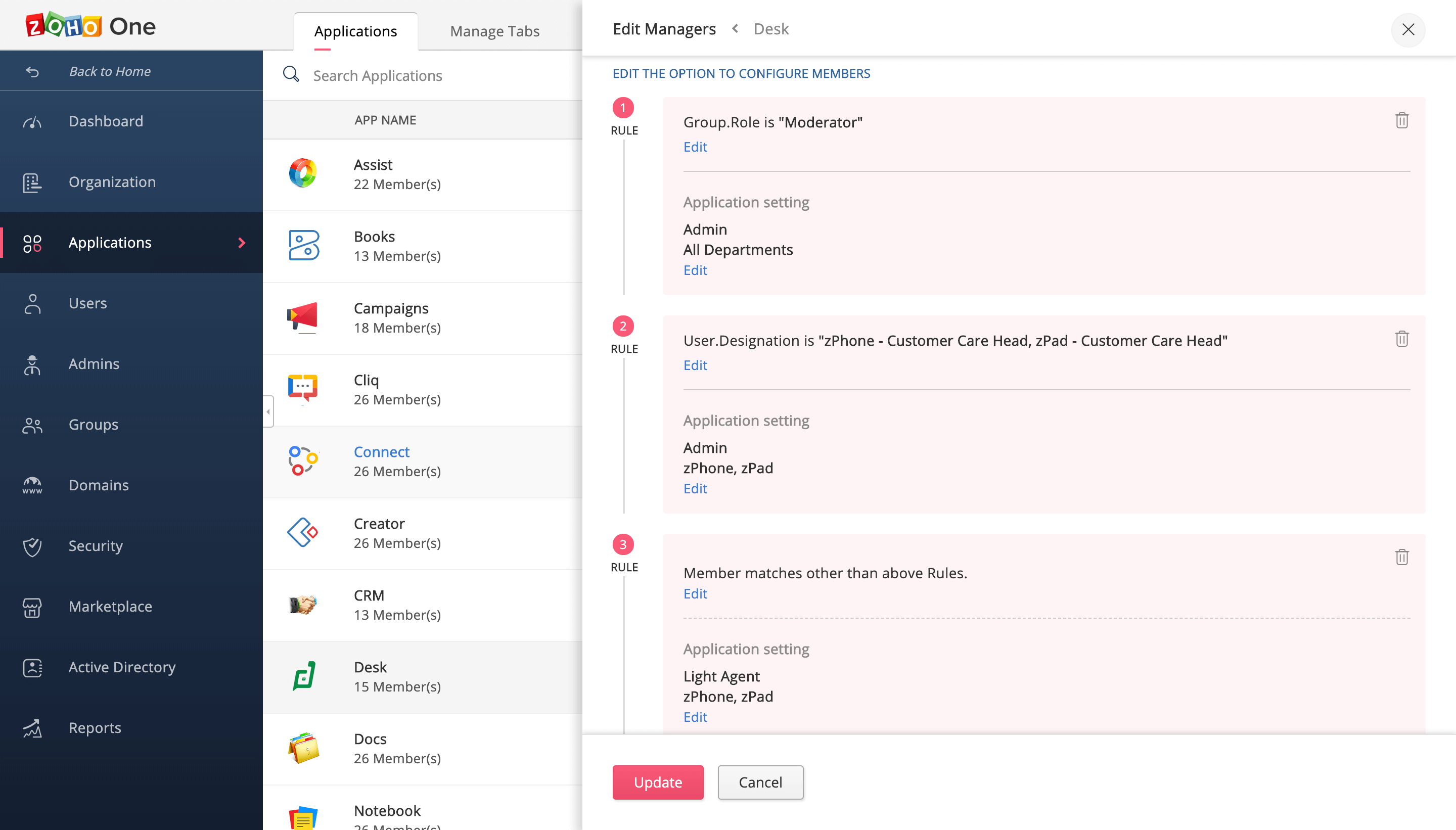 For example
Josh is the VP of Marketing in company A. He strives to generate more leads and revenue from the marketing efforts of company A.
He wants all the Managers in company A to drive revenue growth and profitability. Giving them access to some revenue reports in Zoho Analytics will definitely help his case.
He also wants all the Marketing Executives in company A to launch ROI driven marketing campaigns. Enabling access to Zoho PageSense, Campaigns, and CRM will help achieve that.
He now has a plan and creates two groups -

Marketing Manager and Marketing Executive.

He creates

Condition 1

- When he adds users to the Marketing Manager group,

Zoho Analytics is automatically provisioned to the users.

He creates

Condition 2

- When he adds users to the Marketing Executive group,

Zoho PageSense, Campaigns and CRM are automatically provisioned to the users.
It's that easy to configure! There is a lot more that you can do. Learn how to work with conditions in Zoho One - Learn More
One sign-in, multiple applications
Automate and ease credentials management. Set up an SAML-based SSO authentication from the Zoho One Admin panel to provide your users with a seamless sign-in experience. Your users can access multiple business accounts (Zoho Apps and Marketplace Apps) with a single set of credentials. Zoho's SSO syncs with LDAP servers like Active Directory which makes it a more scalable platform.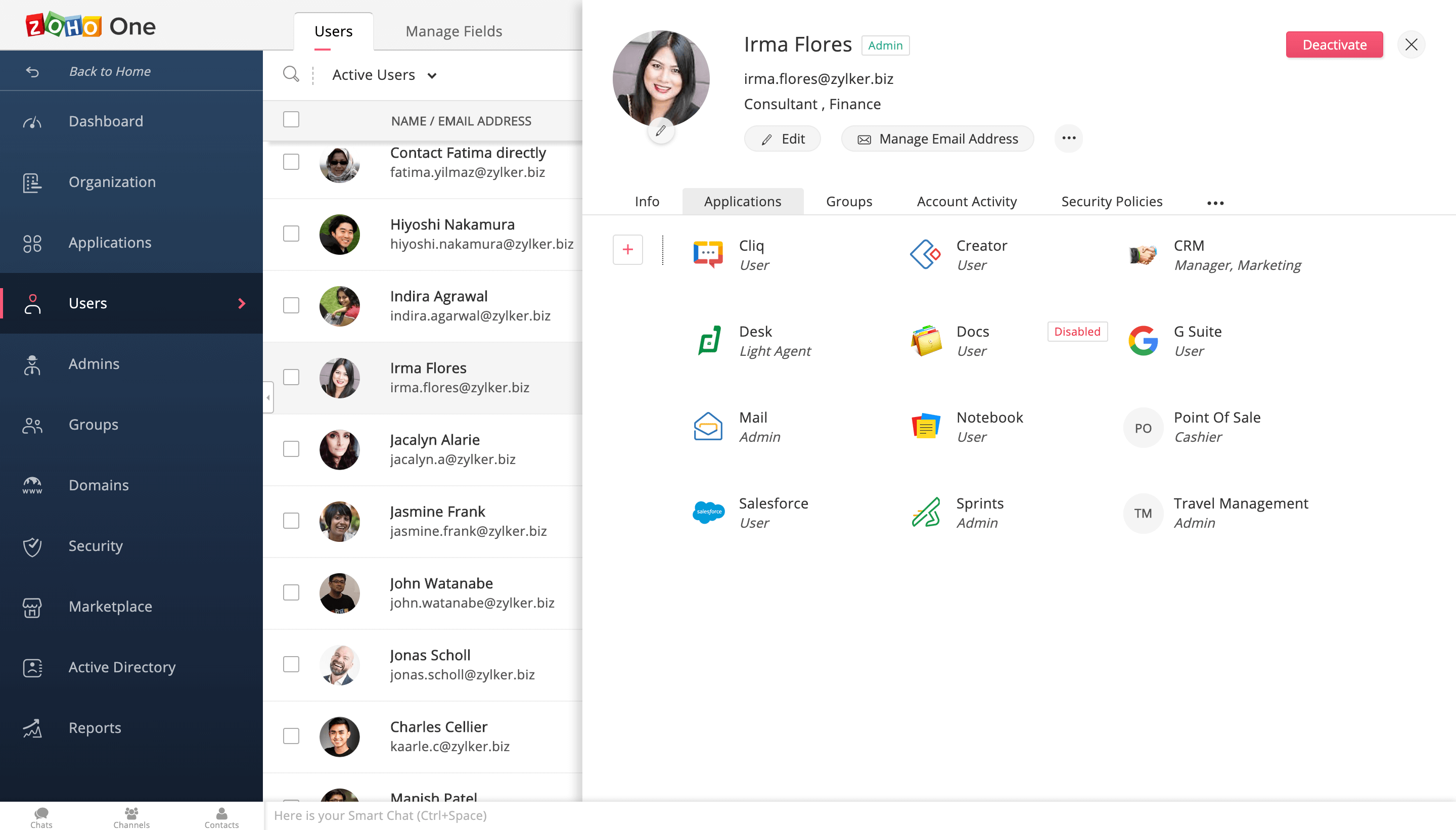 Higher levels of security. Times two.
With the increasing number of security breaches, it's more important than ever to deploy high security standards to safeguard your business accounts. Zoho One Admins can now add an extra layer of security by enforcing YubiKey multi-factor authentication.