Trade Facilitator unifies business processes with Zoho One. Customer support channels boast a 63% reduction in customer response time.
INDUSTRY

Logistics

Key Apps

Zoho One: CRM, Cliq, Analytics, Desk, Projects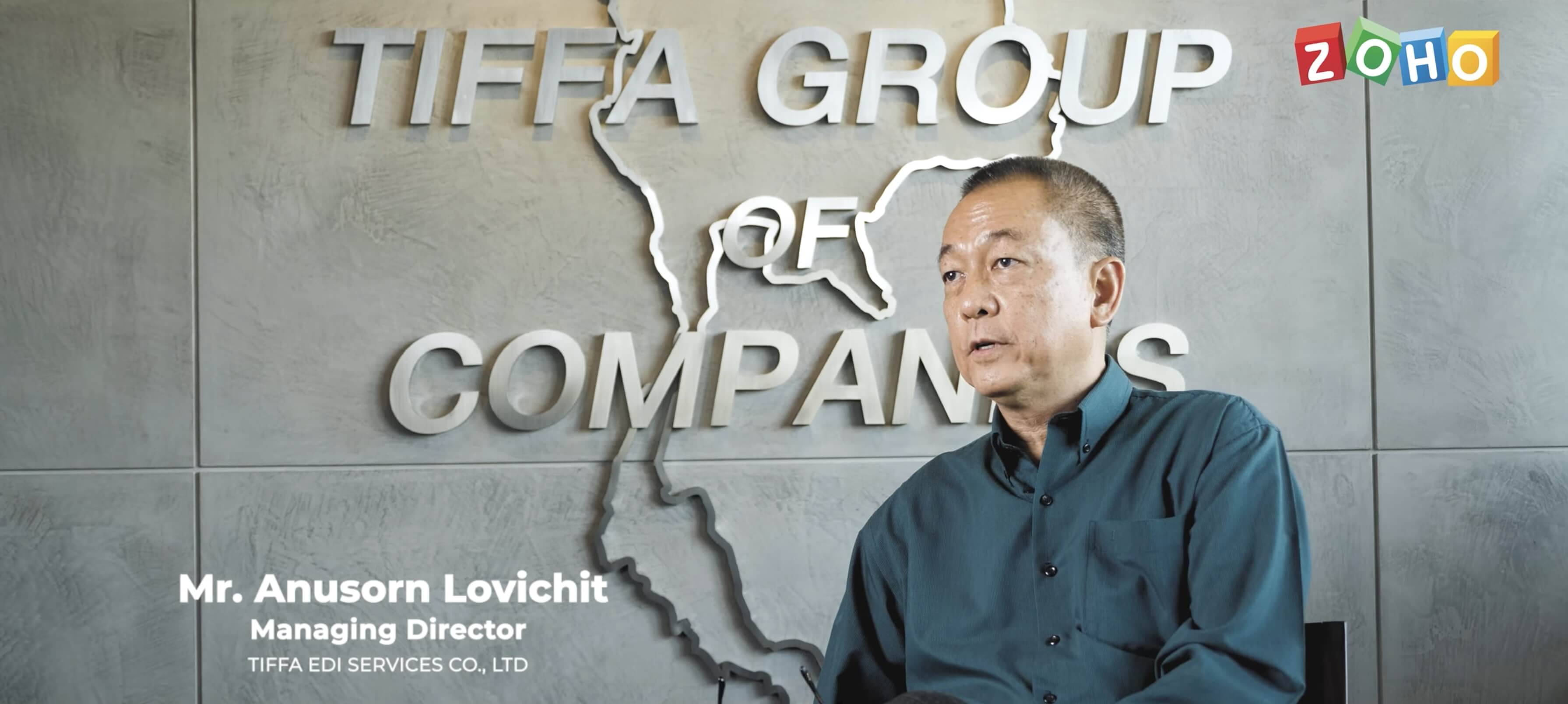 The Company
TIFFA EDI Services has been a key electronic trade facilitator in Thailand for more than two decades. As a trade facilitator, TIFFA EDI Services assists businesses based in Thailand to convert import- and export-related paper documents into electronic to help reduce the time required to complete import-export processes. More businesses are embracing digitalization to improve efficiency, and TIFFA EDI Services is poised to assist the many businesses undergoing this transformation.
The Challenge
TIFFA EDI Services provides a wide range of services to their customers, ranging from customer acquisition and operational support to managing customer help desks, as well as software development management and monitoring.
To manage differing customer needs, TIFFA EDI Services' managing director, Mr Anusorn Lovichit, searched for an ideal integrated software solution for more than 10 years. He needed software that could manage the entire customer value chain, from lead acquisition to customer conversion, customer support, project management, and finally data analytics. In the process, Mr Lovichit explored a wide range of CRM and ERP vendors, but was unable to find a solution that would support every step of his business process. Many of the products were standalone, and it was a challenge to integrate solutions from different vendors.
The Solution
TIFFA EDI Services has fully embraced the diverse apps in the Zoho One ecosystem and currently uses Zoho One as the operating system to run their entire business, from Zoho People to manage employees to Zoho Connect for knowledge transfer within the organization. With all applications on one platform and seamless integration, picking up and learning the software is also significantly easier for TIFFA EDI Services employees. For Mr Lovichit, being able to utilize Zoho Analytics as part of Zoho One is a game-changer as a business owner.
"For business people in the digital era, we're aware that data is crucial. As we go ever-more digital, we're collecting data everyday from so many different sources. All this raw data is meaningless if we don't have the tools to analyze and make sense of it. This is a challenge for most business owners. Zoho Analytics as a platform is a very complete solution, especially as a Zoho One user. I'm able to view the data from all aspects of my business from the CRM to our accounting systems all in one dashboard. Once again the integration is seamless and gives our business so much additional value."
Benefits and ROI
Since adopting Zoho One, TIFFA EDI Services has been able to reap benefits from having their entire workforce work on a common platform. Operationally, Zoho Desk has greatly improved efficiency for the service team. Having a unified customer service platform allows the team at TIFFA EDI Services to not only follow through effectively with customers, but also automatically track important indicators of their performance, such as average response time, average first response time, and percentage of tickets resolved in the first call. On average the team has managed to reduce response time to tickets by 63% since using Zoho Desk.
Looking Forward
TIFFA EDI Services found Zoho One to be the ideal solution to manage many aspects of their business. The affordability, flexibility, and the ability to easily integrate with a number of external solutions makes the Zoho One suite a great match to the requirements of their organization.
With the diverse toolkit from Zoho One, TIFFA EDI Services is able to collect and analyze data from their customers, the company hopes that this will continue to help them understand their customer journey and improve their interactions with customers.