What is Business Management Software?
Business management software can help to manage and run your business, while empowering your organization with the means to run your everyday operations.
START A FREE TRIAL
30 days, no credit card required. Free support and training.
Overview of business software
Business management software (BMS) is usually comprised of various modules necessary to run a business end to end. A business software suite can help you with sales, marketing, analytics, HR, productivity, employee management, back-office tasks, collaboration, and document storage needs.
These modules don't necessarily need to be siloed, but rather can carry the context forward, as you transition from one process or context to another.
How to choose business management software for your company
When you use a unified business management system, you're choosing a platform that can be a source of great convenience as well as productivity.
Especially, if you're a business with employees who work in silos but also come together for collaboration, business management software can simplify the process of working on individual and group projects. It empowers employees with the tools they need to work effortlessly and seamlessly. A good business management system (BMS) should ideally include:
Productivity tools
Collaboration tools
Communication tools
Project management tools
Customer relationship management tools
Asset management tools
Office management tools
End-to-end business tools
Both on-premise and cloud options exist. Depending on the size of your business, you can pick either one. Cloud-based business management software can work well for small and growing businesses alike. It should come with:
Simple navigation
Integration compatibility
Self-learning materials
Customization options
Customer support
Reliability and privacy
Zoho One: Beyond a comprehensive cloud-based business management software
Zoho One is a collection of 45+ unified, cloud business apps that creates a complete business management software. It even goes above and beyond a BMS, and works as an operating system for your business. Zoho One can work great for small, medium, and mid-market enterprises.
See your most important business metrics at a glance.
Work together on the cloud, as well as manage overall operations.
Restrict or allow access to users and permissions as you require.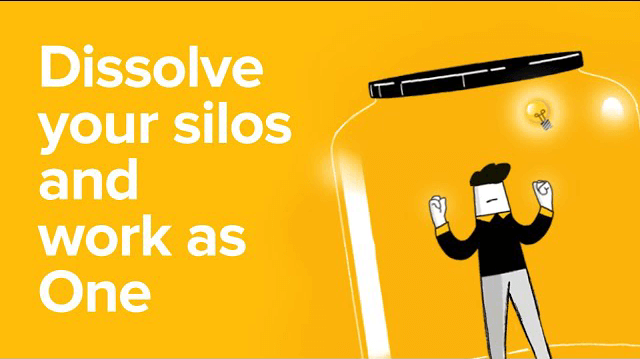 Begin your Zoho One journey today
Zoho One - The Operating System for Business
Zoho One not only helps to manage your business processes, it also provides a unified platform for all your operations, activities, and employees. The existence of a unified platform facilitates effective collaboration, enables customization capabilities, and helps you run your business just the way you want to.
Unique features of Zoho One that every business needs
Here are some features that make Zoho One stand out as an operating system:
Artificial intelligence

Zoho One's AI assistant, Zia, can help your sales team with predictive sales, and search for things like a customer or a conversation with an employee with full context. Zia can also automate your frequently-repeated workflows, offer grammar suggestions when writing, and provide translation services. Embed Zia bots, show recommended products on your website, and more.

Business intelligence

Generate reports easily, detect anomalies in sales or support, analyze trends, and generate insights from spreadsheets through Zia's business intelligence.

Integrate, extend, and create apps

Integrate and customize more apps to enhance the functionality of existing apps. Establish specific connections within apps that are more suited for your business. Create apps to make a particular functionality available.

Unified messaging

An internal chat software for your organization is the first step to official, yet easy communication. It's made better when the chat is easily accessible across any app in your company management system, as it is in Zoho One. Easily communicate, form groups, and resolve issues in real time without relying solely on email. Plan, communicate, and execute exactly when you need to.

Telephony

Phone systems used for external calls can be easily integrated with Zoho One through PhoneBridge, giving your teams click-to-call functionality, contextual information, and more.

SSO, provisioning, and access management

Give access to multiple users and define their roles and permissions as you wish. You can also appoint a central administrator who's in charge of adding your employees and permissions. Single sign-on (SSO) can help your users use their credentials for all apps.
Why Zoho One is more than just a BMS?
Zoho One works in a way that all your data, docs, and contacts can easily be retrieved; this is when a unified user interface helps. Apart from being context-aware, it can also save you a lot of time since the data you need is already there when you want it.
Switch between apps without losing context.
No worry about data breaches with the highest level of privacy and security.
Experience heightened employee engagement along with talent and workforce management.
A chat that's integrated into every app helps employees communicate easily, without losing sight of their work.
List of Zoho One's Business Management Software Tools
All apps under Zoho One are consistent in their approach in terms of usability and design. This means the learning curve is lessened and different functionalities use data from other apps, so your data flows smoothly wherever it has to. Covering the breadth and width of all the functions that a business would need comes as a prerequisite with Zoho One.
Sales

Sell across channels through CRM, email, and social media. Access everything on mobile devices and do your business on the go. Define your sales process; use business intelligence for convenience; create quotes, estimates, sales orders, and invoices with ease, and enable digital signatures.

Marketing

Get access to a website builder, A/B testing software, visual analytics, email marketing, custom website forms, surveys, live chat, live online events, marketing automation, office suite, team messaging, and project management software.

Support

Enhance your support operations through email, phone, social media, live chat, self-service portals, remote assistance, process automation, business intelligence, customer happiness, artificial intelligence, CRM, and team communication channels.

HR

Our HR-based apps allow you to fill job openings, do resume parsing, conduct interviews, send offer letters, onboard new employees, create company-wide policies, track in and out times, and manage time off. Create a collaborative office culture with a cloud office suite and an internal social network. Create a great employee experience!

Accounting

Get access to financial reporting tools, connect your bank account, track assets and liabilities, create estimates and invoices, and collect payments. Track payables and expenses, manage purchase orders, track mileage of employees through geo-tracking, manage expenses, allow time tracking for project-based employees, and manage recurring subscriptions.

Operations

Manage orders, perform multichannel selling, manage warehouses, and access project-based billing with operation apps. Enjoy resource utilization, project management in agile, waterfall, and task boards. Give your customers access to a client portal, online store, and subscription-wise billing. Create custom apps, too.

Productivity

Help boost your business's productivity by enabling your team with an office suite of writing, spreadsheet, and presentation software, as well as with digital signature, note taking capabilities, and password storage.

Collaboration

Collaborate on projects, assign tasks, discuss ideas, and host company-wide meetings. Work on shared documents, enable upskilling and training programs, use online conferencing and remote working tools.

Communication

Find tools that help you constantly stay in touch and communicate with your team members through integrated chat and email.
Deployment and Migration
A cloud-based platform like Zoho One can offer you the freedom to utilize the solution completely, without the need to think about security issues or maintenance. The back-end installations, setup, updates, and repair are all taken care of.
All training materials and access to implementation partners, as required, are available at your disposal. Migrating from other software is also supported—import your data and get started.
Highlights of Zoho One - The Operating System for Business
Your data will be stored in Zoho's data centers, ensuring total privacy and security.
Get full stack ownership of the platform, apps, and services.
Save more time: Onboard easily, drive business operations, foster company culture, collect business insights, and automate your processes.
Add extra functionalities by integrating with your preferred third-party applications through the Zoho Marketplace.
No disruption in your business operations with a proven uptime of 99.99%.
Verdict
Zoho One checks all the boxes as the essential and multi-level operating system for business. Being more than a business management software, it lets you scale, while simultaneously giving you the avenue to run your entire business operations. Switch to Zoho One, and help your business realize its full potential.