Contests.
Contests are a great way to foster healthy competition, keep your team engaged, and add a dash of fun to your everyday sales tasks.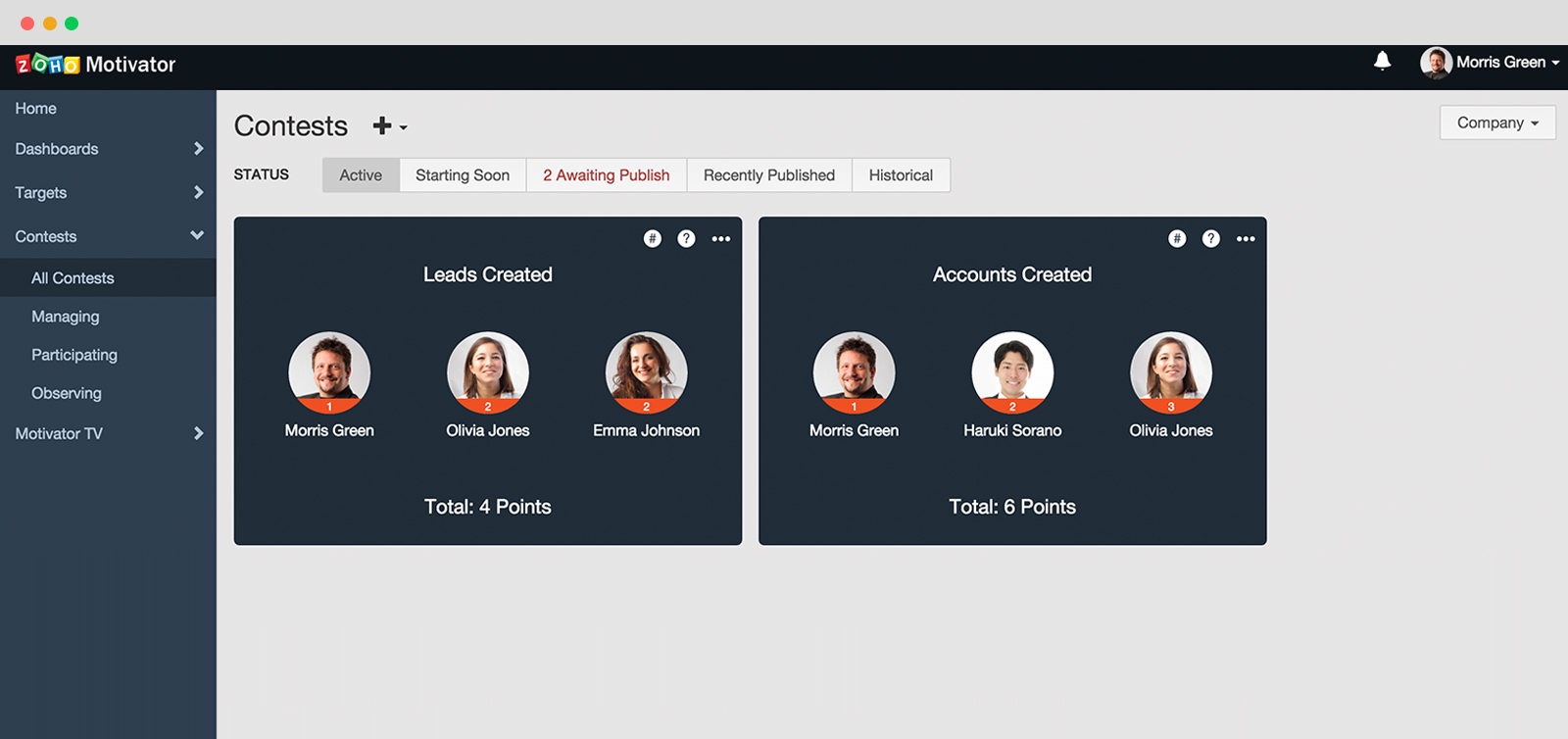 Create contests in a single click.
Contests do much more than just motivate individuals;they provide the opportunity to work together as a team and break the tediousness of everyday tasks while fostering healthy competition.
Leaderboards to measure your caliber among the crowd.
Leaderboards are clear, concise, and dynamically update themselves to the latest contest standings. Search individual contestants and monitor their status on where they stand.
Build teams and bring out the competitive spirit.
Drill down and build your teams based on their skills. Club the top performing individual with a low performing individual together as a team - this way everyone is motivated to win big.
Tie your rewards to goals.
Create multiple categories of rewards and align them with your organizational targets. Whenever a target is achieved or a goal is reached, Zoho Motivator makes sure to get the word out to the whole team.
Visualize the performance of your teams.
Get a detailed visual and interactive representation of the current status of contest standings in real time. Highlight top performers and motivate them to go further.
Set your rules.
Create contests from existing KPIs in a single click, or model the rules based on the deliverables you expect. Just add additional behaviors to the contest based on your current targets.
Motivator TV: Boost visibility, recognition, and fun.
Motivator makes sure that your sales team's karma never goes unrecognized. Stream leaderboards, contest standings, and trend charts to the big screen and watch your workplace come alive.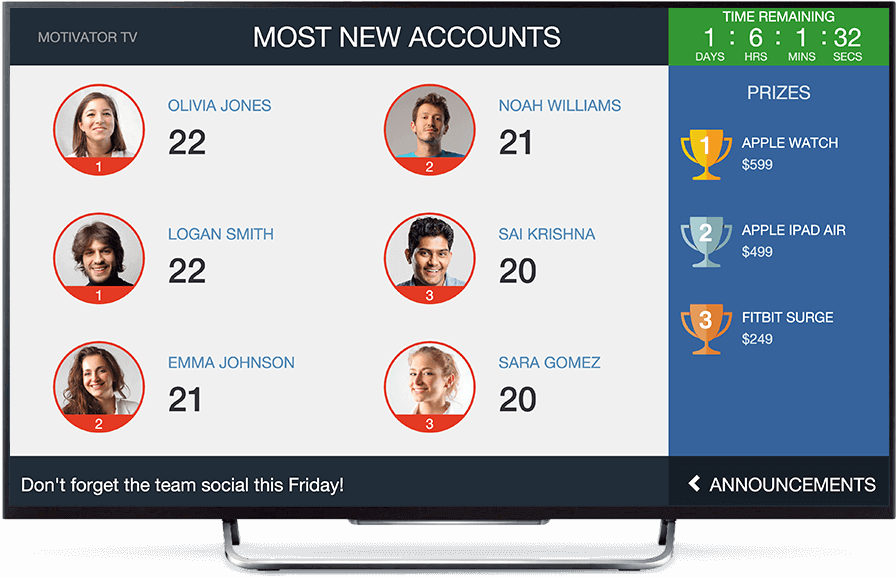 Create multiple channels.
Engage your team by making the sales process fun, competitive, and immersive with multiple channels. Populate them with contest standings, custom KPIs, and targets.
Personalize your own channels.
Customize your Motivator TV the way you want it. Grant your employees increased visibility of the current sales conversion by adding the Pipeline Velocity Channel. Or motivate your sales team by showcasing the leads they closed. Your sales team can observe the numbers and adjust their operations accordingly.
Showcase your wins.
Cultivate motivation through recognition. Did your sales rep reach her target before the stipulated time? Celebrate the occasion and make your employee proud by announcing her winning streak on the big screen. Feature your channel by highlighting it with the top performers for the current contest.
Make announcements.
Build a strong team culture in your organization by pushing team updates as and when they occur. Motivator provides a convenient, on-screen ticker that can display all your vital notifications on your TV.