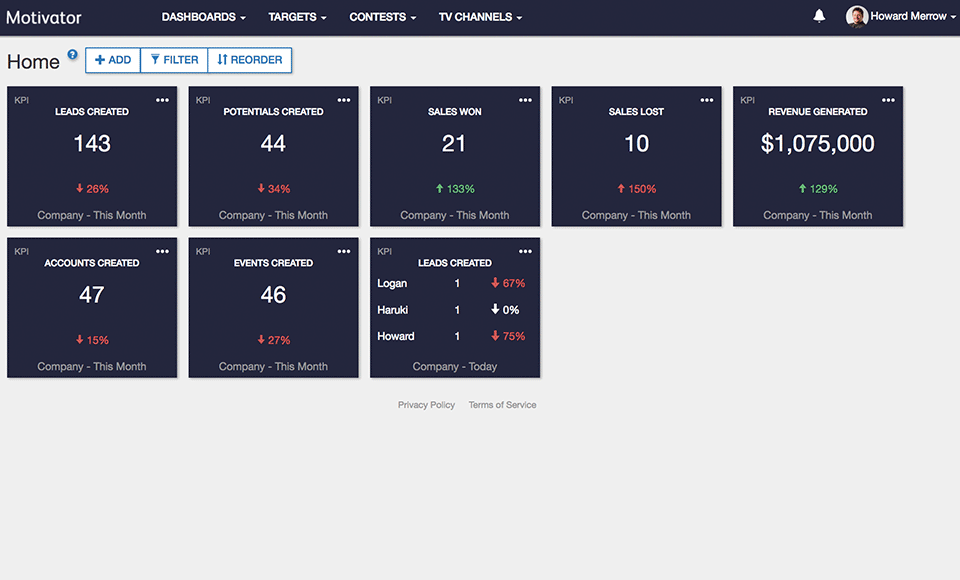 KPIs.
Create KPIs to highlight your organizational goals, such as creating new potentials, making cold calls, or generating more revenue. Based on these performance indicators, you can identify how well your team is performing so you can tailor specific strategies and coaching methods to improve them.
Custom dashboards.
As a sales manager, viewing the metrics that are crucial to your business is paramount. Customize your dashboard by displaying only the KPIs you want to see so you can easily find and monitor them any moment of the day. Create multiple dashboards for every part of your sales strategy.
Insights for better business.
Even the most seasoned sales veteran can have trouble sifting through all of the data your sales team creates over any given week. Motivator helps you simplify this process with interactive and intuitive charts so you can see not only the math but the context behind your sales figures as well.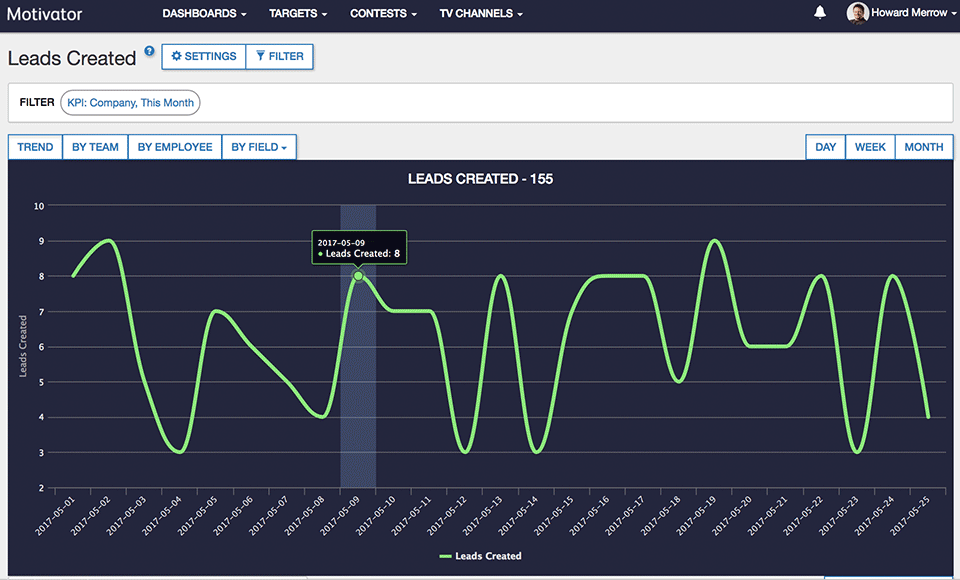 Trend charts.
With hectic schedules and short deadlines, you don't have time to analyze lists of spreadsheets. Motivator compiles your sales figures into one interactive trend chart to help you pinpoint anomalies so you can set benchmarks and goals over a specific time frame.
Breakdown charts.
In order to stay on track and improve, your sales team needs accurate, honest, and thorough feedback about its job performance. Bring value to your sales coaching sessions with breakdown charts that help direct attention to sales activities your sales reps need to improve on in order to stay on track and achieve their targets.
Pipeline velocity.
Quickly moving leads through your pipeline is the key to any sales team's success. The pipeline velocity chart analyzes key sales metrics like open potentials, win rate, and deal size to help your team see how they can move opportunities through your pipeline more quickly.
Pipeline stages.
Motivator extracts business insights from raw sales figures, a feature found in quality pipeline management systems. The pipeline stages chart visualizes how closed opportunities moved through the various stages of your sales cycle in a single snapshot. In addition, Motivator calculates metrics such as win rate and sales cycle length.