Change Presenter on the fly of Meeting
Sometime you may have to give a shared demo to your Prospects, showcasing different features well known to different Sales Executives. In such a case, when you go for online demo, you can switch the desktop sharing on the fly of the meeting. The meeting Host chooses the Participant to whom he wishes to swap the remote screen sharing and all the other Participants in the meeting will view the chosen Participant's desktop screen.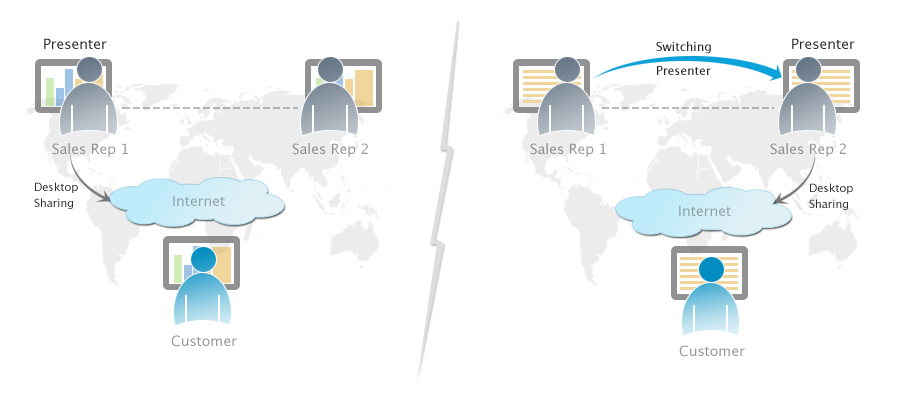 What do you get?
Give shared demo to your customer and skip rescheduling the meeting for the same customer.
Share desktop instantly without scheduling.
Your Participats view your screen instantly without waiting for you start the meeting.
Connect instantly, collaborate quickly.
Want to know more about instant meeting? Go ahead and meet now!
Business Scenario
Collaborative Team Meeting
Conducting online meeting with the team members located at different locations may require to switch the screen sharing in between meeting, so that each member will be explaining about their own part of work done. This may bring your team much more collaborative and grow business in a better way.
Shared Product Demo
In a case where there is more than one Sales Executive to demo the product from different locations to your Prospects, it's better demonstrated with change presenter instead of scheduling two different meetings for the same customer.