Simple to use and easily scalable
Round the clock support
Industrial standard security
Enterprise level experience for all
Interactive web meeting tools
Affordable, no hidden pricing structure
Deep integration with Zoho's ecosystem and other major third-party services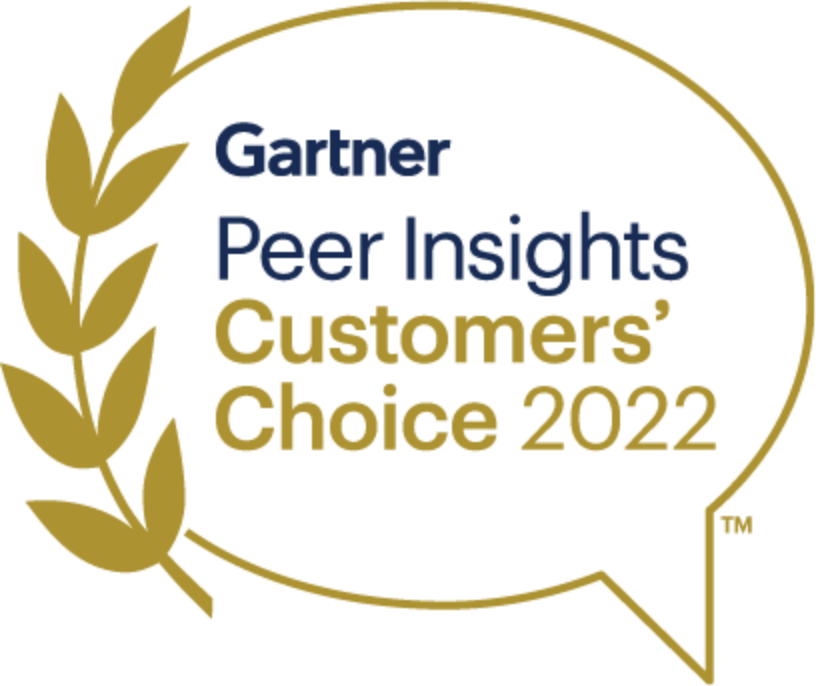 Voice of the Customer:
Meeting Solutions, 2022

Anchor point solution for unified communication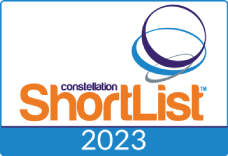 Shortlist for Virtual Events:
Webcasts and Meetings, Q3 2023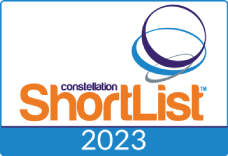 Shortlist for Virtual Events:
Conferences & Experiential Events, Q3 2023

Frost Radar: Cloud Meetings and Team Collaboration Services, 2023

GigaOm Radar for Unified Communications as a Service (UCaaS)
Webinar solution
Broadcast video webinars
Host live video webinars and share multiple video feeds with your audience as you present. Share your screen, an application window, or another monitor's screen to support your presentation. Also, use YouTube livestreaming to reach maximum audience.
Customize emails and forms
Customize registration forms, webinar emails, and moderate attendees from our video meeting software. Persuade attendees to take action by directing them to any web page you want after a webinar.
Interact with your audience
Launch audience polls, answer questions through Q&A, let attendees get your attention through Raise Hand and encourage them to speak and present Allow to talk and Make presenter.
View webinar data and download reports
Get comprehensive reports on webinar registrations, attendees, engagement, polls, and Q&As in our secure virtual meeting software. Download and document your data in XLS and CSV formats.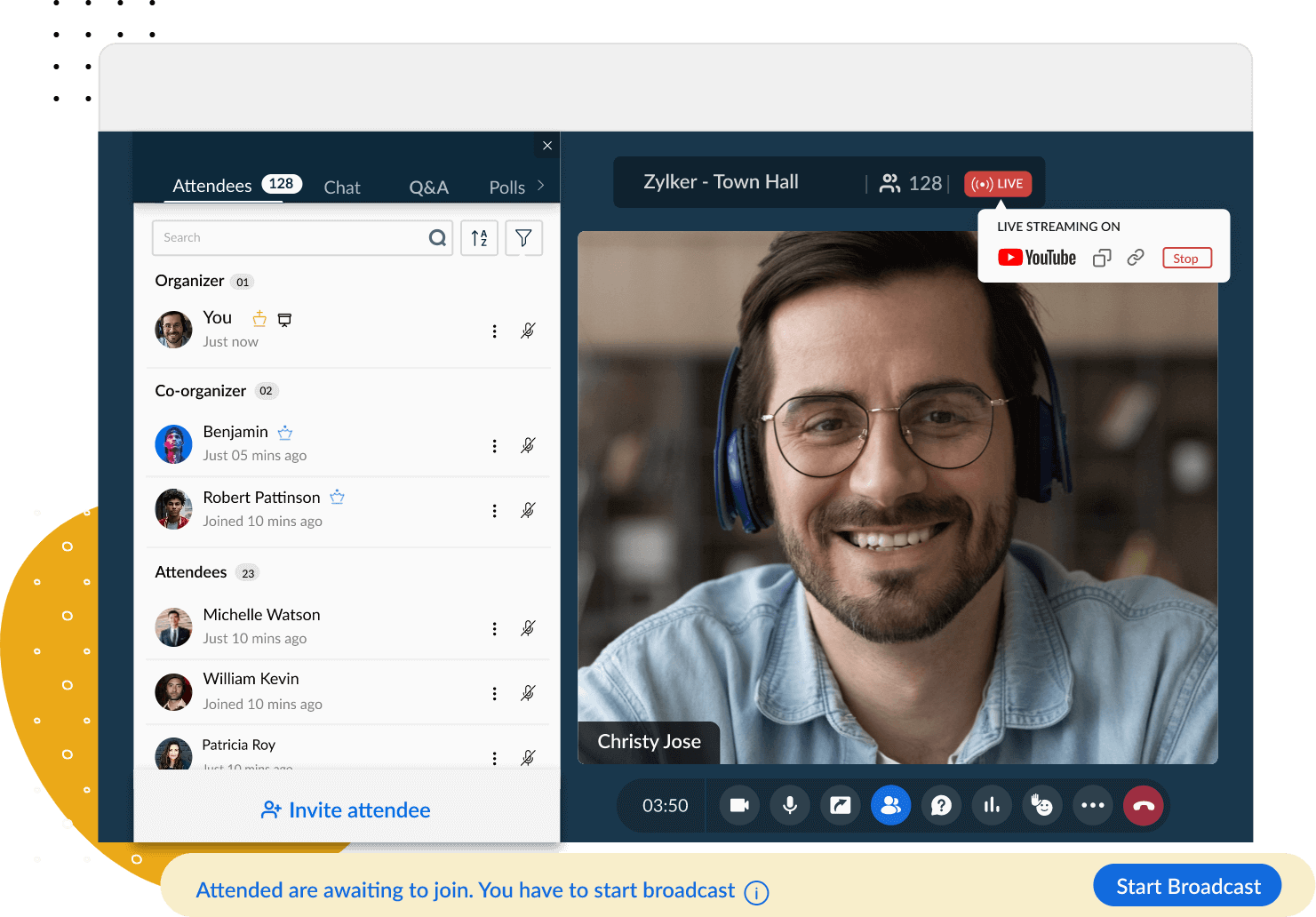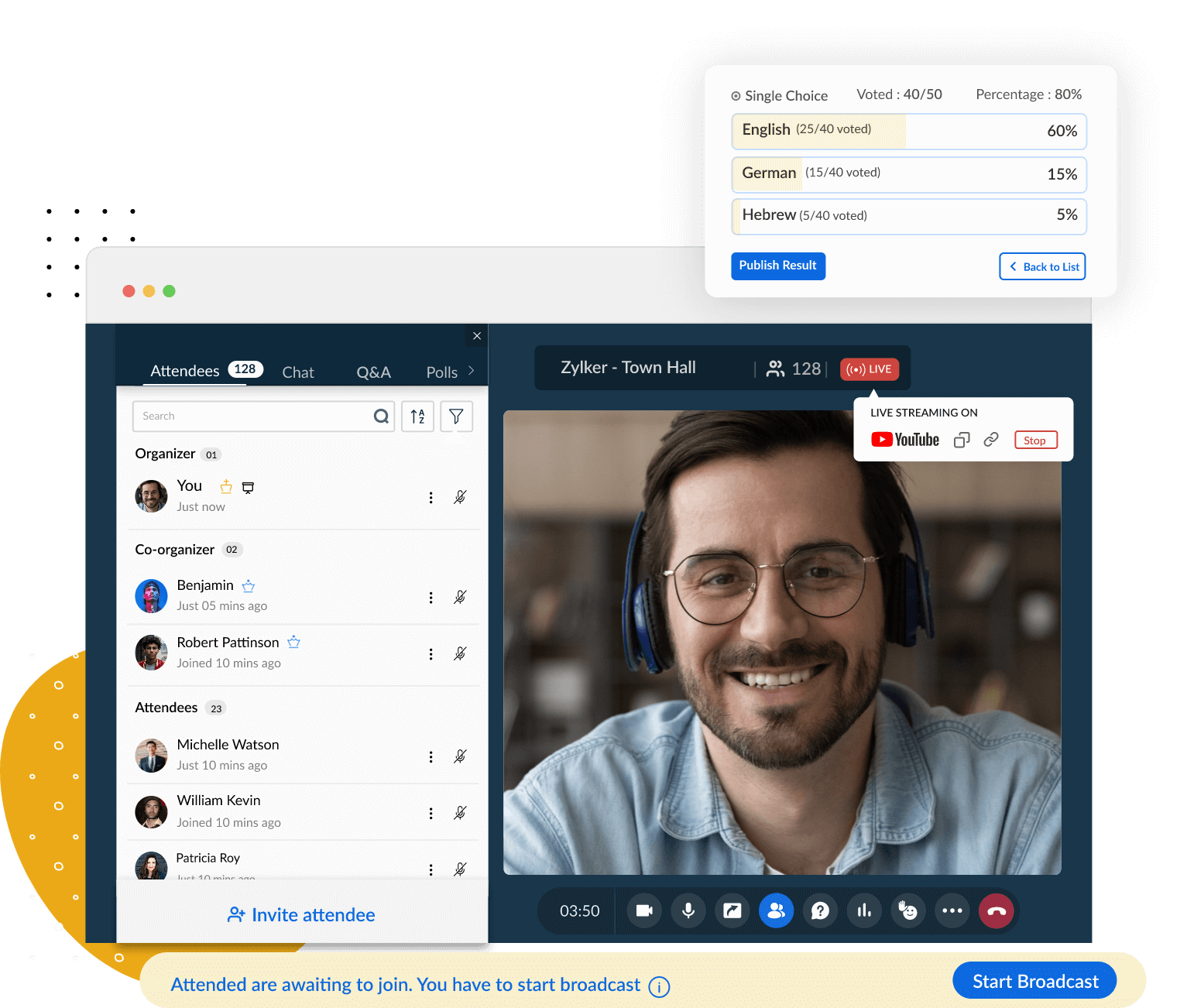 Enjoy secure web meeting experience
Zoho Meeting is committed to protecting your data and privacy while you conduct online meetings using audio, video, and screen sharing.
Zoho Meeting offers multiple security features to safeguard your web meetings, such as Lock meetings, organization-level video settings, and Entry/Exit notifications. We also encrypt audio, video, and screen sharing to keep your information safe as it travels through the internet.
Learn more about security and privacy in Zoho Meeting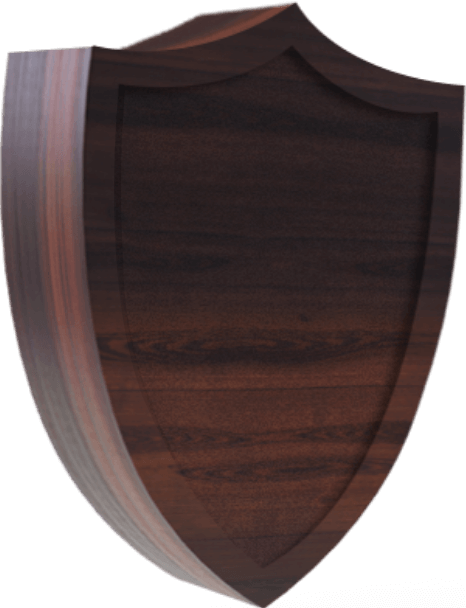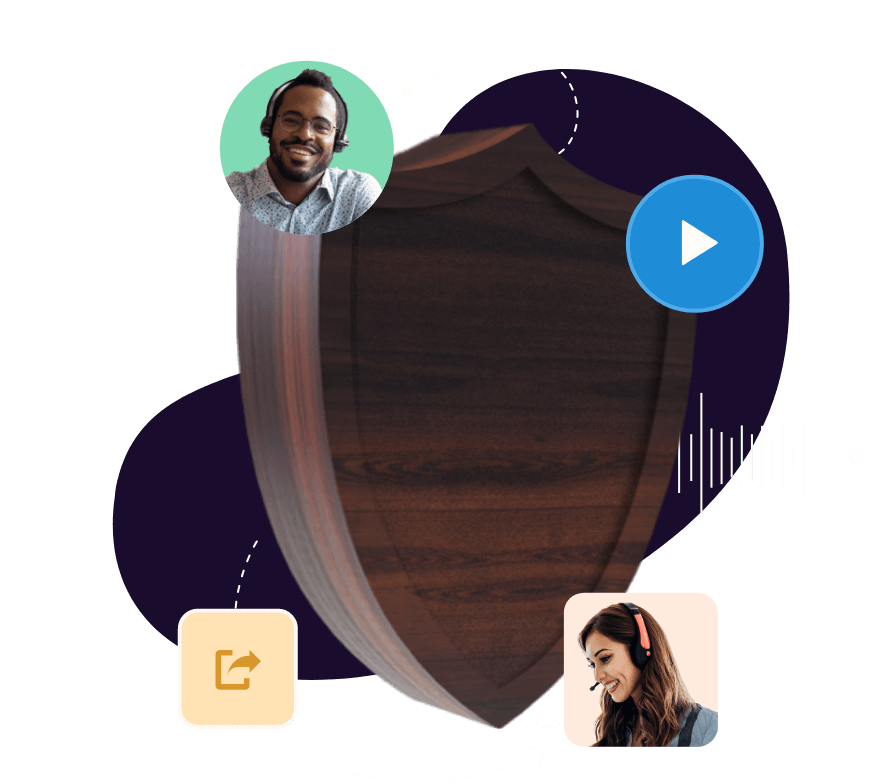 Campaigns

Gmail

Projects

CRM

Sprints

Mail

Outlook

Teams
Integrations
Conduct online meetings and organize webinars from other Zoho apps.
Learn more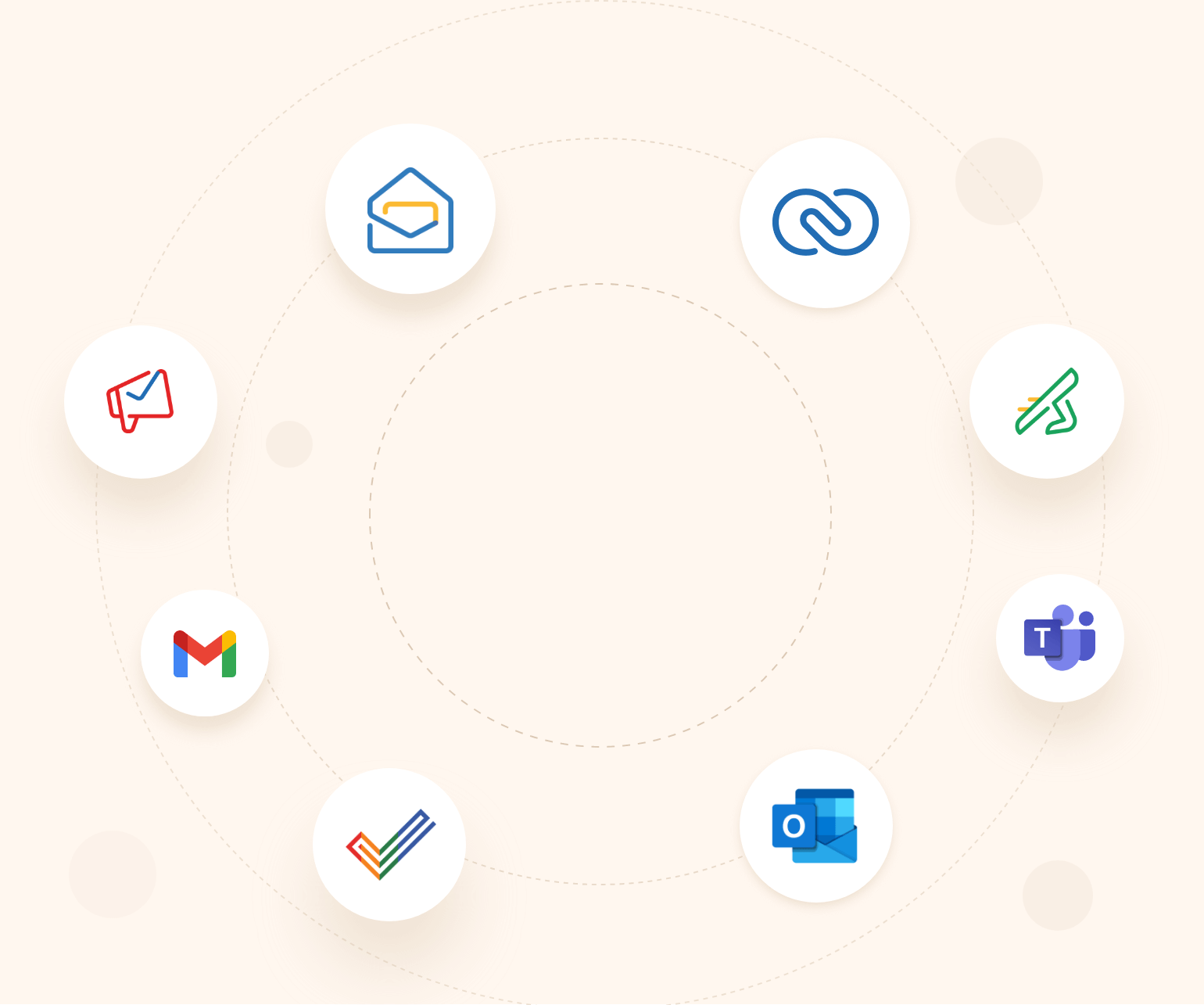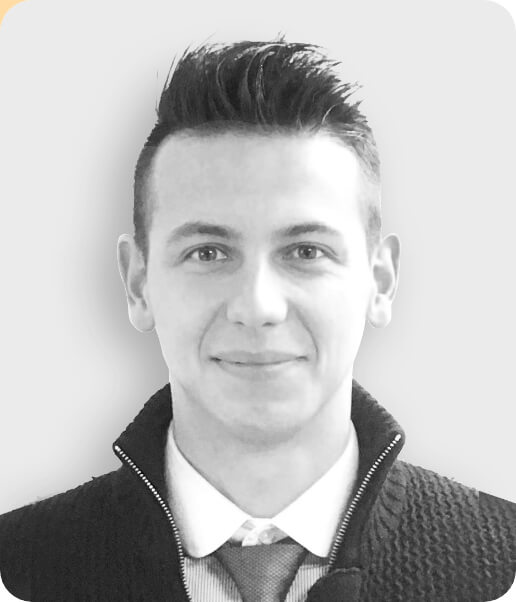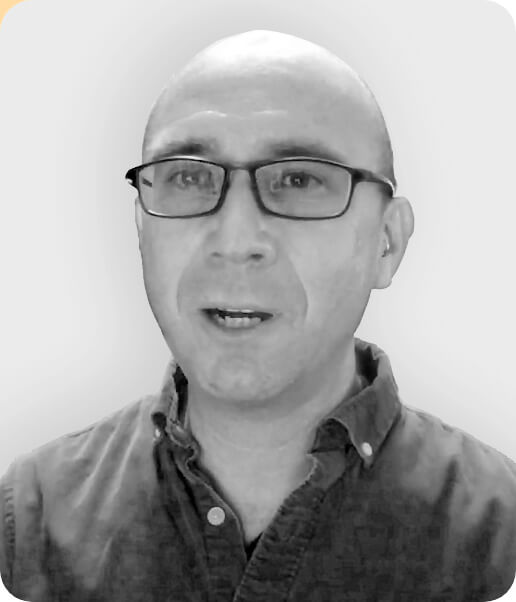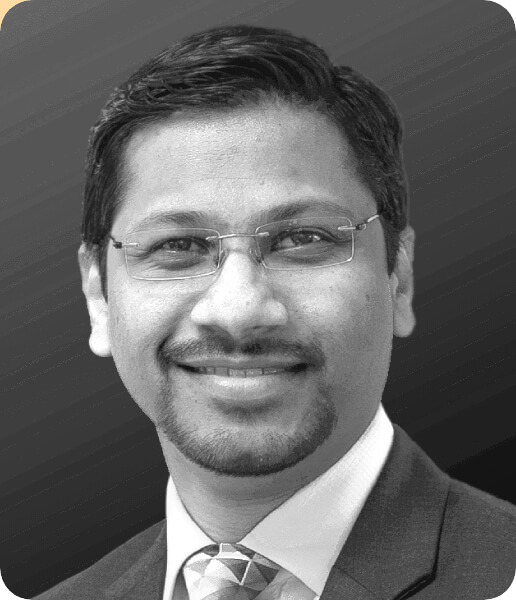 "Very useful meeting tools, as we use for Zoho for our CRM and accounts, it was an easy choice to use Zoho Meeting as well. Very good for remote demo's."
Tolik Rozensteins
Business Development Manager, Security & Vetting Solutions Ltd
"We now have several weekly team meetings that allow everyone to be in sync with each other. And for our customers we have created a series of live webinars and group meetings where they can speak directly with our team and learn about raising solitary bees."
Karl Alexander
Marketing Director, Crown Bees
"Upon creating webinar's in Zoho Meeting, absolutely without any effort the campaigns can be created instantly in Zoho Campaign's so we can start distributing them all in one place, within minutes. Furthermore, automatic workflow built within webinar avoids the need to create reminders and follow up's."
Gerald J Paulraj
CEO, StayAhead
Free
Up to 60 minutes of meetings and webinars
100 meeting participants & 100 webinar attendees
Seamless video conferencing
Secure screen sharing
Meeting
Starts at
Multiple co-hosts
International dial-in
Recording & storage
Webinar
Starts at
Multiple co-organizers
YouTube live streaming
Custom branding solutions
Can't decide on the right plan for your business? See our complete pricing structure
Online meetings on-the-go!
Join meetings and webinars from your mobile devices using the Zoho Meeting iOS and Android apps. Sign into the iOS app to view and launch your upcoming meetings, share your screen and collaborate with video.
Read more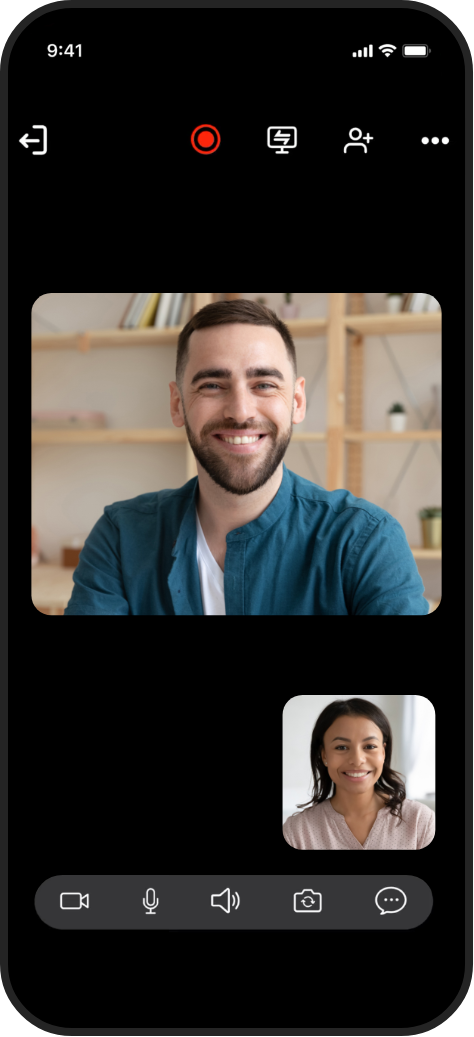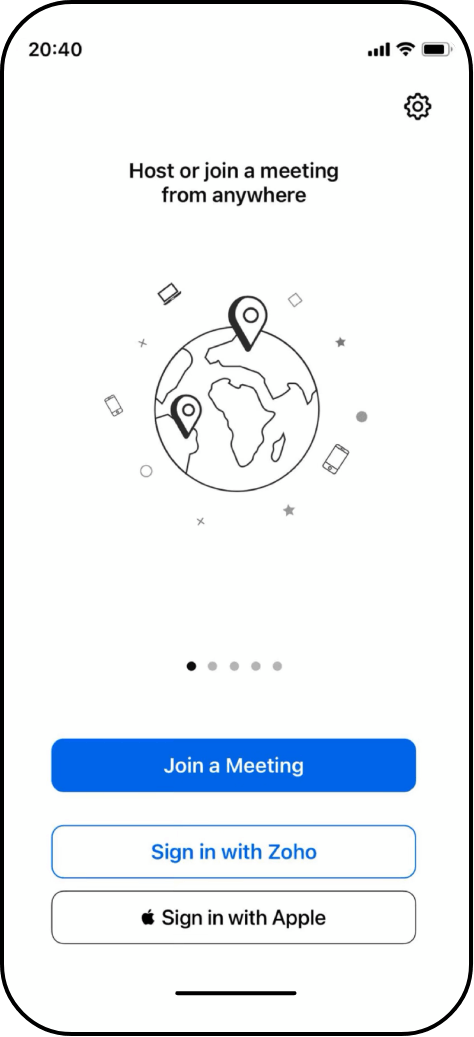 What is an online meeting?
An online meeting is a cloud-based conference that allows two or more individuals to connect and collaborate with each other remotely using an online meeting software. It can be defined as a virtual gathering where teams can discuss and exchange ideas regardless of the location. It can range from a small-scale gathering to large-scale conferences, enabling people to communicate and collaborate seamlessly.
Online meeting software is a virtual platform that empowers participants to engage in real-time audio and video communication, and stay connected regardless of physical location. You can launch instant online meetings, schedule web meetings, and broadcast webinars from a virtual meeting software.
What is a webinar and how does it work?
Webinars are virtual group events that involve an organizer communicating and broadcasting to a set of attendees. The organizer can broadcast presentations and conduct interactive training sessions with the help of features like polls, Q&A sessions, etc.
Attendees can sign up for the webinar, submit questions to the organizer, and interact with the polls to get the most out of the webinar sessions.
What are the differences between a meeting and a webinar?
Meetings are typically collaborative events where the host and participants engage equally using the online meeting software. They're conducted by a host and attended by participants to connect and collaborate over the web meeting software.
Webinars are online group events where an organizer broadcasts presentations and training sessions to a selected group of attendees. They're informative sessions on a particular subject that are broadcast to invited attendees. Webinars can be used for remote business presentations, training sessions in educational institutions, etc.
How to host an online meeting?
You can host seamless online meetings and collaborate with your business teams by proper planning,
Create a meeting agenda
Schedule and invite participants
Share screen and collaborate in real time
Engage participants with polls and Q&A
Track detailed meeting analytics post session
How do I join an online meeting?
You can join online meetings as a participant using the joining link shared by the host via email or chat. If you have the meeting key, you can access our join page or use our dedicated desktop application. You can also utilize our iOS and Android mobile apps to join online meetings.
What are the benefits of web meetings?
Remote collaboration

is made possible with

online meeting platforms

, allowing people to be virtually connected quickly and easily.
Online meetings help

save time and effort

that goes into conducting in-person meetings.

Screen sharing and presenting is easier

over online meetings, which helps ensure everyone is on the same page.
What are the different types of online meetings?
There are three types of online meetings:
Audio conferencing - Audio-only meetings that are suitable for brief sessions.
Video conferencing - Audio and video conferencing ideal for large meetings over longer periods.
Web conferencing - Audio and video conferencing solution with a presenter sharing their screen and collaborating with meeting participants.
Why do remote teams need an online meeting tool?
Online meeting platforms help remote teams communicate and collaborate efficiently, without being present in the same location. They can present ideas and interact over audio and video using online meeting software.
Remote work can be managed effectively with enterprise features like organization management, custom domains, and co-branding. With hybrid work models gaining pace, online meeting platforms can help you get the most out of remote workspaces.
Who uses online meeting platforms?
Online meeting tools are used extensively by various sectors, from small businesses to large enterprises, NGOs, and even government organizations. Some noted sectors include:
Personal use

- Individuals use online meeting tools as one-stop solution for meetings, video calls, and other personal conferencing needs.

Businesses

- Both in-house and remote business teams use online meeting software frequently to interact and collaborate with colleagues and clients from all over the world.

Educational institutions

- Schools and training centers have adopted online classes to teach and connect with students using online meeting platforms.
What are the key features of online meeting software tools?
Some of the key features that every online meeting software should have are:
How do I attend a webinar on Zoho Meeting?
Organizers will send you invitations to join their webinars. They'll promote these webinars through email and social media. If you're one of their invitees, you can easily enroll and attend yourself.
Zoho Meeting is available across devices. So you can attend webinars from your browser, our desktop application, or by using our dedicated mobile apps.
How can organizers and attendees interact in a Zoho Meeting webinar?
Zoho Meeting has features like polls, Q&A, and hand raising to allow seamless interaction between the organizer and the webinar attendees. Attendees can use the raise hand feature to grab the attention of the organizer, as well as interact with any polls.
Attendees can submit relevant questions in the Q&A section, which will then be answered by the organizer either in private or during the webinar.
What makes Zoho Meeting the best online meeting software for video conferencing and webinar?
Zoho Meeting provides seamless audio and video conferencing features for all your meeting and webinar needs. You can become a presenter and share your screen to collaborate with other participants in meetings. And with the ability to lock meetings, you can be sure your sessions are secure.
With high-quality video webinars, you can effectively broadcast presentations and conduct training sessions to large audiences — and once the webinar is over, you can analyze the session using webinar reports
How secure are web meetings and webinars in Zoho Meeting?
Our online meeting software is protected by DTLS-SRTP encryption with the latest TLS 1.2 protocols. The host has moderator controls to conduct secure meetings by locking meetings, muting and unmuting participants, and more.
With Zoho Meeting, users can enable Two-Factor Authentication (TFA) for their account, which gives an extra level of security against brute force attacks. Learn more about Zoho Meeting's security and privacy.
Do I need an account to use Zoho Meeting?
If you're a participant joining a meeting, you don't need to have a Zoho Meeting account. You can join either by using the meeting link or by entering the meeting key and password.
However, if you want to host a meeting or conduct a webinar, you need to create a Zoho Meeting account in advance.