Why choose Marketing Plus for your omnichannel engagement?

Unified setup

Manage all your marketing channels in a single account. Connect your email and social media accounts - import all your marketing data instantly, and start using Marketing Plus without any complex setup or process.

Unified brand

Maintain a single version of your branding information like mailing list and collaterals and use them for creating campaigns on all channels.

Unified team

Keep all your team on the same page so you can collaborate efficiently and plan your next campaign together for maximum impact.

Unified campaigns

Create and promote a campaign across all your channels—emails, webinars, surveys, social media, events, and SMS—from one centralized place.

Omnichannel engagement

Create seamless multichannel engagement with our fully connected platform. Import contacts from your social media, send them surveys, invite respondents to a webinar, remind them with SMS before you go live and more.
Send your audience the right emails and drive better engagement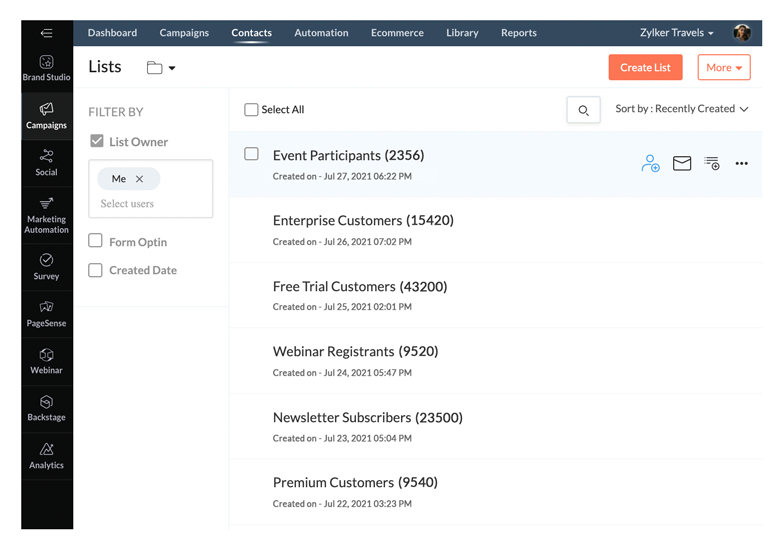 Instant email builder

Create emails from 240+ pre-built templates or design your own template with our drag-and-drop builder.

Easy segmentation

Import your subscribers and segment them based on criteria such as demography, geography, and gender to send them more contextual emails.

Intelligent email testing

Run intelligent A/B testing to find the best version of your email and send it to your audience automatically.

Ecommerce

Connect your online store to send promotional campaigns to your buyers and send automated follow-ups for abandoned carts.

Email automation

Send the right email at the right time: automate welcome emails, reminders, birthday messages, and more at preset time intervals or on specific dates.

Unified email campaigns

Import your audience from other channels like social, webinars, SMS surveys, and events and keep them engaged in your marketing funnel.
Maintain a strong, effective social presence for your brand
All your social accounts in one place

Connect your accounts for Facebook, Instagram, Twitter, LinkedIn, YouTube, Pinterest, TikTok, and Google My Business and manage them all in one place.

Thumb-stopping content

Upload or create a post with built-in tools like Canva. Create captions with formatting (like bold, italics, or underline) and emojis to convey your tone.

Publishing options

Pick the right channels for each post. Publish your post immediately, schedule it for later, or use smartQ to automatically publish your content at maximum engagement times.

Social listening

Listen to what your followers are saying about your brands. Monitor core keywords, brand hashtags, reviews, and more in real time with our social monitor.

Better engagement

With everything on a single screen, you never miss a message or comment. Respond to direct messages or queries to improve your brand engagement.

Lead ads

Connect your Facebook and LinkedIn lead ads accounts to monitor and nurture leads in real time. Analyze ads' performance and optimize them to hit your goals faster.

Unified social experience

Social is connected to other channels so you can add your social media followers to your email list, or invite them to participate in surveys, webinars, or events.


Organize and promote webinars, invite your audience, and follow up effectively

Customize your webinar

Schedule your webinar, add co-organizers, and create custom registration forms that reflect your brand's style.

Promote your webinar

Share webinar links with contacts through channels like email, social media, SMS, and surveys, or embed your registration link on your web pages.

Send automated emails

Set up automatic reminder emails to all registrants to remind them to attend your webinar or send a thank you email for attending.

Host and record your webinars

Broadcast live video feeds, share webinar presentations, and record webinars from start to finish and store them in the cloud.

Engage with your audience

Chat with your attendees during your webinar, share files, create polls for them to engage with, and view the results in real time.
Create surveys in minutes and share them with your audience on all your channels
Create your perfect survey in no time

Choose a design and theme from 200+ templates to match your brand style, so respondents can trust that it really comes from you.

Drag and drop questions

With over 25 different question types to choose from your participants' answers will always be in the format you need.

In-mail survey

Embed questions into your emails and campaigns. Participants can respond to your survey directly from the email without having to open a link.

Personalize with skip logic

Make responsive, personalized surveys, so that some questions and pages only appear if a specific answer is given to a previous question.

Unified survey experience

Marketing Plus allows you to share surveys directly with your audience through emails, social channels, webinars, and events.

Analyze reports

Measure your survey results in real time. Create custom reports, analyze them with charts and graphs, and make informed decisions.

Set your stage and deliver a great event experience

Create your event instantly

Create your events from our pre-built designs, adapted to match your branding. Share e-tickets or magic links, so your audience can join your event in just two steps.

Air your event live

Create virtual backgrounds, present your speakers on the stage, share presentations, and offer the best virtual event experience to your attendees.

Share your agenda

Create a comprehensive event website with all your event details, speakers list, sponsors, exhibitors, and any other information your attendees need.

Unified event experience

Connect events to your emails, social channels, and webinars in Marketing Plus to invite your audience directly.
Reach your audience right in their pocket and engage them directly with personalized messages
Personalized messaging

Create personalized messages for your target audience with their first name, location, or other relevant details to make them feel more engaged.

Optimized sending

Schedule your messages so that they are delivered on the day and time when you usually see more opens and clicks.

Reminder messages

Send appointments, event reminders, confirmations, and flash sale notifications to your audience, so that they never miss your updates.

SMS automation

Automate your SMS campaigns, like sending a series of promotional messages or automatic follow-ups when users open your messages or click a link.

Unified SMS experience

Marketing Plus connects SMS with all your other marketing channels, so you can text your attendees to remind them to log on before you go live.


Create and manage high impact campaigns that require execution on multiple channels

Create campaigns

Get all your marketing channels on a single screen, so you can plan, create, and promote a campaign across multiple channels from one location.

View a unified timeline

View all your ongoing and pending campaign activities for every marketing channel in a timeline to ensure your campaigns are on the right track.

Real-time tracking

Track your ongoing campaigns across multiple channels in real time and make tweaks to achieve your goals faster.

Measure performance

Measure the performance of your multichannel campaigns with unified marketing analytics to find out which channels are working best for you.
Manage your marketing with confidence.
Sign Up for Free
15-day free trial. No credit card required.