What is
Digital Marketing

?

Digital marketing, also known as online marketing, is a method of promoting your brands, products, or services through online channels such as search engines, websites, social media, emails, webinars, and mobile apps. Put simply, digital marketing is any marketing effort that needs electronic devices, software, and the internet to create and promote marketing campaigns.

Getting Started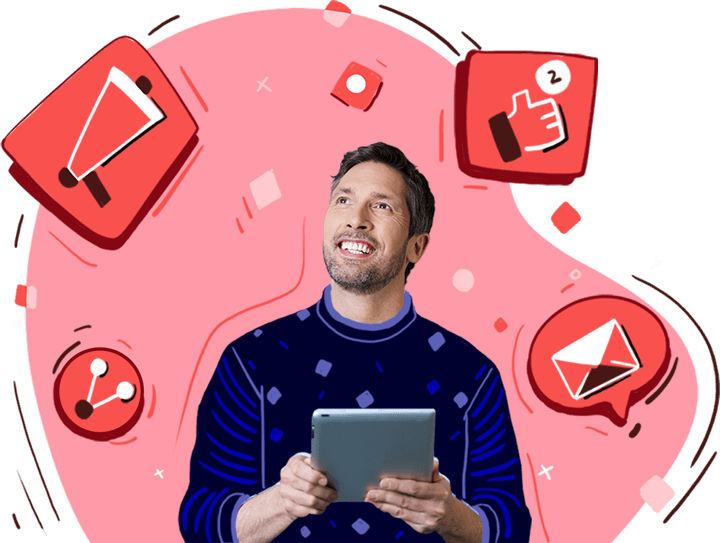 Experts' definitions
Gartner defines digital marketing as a set of integrated techniques, technologies, and information that enables marketing to create new products and services; enter new markets; improve the processes needed to engage in a dynamic conversation with people who are influencers and buyers; and, ultimately, target, acquire, and retain customers.
"Digital marketing is (or should be) a part of almost every key business decision from product development and pricing through to public relations and even recruitment"

Simon Kingsnorth

Digital Marketing Strategy, 2nd edition

"Digital marketing is the act of selling products and services through online channels"

Neil Patel

Co-founder of Neil Patel Digital.
Importance of Digital Marketing
Your audience spends, on average, more than six hours a day online: browsing websites, watching videos, and reading content on blogs and social media. Digital marketing is an easy way to reach them directly. If you don't have a digital marketing strategy for your business yet, it's high time to create one.
64%
lower costs for digital marketing compared to traditional marketing.
60%
of customers expect brands to provide consistent and precise information across online channels.
Benefits of Digital Marketing
Reach your audience anywhere in the world
Target people who fit your ideal customer profile (ICP)
Deliver a highly personalized experience
Engage and build meaningful relationships with your audience
Create a better brand image
Maintain better control over your marketing budget
Benefit from high visibility over your campaign performance
Measurable ROI
Types of Digital Marketing
SEO
SEO stands for search engine optimization. This is a continuous process of optimizing your website's technical configuration, creating relevant content for your audience, and sharing links on social media and other related websites to make your website more likely to pop up on search engines in response to users' search queries. SEO has three main components:
On-Page SEO

The practice of optimizing individual web pages in terms of site, structure, and content. On-page SEO refers to all the measures taken directly on the website to improve its position in search rankings.

Off-Page SEO

Actions you take anywhere other than your page to improve your page ranking in search engine results. It involves improving users' perceptions of your site's popularity, relevance, and authority rankings.

Technical SEO

The process of ensuring your website meets search engines' technical criteria, such as page loading time, website architecture, URL structure, and security.
Several factors contribute to a good SEO score, but creating rich content is always a strong strategy. In fact, good SEO is all about content marketing.
Content marketing
Content marketing is a marketing approach focused on creating and distributing content such as blogs, infographics, white papers, ebooks, podcasts, and videos that are relevant to your target audience to make your website more likely to pop up on search engines in response to users' search queries
The primary objective of content marketing is to educate your audience about the products and services you offer to gain their interest and allow them to evaluate whether your business has the right solution for their problems. Content marketing can also be a great soft seller for your business, boosting factors like reach, brand awareness, interactions, sales, and loyalty.

Your website content, like blog posts, can significantly contribute to SEO, making sure your website appears at the top of the search engine results page (SERP) for related search queries. Users are more likely to visit the page at the top of the results, so you'll get more visitors to your website without paying for traffic. That's why content is always king.
Email marketing
Email marketing is a component of digital marketing that uses email as a medium to promote brands, products, and services to subscribers. It helps your brand build a great relationship with customers and keeps them up to date on your new products, offers, discounts, and other services.
Email marketing is ideal for
Welcoming and onboarding customers
Nurturing customers with relevant and valuable content
Following up with potential new customers
Sharing blogs or newsletters
Promoting your new products and services
Advantages of email marketing
Direct marketing
Easy to create
Reach instantly
Deliver personalized experience
Measurable results
Higher ROI if executed well
SMS marketing
SMS marketing involves sending promotional or transactional marketing messages via SMS to communicate offers, updates, and alerts to your customers who have consented to receive these messages from your company.
Advantages of SMS marketing
Reach your audience instantly and directly on their phones.
Create workflows and automate messages in most SMS marketing apps.
Benefit from measurable results and a high engagement rate.
Social media marketing
(SMM)
Social media marketing is the component of digital marketing that uses social media as a channel to connect with your audience to promote your content, build your brand, engage with your followers, and increase sales.
Advantages of social media marketing:
Enhance brand awareness by promoting your content to a new audience
Increase your website traffic Improve your SEO score
Engage with followers and build meaningful relationships
Attract more inbound leads
Improve the customer experience
Channel
Business marking type
Content type
Purpose
Facebook
Instagram
Twitter
LinkedIn
YouTube
Google my Business
B2C
B2C
B2C and B2B
B2B
B2C and B2B
B2C and B2B
Blogs and articles
Images and videos
Short text and images
Blogs and articles
Videos
Images, FAQs, and reviews
Brand awareness and loyalty building
Brand awareness and relationship building
Public relations and brand building
Lead generation and brand building
Brand awareness building and driving website traffic
Giving more information to first-time visitors
Paid marketing
Paid marketing, as the name suggests, is when you pay to promote your brand on search engines, websites, and social media. This can be an effective marketing strategy as it relies on data gleaned from users' online interactions to boost your website traffic by delivering relevant ads to the target audience.
The two main paid marketing channels are:
Search engine marketing

(SEM)

These are the ads shown at the top or side of search engine results pages on services like Google and Bing. These ads cost you for every click, conversion, or impression. You can create ads and customize them to target only your most likely potential customers, without having to show them for every search.

Social media ads

These are ads shown on social platforms like Facebook, Instagram, Twitter, Linked In, and YouTube. There are 4.33 billion social media users around the world, and social media ads help you to reach the right users and retarget people who have visited your website before, which can really boost your conversion rates.
Webinars
Webinar marketing is a component of digital marketing which works by attracting and inviting potential customers to attend a relevant webinar, which will ideally deliver great value to attendees, while also nurturing your relationship with them and promoting your products or services.
Advantages of webinars:
Enhance your brand value
Deliver better value through educational content
Interact with your audience face to face
Generate high-quality leads
Increase conversion rates
What does a digital marketer do?
The responsibilities of a digital marketer may include: writing blogs, sending emails, managing social media, running paid ads, measuring website traffic, generating leads, and working with other teams like product development, design, and sales to understand the products and services offered, so they can create better content to entice the audience and convert them into customers.
But the exact roles and responsibilities of digital marketers will differ from each organization to the next depending on the team size and goals. Digital marketers working at start-ups with small team sizes may have to wear multiple hats and manage all the company's online marketing activities, while marketers working at enterprises may focus on just one or two things, like just managing email campaigns or only running ads on social media.
KPIs for digital marketers include increasing brand awareness, attracting more website visitors, and generating more sales-qualified leads. To manage marketing activities and achieve their KPI targets, digital marketers need a solid strategy, a good understanding of their product and market, and, last but not least, powerful digital marketing software.
Digital marketing software supports a variety of functions used in online marketing, like email campaigns tools, social media management tools, and webinar tools. There are two main types of digital marketing software: individual marketing solutions and unified marketing platforms.

Individual marketing solutions
vs

Unified marketing platforms

Individual marketing solutions generally consist of only one application with one marketing function, like a marketing tool that focuses only on sending email campaigns or a tool just for publishing social media posts. A unified marketing platform offers multiple applications which target a range of marketing activities, all in one centralized place. Most solutions include tools for email, SMS, social media, webinars, surveys, ads, and automation, with some solutions offering even more functionality.
Individual marketing solutions

Unified marketing platforms

Complex to use as the user interface will be different for each vendor.

Provides a unified interface: easy to use as the user interface is the same for all the tools.

You have to set up multiple accounts and log-in credentials for your brands on different applications. This puts your data at risk.

Unified set up: This makes the process of signing up for and accessing tools easy, and your account more secure as you don't have to share your credentials with multiple vendors.

It is impossible to manage all your brands in one place, so it can be challenging to maintain a unified theme for your brand across all the channels.

Unified brand management: you can manage all your associated brands in a centralized space, creating unified campaigns for your brands across all channels to maintain brand consistency.

Collaboration with team members is challenging; you have to purchase licenses for each different account, invite your team to each tool, and discuss the performance of each campaign one at a time.

Unified team management: Collaboration with other team members is easy. A unified marketing platform is a one-stop place where all team members can track the progress in real time and manage all their discussions in the same place.

It is impossible to measure the overall marketing performance without setting up additional tools or doing manual calculations.

Unified marketing analytics: That lets you measure individual campaigns and overall campaign performance more accurately, giving a clear picture of your overall marketing ROI.
Key functionalities of a unified marketing platform
Contact management
Emails
SMS
Social Media
Surveys
Webinars
Analytics
Marketing automation
Unified campaign management
Explore Zoho's Unified Marketing Platform
Zoho Marketing Plus is a unified marketing platform that brings all your marketing tools together: emails, SMS, social media, surveys, webinars, virtual events, and analytics. All the tools in Marketing Plus are tightly connected, so you can manage all your customer data in one common place and send campaigns on multiple channels without spending time switching between tools or importing data.
TRY ZOHO MARKETING PLUS
Keep learning!
The key to success in digital marketing is constantly staying up to date on the latest marketing trends and best practices. Marketing Express is one great place to find a range of information, ideas, and best practices in digital marketing for marketers all around the world.
Inbound marketing vs. digital marketing: what's the difference?
Inbound marketing is a type of digital marketing that focuses on creating valuable content such as blogs, infographics, ebooks, and videos to attract the right audience, educate them and grab their interest, and then convert them into customers if the company has the right solution for their problems.
Digital marketing includes both inbound ("pull") marketing and outbound ("push") tactics like showing ads to the target audience on search engines and social media, and sending cold emails and SMS messages to promote a business.
Will digital marketing work for my business?
Should I use all the digital marketing channels for promoting my brand?