Web attribution reports
See what inspired your leads to convert, and learn which path they've taken to land on your website. Get intensive time-based reports on what sources, referrers, and pages served as a means for your leads to convert.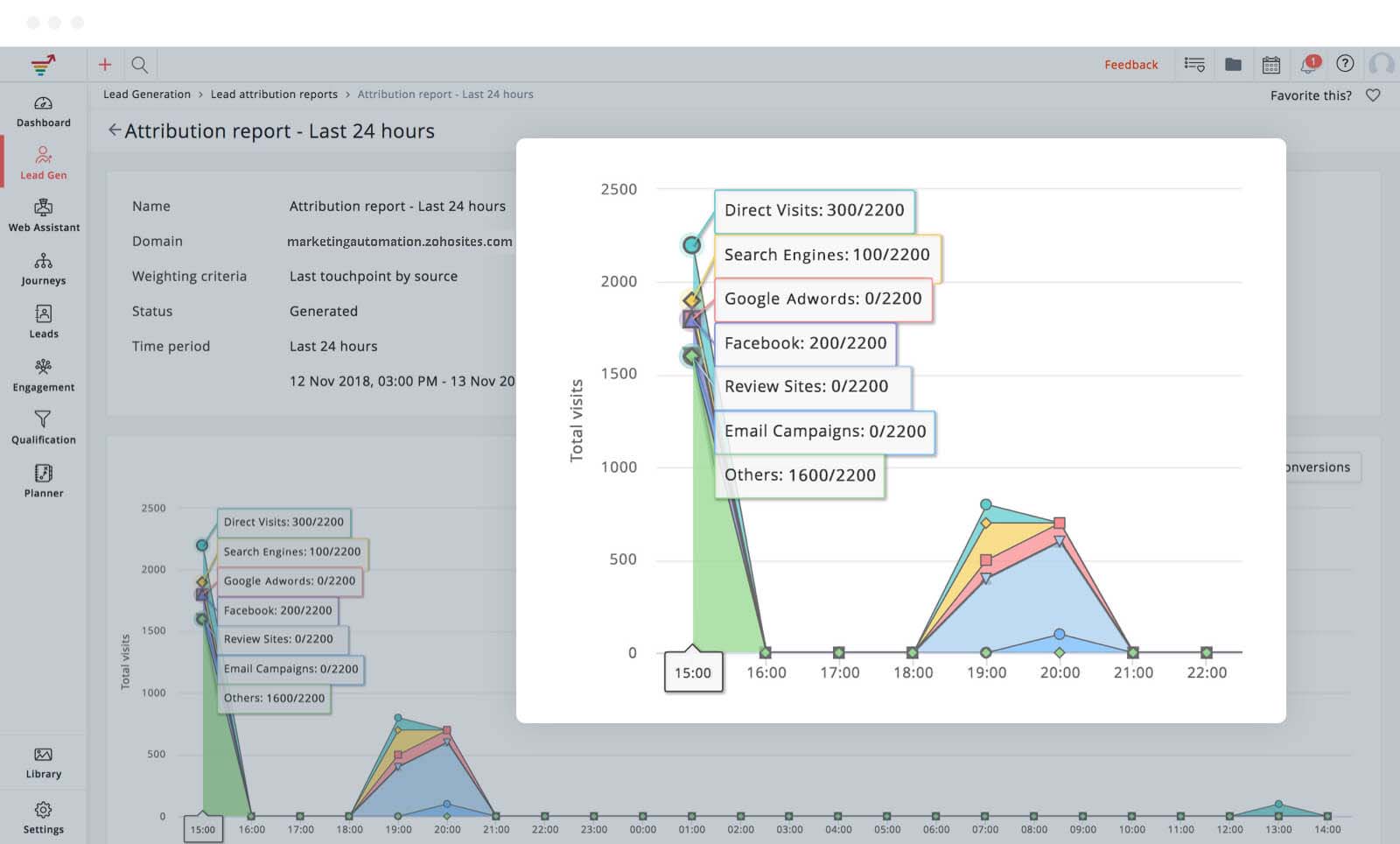 Lead behavior analytics
Be it your website or product app—it's crucial to find out how your leads navigate, what actions they perform, and how they finally achieve the goals you've set. This will help you run targeted marketing campaigns that turn your leads into customers.
Website behavior reports
Analyze all the pages on your website, see which are the top traffic sources, and monitor how many new, anonymous, and recurring visitors you get everyday. Set action-based goals on different pages and track results with time-based reports.
Web application behavior reports
Get a holistic view of your users' product usage—what features they choose, tabs they navigate, and activities they perform. Learn what features are top-performing, assign goals and action events for every application page, and track how many users finally achieve those.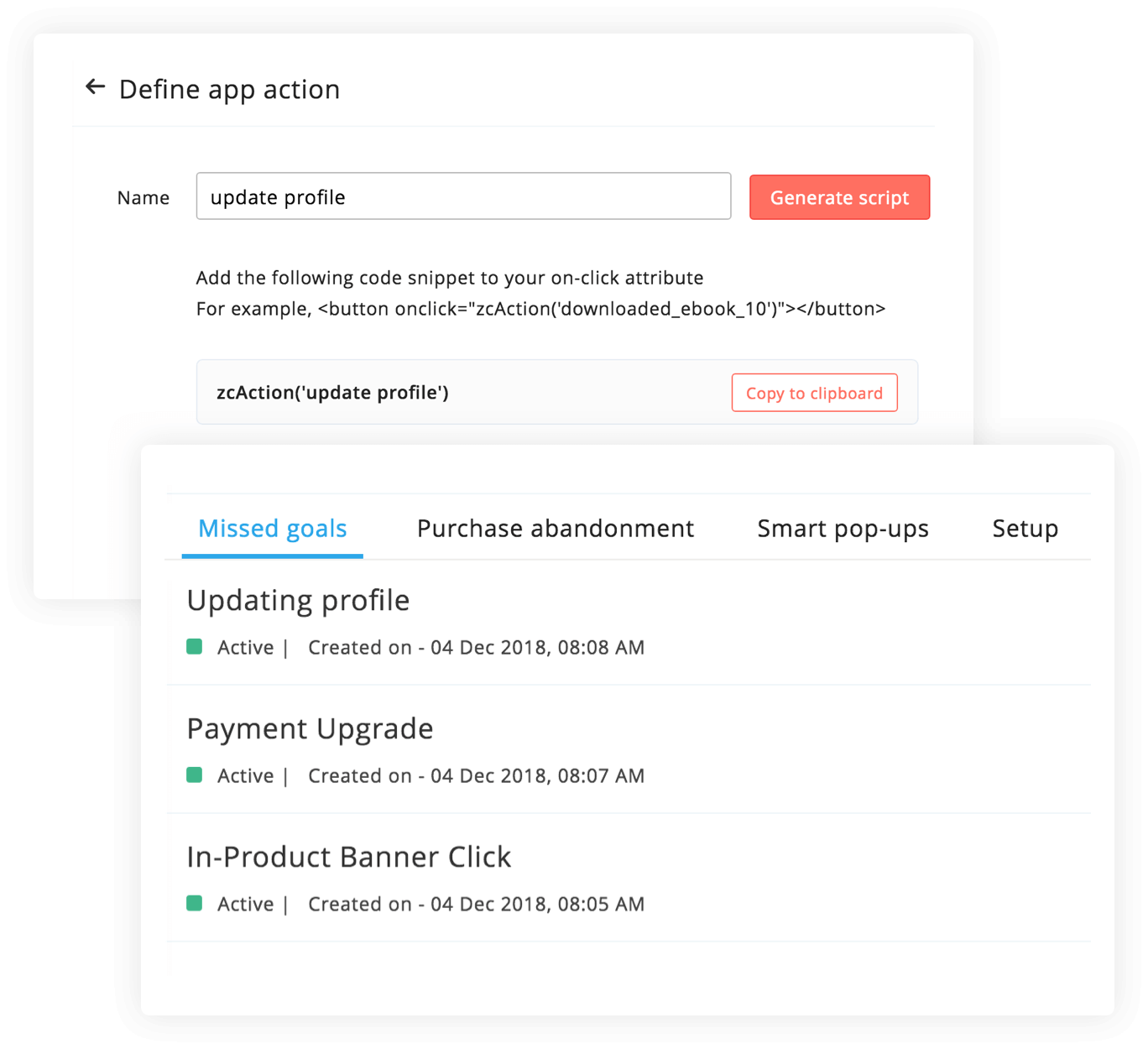 Multichannel marketing
Your assets come in from a variety of paths, and we've made sure to capture them all for you. With multi-channel marketing reports, be in the know about every number that matters.
1. Email marketing automation
2. Social media marketing
3. SMS marketing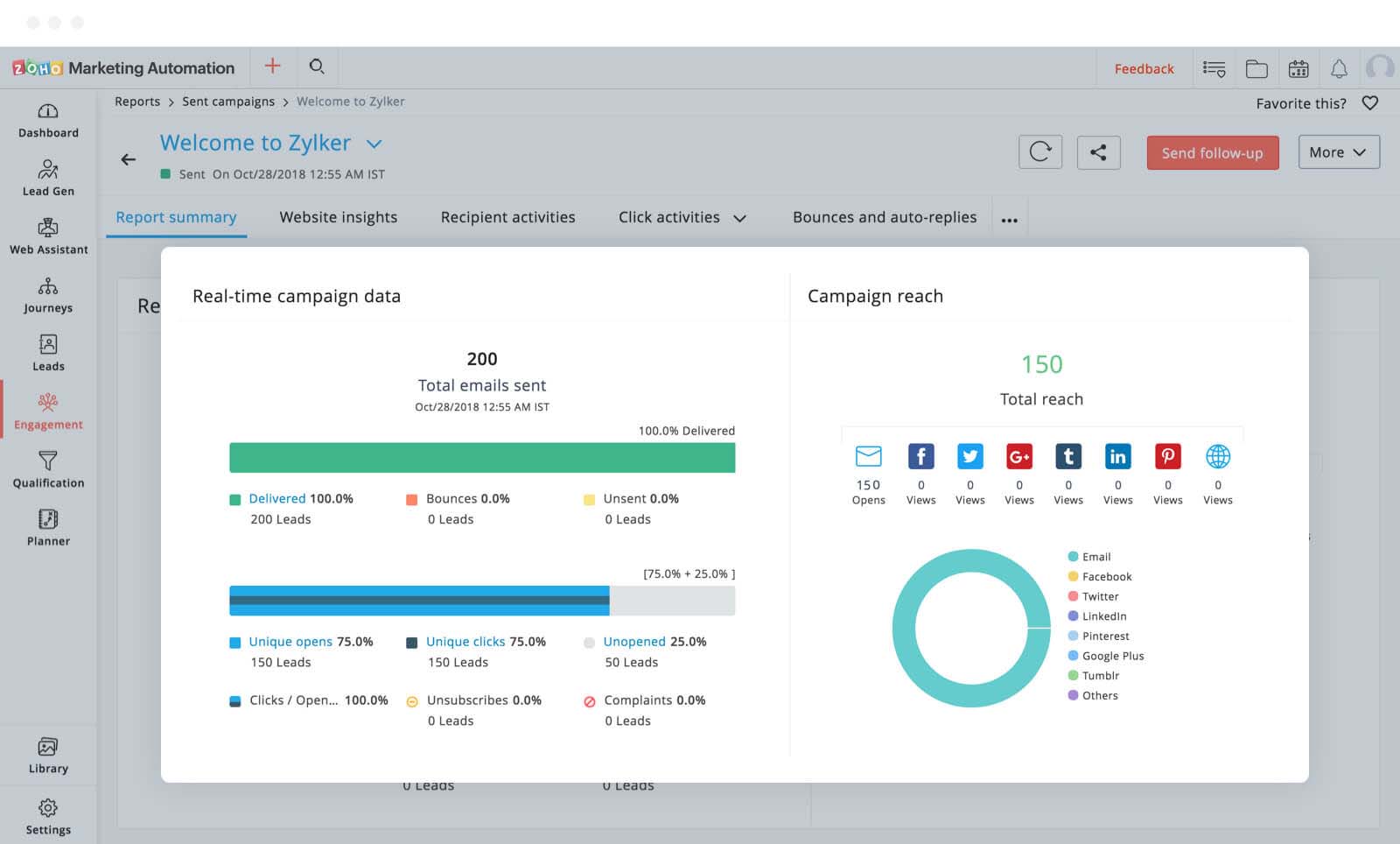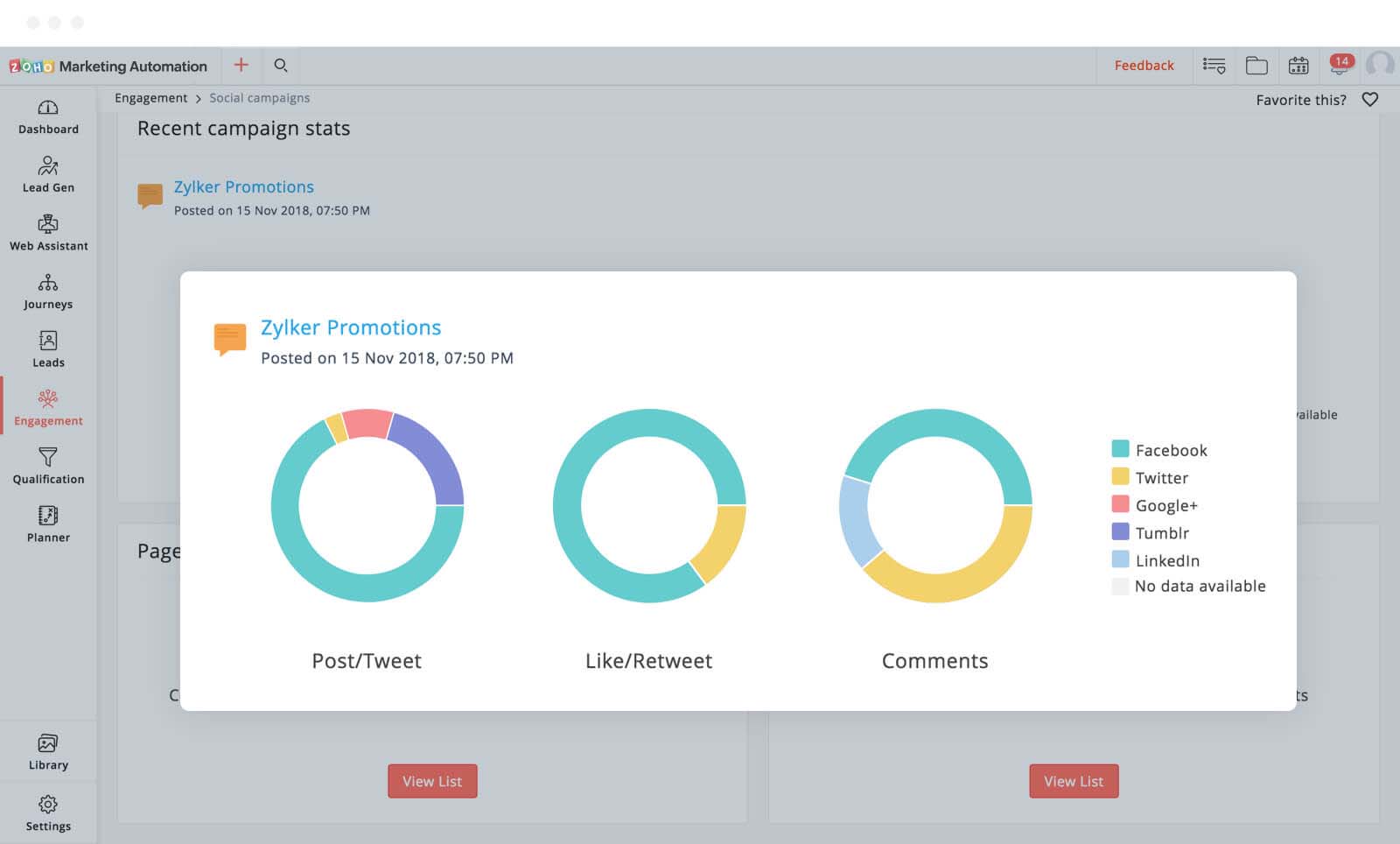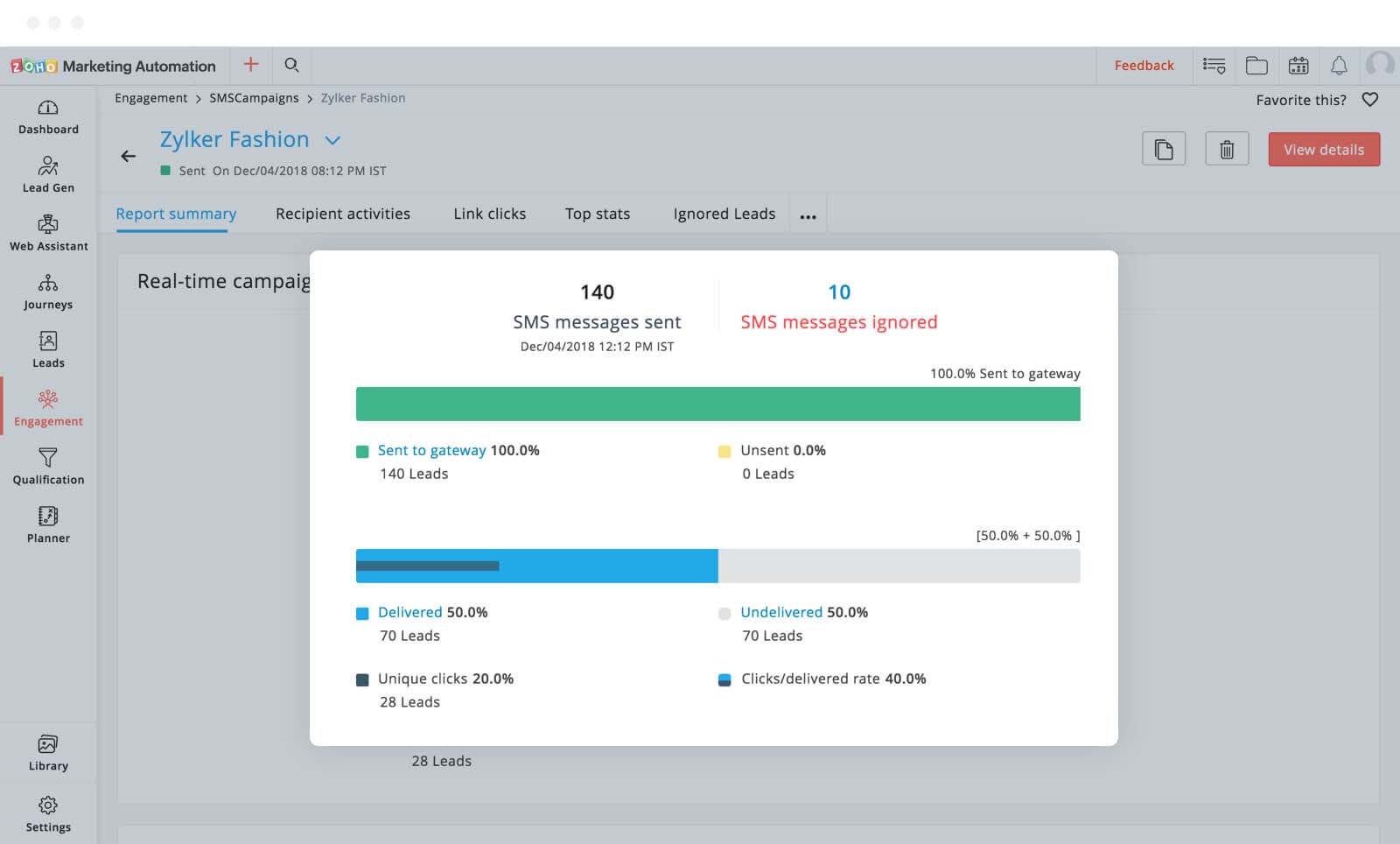 Email marketing automation
Get comprehensive analytics with key metrics like opens, clicks, unsubscribes, bounces, and geo-location, for every email or autoresponder message. Optimize your future campaigns by studying email open-time patterns, user agent stats, and campaign-based comparative reports.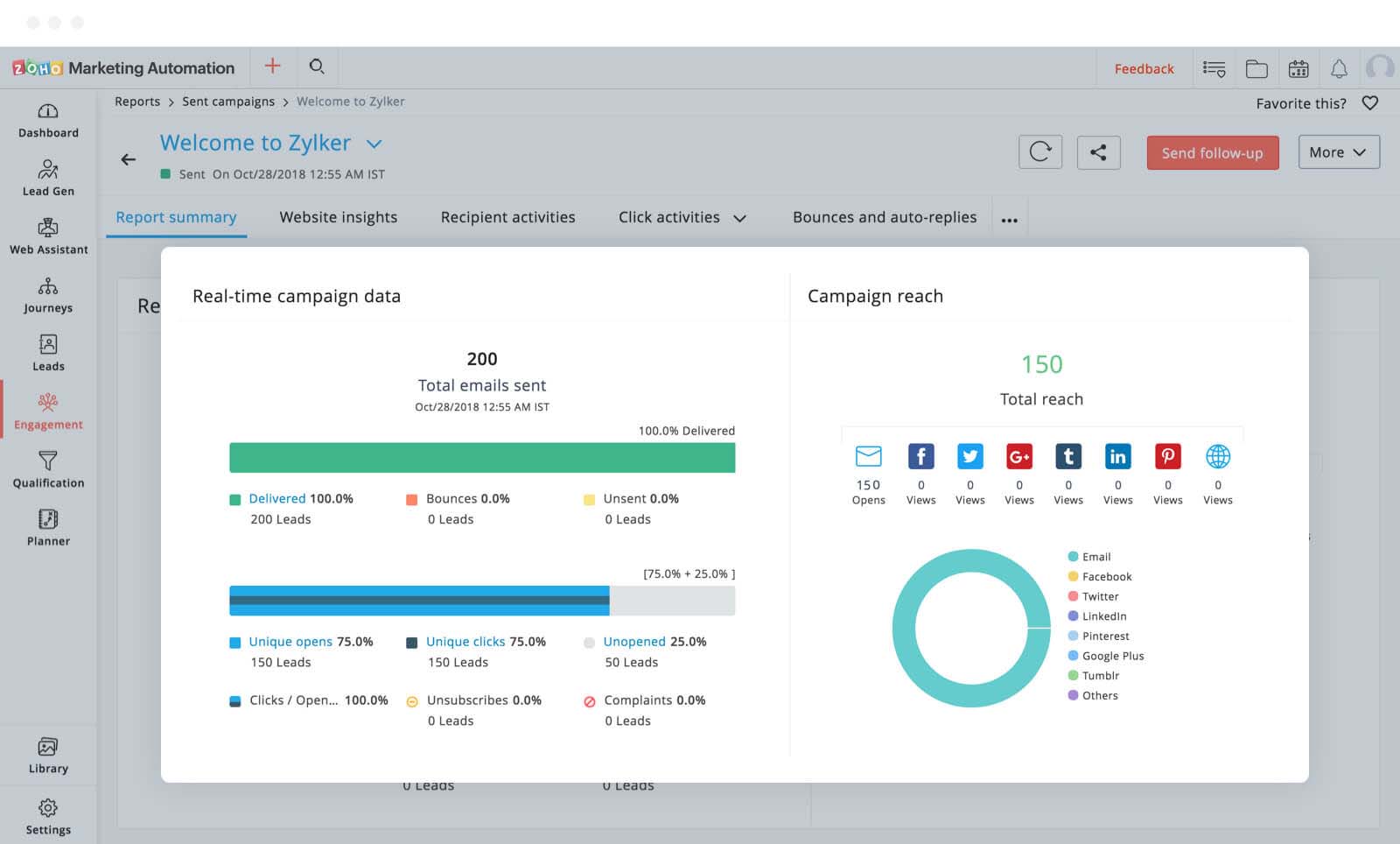 Social media marketing
Your social media engagement is all about likes, shares, and comments. With our performance metrics, don't miss out on what your email campaigns can win you, when promoted on social media platforms like Facebook, Twitter, and LinkedIn.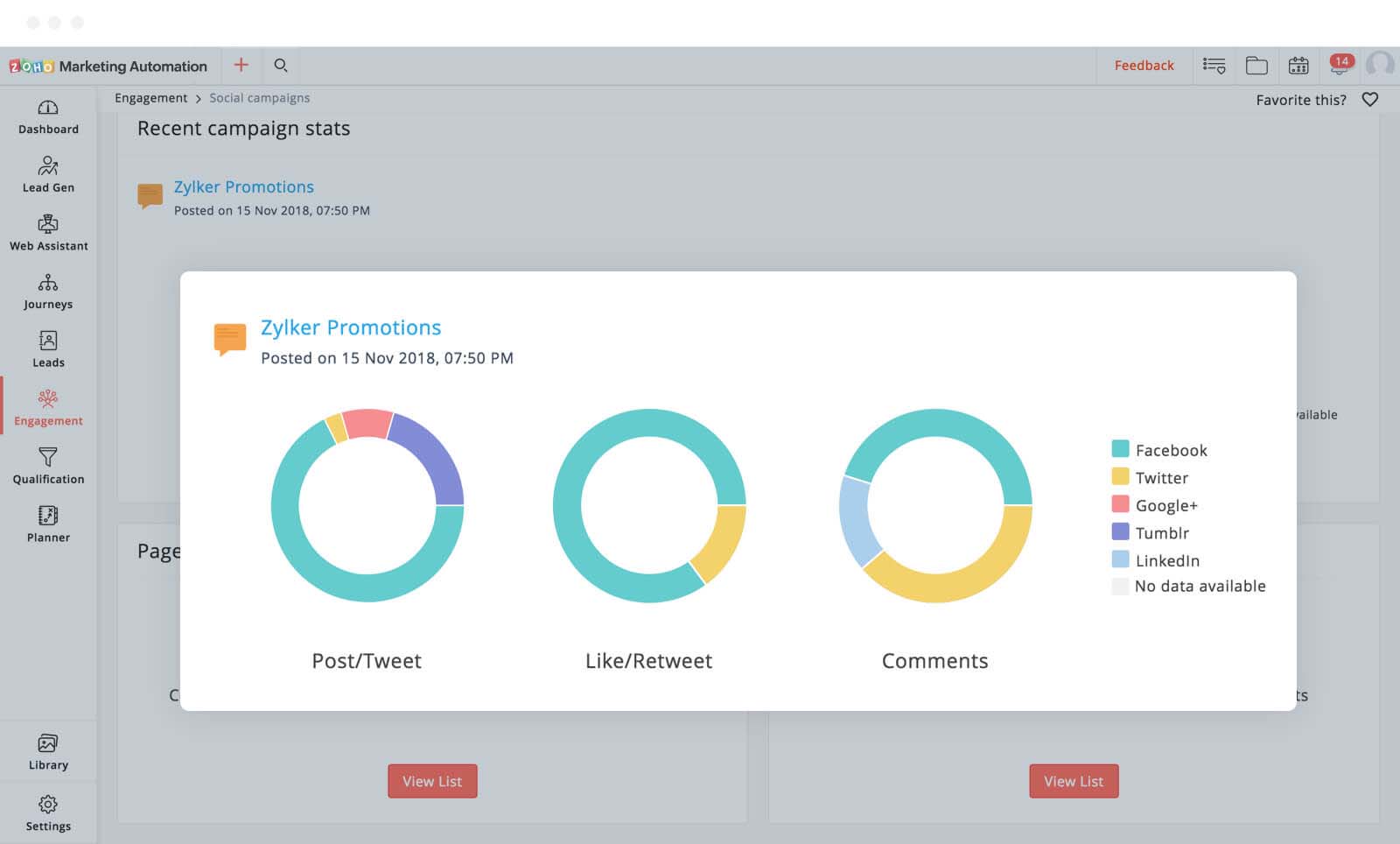 SMS marketing
Get instant reports that tell whether your messages have been sent to your subscribers and how many were delivered successfully. You can also see details like incorrect and duplicate numbers in your lists, so you can take steps to maintain a healthy and clean subscriber base.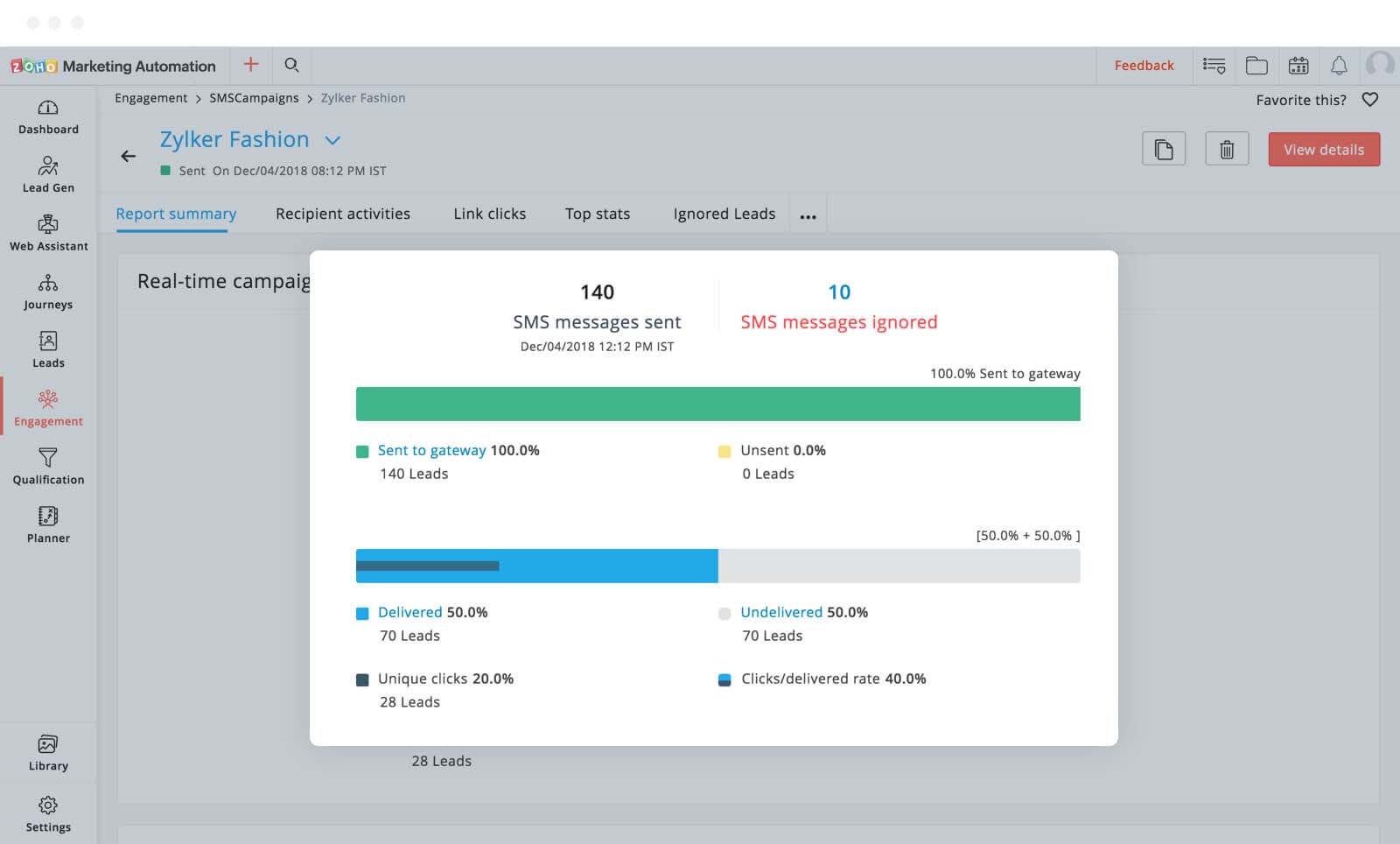 Capture-to-conversion journey
See where each of your leads stand in the engagement path. With extensive reports at your side, you'll be able to deftly grade the quality of your marketing assets.
1. Lead path tracing
2. Version-based reporting
3. Lead conversion status
Lead path tracing
For your personalized journeys, track your leads by tracing the path they've taken. With striking visual elements, you can easily see which part of the program they're in, and how much of an advancement they've made in the lead cycle.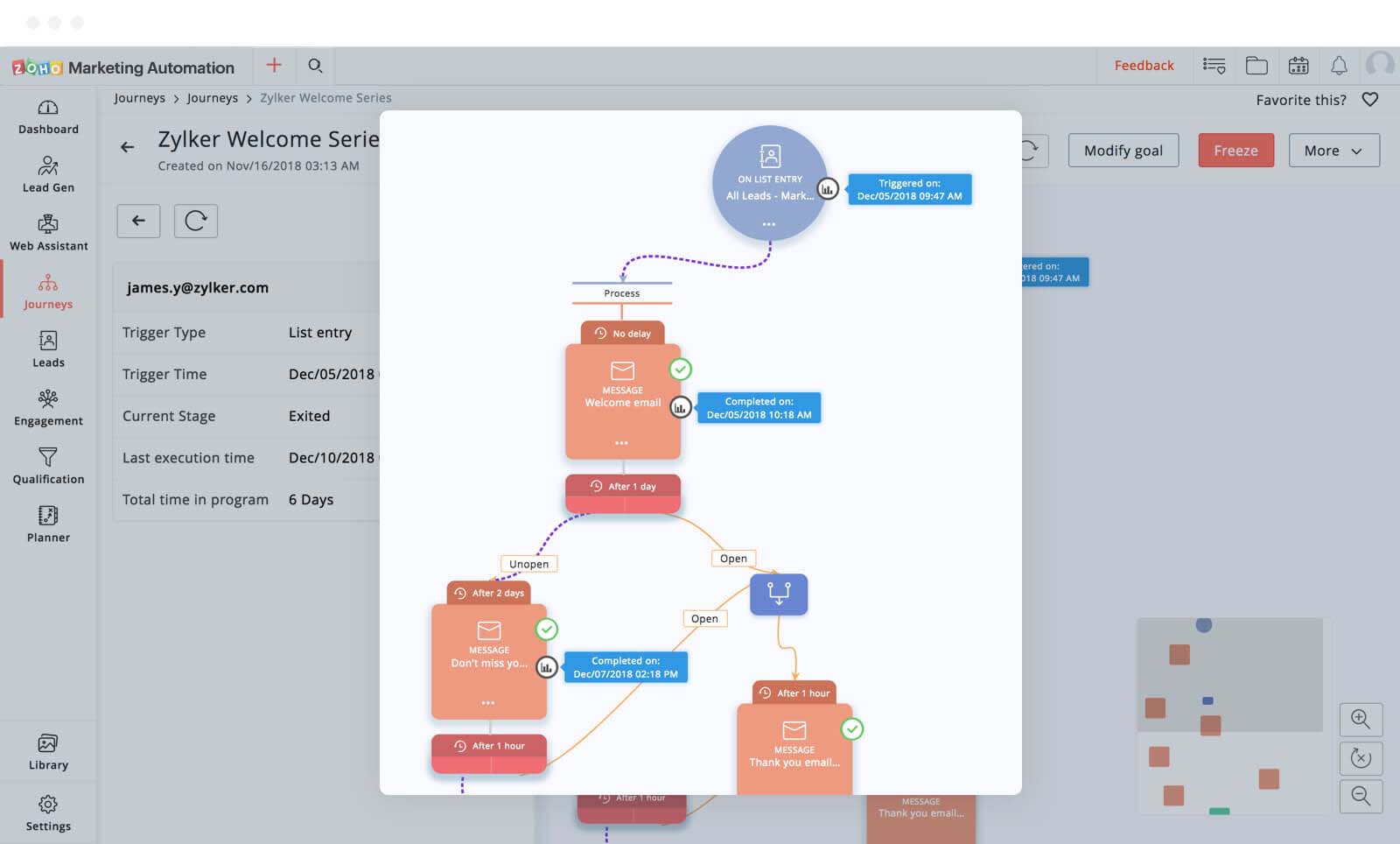 Version-based reporting
Every change made to the journey you've built is recorded as a separate version. Versions even come with individual reports that tell your leads' current position. A clear indication of the version that's active now helps you keep track of all previous versions and their results.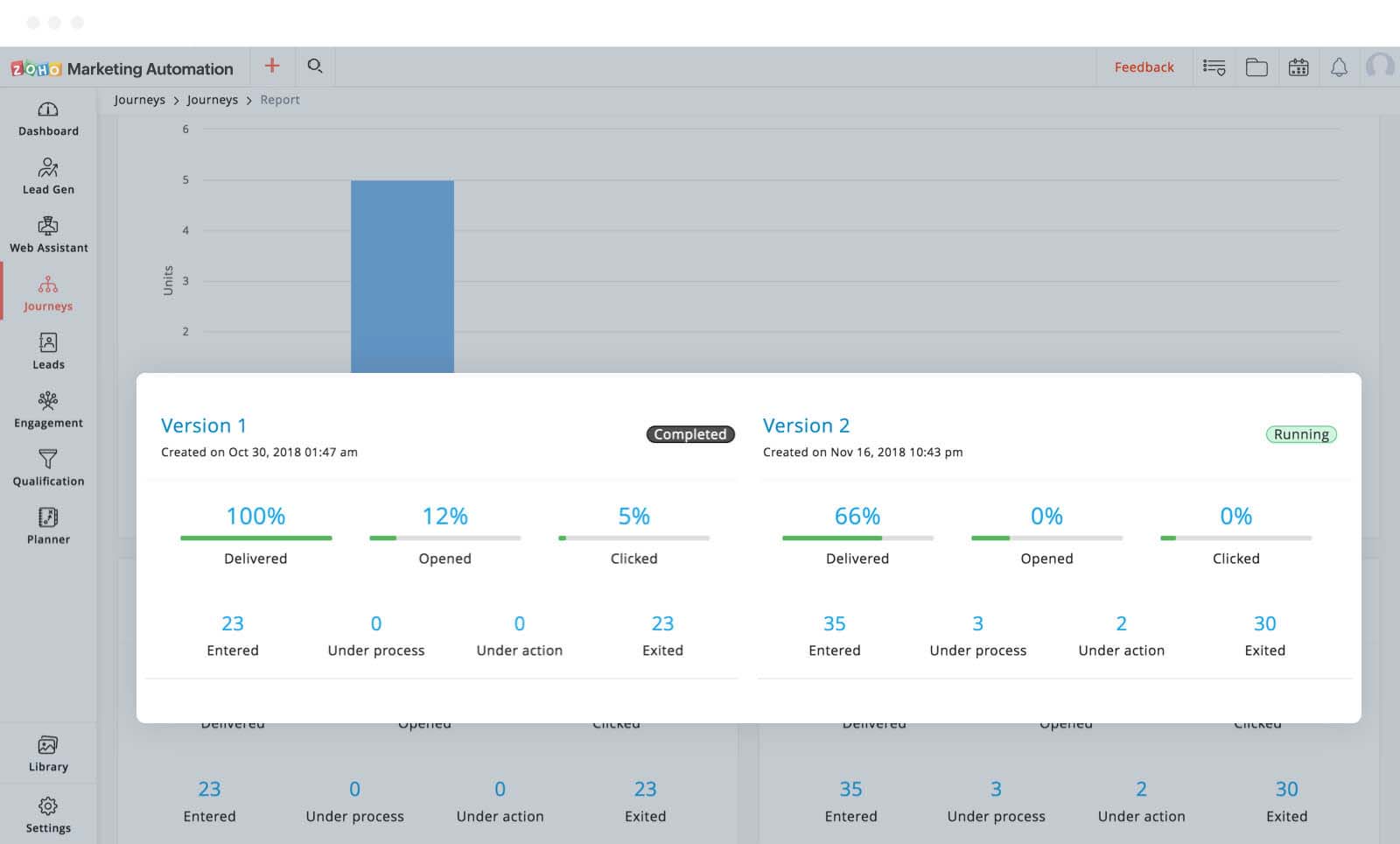 Lead conversion status
Get specific stats on how many assets entered your marketing funnel, how they're currently progressing, and whether they've been converted. A complete history of leads from start to exit will help you reflect on your engagement strategy and enhance it better.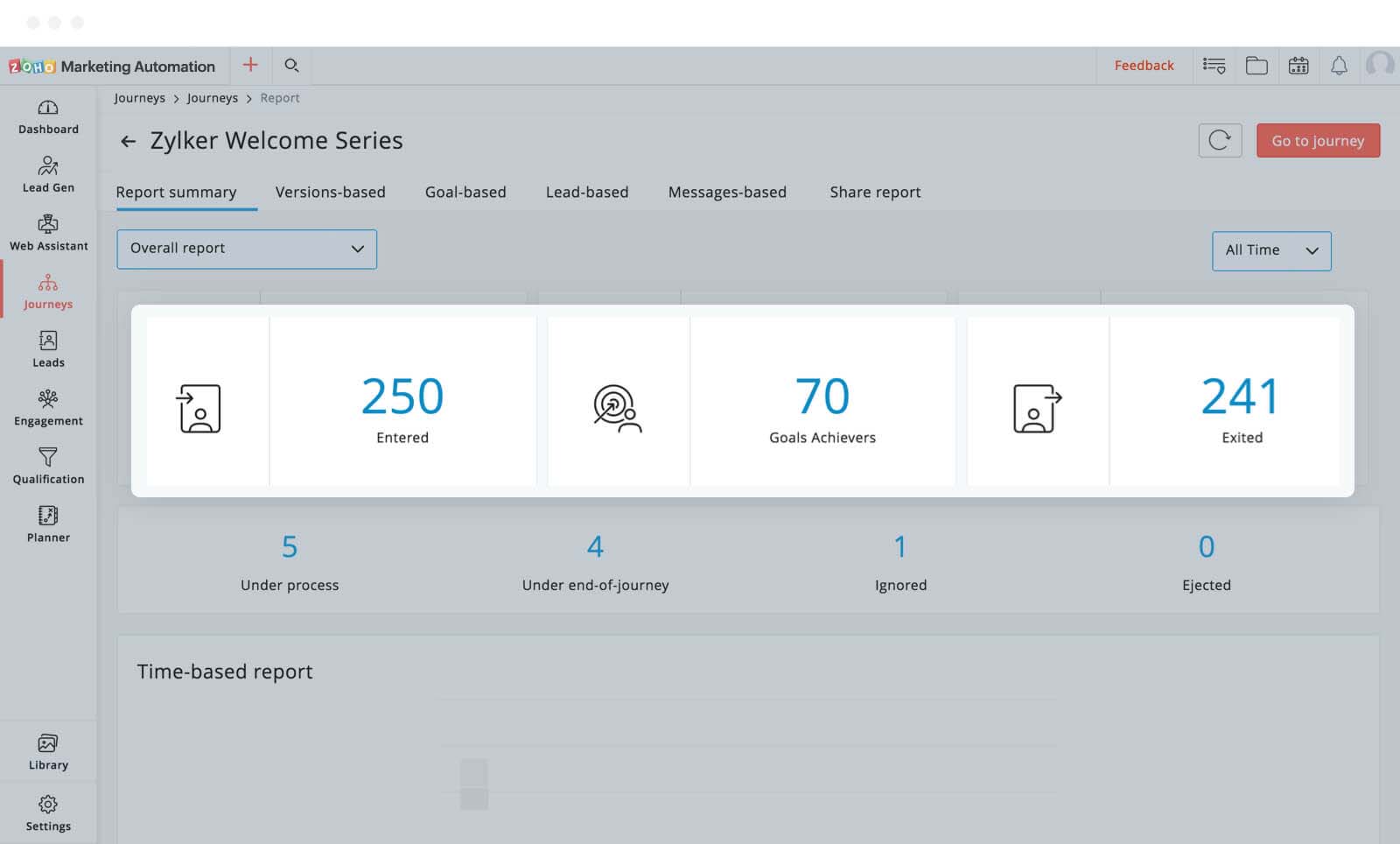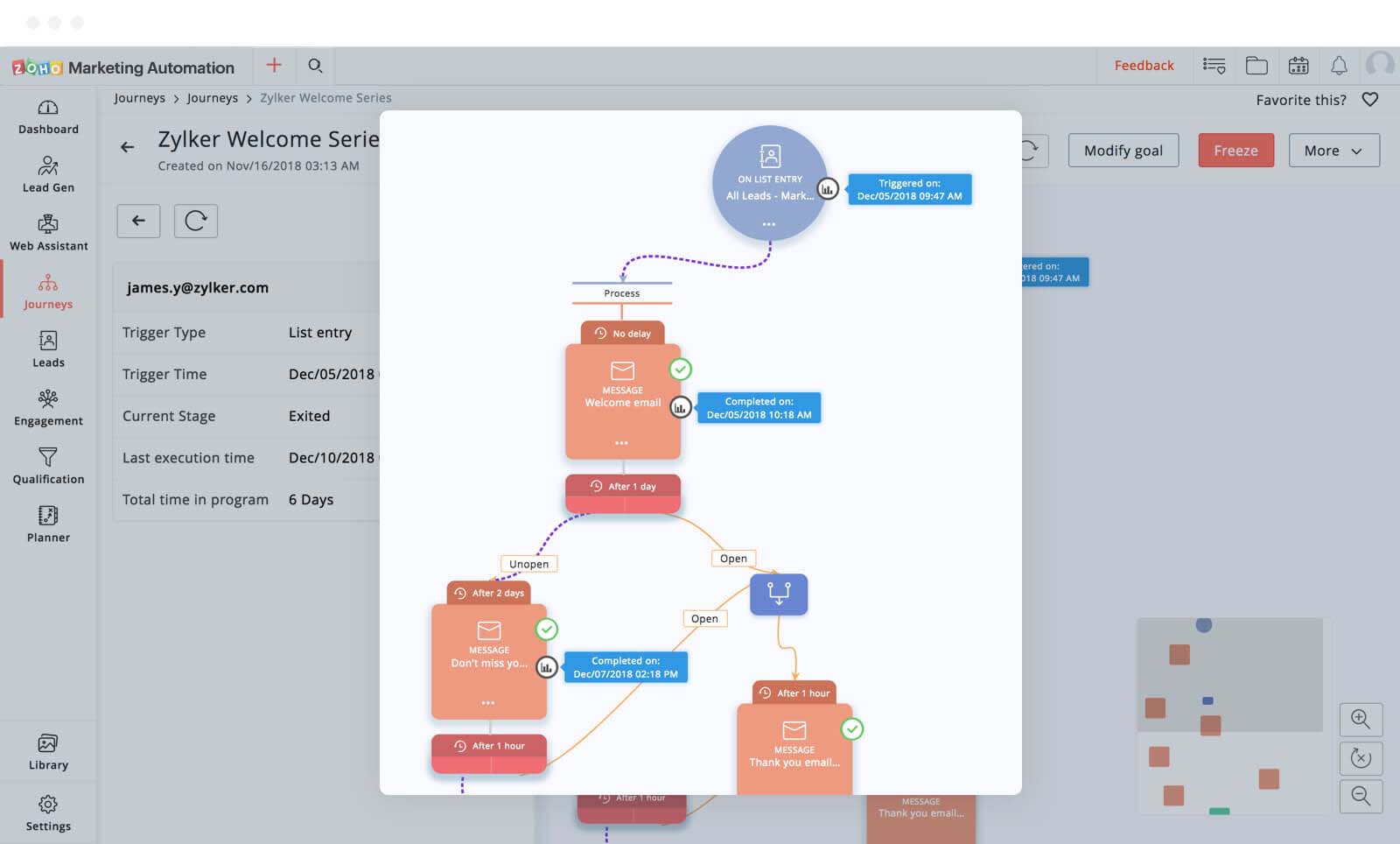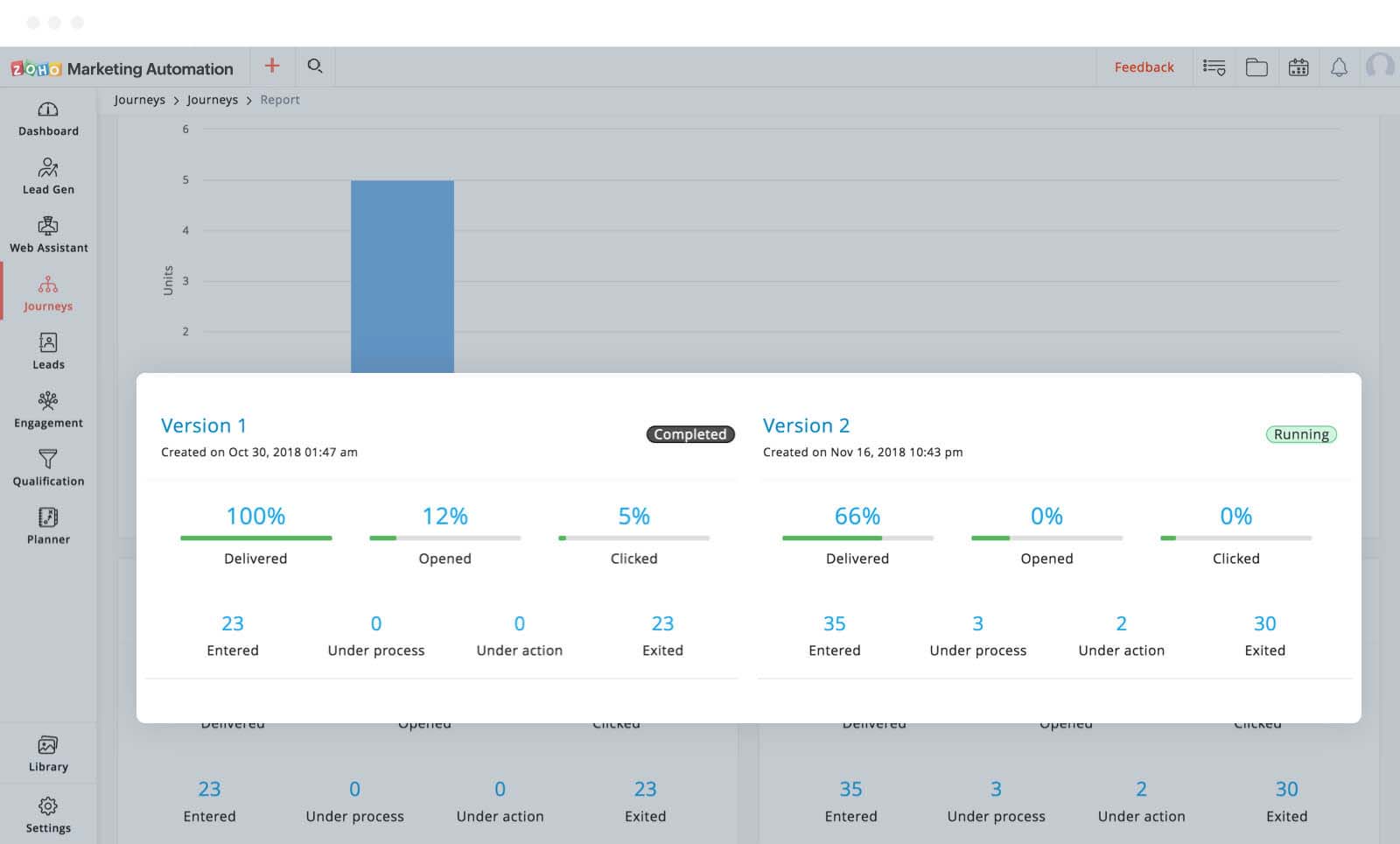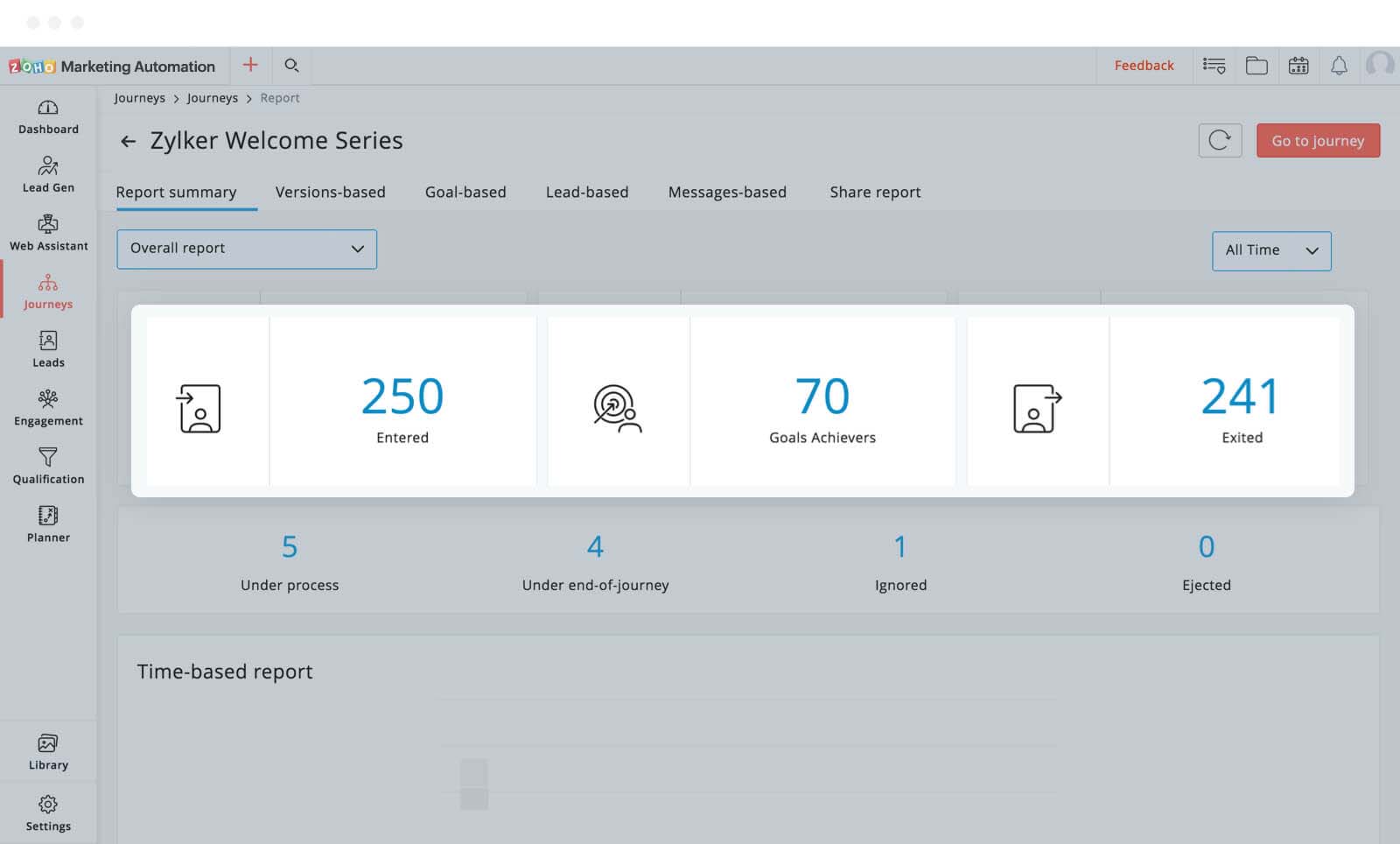 Lead stage qualification
At the end of your engagement, it's important to only pass on the best, sales-ready leads for further process. With our in-depth insights for lead qualification, you can find out your most-engaged, profitable leads.
1. Lead source statistics
2. Lead growth graph
3. Lead stage distribution chart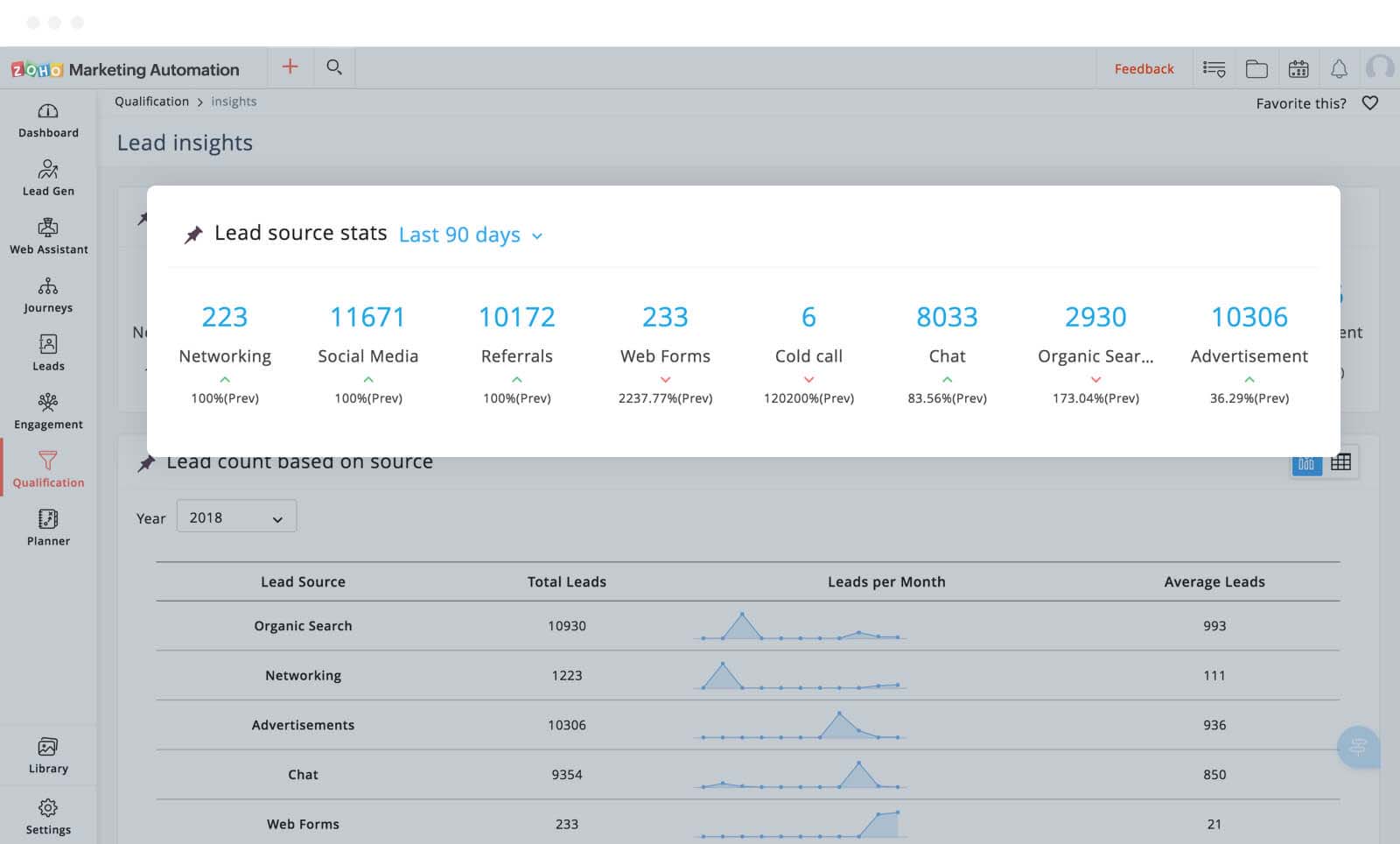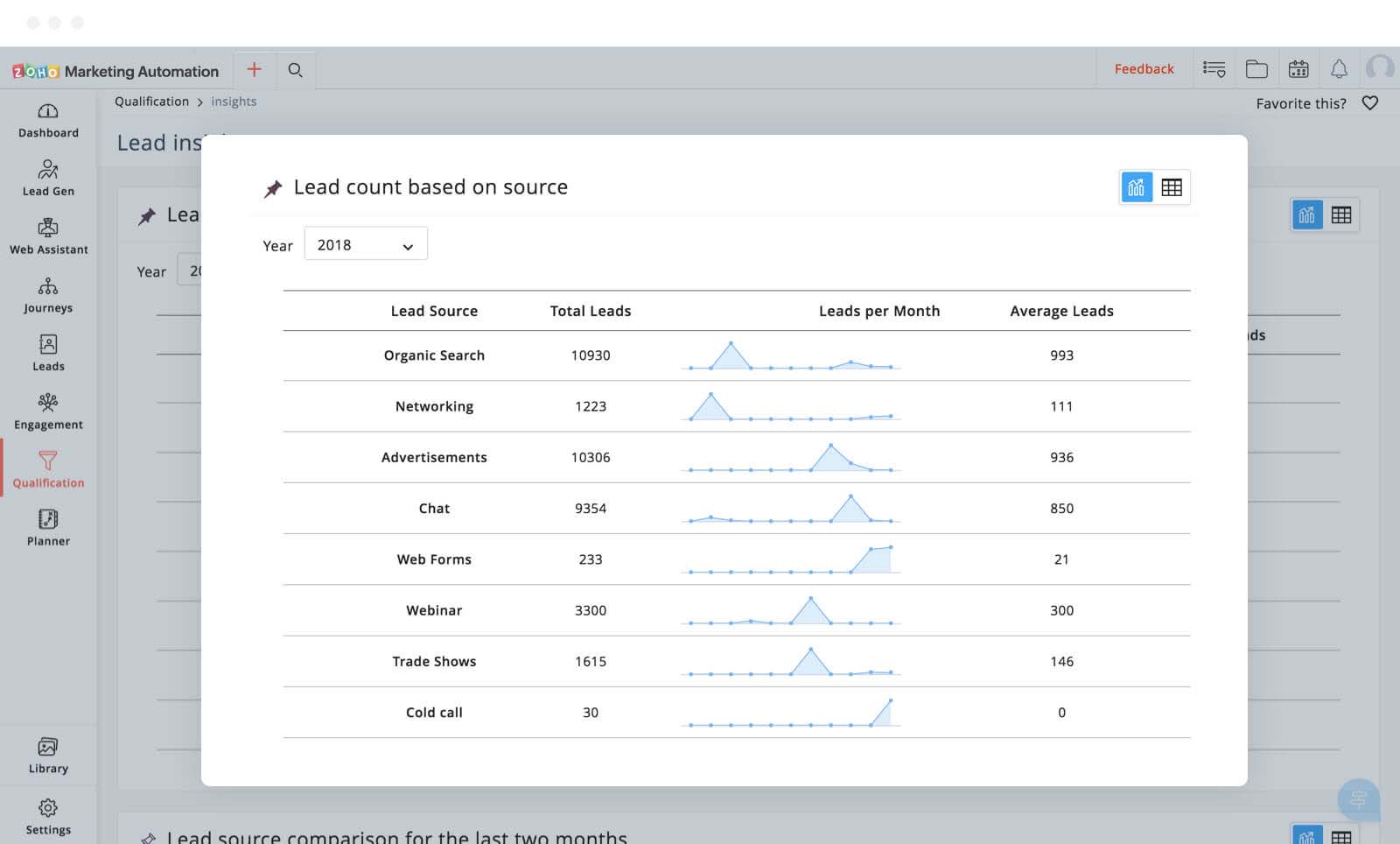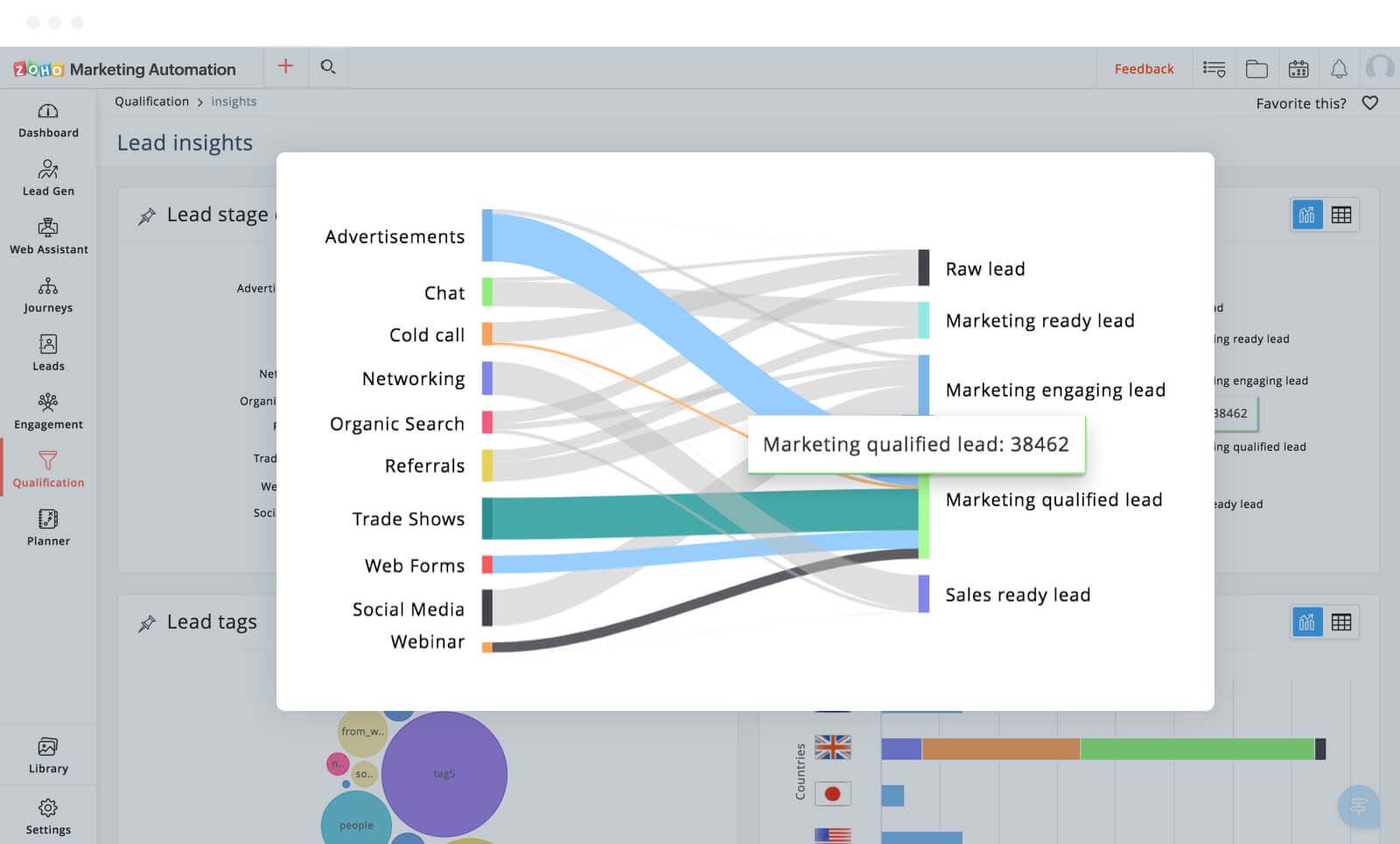 Lead source statistics
See the different avenues your leads arrive from, and the percentage by which they've increased or decreased at specific intervals, when compared with previous figures.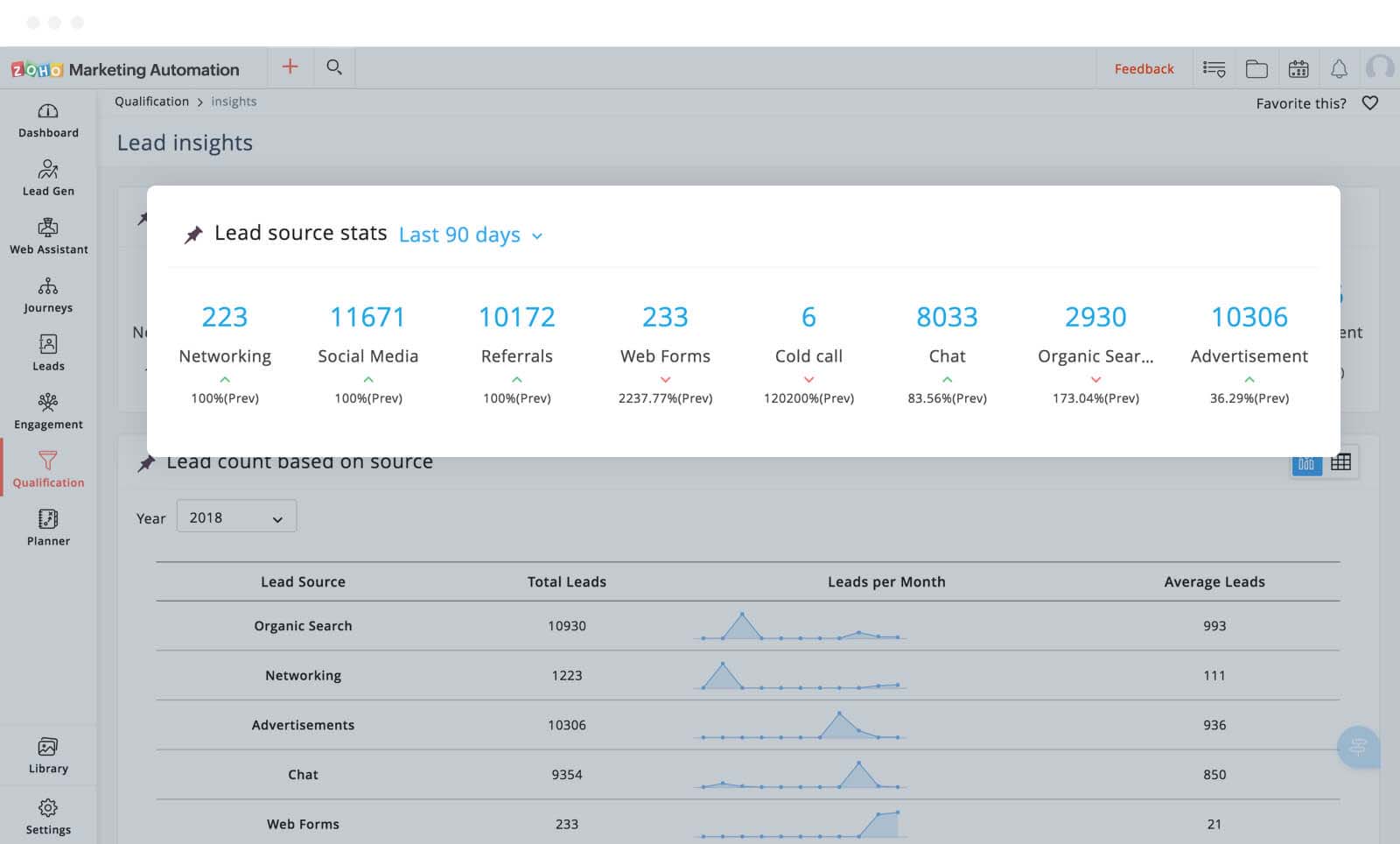 Lead growth graph
Understand how your leads multiply, so you can easily measure the growth of your lead base over time.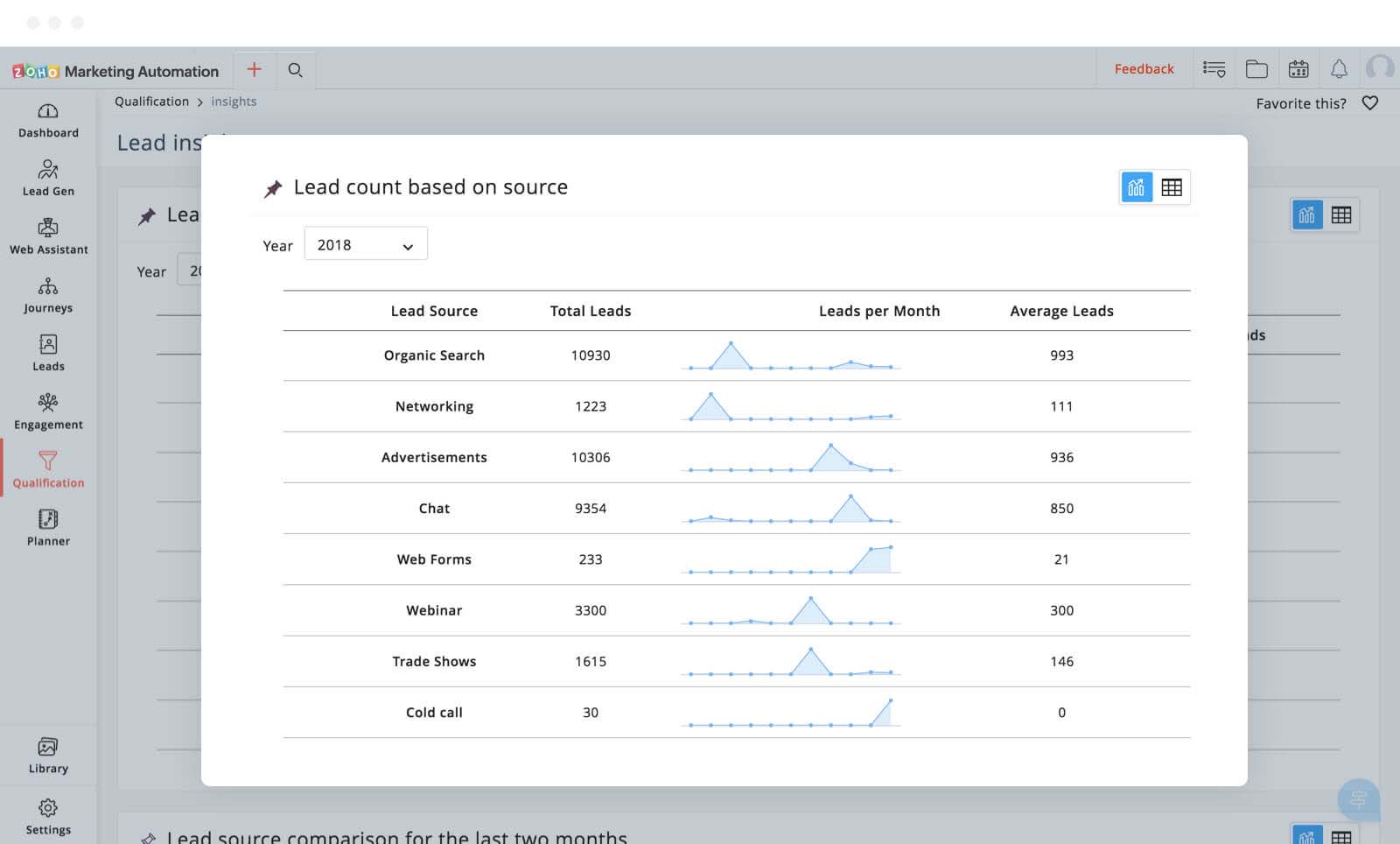 Lead stage distribution chart
As leads progress through your engagement process, see how well they've interacted, and which stage they belong to. At this point, a clear distribution is seen in the engagement levels of your leads, mapped along with the different sources they come from.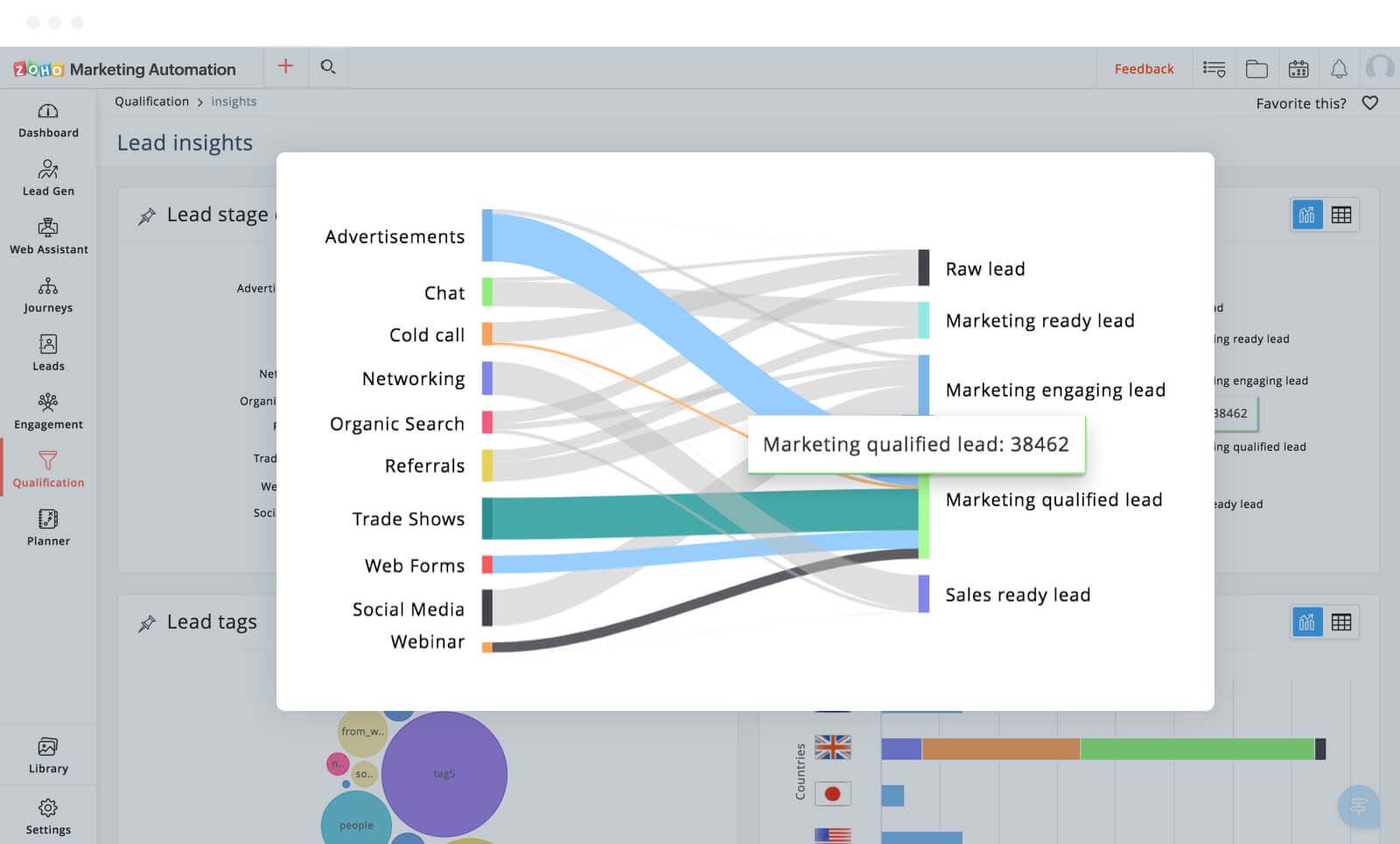 Marketing campaign planner
As marketers, campaign planning is the crux of your marketing efforts. We've got thorough reporting that covers every aspect of your marketing campaign, from setting objectives to generating revenue.
1. Touchpoint analytics
2. Channel performance reports
3. Monetary estimation value
Touchpoint analytics
All your touchpoint pages are completely tracked, so you get detailed information like total traffic generated concerning both known and anonymous visitors, and impressions created in various channels such as email, social media, SMS, and more.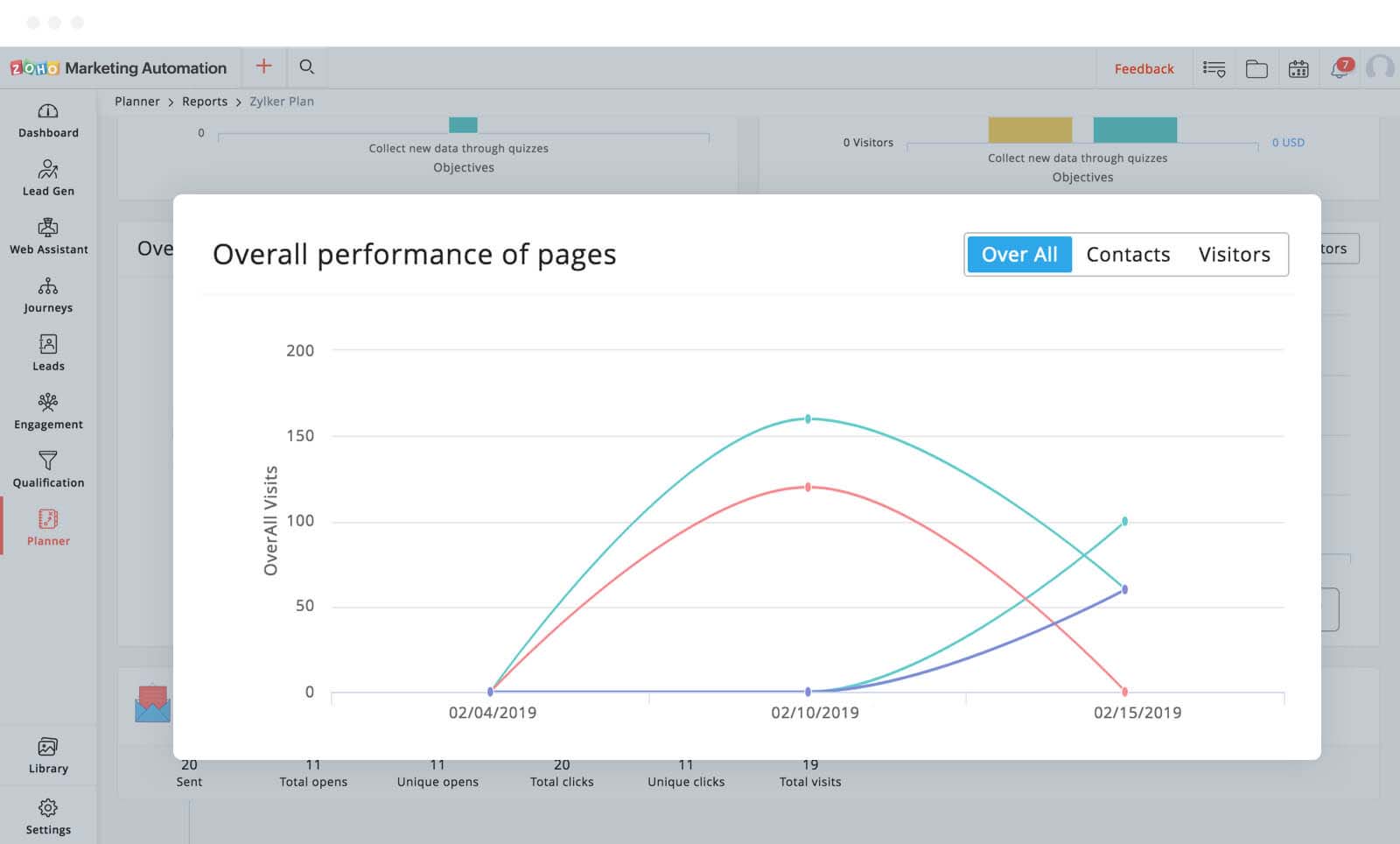 Channel performance reports
For every channel you select to reach your objectives, you can view all your metrics, including budget allocation, traffic count from different touchpoints, targets achieved in terms of visits or monetary returns, and the amount of revenue generated.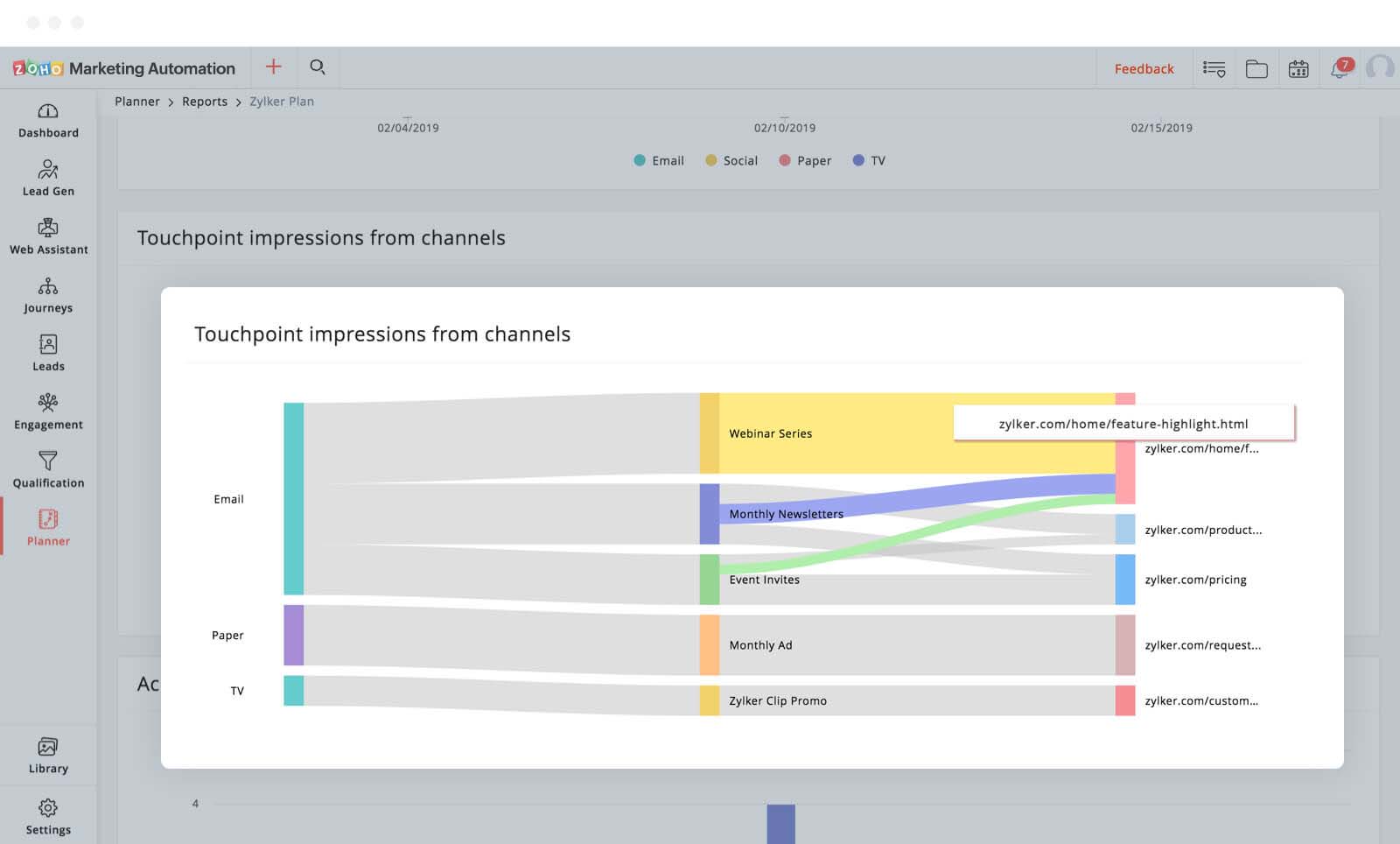 Monetary estimation value
As your marketing plan progresses, learn the return value for each objective you've set, the revenue your target visitors have fetched, and finally, the total return-on-investment (ROI) generated for the entire marketing campaign.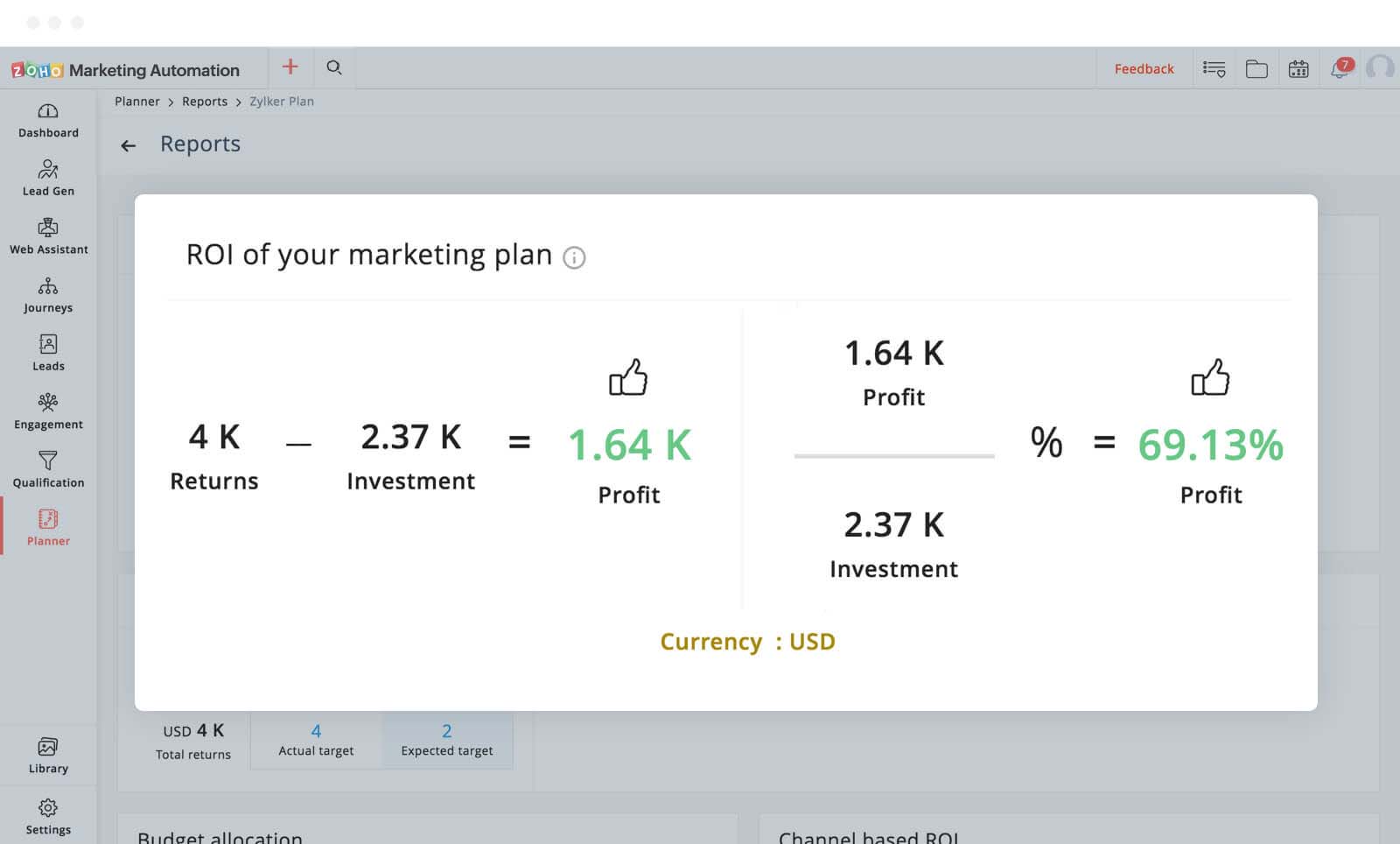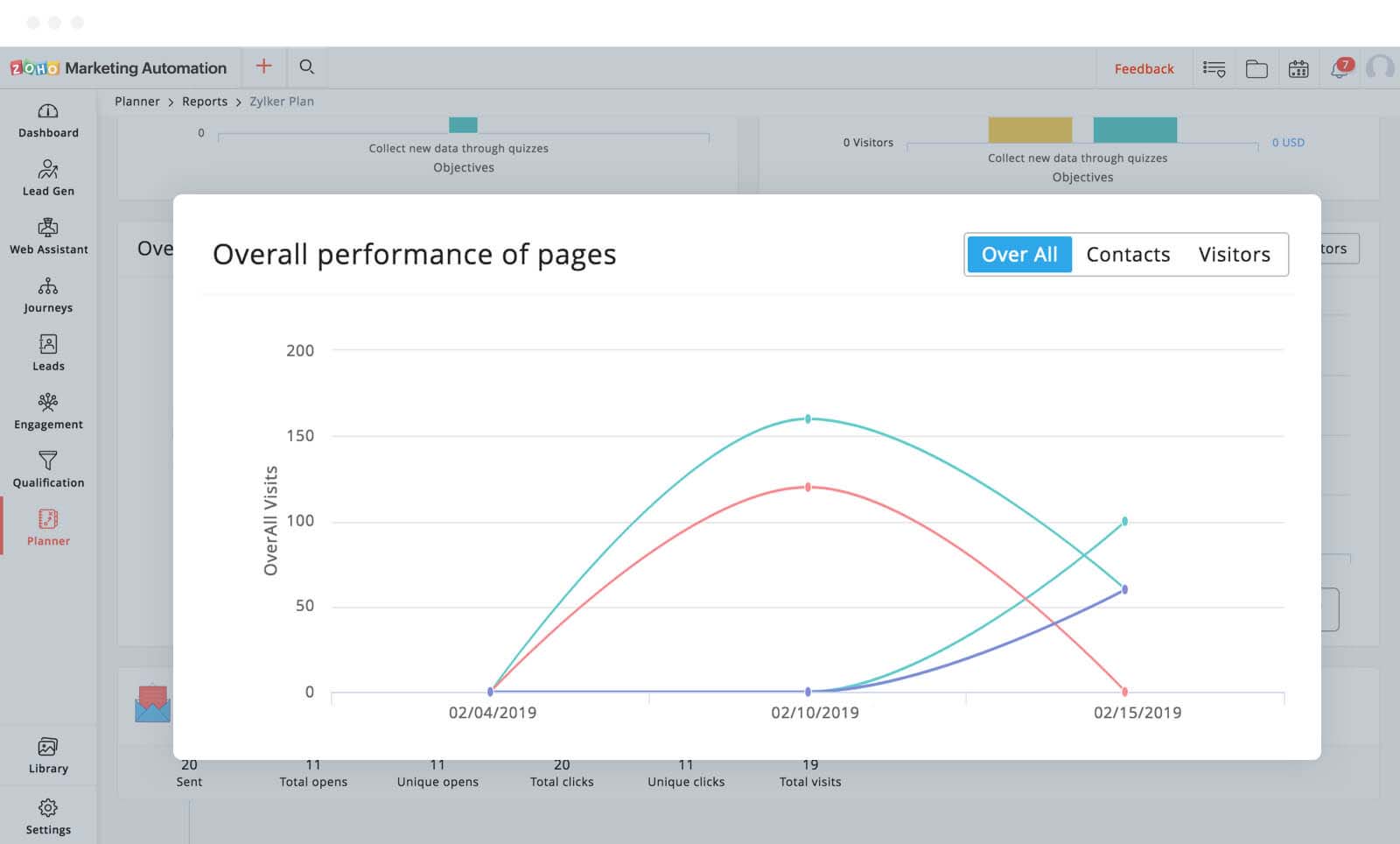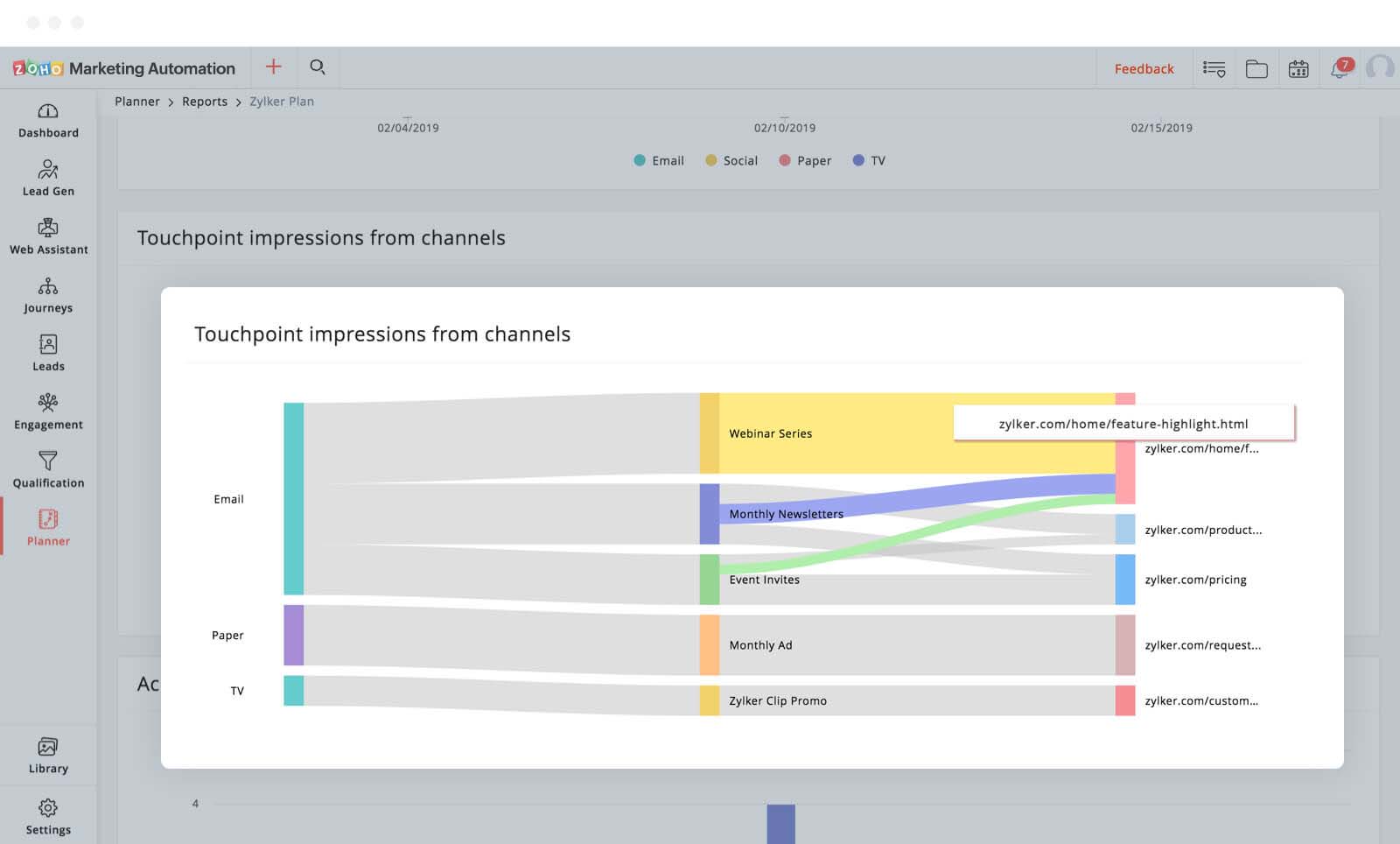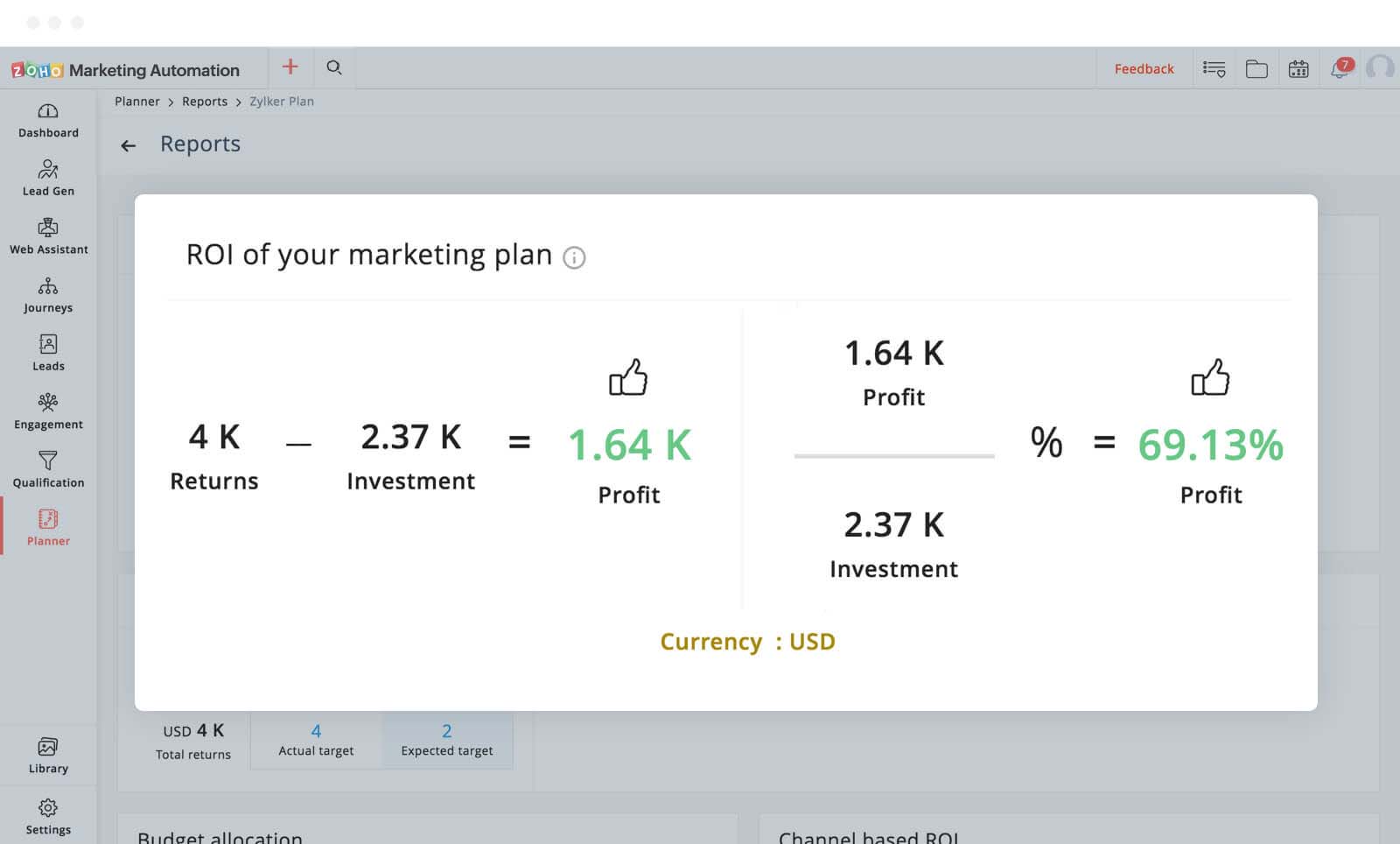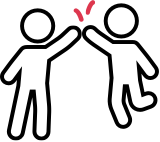 Marketing automation software that delivers results.
Get started