What's New - Feature updates in Zoho Mail
2018
Dec
Access internal and external application right from your mailbox using eWidget. You can manage all your integrations from one place.
Explore!
Nov
Enhancement
Vacation Reply enhancement
You can now set the Start and End time along with Start and End date for Vacation Reply. You can also choose which accounts you want to apply the vacation reply to.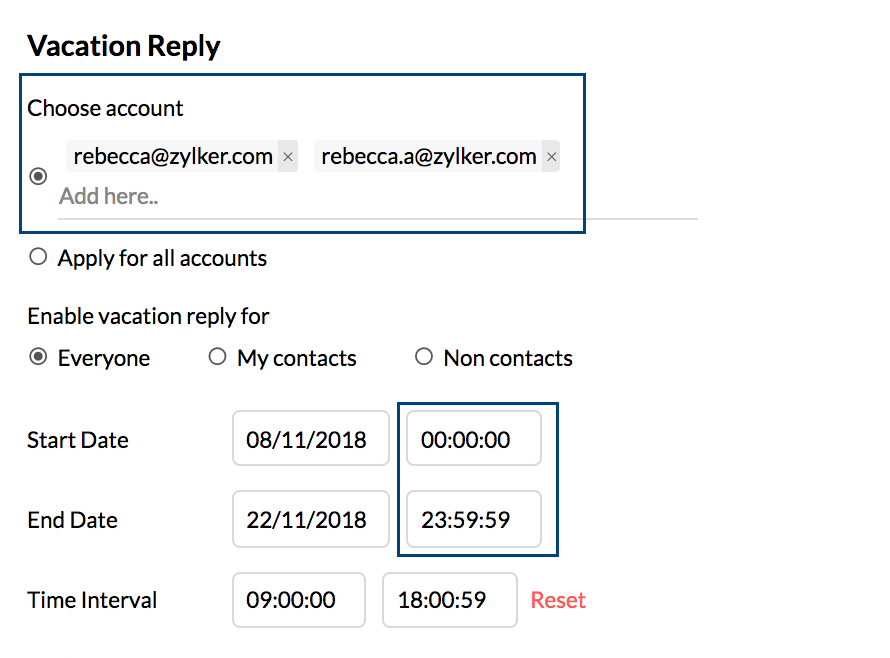 New
Encryption Level Indicator
The encryption level of the emails you receive is displayed in the header of the email. You can also view the encryption level for sent emails in the Sent folder.
Find out more!
New
Rich Text Editor in Streams
You can add formatting to your Streams posts by using the Rich text editor options. 
Enhancement
Quick Access enhancements
Certain settings like Theme, Mail view etc directly using Quick Access without having to navigate to the settings page. 
Click to know more!
Oct
If you frequently email the same set of recipients, you no longer need to type in all the contacts each time. On entering any two of the recipients from the group, other contacts frequently emailed alongside the entered contacts will be suggested. You can click on them to include them as recipients.

Find out more!
Enhancement
Timezone selection in Scheduled email
You can now select the preferred timezone while scheduling emails to your contacts. You can also change the selected timezone of the scheduled email from the Outbox folder.
You can archive Streams posts by selecting the Archive option, provided that you are the post owner, group owner and group moderator.
Click to know more!
Enhancement
Signature in Replies
You get to decide if you want to include a signature while replying to emails by using the Signature in Replies toggle button in the Signature settings page. 
Sep
New
Enhancements in Templates
In the Templates folder, you will now find the Create Template button using which you can easily add a new template.
Locate the Insert Template button in your email composer, search through your multiple templates using the Search option and select the required template with ease. 
Template categories can also be created from the Insert Template pop-up.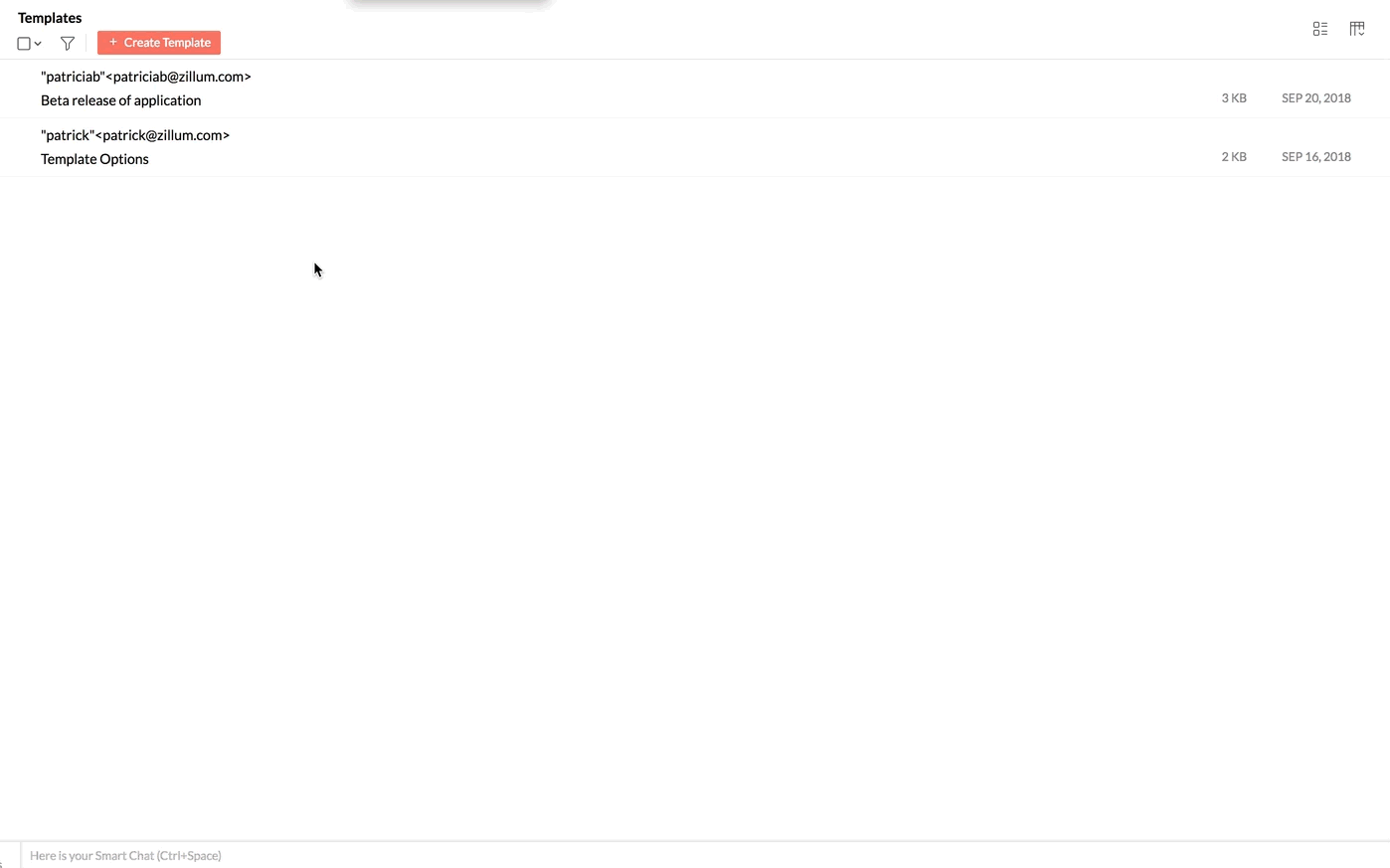 Learn more
You can now compose your emails in any font of your preference. Customize your font by using the System Font option in the Compose Settings.

Find out how!
New
Set 'ReplyTo' based on your 'From' Email Address
Configure ReplyTo email addresses for all your email addresses, including the aliases and the external POP accounts.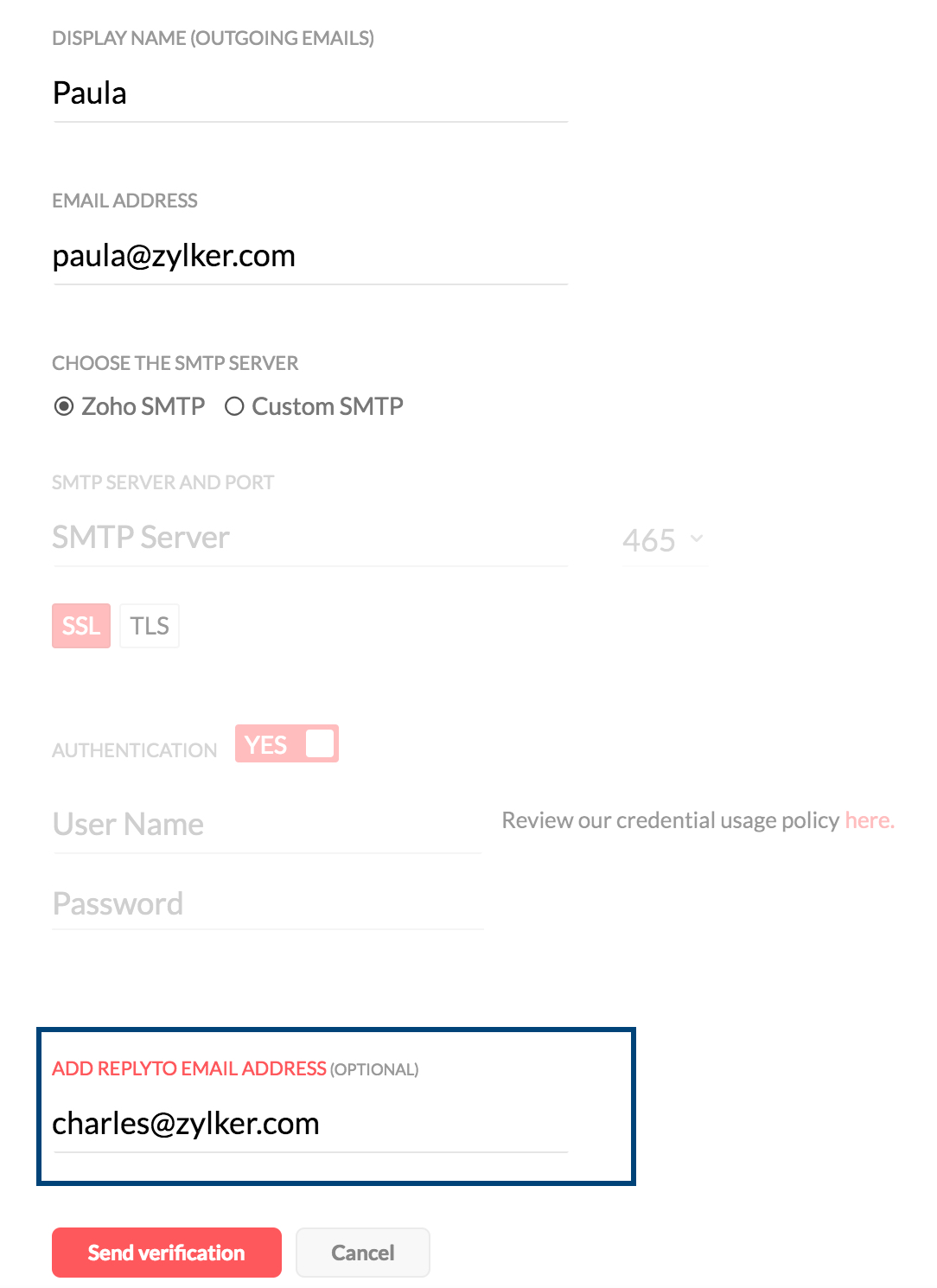 Learn More
New
Sort your Emails by Size
Sort your email listing in a particular folder depending on the size of the emails. Makes it easier to locate those emails that might be taking up too much space!

Learn more
Enhancement
Show/ Hide CC field while composing emails
Choose whether you want to see the CC field while composing your email from the Compose Settings. You can turn it off later as per your requirement.

Find out how!
Enhancement
New Filters in Attachment Search
Searching for those specific attachments have been made simpler with the addition of multiple new filter parameters.
Learn more
Enhancement
Draft Sharing enhancements
Access all the comments and feedback about your shared draft from a dedicated section on the right side of your mailbox.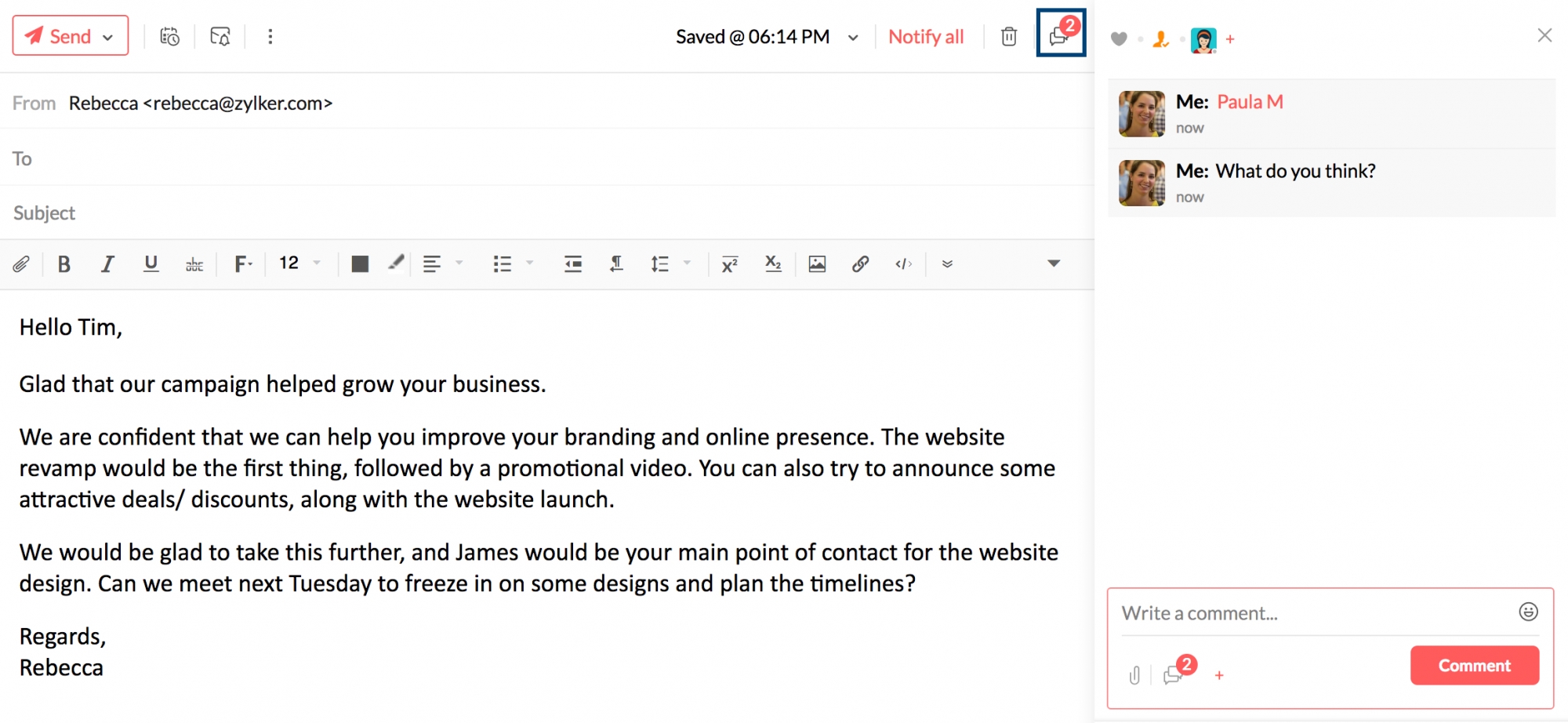 Check it out!
Enhancement
Email Unread count in Folders
View the number of unread emails in a specific folder right next to the folder name. You can even click on it to view all the unread emails in the folder in one view.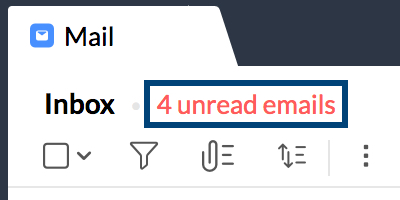 Learn more
Enhancement
Email Unread count in Conversation View
We're done away with the confusing mail thread count in conversations. Now, you can view all the unread emails in a particular conversation in the email listing view.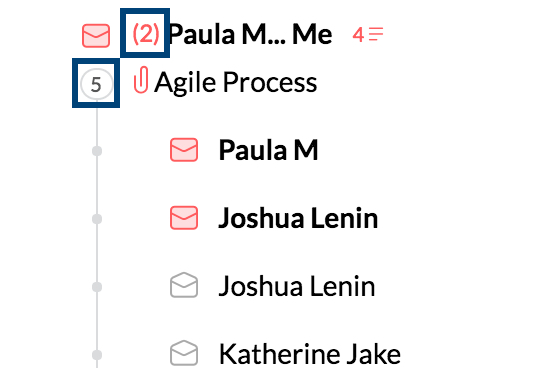 Check it out!
Enhancement
Copy/ Move Streams Notes and Tasks
Copy and move your Streams Notes and Tasks between multiple groups using the relevant option in the More Options button.
Aug
Make the best use of your filters by combining the usage of both AND and OR logical conditions in the same filter. 
Play around and edit the criteria pattern for the multiple conditions you set, according to your preference, and Zoho Mail's filters will ensure that your mailbox is as neat as ever.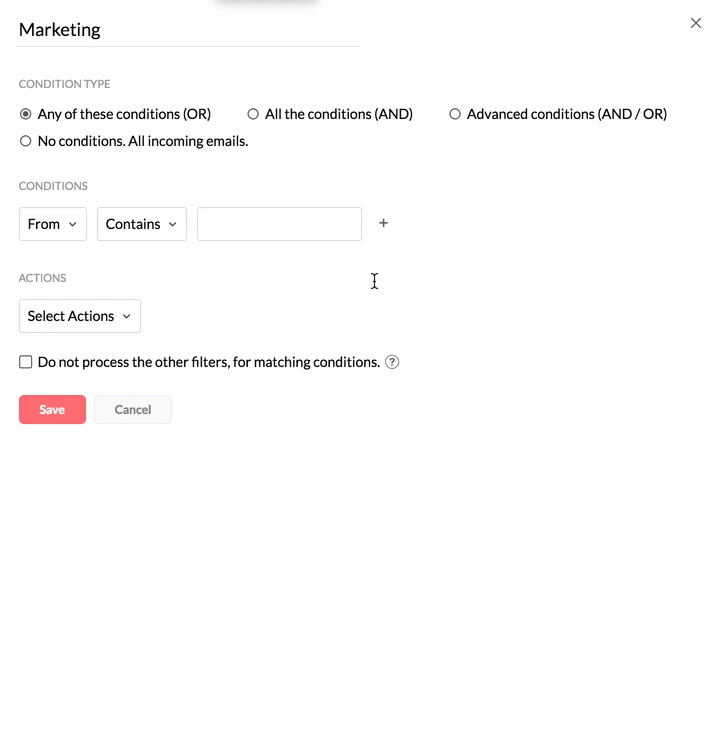 Learn More
New
Customize Email Listing
Almost everything you need to know about an email such as the email size, labels, date etc. is displayed in your listing. Choose just what you want to see in the listing using the customization options available now!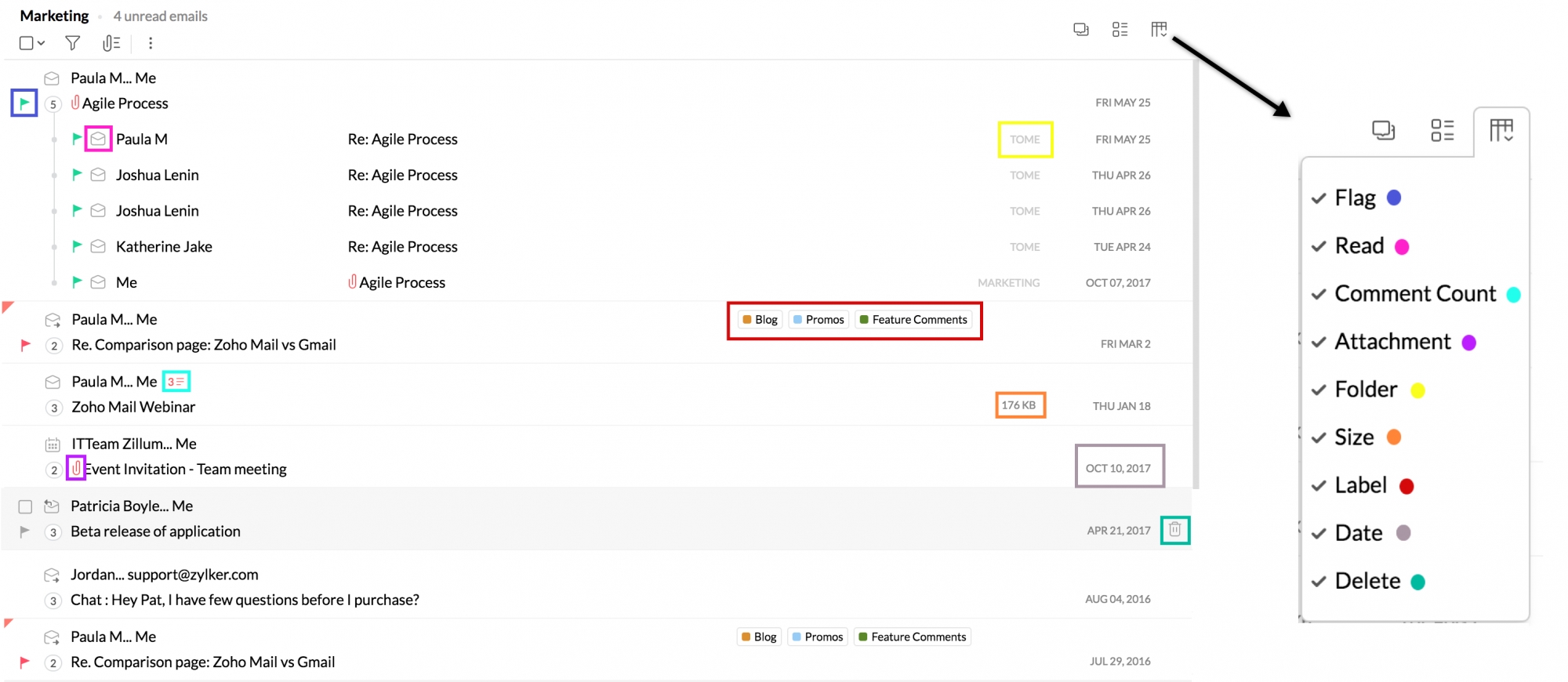 Find out more!
New
Selected Email Sharing
It's no more a necessity to share entire email threads when you need to share just one email. The selective email sharing option lets you share specific emails from an entire thread of emails.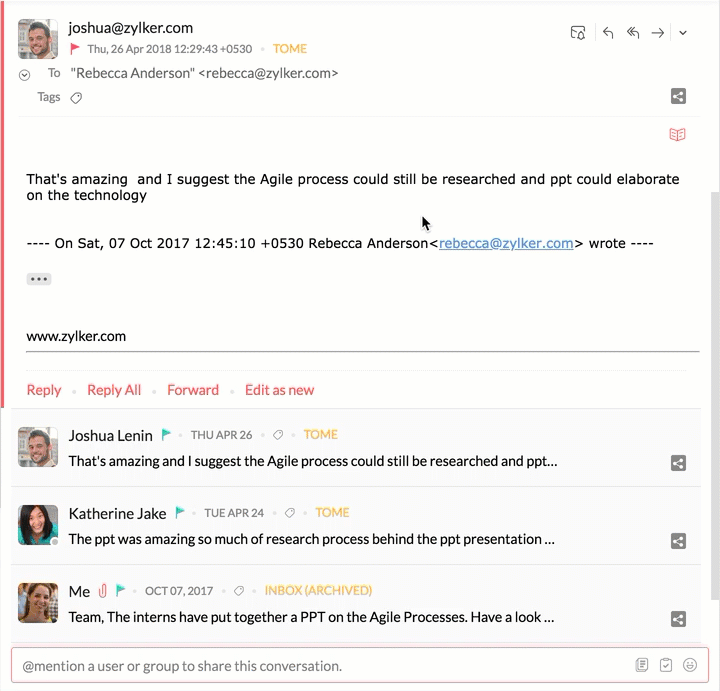 Learn more
Enhancement
Enhanced Email Commenting
You can also do much more than just comment from the comment box. Create a note or a task using the comment content and associate it with the email.
Jul
Jun
New
Classic Mail makes a comeback - Vintage theme
Good news for the users who loved our older interface. The new 'Vintage' theme is now available to those who thought old is gold.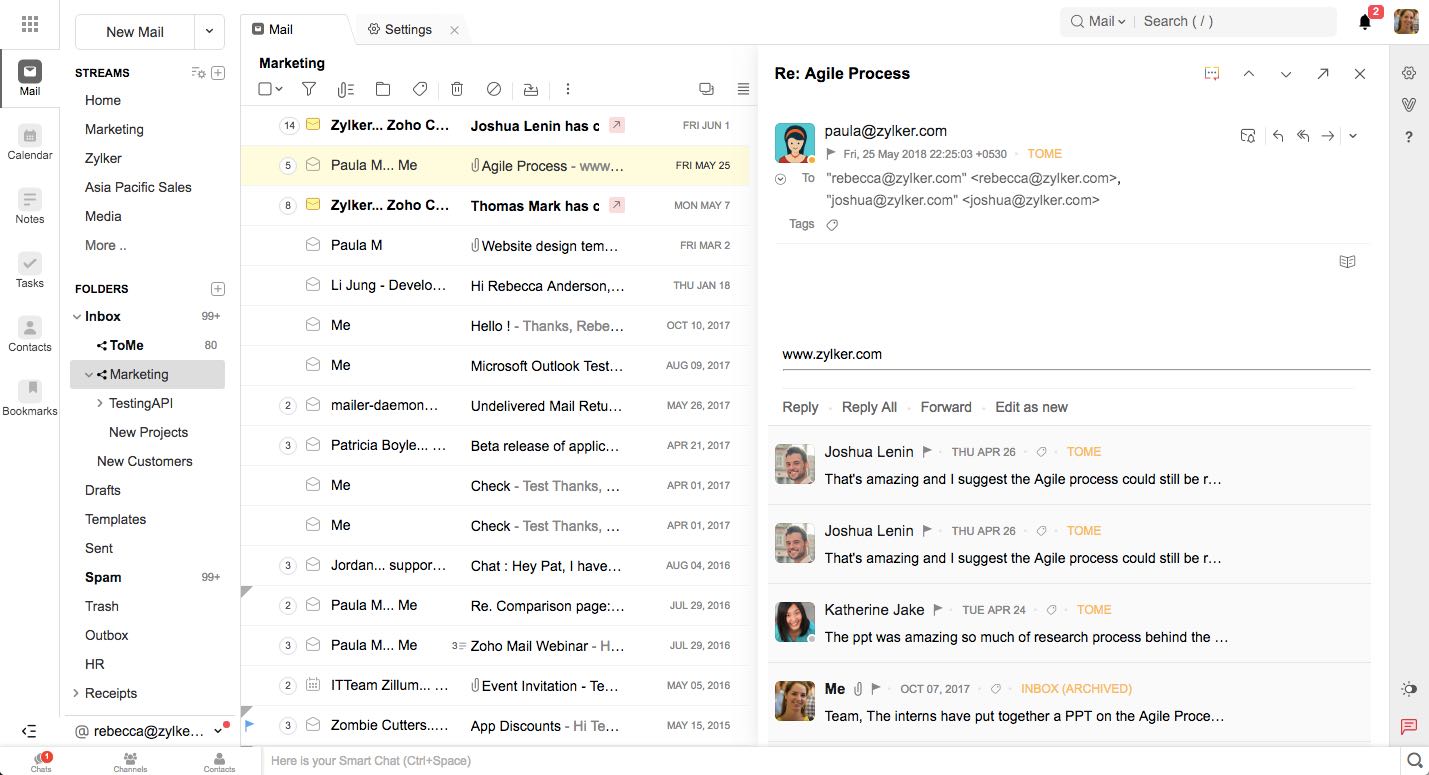 New
New way to view emails - Horizontal preview pane
A new way to preview your emails in qiuick view. Those of you who have lesser vertical space, and want to use your screen's width in a better way can opt for horizontal preview pane, enabling you to read the emails below the list of emails.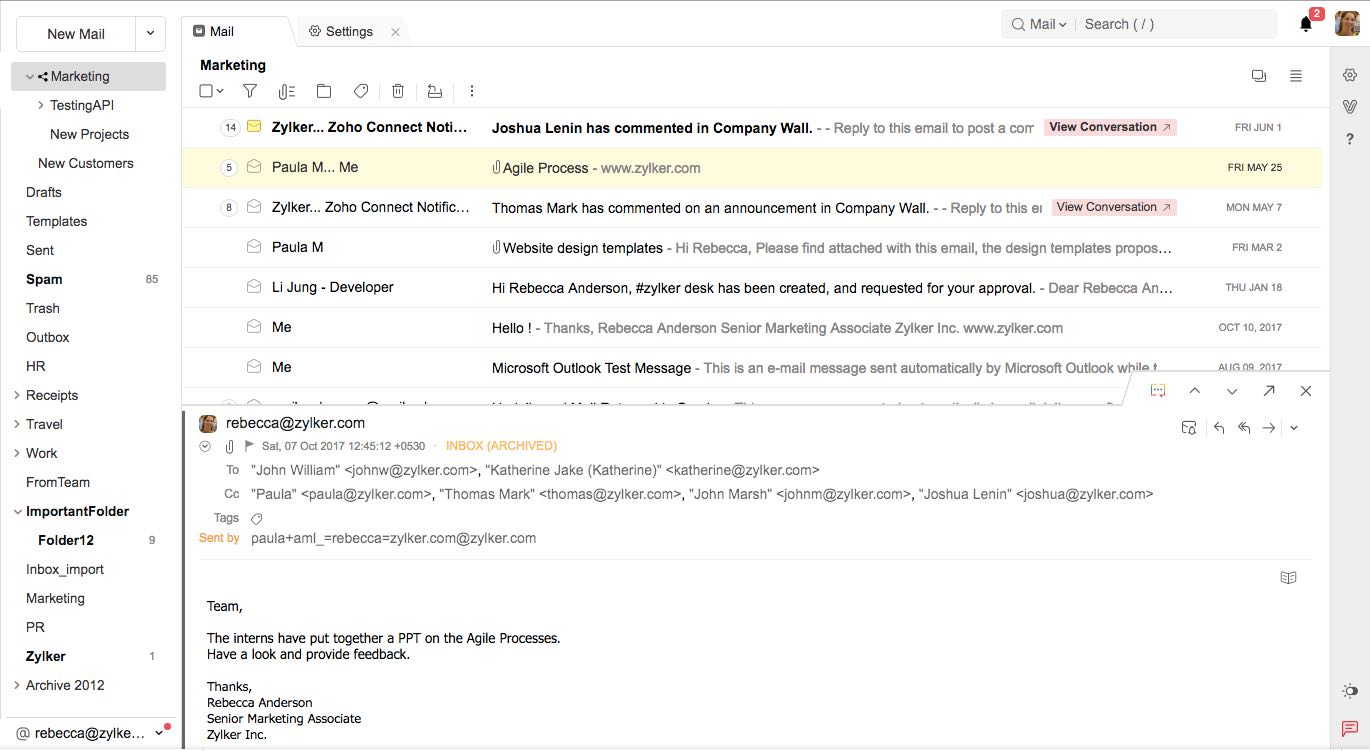 New
Flexible widths - Adjustable panes
The width of the preview pane and the email listing panes can now be adjusted to your comfort. This also gives you the freedom to have the preferred width for reading your emails from the preview pane.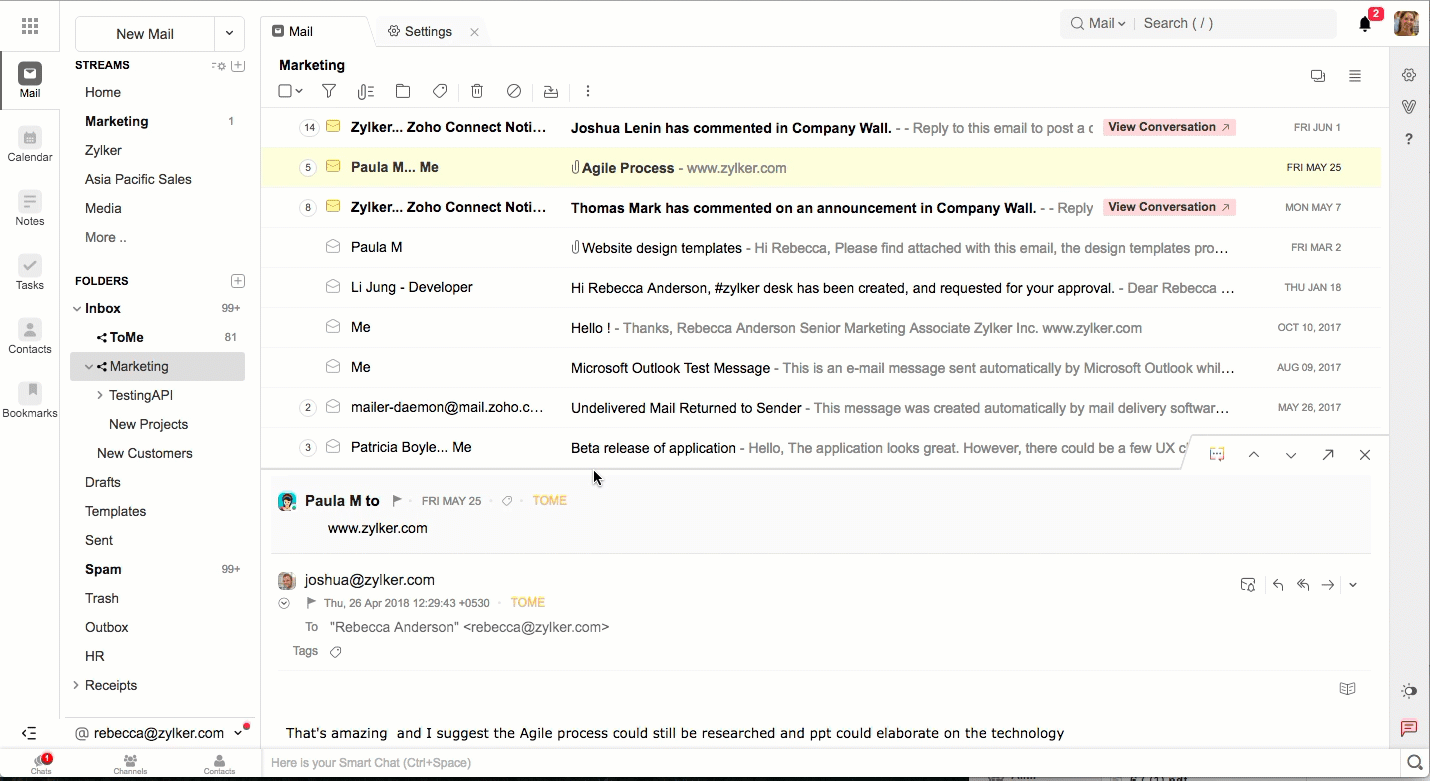 New
Wider view of Inbox - Show/ Hide Apps pane
In case you have devices with smaller screens, and have trouble in viewing emails even after adjusting the pane widths, you can go ahead and hide your Apps pane. You can easily show/ hide panes to switch between the apps and still have wider reading space.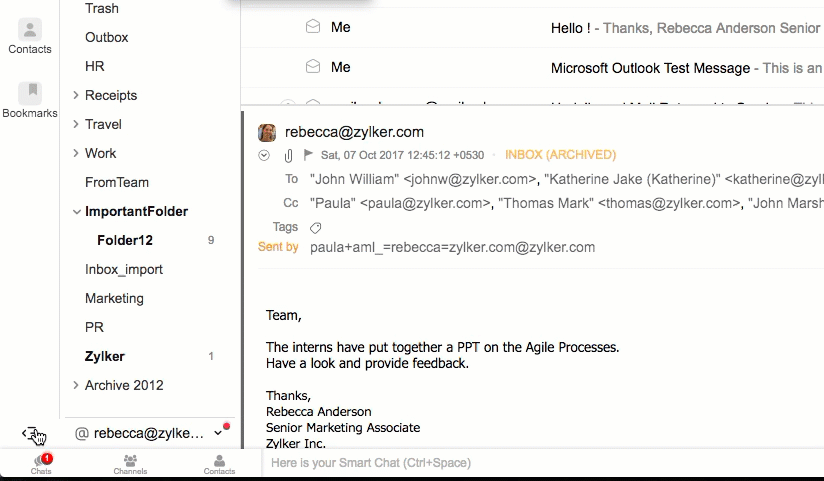 ​ 
May
New
Coolest Interface - Zoho Mail 2018!
The coolest new interface of Zoho Mail, Zoho Mail 2018 was launched for all the users, with enhanced loading speed, intuitive actions and cleaner look.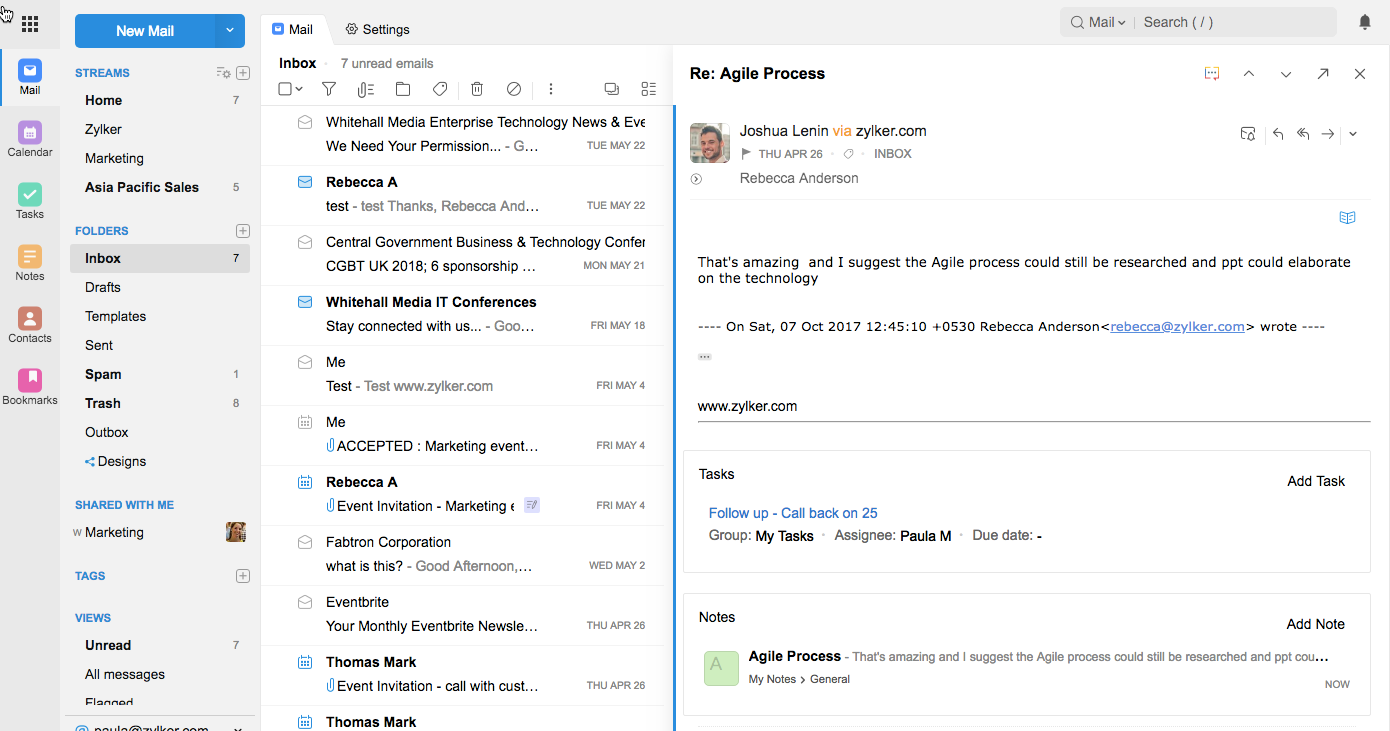 Mar
Feb
Jan
New
Video/ Audio calls via Cliq from Mail
Freedom from Phone hassles! Just Cliq and call your contacts right from your mail. Look up the contact right from the email to initiate a chat via Cliq. Better still have an in person conversation using the Audio/ Video call options of Cliq integrated right within your email.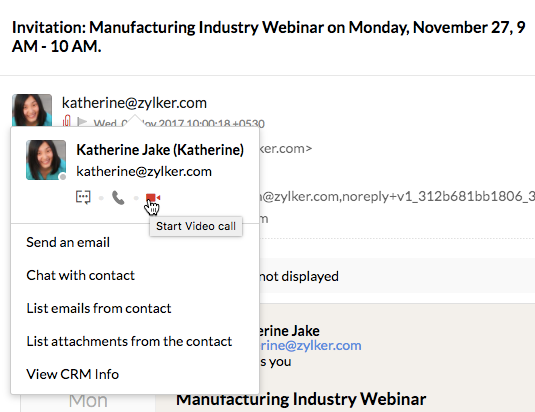 ​
New
Auto-upload attachments via Filter
You can now create a workflow/ rule via Filters to automatically upload attachments from your email in Zoho Mail to popular cloud storage (Zoho Docs/ Dropbox/ Google Drive/ Box/ One drive) of your choice. Just create a filter, with the conditions based on a combination of from / To/ Subject for emails with attachments, and choose the action to 'Add attachment to cloud'. Follow the steps to complete the authorization process and start uploading your files.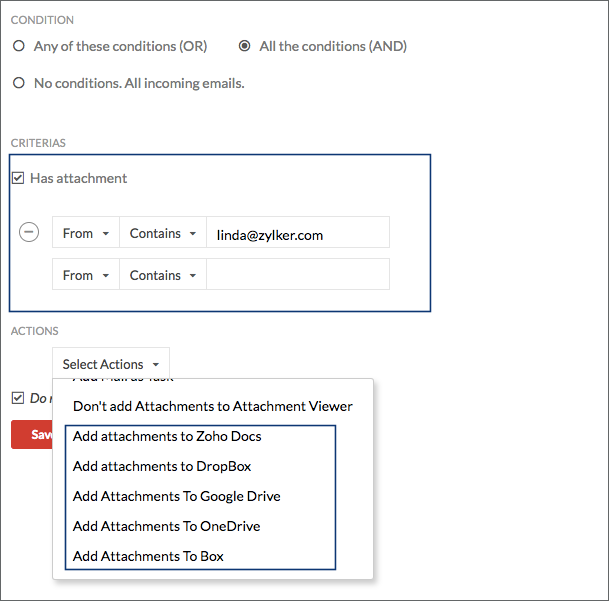 New
Email status indicators in Mail listing
Take a quick look at your listing and know which emails were replied to and which were forwarded in a glance. The mail icons in the listing, now have the indicators to subtly denote the status of the email, in addition to the read/ unread status. 

2017
Dec
Nov
Oct
New
Print Tasks - Strike off from the list in hand
The Tasks are in the cloud, available anywhere anytime. But having them on paper and striking them out does give a sense of accomplishment. The Print option is right there for you! 


Click the Print icon, to print your checklists, Todos and Tasks to manage them using Pen and Paper the old school way. 
New
Sticky notes now Sync too
We all have multiple sessions open. With sticky notes being handy for taking notes, having different versions in different sessions might be confusing. Now any changes made in a note in one session, is carried forward to all the sessions. 
New
Other enhancements - Bookmarks list, Reminders
Bookmarks list view: Based on the popular requests, Bookmarks can also be viewed in the list based view in addition to the Card view. 
Reminder mail enhancement: When you use the automatic followup and remind option, to remind the recipents, the reminder emails to your contacts are now more effective and contextual. The reminder emails now get sent using your own 'From' email address, thus making them seem to be actual follow up emails from you. 
Sep
New
Quick actions - Click and act from Mail listing
Actions inside your emails, are now more visible and actionable right from the listing. Quick actions help you to directly locate and act on the emails with actions, without even opening such automated emails. 

Learn more
New
Friendly headers - View, download, copy email headers
Tired of looking for complex technical information in internet headers of the emails? Email headers are now displayed in easily readable format with download and send options, making it simpler for admins to troubleshoot email issues.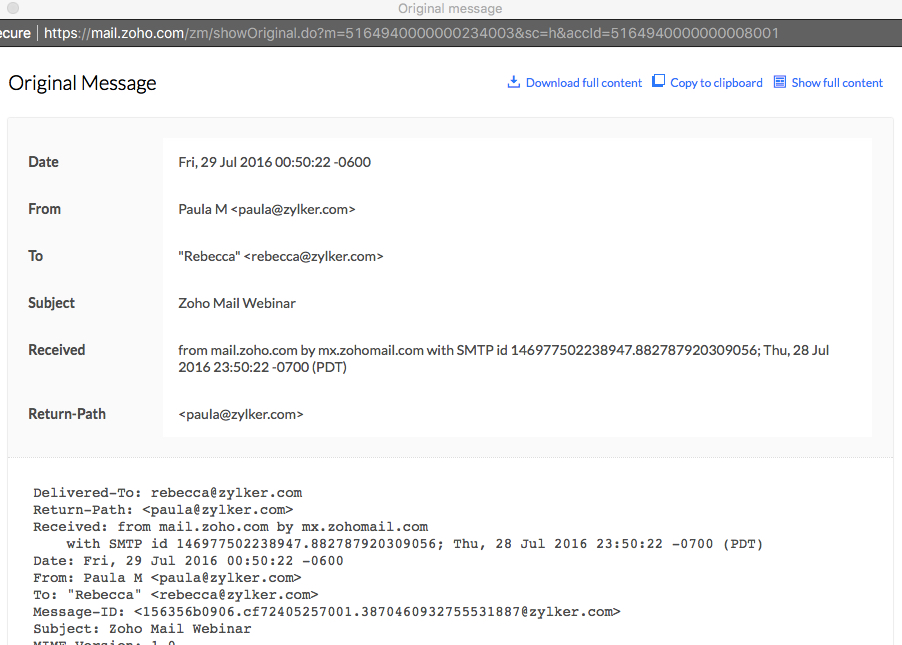 Display name and From address: To make sure that you know the 'Display Name' that is set for your account, the Display name is now displayed along with the From address in the email composer. 
Fine grained Search: You can now search for an email addressed to you in To vs an email addressed to you in the Cc field, instead of a combined To/ Cc based search. 
Aug
New
Paste screenshots and annotate them
No more image hassles! Just paste the screenshot you captured, annotate it and embed the image right inside your email.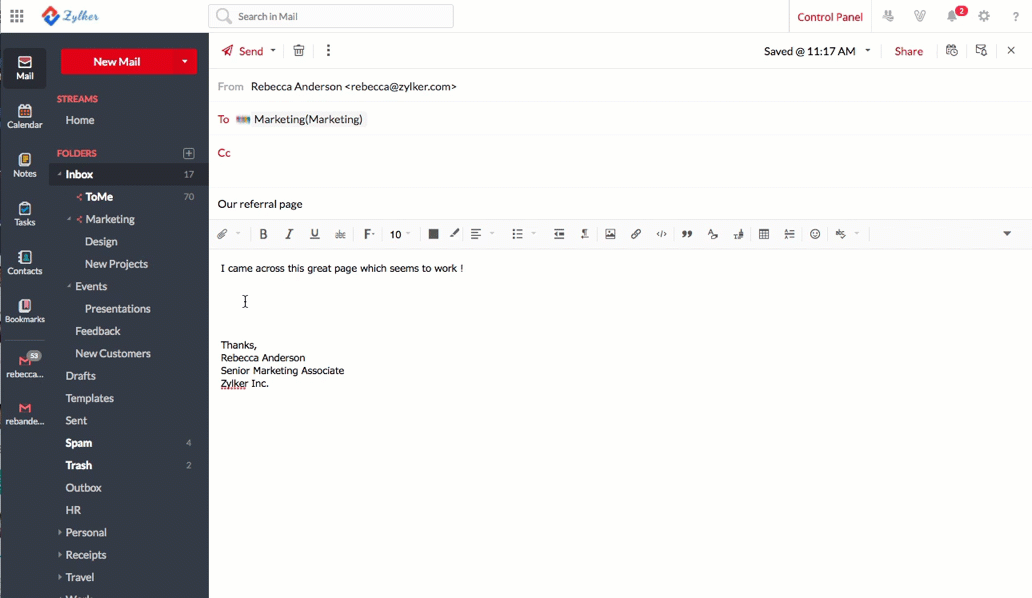 Want to send it as attachment? Just paste it in the attachment browser, instead of pasting in the editor to send it as an attachment. 
New
Unified Tasks View - Zoho Projects Integration
Get a birds eye view of all you Tasks from Zoho Mail. Be it your individual tasks or team tasks or tasks from your Zoho Projects, view them all under your Tasks and plan better. You can even add a task directly to your portal in Zoho Projects. An email can be associated with a Project Task/ Bug in a single click.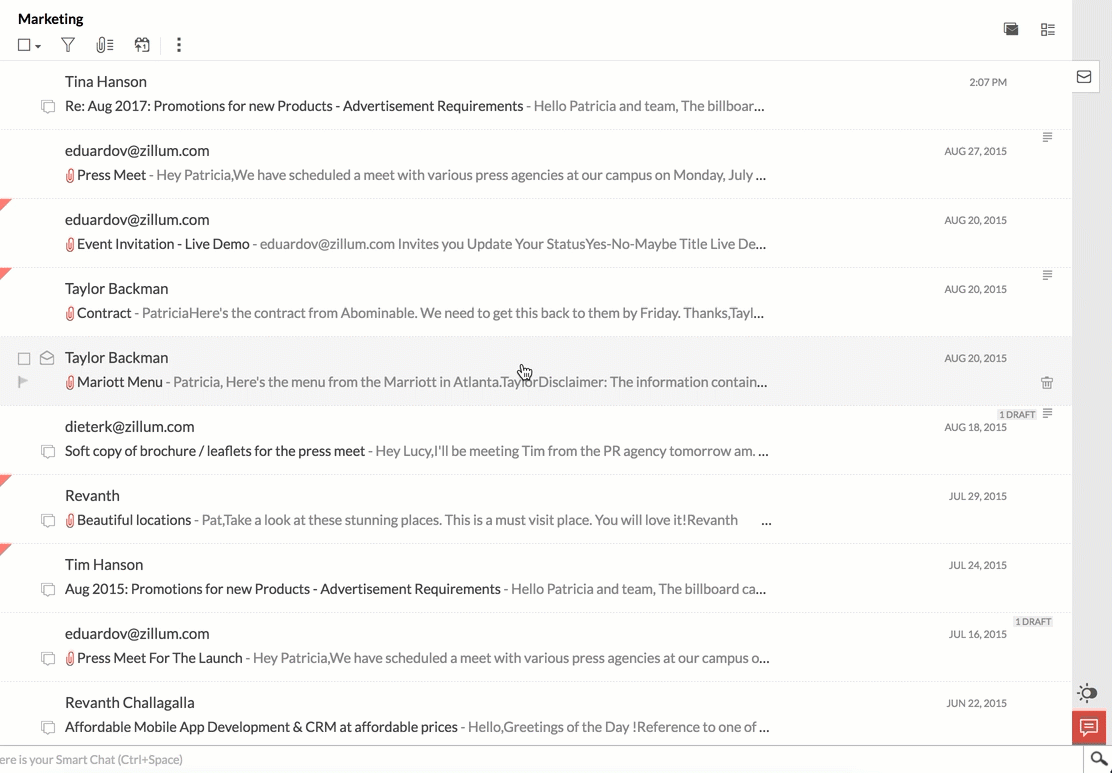 Jun
New
Night mode - Only ideas need to be bright!
Zoho Mail now sports night mode! We have had so many requests for a darker theme and grumbles that our themes are too bright. We dedicate this 'Night mode' to all the night owls out there.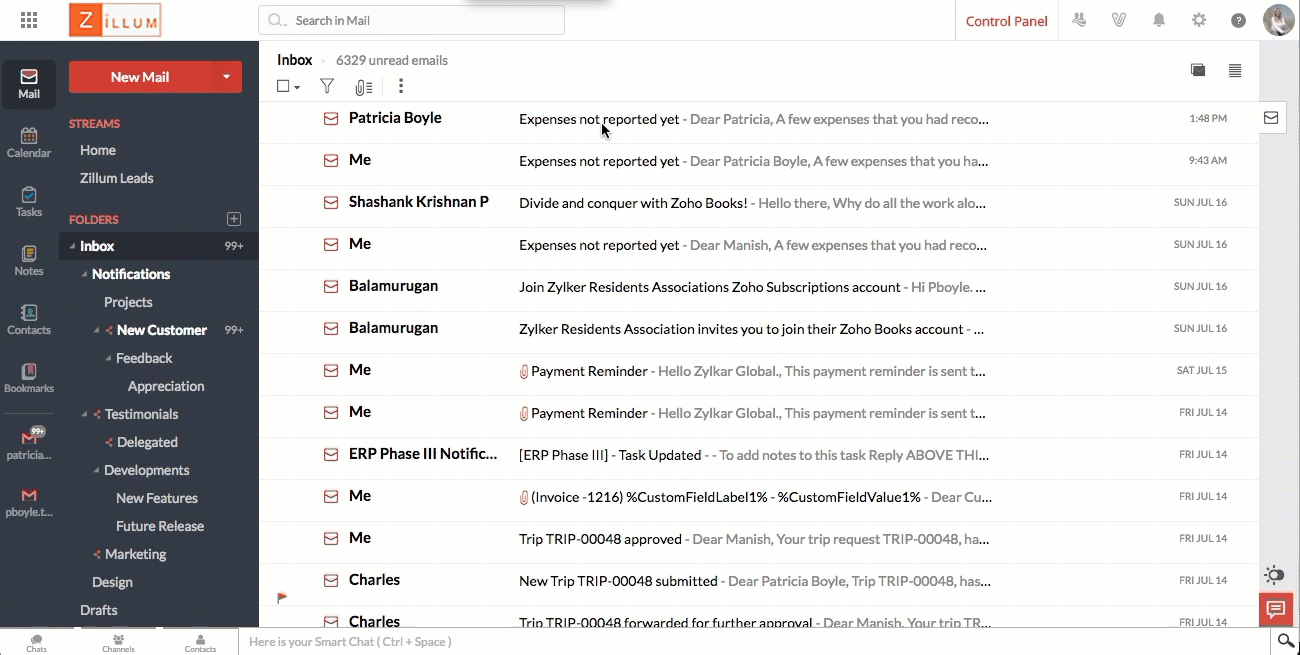 May
New
Attachment viewer for Folders
Get a birds eye view of all the attachments in a specific folder. You can now easily locate the important files that came in as attachment in a particular folder without worrying about who sent or when it was sent. Learn more.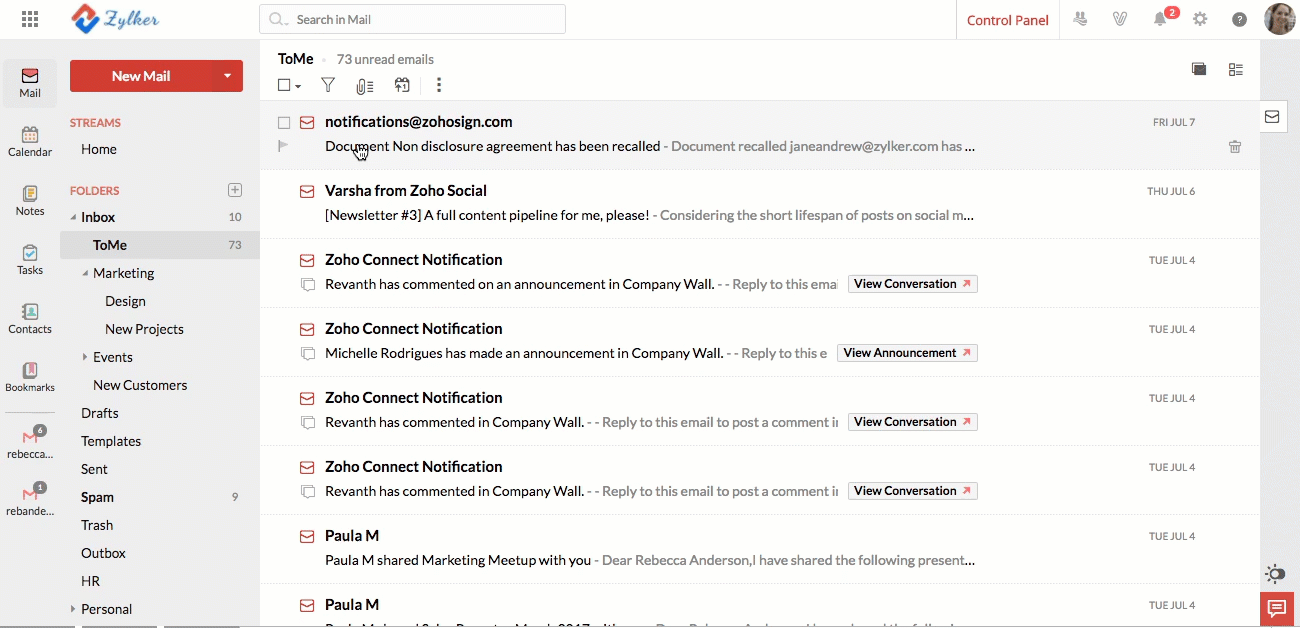 Learn more
Apr
New
Track sent emails - Sent or Not ?!
Check out the delivery details of the emails you send in a jiffy. You can know whether the email was delivered to the designated person or not. You can even find out the reason for bounce in cases if the emails were undeliverable! More details.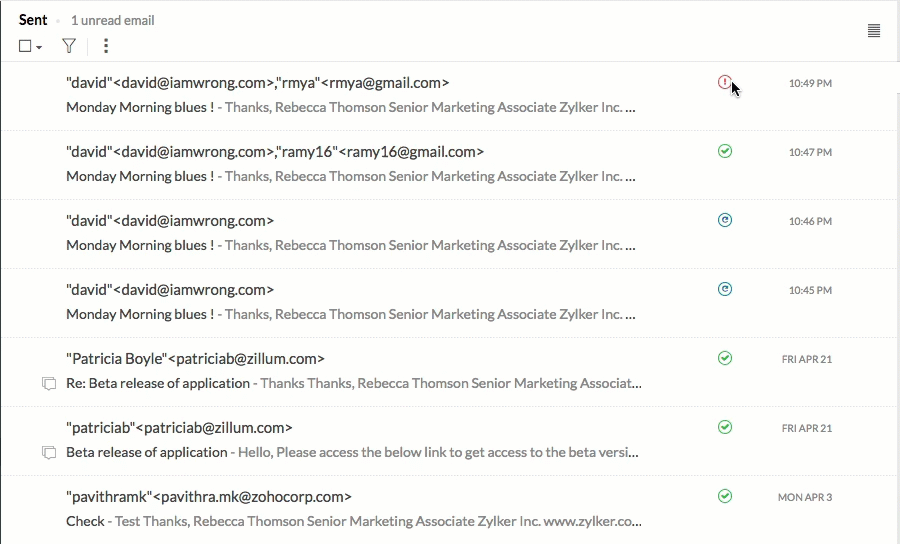 More details.
New
Sticky Notes - Pin them on your screen
Sticky notes are excellent tools to jot down such random thoughts without losing the current context. Sticky notes gets pinned up on your mailbox until you sway them away. You can easily pull out information from different emails and sew them together as a note for your reference! Find out how!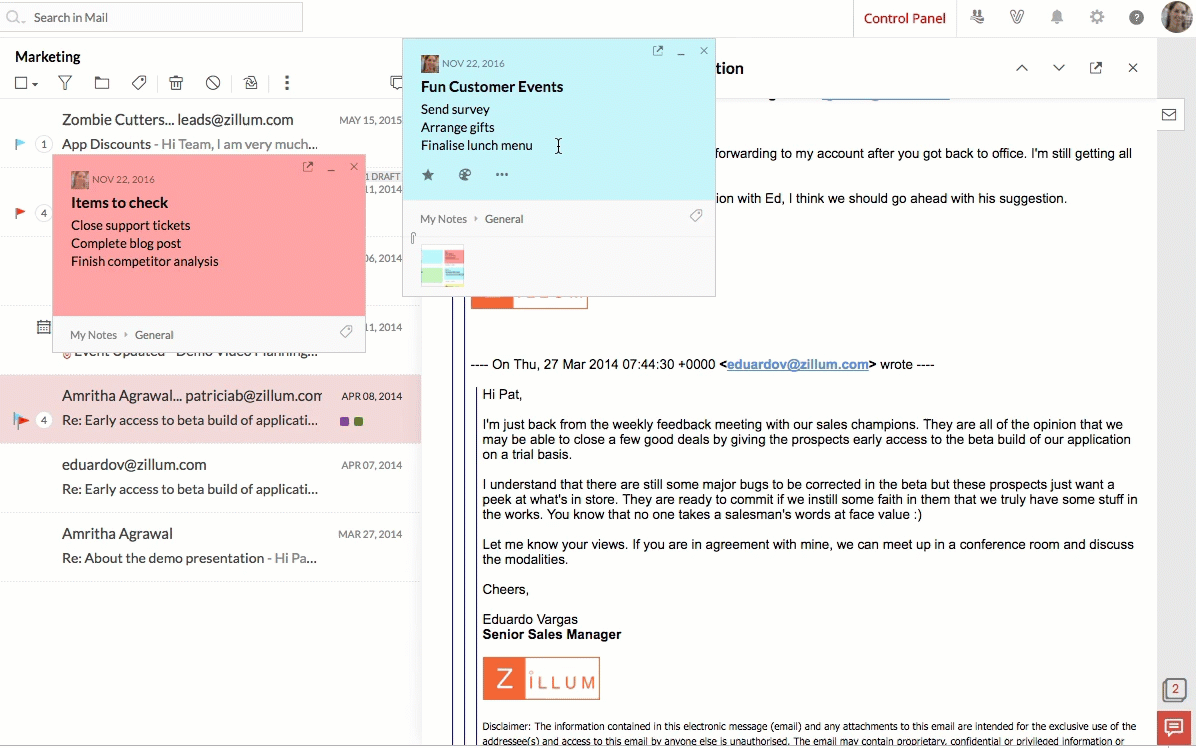 Find out how!
Mar
New
Integrated Tasks and Notes
When you add Tasks or Notes from email, the tasks and notes will now be accessible right below the email. This better integration helps to contextually view the associated Tasks and Notes linked with the email and vice-versa. Details here!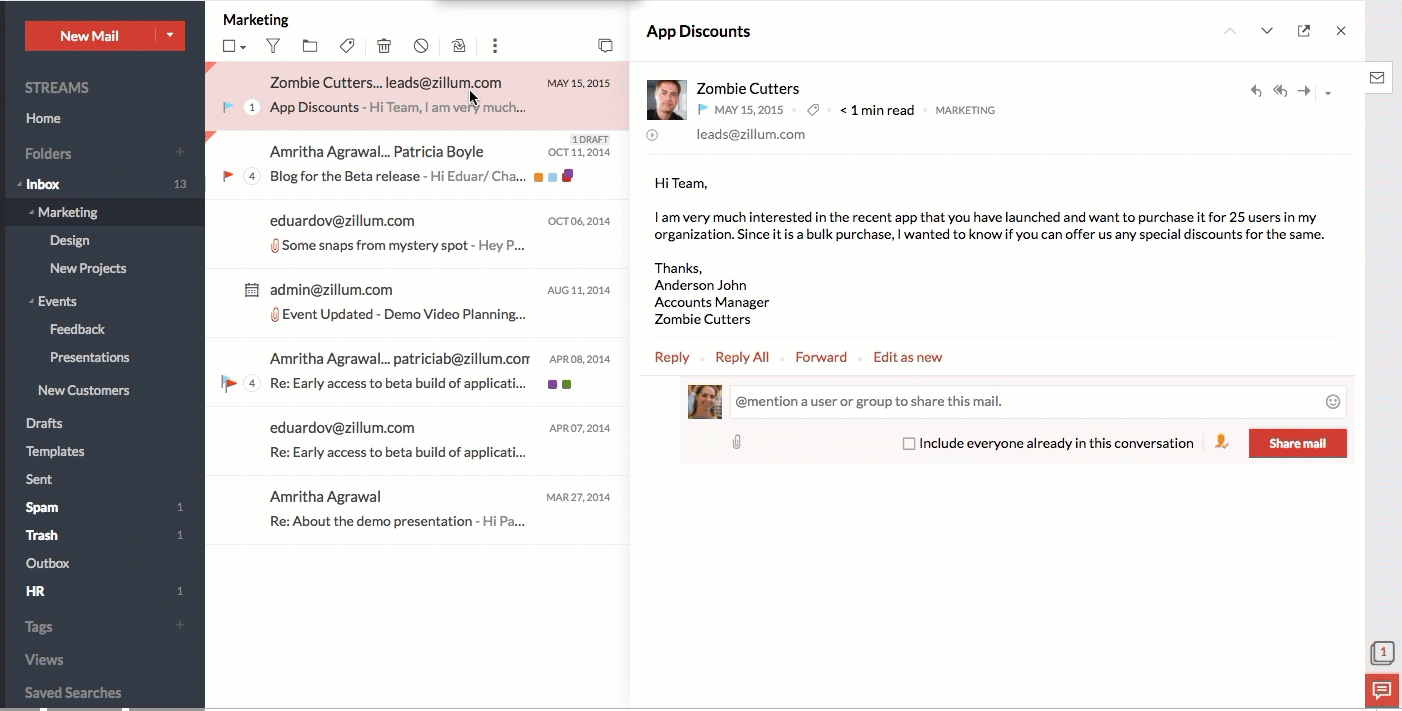 Details here!
Jan
New
Collaborate better by sharing instead of attaching
You can now share your files as link from Zoho Docs, instead of re-uploading them to your email. Avoid breaking your head to find out the correct version of files due to multiple copies with different versions.  Easily share documents in progress as link, to get centralized reviews from your colleagues and make changes easily to the same document! Check it out.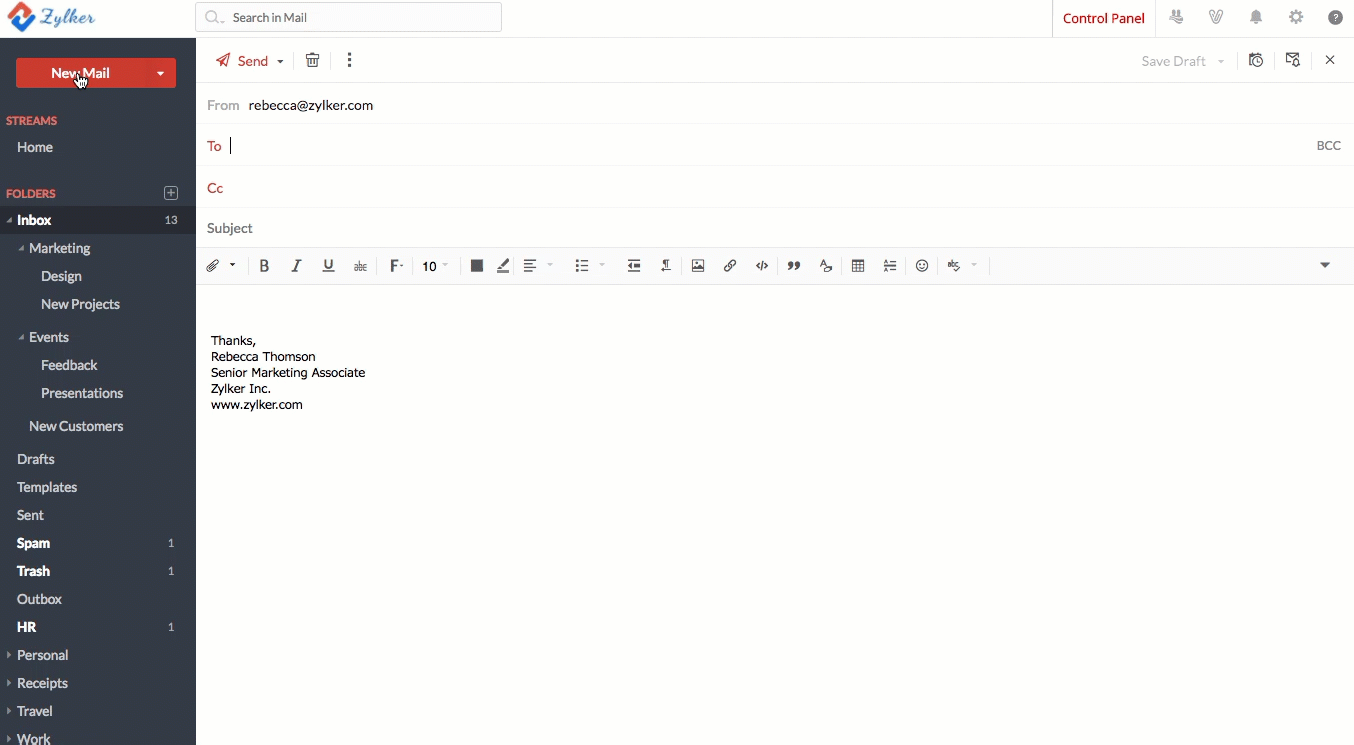 Check it out!
2016
Dec
New
Automate 750+ apps - Zapier Integrates with Zoho Mail
With just a few clicks setup zaps and automate your workflows between email and other applications. Zapier, a third party integration platform, helps automation by creating zaps between different applications. The latest integration between Zapier and Zoho Mail allows you to build your custom zaps which can automate 750 + applications with your emails in Zoho Mail. Read about it here! 
Read about it here!
New
Schedule emails - Choose when and Send them later!
Quickly compose the contents of the email and set up a schedule to send emails at an apt time for the recipient. Schedule helps you to send reminders or updates to your team at the right time, suitable for the task in hand. Instructions inside!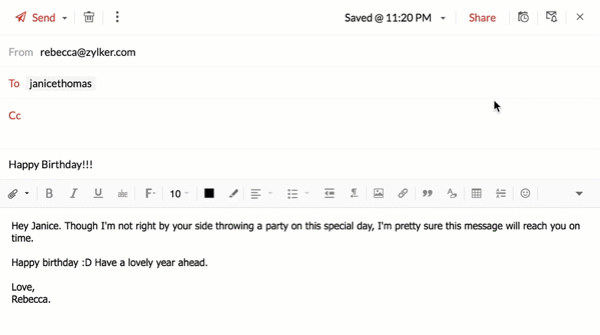 Instructions inside!
New
Reminders and Follow ups - Better follow up your emails!
Easily add reminders to email, that need to be acted on at a later point of time. This can be based on the response to that email or even when there is no response from the other end. Sometimes we just need to be reminded about that email at the right time. Our reminders provide options to all these scenarios and even more. Learn how!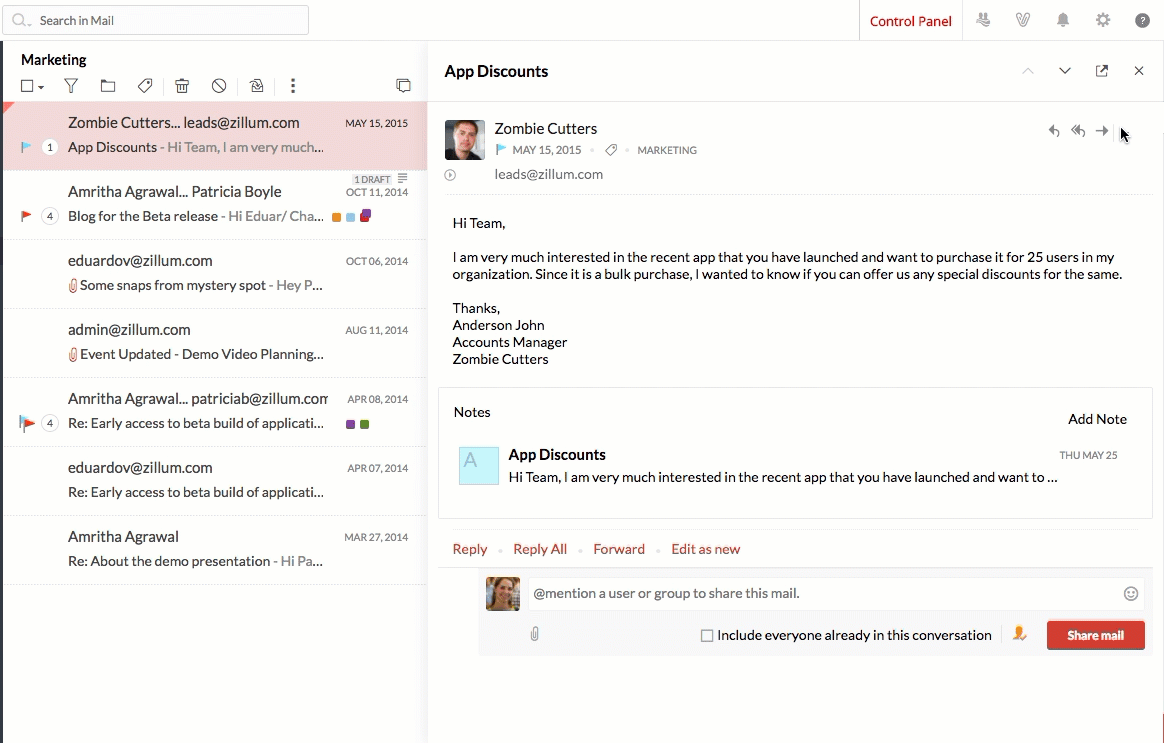 Learn how!
New
@mention in your content to add Recipients
When writing an email, simply @mention users in the email body to directly add them as recipients for that email. This helps you to include everyone related to that email, without the need to add them manually or miss them in a hurry!