Users can bookmark their favorite links in Business and even share them with group members. Users can add links, import & export links, tag links, move links to a specific category, mark as Favorite and much more. Users can also import favorite links from other browsers to view it all under Zoho Links. Bookmarks can be imported from Firefox, Internet Explorer and Netscape.
Now all the favorite bookmarks (HTML links or URLs) can be stored and accessed under Zoho Links.
To Add a Link
Click on Add Link
Enter the Title along
Enter the URL of the site
Select the folder that you want the link to be placed in
Provide a short description
Click on OK and a link is added.
You can also view the links by clicking on :
All Links
Recently Visited Links
Enter the URL of the site
Favorite Links
Organization Links.
 Tag your Links
Tags are a great way to keep your links organized. Zoho Links support multiple tags, drag and drop, color coding et al.
 Adding new tags & tagging links
To add a new tag, click '+' beside Tags. You can also add a new tag under 'Tags' which is at the top band.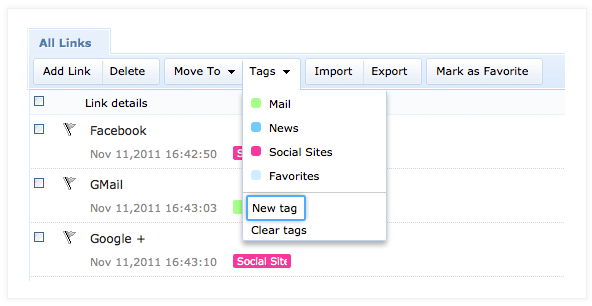 To tag tasks, select a task(click in the check box) and assign a tag from the Tags list which is at the top band.
You can attribute multiple tags to a link and vice versa. To do so, select a link and assign tags one by one.
To assign a common tag to multiple links, select multiple links and assign a tag all at once.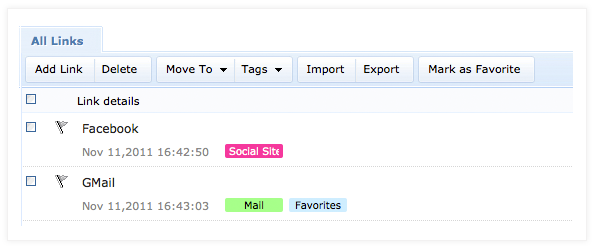 Drag and drop.
Zoho Links has been enhanced to give you the ability to tag a link using the drag and drop feature. This is much easier and faster than the other way of tagging links. To tag a link, just drag the link and drop it over a tag under the Tags list. You can also select multiple links at a time and drop it over a tag.
 


 Color-coding of tags.
Color code your tags to give its own color to differentiate it from the rest of the tags. Color coding makes much easier to find tags at a glance instead of having to search one by one. Here's how you can color code your tag.
Click on the square box of a particular tag.
Choose any color from the color box.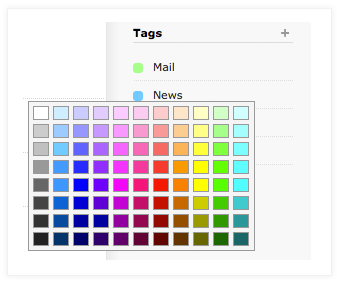 Group Tags.
Group Tags is similar to Personal Tags where you can assign a tag to a link which is in Group. You can also assign multiple tags to a link. However there are few things that differ from Personal tags.
A Group member can assign a tag to a link. But, the Group member cannot edit or delete that particular tag.
Only the Group Administrator/Moderator has the authority to delete or edit the tag.
 Renaming & Deleting Tags.
You can rename or delete a tag just by right clicking on it and choosing the appropriate option. Deleting a tag will also remove the tag from the link that was associated.
Note:
Tags are common for Tasks, Notes and Links.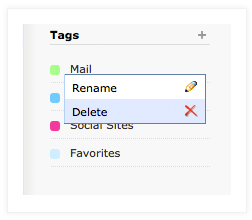 To Import Links
Your bookmarks can be imported from Firefox, Internet Explorer, Mozilla and Netscape
Select the Browser type
Browse to select your link
Click on OK

 Add Category
This helps to group similar links under one category. It will help the user to categorize the links so that user will need not search for the links. Categories can be viewed in a Tree View.
 Move Links:
Do you think that an existing link doesn't suit a particular category? Just select the link and move it to another folder which will suit best.
 Favorite Links:
You can now mark all your favorite links and group them under Favorite Links option. This will make much easier for the user to find the links that are used frequently.
 Quick Add:
Just make use of " Quick Add " option and add your favorite link and that will be added to your Links list. And later you can move the link to any particular category.
 Search Links:
Search Box is useful when you find hard in searching a link that you have added long time back.