ServiceDesk Plus Extension
ServiceDesk Plus (SDP) is an IT help desk software from ManageEngine. SDP integration with Zoho Mail will allow you to manage and create SDP requests from inside your inbox.
Creating Requests
Log in to Zoho Mail
Click on the eWidget ​icon

on the right pane of your mailbox.
Select ServiceDesk Plus from the app menu in eWidget listing.
Click on the Create New Request icon (plus icon) on the right side

Provide the following details:

Request type
Impact, Status, Level, and Priority of the request
Mode - Email, call, etc.,
The urgency of the request - high, low, etc.,
Subject
Technician handling the request
Requester Details

Once the details are entered, click Add Request.
​
​Opening SDP eWidget while previewing an email will contextually fill the above details to create a request.
Managing Requests
Inside the SDP eWidget, choose the Portal you want to view from the dropdown. All the requests in the selected Portal will be listed in the eWidget.
View and Search Requests
You can filter the request you want to view using the All Request dropdown. You can view cancelled requests, completed requests, pending requests, etc using this option.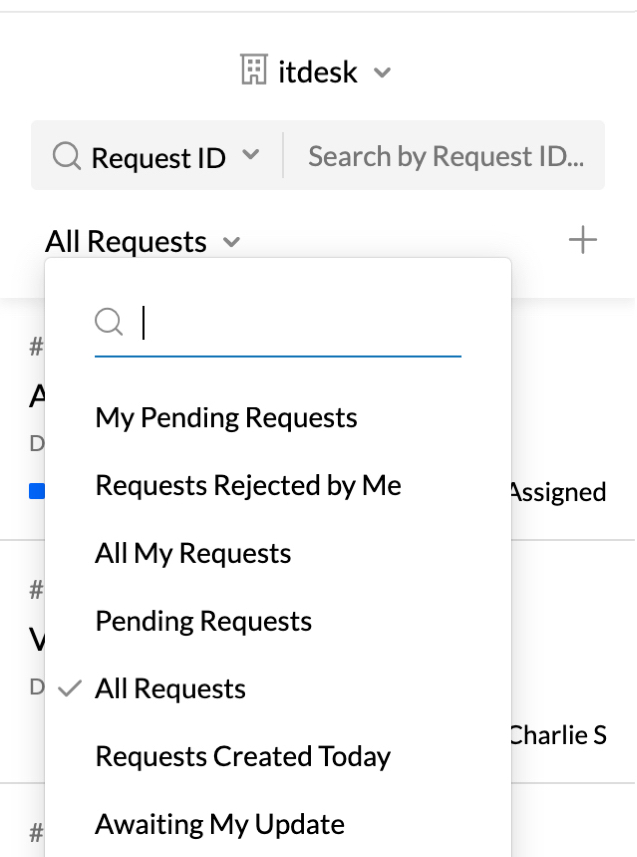 ​
You can also search requests based on Request ID, Status, or Subject.
Other Options
Click on any request to view the details of the request. You can perform the following options from this details view:
Edit - Modify the details of the request
Close - Close the request
Pickup - Assign the request to yourself
Assign - Assign the request to another technician