Mobile Access
Zoho Mail has multiple apps, exclusively designed for administrators for administration on the go and email apps for users to check their emails from anywhere, anytime. Apart from apps, Zoho Mail also provides Active Sync for Email, Calendar and Contacts sync with your mobile devices.
Zoho Mail App
Zoho Mail App is designed to check your emails on the go, in the same way, you check your email from your webmail. You can create or accept events, set up reminders, browse through your attachments with this app. It ensures that you access emails at your convenience on your mobile. The app is available on both iOS and Android flavors.
Zoho Mail Admin App
The Zoho Mail Admin App lets organization administrators access your control panel without having to log in from your desktop. It lets you perform the basic control panel functions from your mobile device. You can download the application on both Android and iOS platforms from the links below.
Exchange Active Sync
You can configure your account via Exchange Active Sync from your mobile devices. Zoho Mail Suite supports the sync of email, calendar, and contacts from iOS and Android devices. For Blackberry devices, you can sync calendar and contacts, as email sync is not supported. The Exchange Active Sync is supported for all accounts. For organization accounts, the administrator should enable the Active Sync access for the account.
Zoho Sync for Android and iOS uses Microsoft® Exchange ActiveSync® protocol to perform wireless synchronization of Zoho Applications with the built-in iOS/ Android device applications (Contacts, Calendar, and Mail).
Server: msync.zoho.com
Username: Your Zoho Email Address (user@yourdomain.com for hosted accounts/ user@zoho.com for non-hosted accounts)
Password: Your Zoho Password (If Two Factor Authentication is enabled, use Application Specific Password)
Domain: Leave Blank / Provide your domain name
While using Active Sync, you can choose the data you want to sync from your devices. Go to Settings >> General >> Active Sync . You will find separate Enable/ Disable options for Mail, Calendar and Contacts.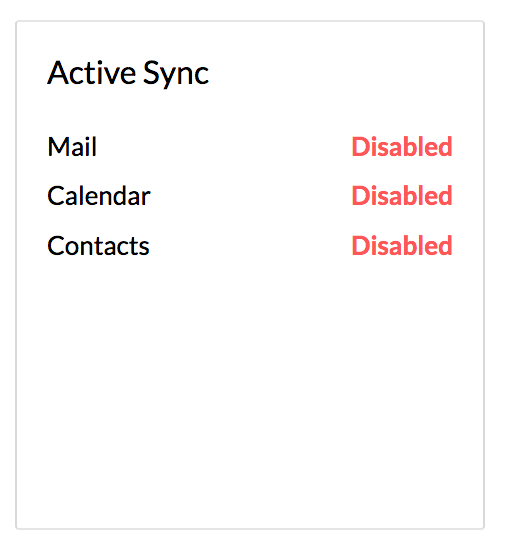 ​
Note:
The App-specific Enable/ Disable option for Active Sync will not be available by default for users. The Administrator of your organization needs to enable the option for individual users from the Organization Control Panel. Learn More.