Why is a custom domain email address good for your business?
Besides helping you showcase your own identity in your communications, custom domain email addresses have many other benefits.
 

Brand visibility

When a prospect looks at your email address, they will quickly be able to find your business by looking up your domain name.

 

Credibility

An email address that contains your business name sounds more official and trustworthy than an email address that doesn't have a custom domain.

 

Consistency

As your workforce grows, you can standardize email addresses and create consistent group addresses for roles, like support@yourdomain.com.

 

Brand marketing

While there are numerous ways to market your business name, a custom email address is the simplest.
Why choose Zoho Mail to host your
custom domain emails?
 

Domain and email, all in one place

Zoho Mail helps start your business communication from scratch. If you don't already own a domain, you can purchase one with Zoho Mail and use it to set up custom email addresses.

 

Multiple email accounts for one domain

You can manage multiple email accounts for your business using a single domain. Whether it's for different operations (like sales and marketing) or just multiple employees, you can create and manage customized email addresses using the Zoho Mail Admin App.

 

Seamlessly collaborate with your team

Zoho Mail empowers you to communicate effectively with your team and build productivity while experiencing 99.9% guaranteed uptime. You can share folders and drafts, and keep everyone in the loop with native apps like Calendar, Notes, Tasks, Bookmarks, and Streams.

 

Protect your data with our ad-free mailbox

Zoho Mail offers a completely ad-free experience, because privacy matters. Data from your emails is never mined to run ads, and multiple layers of security exist to ensure that your emails are safe and not spoofed.

 

Get support at any time

We are always there for you. With our 24/7 tech support, rest assured your questions will never go unanswered. Hit us up any time at support@zohomail.com.

 

Free plan for small businesses

If you are a small business or team with five users or less and limited needs, then you can opt for the free custom email address plan, which includes 5GB for each user and email hosting for a single domain. When your team grows, you can always scale up and switch to a fully-featured plan.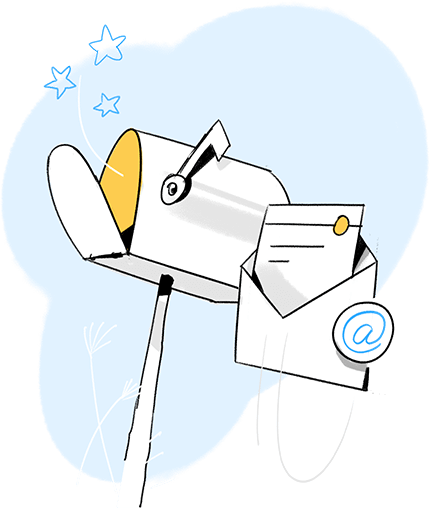 How to create
custom email addresses

with Zoho Mail
Simple steps to get you going
The migration process from your existing provider to Zoho Mail is simple, and you can create custom domain email accounts for all of your employees with no downtime.
Step 1: Add and verify your domain, or buy a new domain with Zoho.

Step 2: Add users and create custom domain email accounts (or) Import users from a CSV file or from your Active Directory.

Step 3: Create domain-based email accounts for groups, using distribution lists to allow multiple members to receive emails from common accounts like info@yourdomain.com or contact@yourdomain.com.

Step 4: Configure your domain's MX records to point to Zoho Mail servers, so you can start receiving emails to your domain accounts in Zoho.

Step 5: Simultaneously start email migration for your users.
 

Add & Verify Domain

Add User & Groups

 

Change MX records

 

 

Email Migration

Custom Domain Email Address

 
Frequently Asked Questions
What is custom email domain?

Custom email domain is the name of your brand or website domain that you use to generate email addresses for your company, instead of using the email provider's generic name. For example, a custom email domain can be used to create email addresses in the format user@yourdomain.com.

What are the benefits of having a custom domain email address?

Custom domain email addresses add a touch of professionalism to every piece of communication that goes out from you, brings your brand the visibility it deserves, and helps you and your business earn credibility with your users.

How many custom email addresses can I have with a domain?

There is no limit to the number of email addresses you can create with your domain name. The free plan comes with a cap of five custom domain email addresses, whereas the paid plan can be extended to any number you would require.

Can I buy a domain from Zoho?

Yes, you can! You have options to buy a new domain for setting up your account. Even if you already own a domain, you can register an additional new domain through Zoho, anytime you need.