Anywhere, Anytime Access
The biggest advantage of email hosted on the cloud is that you get to access your messages on the move. Be it through your mobile, laptop or desktop, as long as there is an internet connection - present almost anywhere / anytime these days - you can do business.
Web Access
At the office, from the comfort of your home, or while traveling, access to your business email on the web is just an internet connection away. You can even configure other external POP email accounts and view them as separate modules, all from one place.

Desktop Access
While you are in the process of getting addicted to Zoho webmail, you can continue to access Zoho Mail including Calendar, Tasks and Notes from within your current desktop client via POP or IMAP.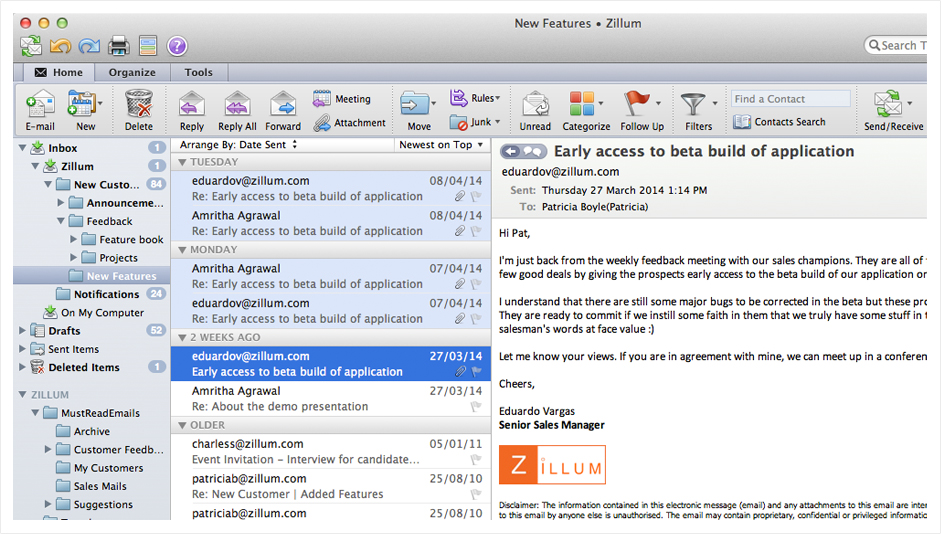 Mobile Access
Fly through your email while on the move with the Zoho Mail app for iOS and Android. Or in case you prefer using your mobile's default email client, Zoho Mail supports MS ActiveSync, IMAP/POP. Or simply use the ultra-light HTML client optimized for your mobile web browser. Zoho Mail's got email on the go covered.