Why do employees need compliance training?
Compliance training is essential to educate employees about the work culture, safety measure, and legal guidelines. Every organization needs to ensure the process followed by their employees is aligned with industry regulations. Not abiding by the rules of the industry can lead to major consequences.
Your organization needs to take control, mandate training, and streamline the process to make sure that your employees complete their training on time. It is also important to ensure your employees are kept up to date with regulation changes and renew their knowledge based on the current industry standards.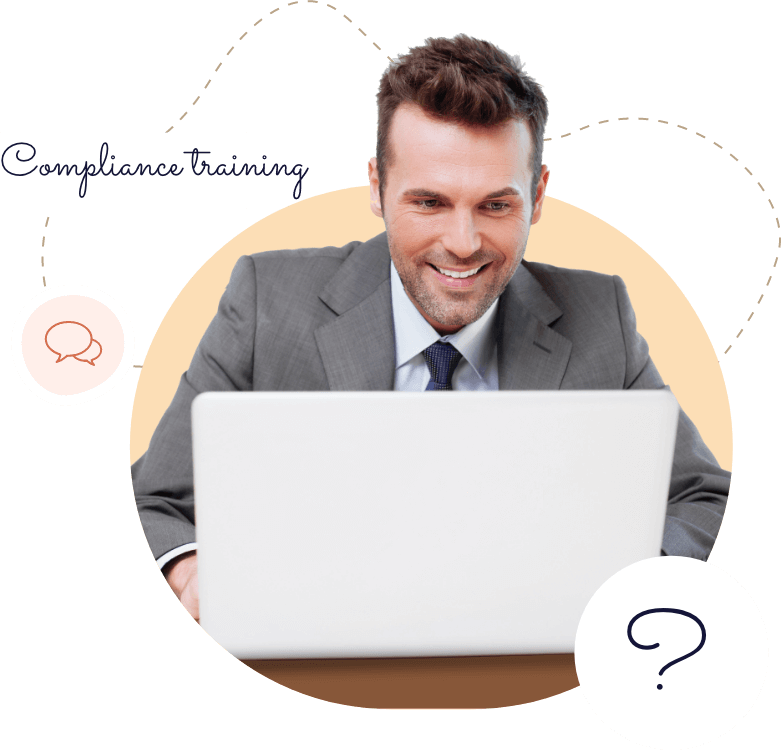 Why should you use compliance training software in your organization?
Up-to-date training program
In any field, employees must be kept up-to-date with the latest rules and regulations. Using an LMS for compliance training helps to store and maintain all your compliance courses in a central repository. Employers can easily edit or add new content to keep learners informed and updated.
Easy access from anywhere
Your employees don't need to stick to the schedule of classroom-based training when they have 24/7 access to online courses. They can take these courses at their own pace from any device and location.
Knowledge checks for compliance training
With a compliance training management system, you can integrate quizzes and assignments to test your employees' understanding. It helps to build assurance that they are well-informed about the rules and regulations of the organization.
Tracking and reporting
An LMS for compliance training helps keep a record of the attendance and progress of your employees. You can use this information to analyze employee participation and to deliver more efficient corporate compliance training.
Zoho Learn as a compliance e-learning platform
As an e-learning compliance training tool, Zoho Learn helps to automate the curation and management of your organization's training program. Zoho Learn helps ensure your employees receive regular, up-to-date training on their compliance responsibilities.
Build effective and up-to-date training programs
Zoho Learn's course module helps to create interactive compliance courses for your learners. Add text, documents, and multimedia to your lessons to make your compliance training engaging and effective.
Test your employees' knowledge
Integrate quizzes and assignments into your courses to check your employees' understanding of the training they've undergone. Once your learners have submitted their quiz answers and assignments, you can evaluate their work and provide feedback.
Analyze learning activities
Use Zoho Learn's reporting tools to get full insight into your corporate compliance training. Get detailed reports on the performance of each learner and the effectiveness of your learning materials.
Group employees in your organization
Create user groups for different departments and add your employees. Build and assign courses to these user groups so that each department can access their own unique learning content.
Deliver your compliance training with Zoho Learn.
GET STARTED