Converting Estimate into an Invoice
IN THIS PAGE…
Once your customer accepts the terms of your estimate, convert the estimate into an invoice and bill them for the product/service you offer.
Click the estimate you would like to invoice, and select the Convert to Invoice button placed on top of the estimate window.

You will be navigated to a new invoice from where the details from the estimate will already be populated.. Modify any details you want to, and save and send the invoice.

Creating Multiple Invoices from the Same Estimate
Even if the estimate is already invoiced, select the estimate and click on Convert to Invoice option and select Yes when asked, if you wish to invoice it again. This will create multiple invoices from the same estimate.
Automatically Convert Estimate to Invoice
You can automate to convert the accepted estimates automatically into an invoice. Here's how.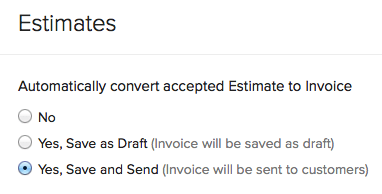 Navigate to Settings > Preferences and select the Estimate tab, choose one of the options provided under Automatically Convert Accepted Estimate to Invoice section.
No - Will not convert accepted estimates to invoice. Yes, Save as Draft - Accepted estimates will be converted to invoice, invoices will be saved as draft. Yes, Save and Send - Accepted estimates will be converted to invoice, and will be sent to the customers directly.
Creating Retainer Invoices for Estimates
You can choose to create a Retainer Invoice automatically upon acceptance of your Estimates.
While creating a new Estimate select the "Create a retainer invoice for this estimate automatically" option and enter the percentage of the amount with which the Retainer Invoice should be created.
Once the Estimate is accepted by your customer, a Retainer Invoice will be automatically created and sent to the customer.
---