Add Transactions
If you are unable to fetch feeds from your bank due to various reasons, you can record manual entries and import transactions for your offline or past bank transactions of your bank or credit card accounts. 
In this page..
---
Manually Add Transactions
To record manual entries for your offline transactions for your bank or credit card accounts, 
Go to the Banking module and select the account in which you would like to record a transaction. Select the desired transaction for which you would like to manually record in your account from the Add Transaction drop down.

If you had to pay your vendors, transfer money, pay for your purchases, record expenses and other similar transactions, you can choose an account from the Money Out tab.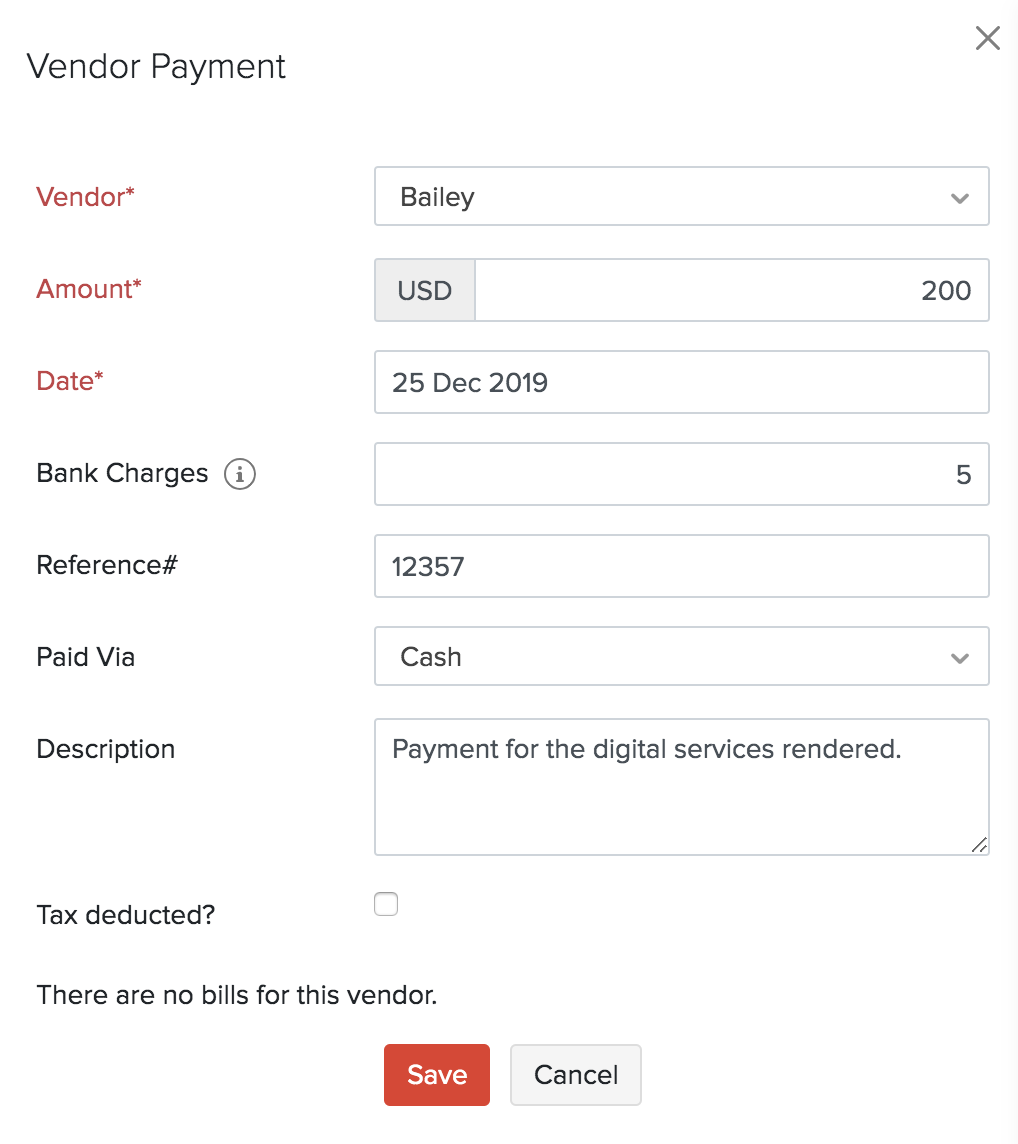 Just like the way expenses are recorded, the money that your customers pay such as the sales, interests, refunds on expenses, deposits and other incomes can be recorded manually from the options given under the Money In tab from the Transactions drop down. 
Once the transactions are recorded, it will be labelled as Manually Added.
Pro Tip:  You can add additional details about your transaction by attaching a document.
To attach a document, click Upload file.
Note: You can upload a maximum of 5 files, 5MB each.
Importing Bank Statements
You can import bank statements for your manually created bank and credit card account. 
Go to the Banking module.
Select a bank or a credit account.
Click the Import Statement button on the top right corner to import. 
Note: Zoho Books supports CSV, TSV, OFX, QIF, CAMT.053 and PDF files (maximum of 1MB) be imported as statements.
Upload a file from your desktop or choose a file from Documents.
Select a character encoding.
By default, the character encoding is chosen as UTF-8 (Unicode). 
Pro Tip:  To ensure that you've selected the correct character encoding, check your import statement file. Click here to know more about character encoding.
Select the File Delimeter.
Note: The comma is assumed to be the default delimeter. Ensure that you've selected the correcter character encoding based on your import file.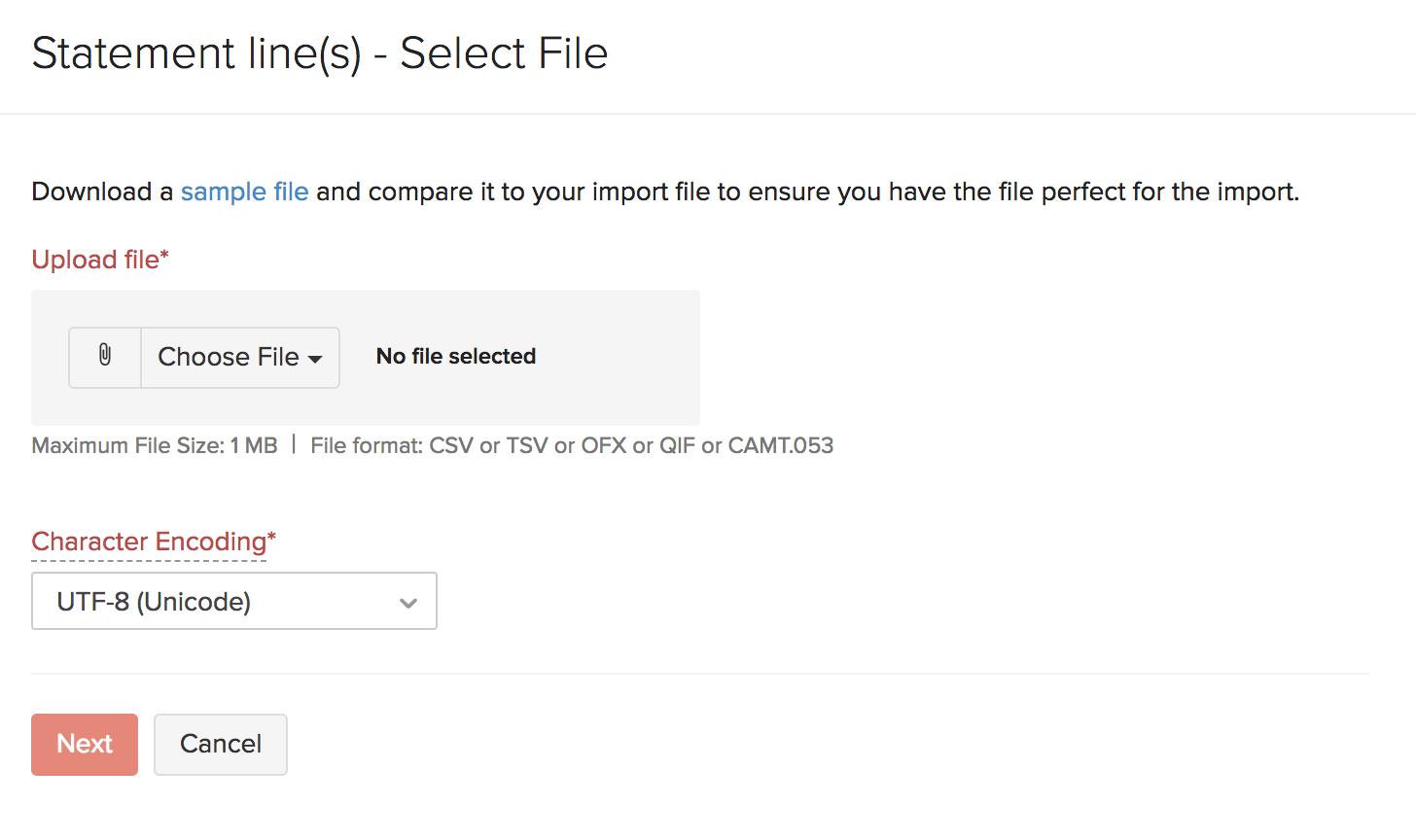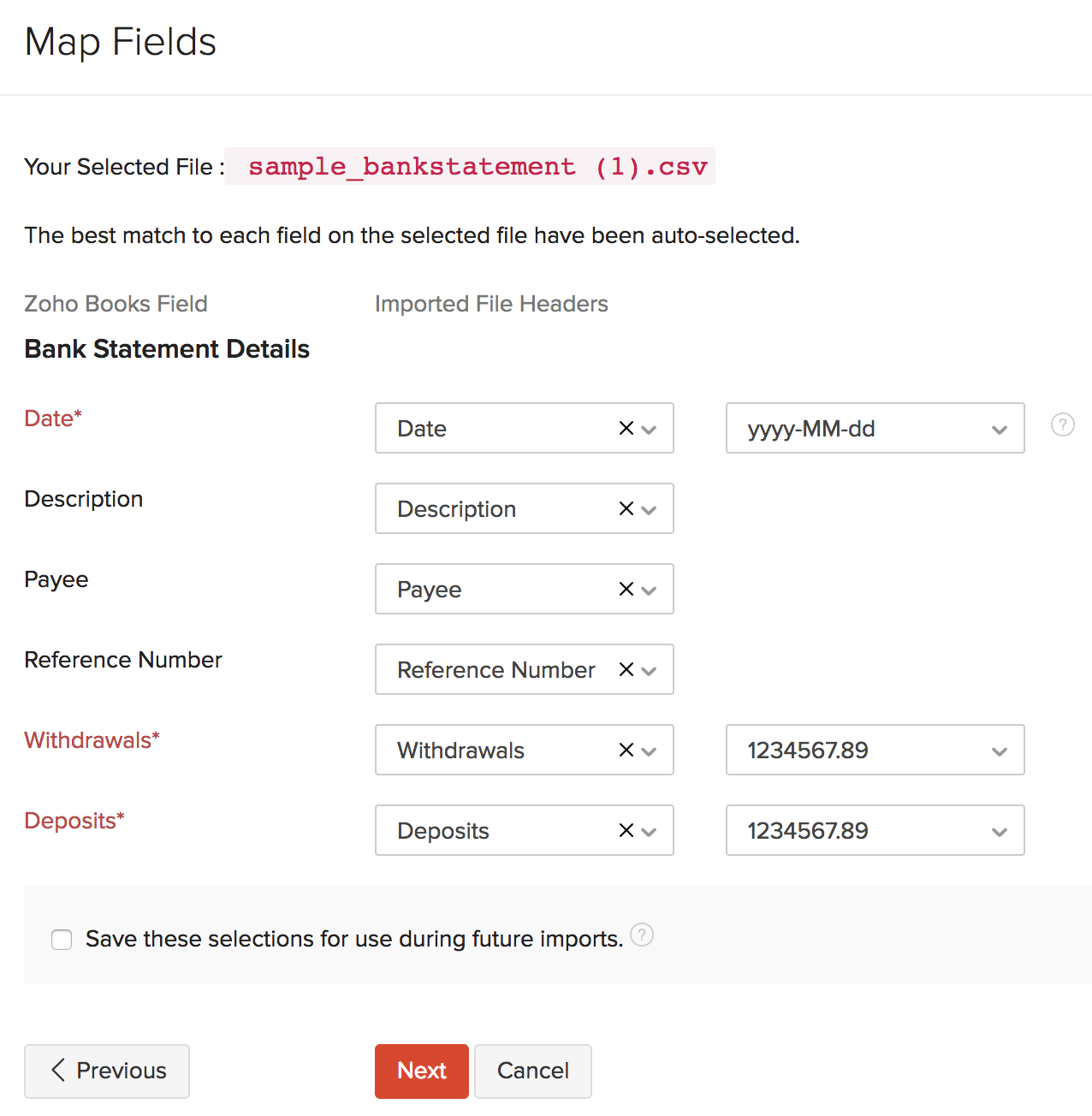 The next step is to map the Imported file headers with the fields in Zoho Books. The best match to each field for the selected file will be auto-selected.
Pro Tip:  You can save your preferences for future references by selecting the Save these selections for use during future reference option.
You'll be able to preview your import details where you can check for your errors and unmapped fields. If you want to make any changes, you can click Previous to edit your import preferences.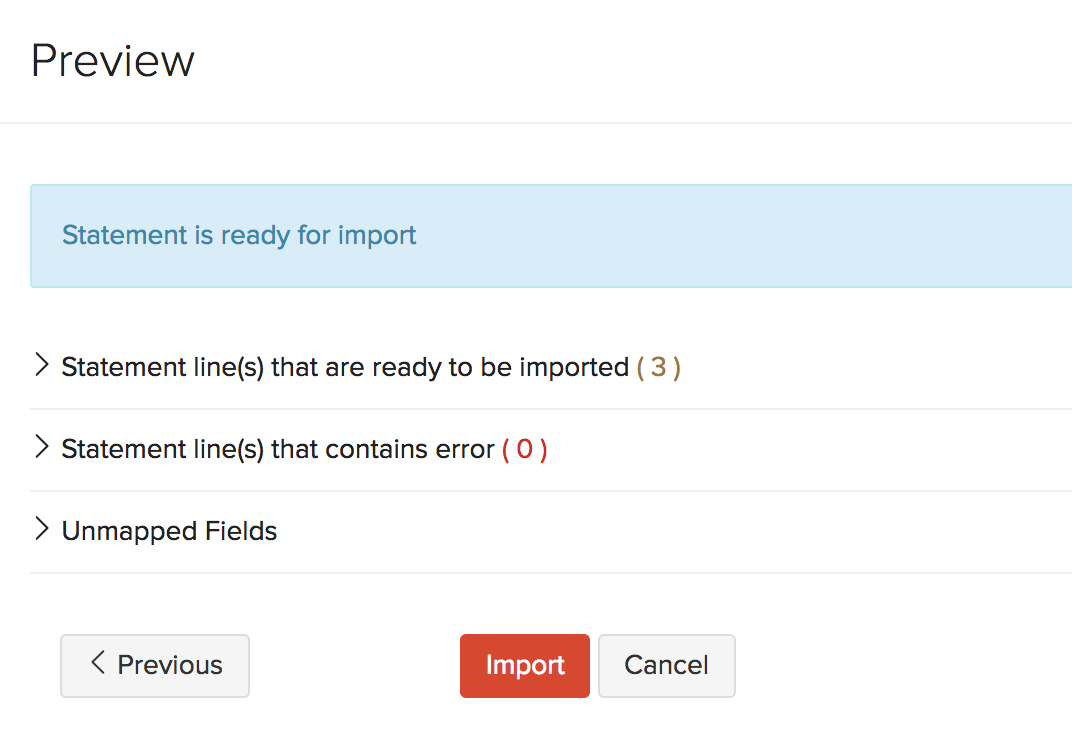 Auto-Forward Bank Statements
If you have enabled auto-forward bank statements, you will be able to automatically forward the emails from your bank to Zoho Books. To add the forwarded statements to the relevant bank:
Go to Banking.
Click Bank Statement in the top right corner.
The forwarded statements will be displayed under Bank Statements From Inbox.
Click Add to Bank.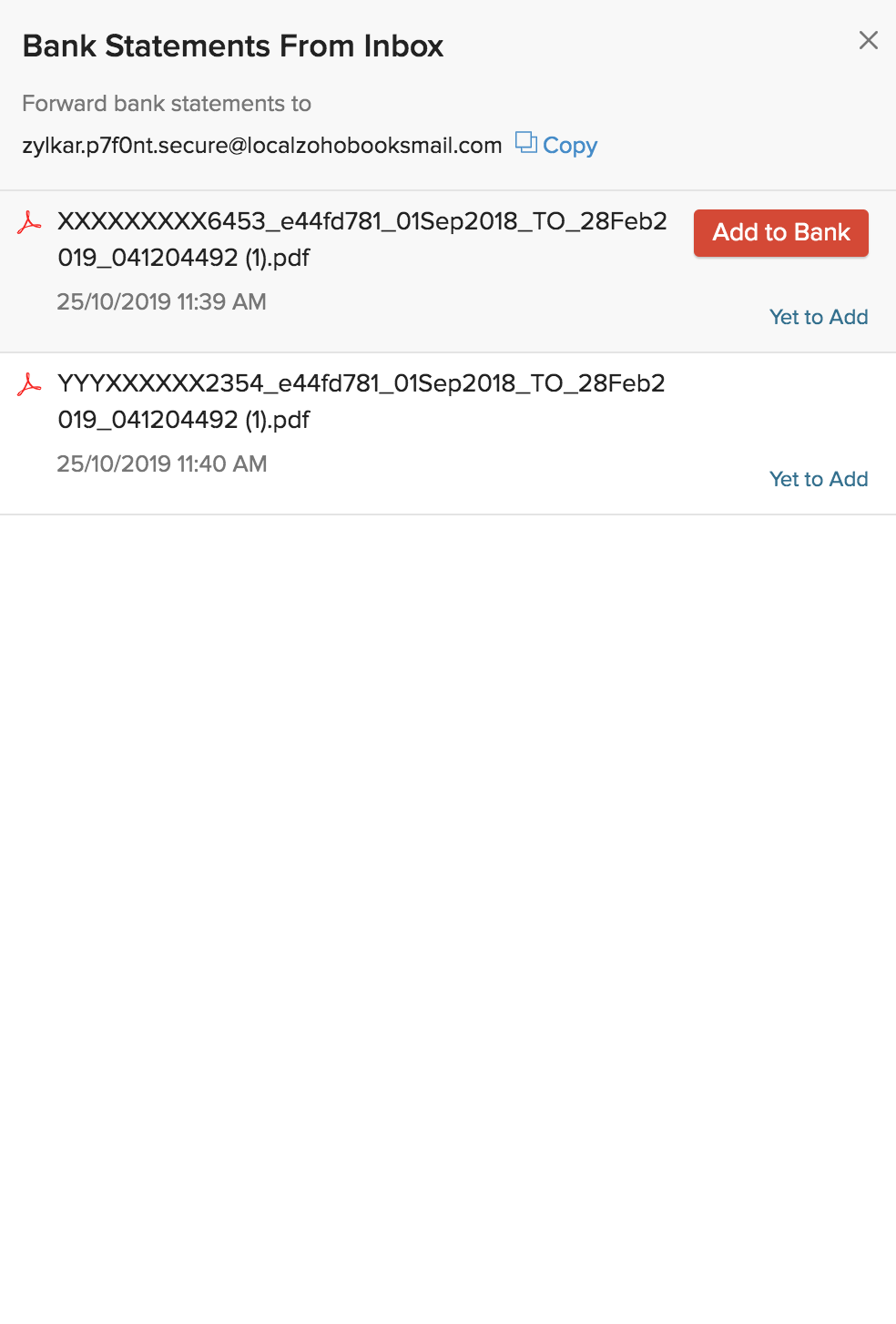 Select the this statement is password protected checkbox if you had set up a password and enter the password.
Select a bank to which you would like to associate the statement to.
Select the PDF statement's bank.
Agree to the terms and conditions.
Click Proceed.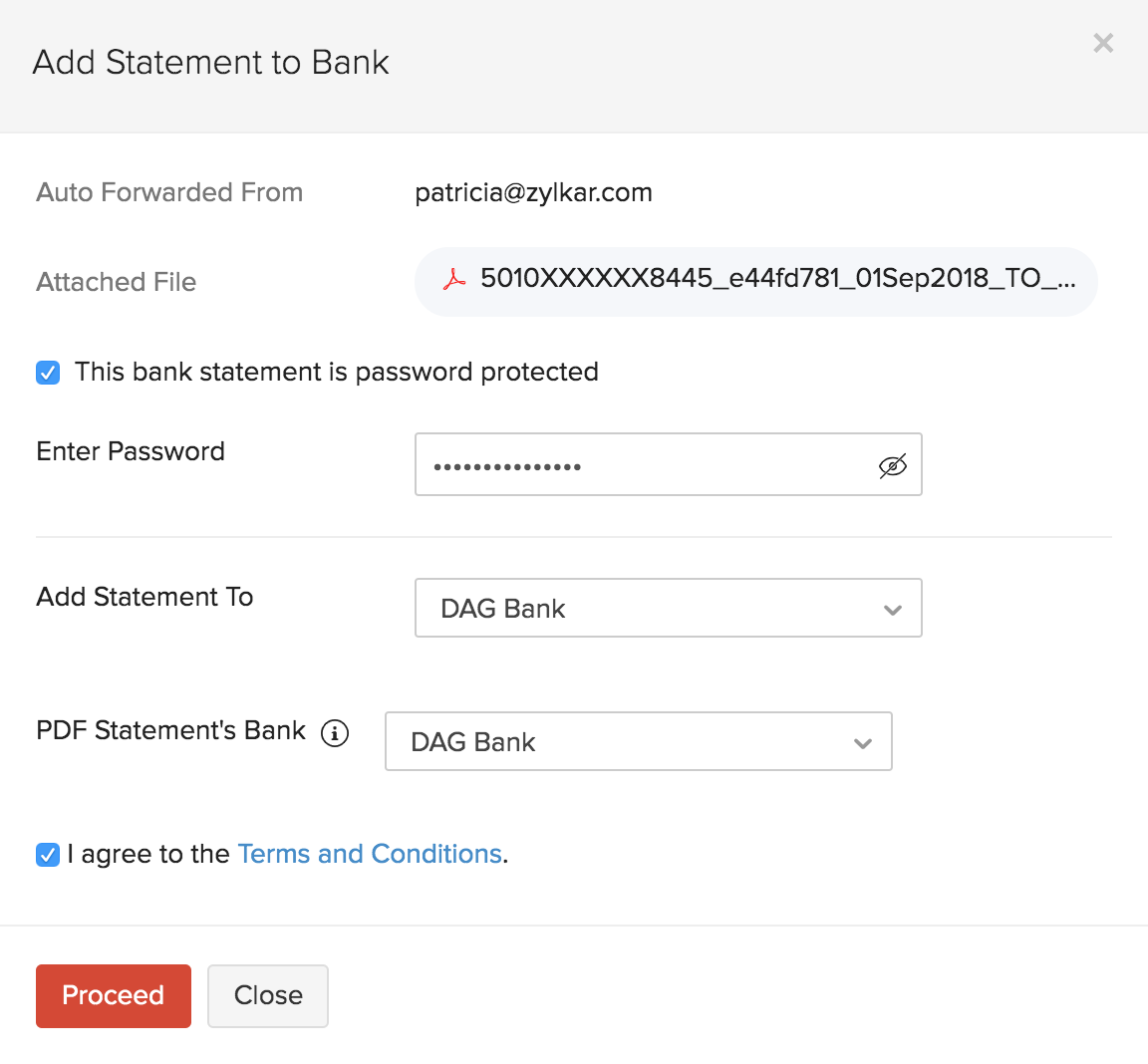 After you click Proceed, the bank statements will be associated to the bank you've selected above.
Undo Last Import
If you've uploaded the wrong bank/credit card statement or uploaded the same statement twice , you can undo your last import.
Click the Settings icon on the top right corner and click undo last import.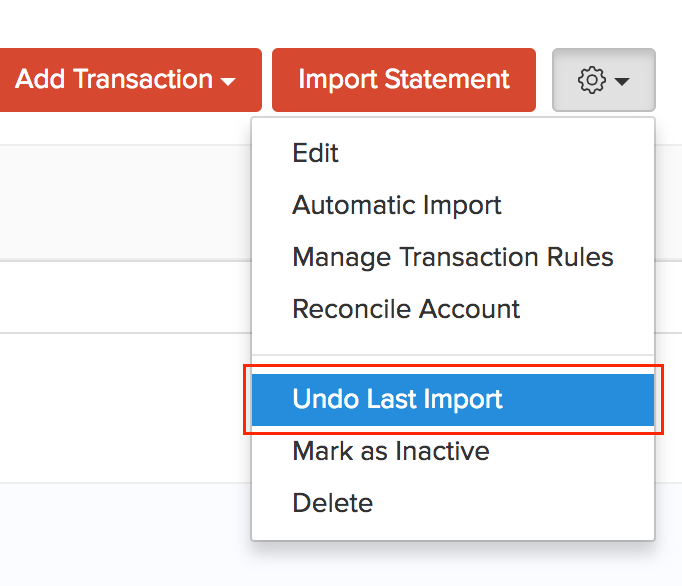 After that, you'll be able to preview the transactions that are going to be deleted before you undo your last import.
---
Next >
---
Related >