Inventory
How do I merge two contacts in Zoho Inventory?
If two customer or vendor contacts are related, you can merge their details into a single contact in Zoho Inventory.
Insight: The contacts that you choose to merge must be of the same type and must have the same currency.
To merge two customers:
Go to the Customers module in the sidebar.
Open a customer that you want to merge.
Click the More dropdown and select Merge Customers.

Select a Master Customer.
Click Continue to proceed.
Insight: A master customer is the primary contact with which the child contact's details and associated transactions will be merged. Post merging, the child contact becomes inactive. Do note that you cannot undo the merge.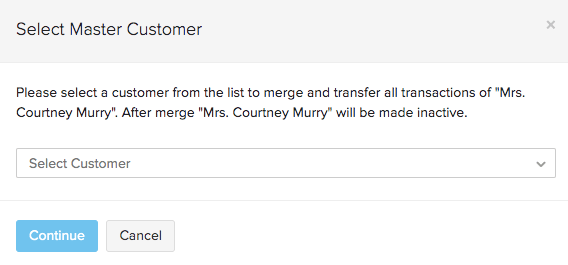 All transactions associated with the child contact will be merged with the master contact and the child contact will be made inactive.