Inventory
Integrations to Online Marketplaces
Zoho Inventory has an advanced integration system that allows you to connect your business with popular online sales channels and shopping carts like Amazon, Etsy, eBay and Shopify so you can expand your business to a wider consumer market.
Page Overview
Prerequisites
The currency you deal with in your marketplace must be the same as your base currency.
The tax involved(sales tax, VAT, etc) must be enabled before integration.
The items to be synced must be added to the marketplace store before hand bearing the same SKUs that they will have inside Zoho Inventory. If a particular marketplace or shopping cart does not support SKUs in that case, please ensure that the item names are identical between the item inside the sales channel and the one in Zoho Inventory.
You can add new items to the marketplace/shopping cart and have them added to Zoho Inventory but not the other way round.
Why go for online marketplaces & shopping carts?
Skyrocket your sales using popular online sales channels. Exponentially increase your stock flow and market presence thus, making strides towards rapid expansion and sustainable growth.
Your stock on hand will be automatically updated across all the online sales channels that you are integrated with, whenever there is a change in its stock level inside Zoho Inventory.
A sales order will be automatically generated in Zoho Inventory for an unfulfilled sale made in any of the channels.
New customers are detected and their contact details are saved automatically in Zoho Inventory whenever a sales order is received from any of the online sales channels.
The shipment tracking information (tracking ID and carrier name) is automatically updated to your marketplaces when you create a shipment for an online sales order in Zoho Inventory.
Marketplace workflow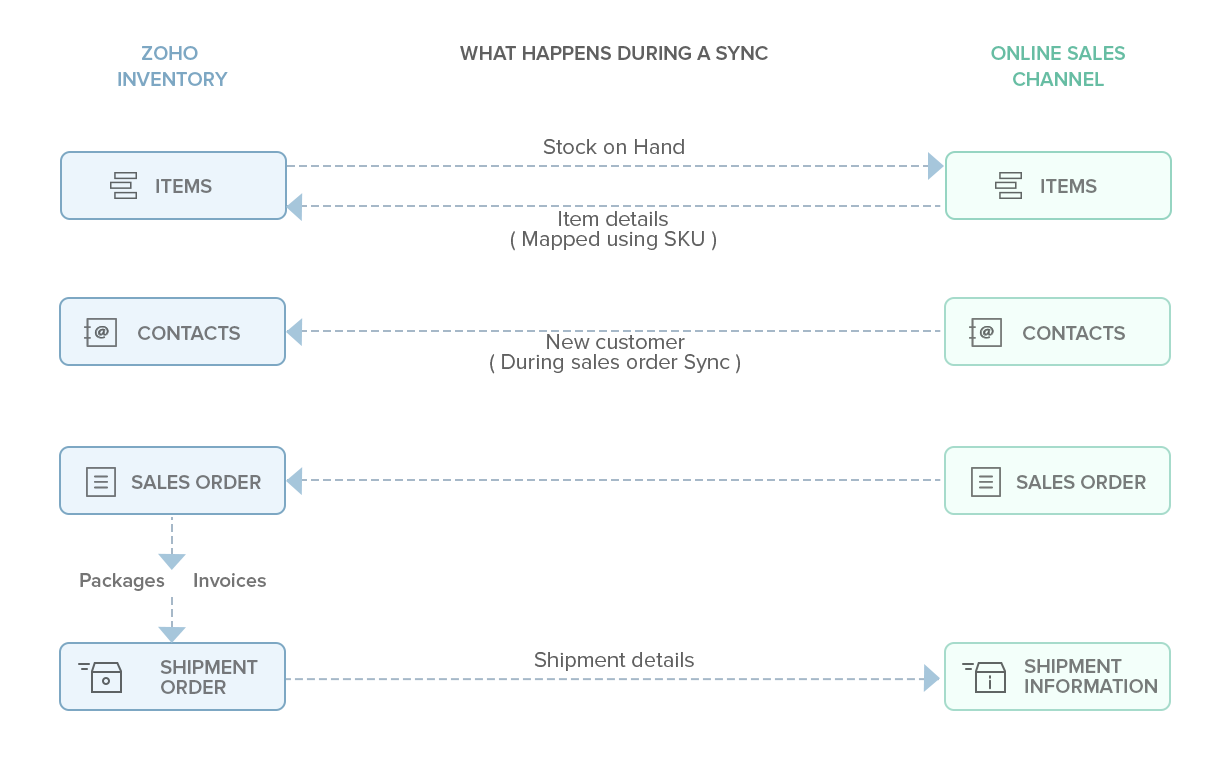 Marketplaces
Shopping Carts
Note:
The scope of each online marketplace is restricted to certain regions. Hence, based on the edition you're using, you can only integrate with marketplaces supported for the particular egion.

If you are using the .com.cn domain and your organization's base currency is USD, you'll have access to Amazon US, eBay US and Shopify integrations.

If you are using the .com.cn domain and your organization's base currency is anything other than USD, only Shopify is supported and no marketplace integration is available.
---