Inventory
Customer Portal Preferences
Zoho Inventory provides a list of customizations that you can make to the Customer Portal as required by your business. To configure your Customer Portal preferences:
Go to Settings > Preferences
Click Customer Portal under Portal.
Here, you can customize the following options: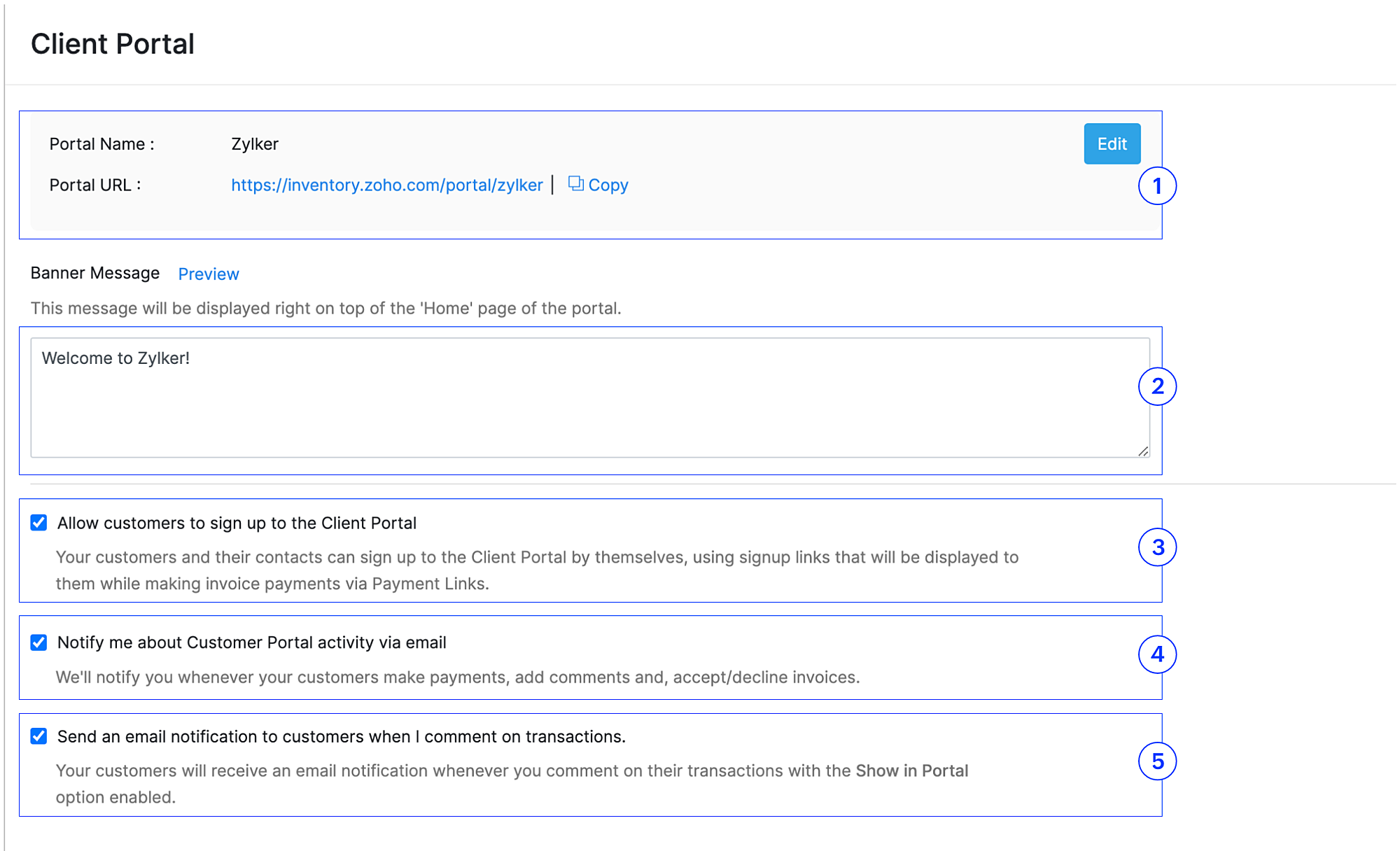 1. Portal Name and Portal URL
Your organization name will be used as the portal name by default. You can change the name, if required. The Portal URL cannot be edited and will be set based on your portal name.
2. Banner Message
You can enter a message to be displayed to your customers on the homepage of the customer portal.
3. Allow customers to sign up to the Customer Portal
Enable this option to let your customers and their contacts sign up to the Customer Portal by entering their email and setting a password.
4. Notify me about Customer Portal activity via email
Enable this option to get notified whenever your customers make a payment or add a comment.
5. Send an email notification to my customer when I comment on transactions
Notify your customers through their email address when you comment on any of their transactions.
6. Allow customers to edit their information in the portal
Enable this option to let customers edit their details such as personal details, billing and shipping addresses, and card details in the portal.
7. Allow customers to forward documents from portal
Once you enable this option, your customers can email their invoices and estimates to other people. When your customers send it to them, they'll automatically be added as contact persons for that customer in Zoho Inventory.
8. Enable customer review for my services
Enable this option to let your clients write reviews about your business.
9. Allow customers to view Sales Orders
Your customers can view their sales orders, download it as a PDF, forward it, and print directly from the Customer Portal.
Click Save once you're done.