Inventory
HIPAA Compliance in Zoho Inventory
The Health Insurance Portability and Accountability Act (including the Privacy Rule, Security Rule, Breach Notification Rule, and Health Information Technology for Economic and Clinical Health Act) ("HIPAA") requires Covered Entities and Business Associates to take specific measures to protect health information that can identify an individual. The act also provides certain rights to individuals.
Zoho does not collect, use, store or maintain health information protected by HIPAA for its own purposes. However, Zoho Inventory provides specific features to help its customers use the Zoho Inventory in a HIPAA-compliant manner.
HIPAA requires Covered Entities to sign a Business Associate Agreement (BAA) with their Business Associates. You can request our BAA template by sending an email to legal@zohocorp.com.
Zoho Inventory - HIPAA Compliance
In Zoho Inventory, we provide ways for healthcare organizations to secure and restrict the export of Electronic Protected Health Information (ePHI).
Marking Electronic Protected Health Information (ePHI)
When you create a new custom field, you can choose to encrypt and save it as ePHI. The data entered in that custom field will be considered sensitive, so it'll be encrypted and stored. Only users with access to protected data can view the fields. To create ePHI custom fields:
Click the Gear icon from the top right corner and navigate to Preferences.
Select the module for which you want to create a new custom field.
Switch to the Field customization tab and click **+**New Custom Field in the top right corner.
Enter the Label Name and select the Data Type.
In the Data Privacy section, select the ePHI option only if your transaction contains ePHI.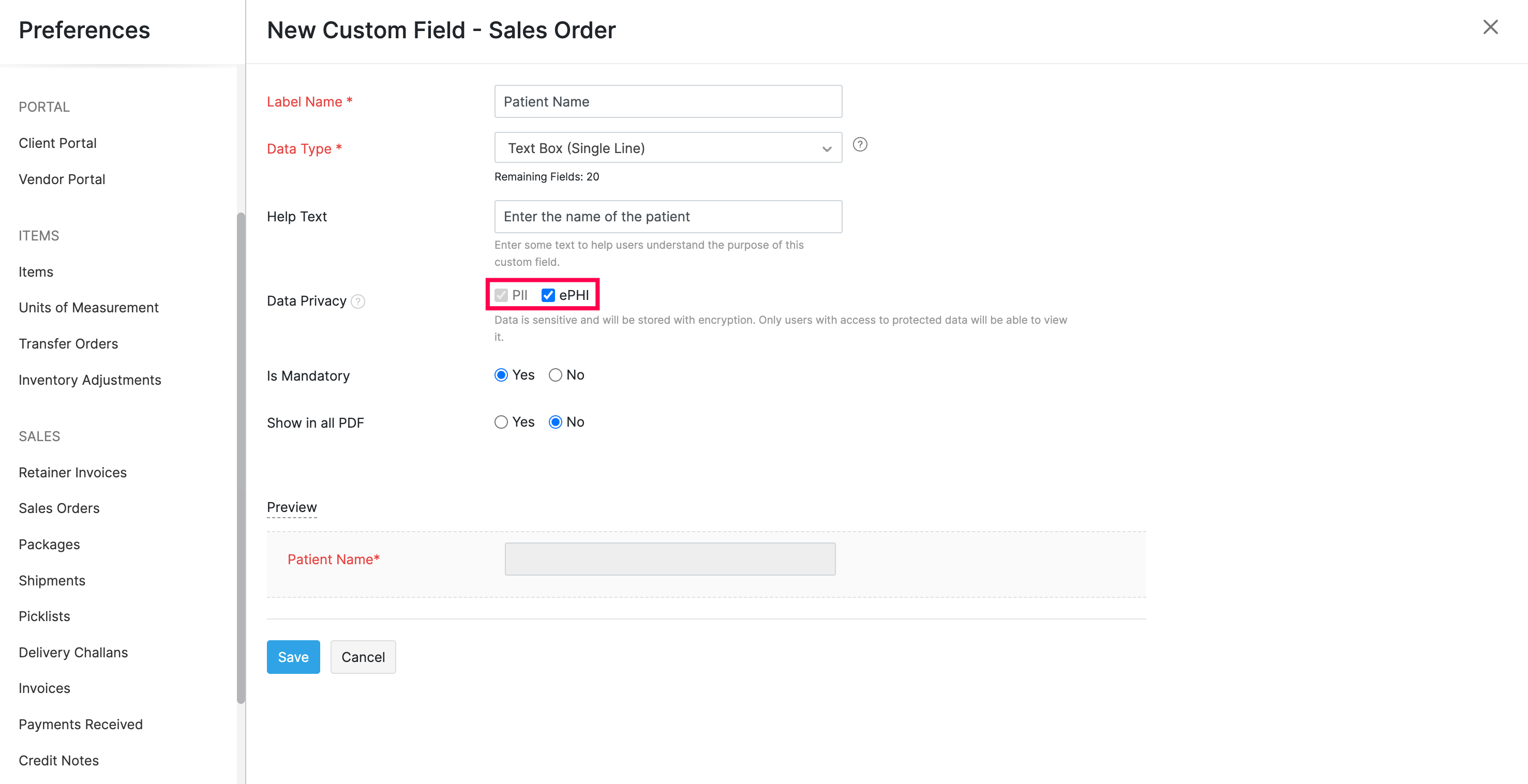 Check Yes, if you want this field to be mandatory.
Check Yes, if you want this field to be shown in the PDF.
Click Save.
Encryption of ePHI
Encryption is the process of securing the entered information. This process will convert original information into cipher text, preventing the data from being stolen. All the custom fields marked as ePHI will be encrypted.
Administering Users and Roles
The Users and Roles module in the Zoho Inventory lets you set permissions to restrict the users from accessing certain information. Learn more .
Activity Logs to Track Data Sources and Modifications
Zoho Inventory has the Activity Logs report to record the activities in your organization. This report helps admins to track and monitor deletions and modifications in the data anytime.