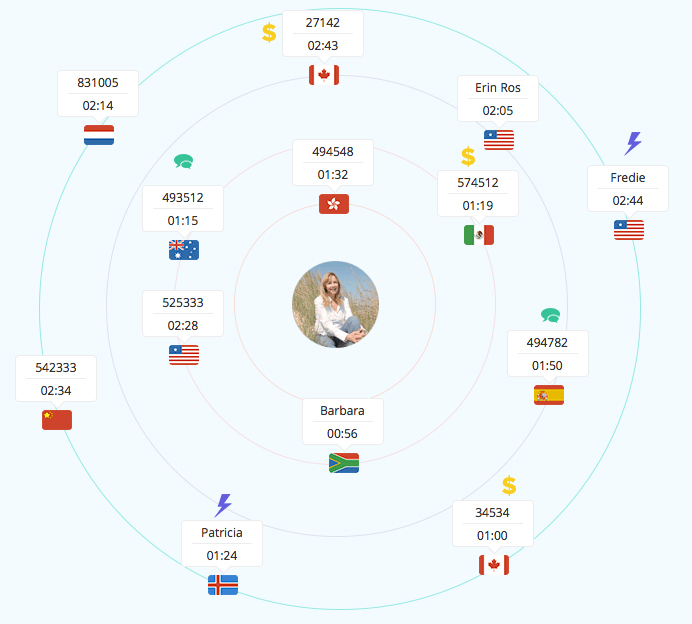 Enhance your visitor's experience with real time traffic monitoring.
See where your prospects & customers are located, how they found your site, and what pages they're looking at. Use these insights to engage visitors productively.
When the Visitor
Lands on website
If country is
United States
Send chat invite
with message
"How can I help you?"
After
10 sec
Automate visitor engagement with proactive chat.
Proactive chat enables you to target a website visitor and invite them to engage in a live chat interaction with you. Visitors engaged proactively are 5 times more likely to buy than a normal visitor.
Automate invitations for live chats based on how long visitors looked at your site, what country they are from, or what page they looked at.
Customize SalesIQ to match your website design.
Zoho SalesIQ can be customized easily and extensively. Redesign our chat widget to match your website's branding. Personalize your welcome message, add your company's logo and add an agents head-shot.​
0
50
100
150
200
Visitors
Make smarter decisions with actionable analytics
Make smarter business decisions by analyzing top agents, active departments, unique visitors and other key metrics.
Summarize the performance of your team with easy to read reports. Easily compare agent metrics and spot visitor trends.
Away from work? 'Visitor list' to the rescue.
Never miss a visitor when you are not available to chat. SalesIQ automatically records each visitor and prioritizes them based on your lead scoring criteria. Personalize communications with your prospects by analyzing their site behavior and pages of interest.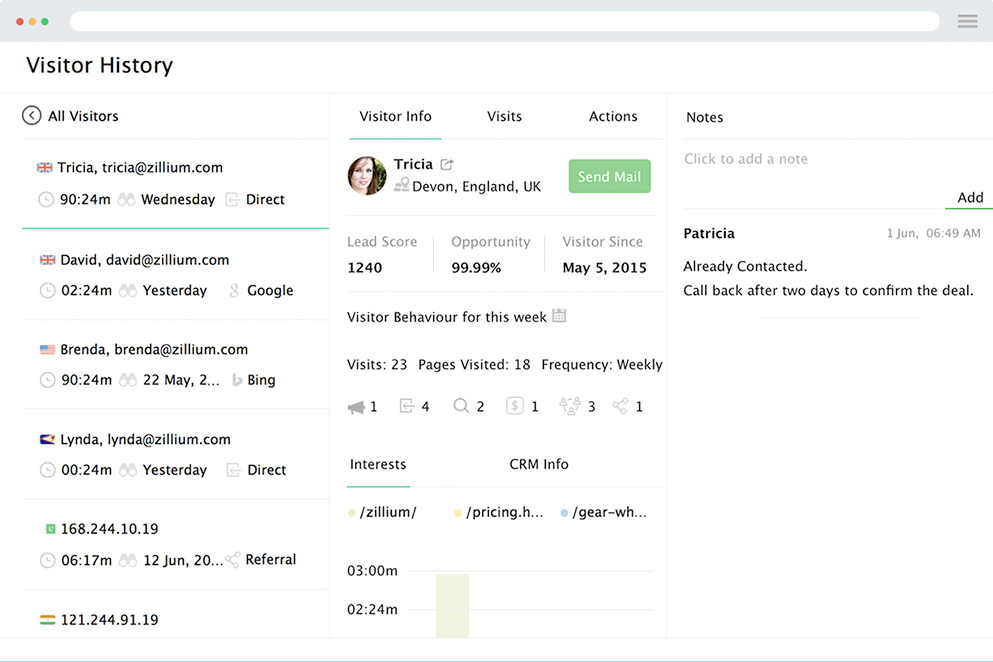 Plays well with platforms and services that you already use.​
Is this magic or just a really smart progressive team, offering an amazing product.... Zoho SalesIQ works! #magic #awesome #bettersales.

Todd Sutcliffe, @ToddNATSB

Zoho SalesIQ is so addicting

Jon Porreca, @Jon Porreca.

After embedding Zoho SalesIQ on our website and operational platform we are closing deals faster. The platform connects well with Zoho CRM, assuring us full control of who we're talking to.

Rodrigo Ferrer, pro-laudo.com.br
$7 /user /month across all pricing plans. 15-Day free trial. No credit card required.
The fastest way to talk with your customers and prospects in real-time.
Sign up for free
2 Users, Forever Free!