Domain Mapping
The Domain Mapping feature enables you and your users to access Zoho Invoice and your customers to access thier Customer Portal from a domain of your choice. For example, if your company name is Zylker and your website is https://zylker.com/, you can create a sub-domain https://invoice.zylker.com/, and map it with Zoho Invoice.
Your customers can then access their customer portal at https://invoice.zylker.com/portal/ and you or your users can access Zoho Invoice at https://invoice.zylker.com/ instead of https://invoice.zoho.com/
Note: This feature is available only in the Professional edition of Zoho Invoice.
Mapping Your Domain
To map your domain, follow the steps mentioned below:
In your Domain's Admin Portal,
Create a CNAME entry.
Map the CNAME entry to customer-invoice.zoho.com
Note: SSL certifiate will be renewed for the CNAME entry pointed during your initial purchase.
In Zoho Invoice,
Click on the Gear icon and navigate to Preferences -> Branding -> Domain Settings.
In the Domain Mapping page, provide your domain URL. For example, provide https://invoice.zylker.com.
Click on Save.
You've now configured your domain for Zoho Invoice successfully. You and your users can access Zoho Invoice from the domain URL of your company.
Invalid Domain Address
Ensure that you provide a valid domain address in Zoho Invoice. Else, you will be redirected to an invalid domain throwing a 404 error. For example, you could see the error '404' "This Web Page Is Not Available" while accessing Zoho Invoice.
SSL Error
Once you map your domain with Zoho Invoice, you may encounter an SSL error screen as listed below.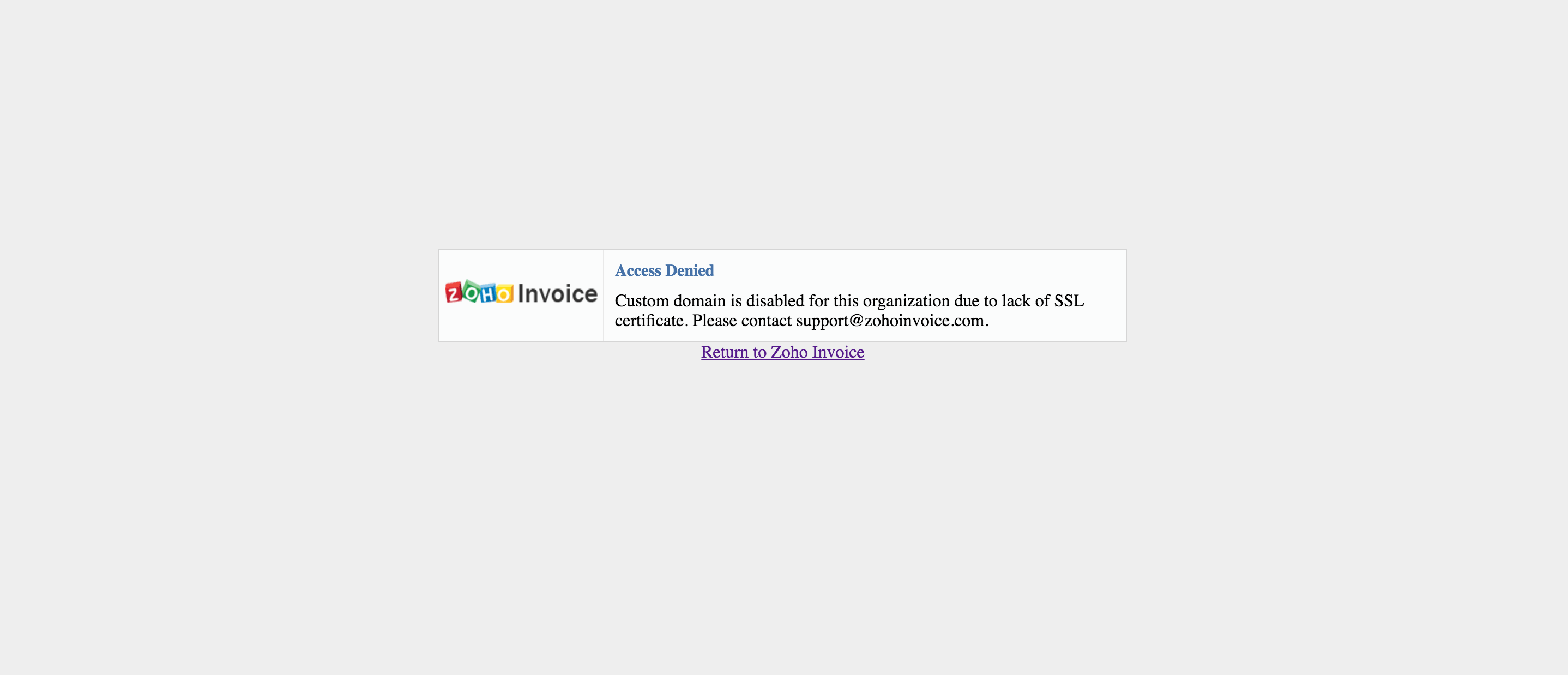 This is because, the process usually takes 3-5 business days. So please try after that. If you still face the error, contact us at support@zohoinvoice.com
Installing an SSL Certificate
After mapping your sub domain, we will install a group SSL certificate from our end. The process usually takes up to 3-5 business days.
Note: SSL certificates from third-party vendors cannot be installed in Zoho Invoice.