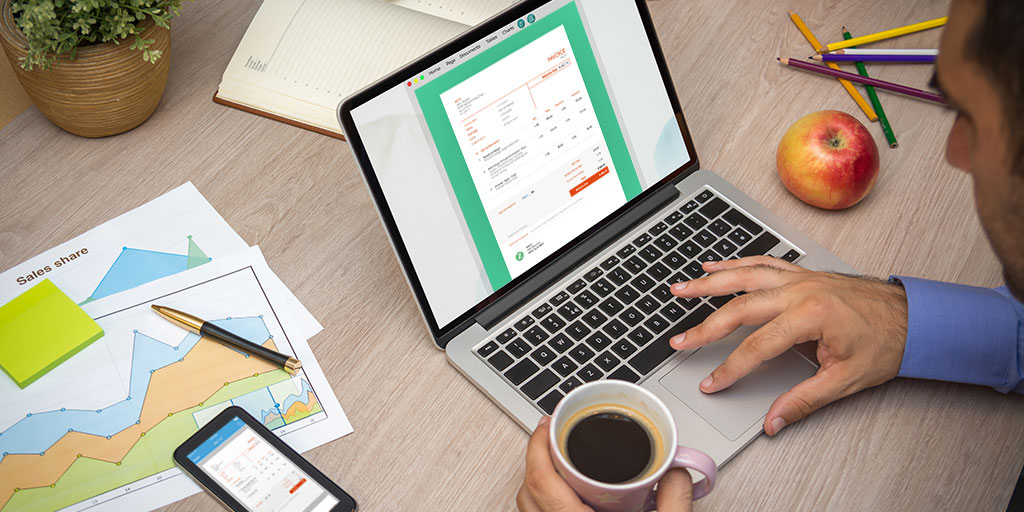 Rinky is a freelance graphic designer. She uses spreadsheets to create invoices and she was fine with this back when she only had two customers. Soon her customer base increased, and she had to invest more time to manage the spreadsheets, track each customer's payment status, and send them reminder mails.
Along with the decrease in productivity, she lost track of her payment history. Occasionally, she forgot to include the due date in a few invoices or sent the invoices to wrong recipients. She failed to retain her customer base due to these glitches.
She tried grouping all the bills to process them at the end of the month through Speed Post/Same day courier service. However, she failed to understand that the time her invoice spent in the post was lost time and the earliest her client would pay was upon receiving the invoice. Hence, the plan turned out to be a disaster.
On the other hand, John is a small business owner who had issues with passing on certain responsibilities like invoicing to other employees. Being an accountant was one of the many hats he donned. But, John believed in smart work not hard work, so instead of hiring an accountant, he bought one by investing in online invoicing software. He was swift in invoicing, receiving payments, and he knew his business performance like the back of his hand. His customer base increased and so did the revenue.
Several small business owners and freelancers like Rinky have been facing similar problems with productivity and payment due to the implementation of manual invoicing. This method is rightly called "the enemy of efficiency".
5 Reasons why you should ditch manual invoicing:
1.Time-consuming
If time is money, manual invoicing will render you a pauper. Invoices are created from spreadsheets, printed out, then mailed. A lot of paperwork and several trips to the post office are involved. Repeated entry of data can result in all sorts of errors. Usually, after an invoice is issued, a receivable (indicating the amount owed by the customer) is recorded. Once the receivable is paid, the invoice is closed. Failure to carry out this method messes up the receivable reports. These mistakes may seem negligible but they adversely affect a firm's revenue as improper reports lead to delayed profits and even tax overpayment.
2. Payments are slow and tracking them is hard
Tracking payments is another hassle. It's hard to find a freelancer or small business owner who has never encountered any sort of payment delay. According to Fortune, a study conducted on freelancers in New York showed that 35% of the freelancers received late payment and 14% of them hadn't been paid at all. After sending out invoices, you have to monitor the dates on which the invoices were sent, payments were received, and when invoices become overdue. Since the payment options are limited, regular visits to banks are mandated. You have to constantly check your bank account and cross-check if the payments match the ones mentioned on the invoices. If the customer forgets to pay within the due date, reminder mails are posted and calls are placed until the payment is received.
3. No collaboration with clients
There is zero transparency in manual invoicing, making it hard for the customers. The main problems faced are:
If a spreadsheet is emailed to the client as an invoice, they might have issues if they don't use the same MS Excel version as the business owner. Merging the spreadsheets and communicating differences is chaotic when a client and the owner make simultaneous changes while negotiating an estimate. If the business owner is providing multiple products/services to the same client, they can't issue a client statement that specifies the total amount to be paid by that client. Instead, the payment is done in installments and the client cannot view an online history of their transactions.
4. Filing taxes is a pain
You have to manually calculate the taxes and prepare for the filing. You should be able to track all the transactions efficiently, but this is impossible with manual invoicing. The tax levied on the clients is calculated from the payment records. If the payment records are inconsistent, it will reflect on the tax, complicating the calculation. Preparing tax reports for auditing requires a lot of time and effort. Auditing is tedious, as clear records are rarely provided and in order to search for one invoice, the entire spreadsheet has to be rummaged through.
5. Business Analysis is difficult
In manual invoicing, you're made to wait until the end of the month to obtain a payment report. The accountants generate reports from the balance sheets that provide an insight into business performance. Since these reports are generated only during the end of the billable month, the potential of the business owner to decipher business problems, is delayed.
Why should you use online invoicing?
Many entrepreneurs may have the impression that online invoicing will cost them more. However, using this software can actually end up saving you a lot more. Online invoicing helps a business owner save time, resources, paperwork and visits to the post office. It also saves you from unnecessary clutter.
6 Reasons why you should switch to Online Invoicing software:
1. Save time and effort
Online invoicing will help you with the automation of many cumbersome tasks. Instead of going through your spreadsheets to create invoices and mailing them to your clients, you can create and send invoices with just a few clicks. You no longer have to constantly perform manual data entry. Any data entered regarding the costs of products/services and client details is fetched automatically. Invoice calculations are automated, which eliminates the need for error-prone manual calculations. Since all the invoices are stored online, there's no need to physically store several stacks of invoices and rummage through them to find a piece of information. Minimal paperwork and easily accessible payment records are major time-savers.
2. Track invoices efficiently
Manage and track your invoices efficiently with online invoicing. Check the status of your bills - sent, paid or due to gain an insight into the overall receivables. You're also able to check if the customer has viewed the invoice.
3. Faster payments
Online invoicing software allows integration with your preferred online payment gateway, enabling clients to make quicker payments. Online payment is easy and convenient. The link for payment is included along with the invoice, which helps you save continual trips to the bank. You can also offer alternative modes of payment such cash, or check. If your customer forgets to pay, you can set automated payment reminders to send emails regarding the overdue amount.
4. Organized and ready for tax time
Many countries have mandated online invoicing for all departments irrespective of the business size. This is to facilitate the availability of consistent and accurate financial records during tax audits. Online invoicing software provides neat records of taxes levied on invoices as well as records of tax paid by your firm within a time period. The availability of these records decreases the complexity of audits to a great extent.
5. Collaboration with clients made easy
Online invoicing is a hit with customers thanks to its transparency and client portals. With client portals, the customer can view invoices and estimates received and also communicate their opinions. Payments can be made through the portal and credit card information can be stored by the customer for future transactions. The customer is able to keep track of all their past and current invoices, download their Statement of Accounts, and rate the services/products provided to them.
6. It's easy to understand how your business is doing
Online invoicing softwares generate reports instantaneously; this gives you an in-depth insight into business performance. Gone are the days when you had to wait until the end of a billable month to sit down with your account books and crunch the numbers to analyze how well your business was doing. With detailed reports on sales and receivables, you get a clear picture of your pending invoices, payments received, and products/services sold. The overall financial reports help you set goals, devise strategies to increase RoI, solve business problems, and track your process in achieving your goals.