With Zoho Invoice, you can generate and e-mail a statement for a customer that lists out the details of the transactions of a customer for the desired period.
How do I generate a customer statement?
Go to the 'Customers' tab.
Go to the customer for whom you want to generate a statement.
Click on the 'statement' link shown in the image below.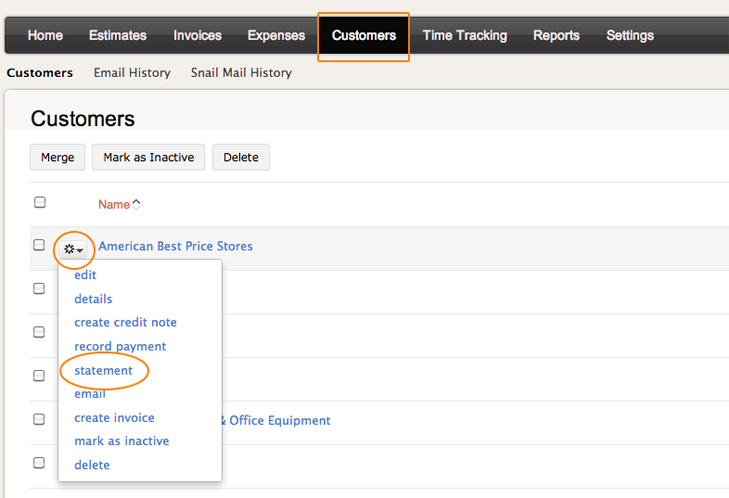 The statement for the customer will be generated as shown below: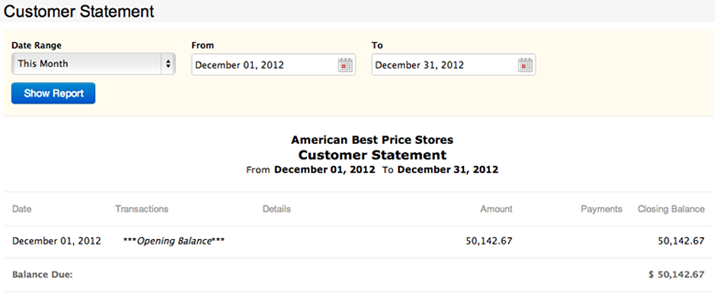 By default, Zoho Invoice generates the statement for the current month. You can change the period by clicking on 'Date Range' drop-down and selecting a different period. If none of the options in the drop-down fit your needs, just select the 'from' and 'to' dates to match with the start and end dates of the period and click on the 'Show Report' button.
How do I send a statement to a customer via e-mail?
Generate the customer statement as explained above. Click on the 'send' link on the sidebar shown in the image below. The 'Send Statement' opens with 'From' e-mail id same as your e-mail id and 'To' e-mail as the e-mail id of the contact person of the customer. If no e-mail id for the contact person is specified the 'To' address is left blank and you need to enter an e-mail here.
Zoho Invoice will set the default subject for the e-mail as 'Statement' followed by a hyphen and your organization's name. The e-mail message will be the default message you have given under Customer Statement's e-mail settings.
You can also attach files when you send the customer statement. To attach a file, just click on 'Add' link shown in the image below.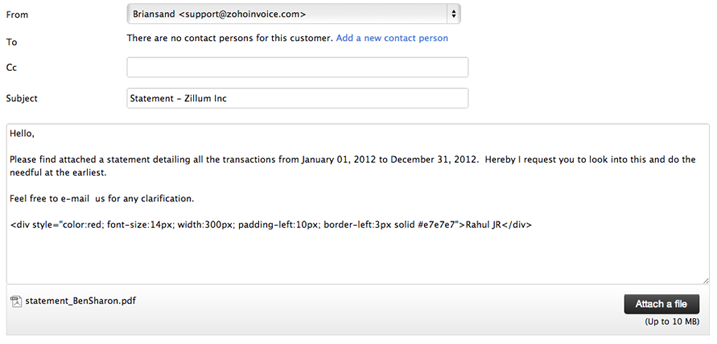 After filling in all the details just click on the 'Send' button.