Batch Tracking
Guide Layout
Creating transactions for batch tracked items
---
Introduction to Batch Tracking
Batch Tracking is a system that allows you to group and monitor a set of stock that share similar properties(ex: usage period, manufactured date).
If you are into retail business, then you might have noticed that the items that you deal with on a day-to-day basis comes with an expiration date. Retaining such items for a long period leads to a proportional decline in its quality and usage period, consequently becoming less preferred among the customers.
For this very reason, Zoho Inventory brings to you the all new Batch Tracking feature. With batch tracking enabled, you will not only be able to keep every batch in check, but also have control over your expirable stock. Thus, ensuring that your stock gets sold off before it goes unnoticed!
Batch Tracking is beneficial in situations where,
You want to sell items based on its expiry date.
You want to trace a defective item back to the batch that it belonged. So that you can evaluate the quality of the other pieces and recall the items of that batch if needed.
Must Note:

Zoho Inventory organizations that have subscribed to Standard Plan or above only will have access to this feature.
Once you have created transactions with batch tracked items, you will not be able to disable it.
You will not be able to switch between Batch Tracking and Serial Number tracking. This is a one time selection. So please put some thought into it before making your choice.
If you have an integrated Zoho Books account, you will have to enable this feature as an add-on to be able to access it in Books.
This feature is made available on request as of now. If you'd like to try it out, drop a mail to our support group at support@zoho-inventory.com.
---
Enabling batch tracking feature in Zoho Inventory
You will be able to create batch tracked items only if you enable it first. To do so,
Navigate to Settings(Gear Icon) >> Preferences >> Items.
Select Batch Tracking as your method of stock tracking.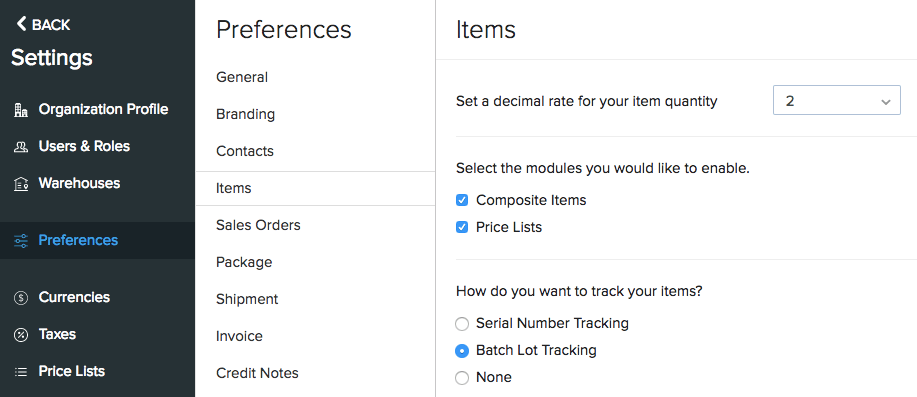 Click on Save at the bottom to confirm your selection.
---