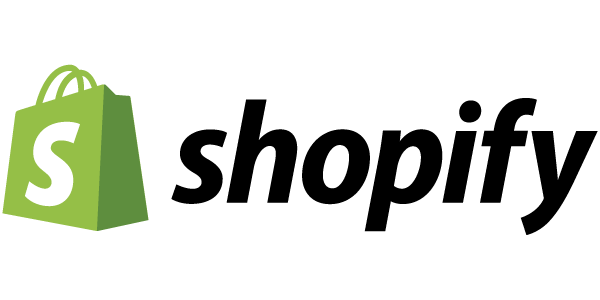 An Overview of the integration with Shopify
---
Why Shopify?
Shopify offers:
A professional online storefront that can be set up in a matter of minutes.
A payment solution to process credit cards.
A mobile app to accept payments on your smartphone.
A Shopify POS application to power your retail sales.
World-class security arrangements to protect your data.
And very much like Zoho Inventory, it is also a constantly evolving tool that provides you with an online store where the only limit is how fast you can sell.
---
Things to remember
Your base currency in Zoho inventory must be the same as the one you use in your sales channel account.
When you create a non-inventory item on Shopify, your item stock will not be updated from Zoho Inventory during a sync. Hence, remember to always track inventory when you create an item inside Shopify, in order to enable the system to monitor the stock flow for that particular item.
Shopify POS: This integration also syncs POS orders. These orders will have a comment indicating that the shipment/fulfillment is not required.
Right now, only tax exclusive Sales Orders are fetched and imported from Shopify into Zoho Inventory.
---
Integrating with Shopify
To do so:

Navigate to Shopify under Shopping Carts inside Integrations.
Click the Setup Now button under the Shopify logo.
A pop asked for your store name opens up.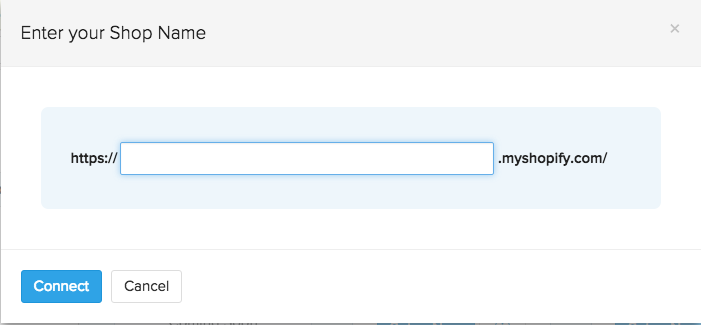 Enter the unique name of your online store.
Click on the Connect button.
After a very brief evaluation of your credentials, the Shopify store will be successfully connected to your Zoho inventory organization.
You will be guided to the Show details page that has some options under Shopify as shown below in the image.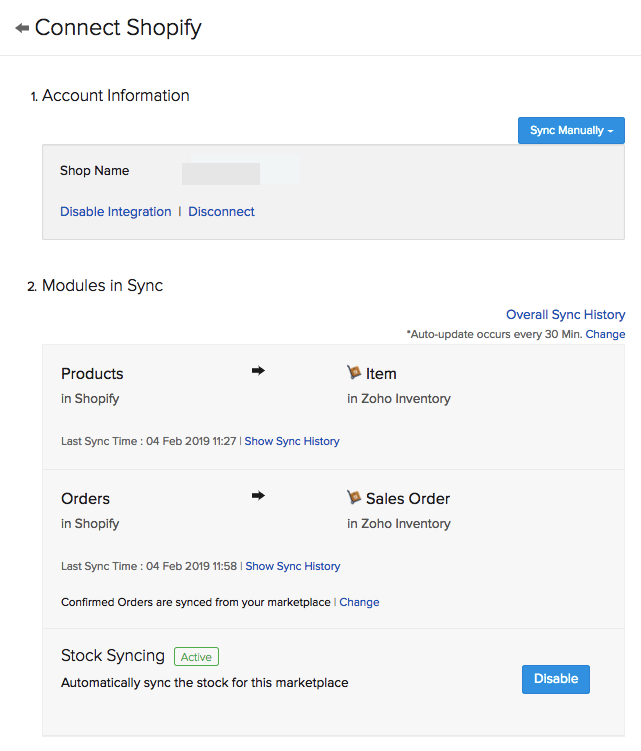 ---
Tuning the integration
On successfully integrating your Shopify seller account with Zoho Inventory, you can now start tracking your inventory for every sale you make in Shopify.

For additional control over your integration:

Navigate to Integrations.
Select the Shopping Carts tab.
Click the Show Details button under Shopify.
A page with all details associated with the integration opens up. Lets take a look at the individual options below.
Sync - auto & manual
The details of all the sales on Shopify are reflected as sales orders here during a sync. We have an automated sync cycle in Zoho Inventory, which would automatically keep your organization up to date with your Shopify account.
You can also manually update your organization at any point of time by clicking on the Sync Manually button and choosing one of the options(items or sales orders) in the drop down.
Note: Using the manual sync in one marketplace will sync all the other marketplaces as well.
Sync History
You can also view the sync history by clicking on the Show Sync History option above individual modules under the Show Details page.
---
Workflow
Initial Sync
On setting up the integration between your Zoho Inventory account and Shopify, all your existing data will be synced in 15 mins from successful authentication.
Sync cycle
The integration is kept alive by the sync process between Zoho Inventory and Shopify.
At the moment, an auto sync happens once every 4 hours, and thus keeps your organization updated with the sales that happen online. However, you can change this sync time by clicking on the Change button below the Overall Sync History option in the sales channel's integration page. The possible options are:

30 minutes
1 hour
1 hour 30 minutes
2 hours
2 hours 30 minutes
3 hours
3 hours 30 minutes
4 hours
Items
Your current item stock on hand will be updated to Shopify automatically whenever there is a change in your stock levels.
Any items that are present in your Shopify store but not in Zoho Inventory will automatically be created and added to your inventory. This way you can add new items to your Shopify account and your inventory is automatically in sync with your store.
Sales Orders
When you make a sale on Shopify, a sales order is automatically generated for you inside Zoho Inventory.
Any new customers who make purchases from your Shopify store will be automatically added to your contacts inside Zoho Inventory.
In case of sales orders from the Shopify POS, please see the things to remember section above.
Order Sync Preferences
You can choose to sync only the Confirmed orders or both Confirmed and Fulfilled orders from your marketplace to Zoho Inventory. To do so:
Go to the Modules in Sync section.
Click the Change button under Orders.
Select your sync preferences from the drop-down.
Click Save to proceed.
Stock Sync
By default, any changes in the stock in Zoho Inventory is automatically updated on Shopify. This is indicated by the Active status. 
If you disable this automatic sync, then the stock changes in Zoho Inventory will no longer get reflected in your marketplace. This is indicated by the Inactive status.
Shipments
When you create shipments for the orders from Shopify, the shipping ​information you have in Zoho Inventory will be automatically updated to your Shopify account.
Payments
The payment status of the inbound sales order from Shopify would be displayed as a comment under the sales order. As Shopify supports not only paid orders, but also unpaid, partially paid and cash on delivery options, the payment status under the sales order would be indicated by a comment as Paid, Unpaid, Partially paid or Cash on delivery depending on the case.
---
Disable integration
You can disable an integration at any point of time. To do so:
Navigate to Integrations.
Select the Shopping Carts tab.
Click on the Show Details button under Shopify.
Choose the Disable integration option under Account Information.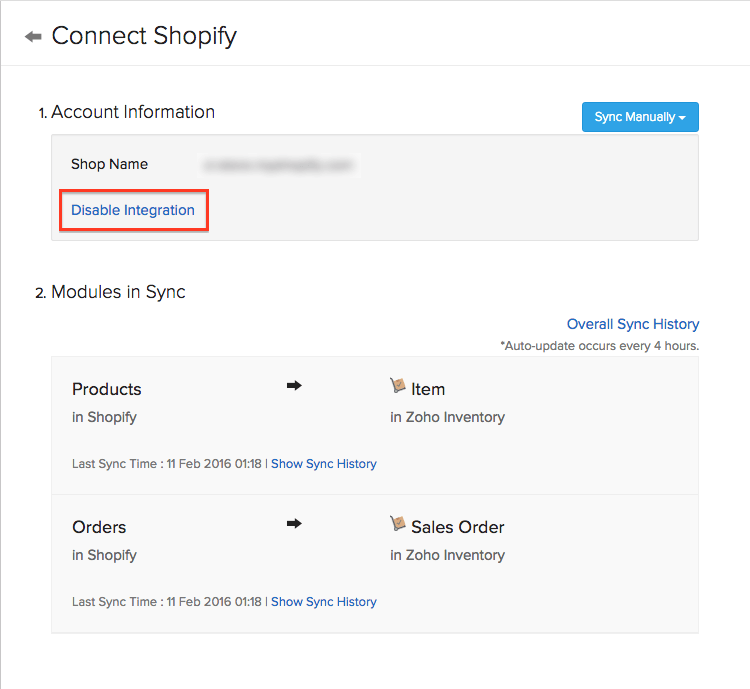 Confirm the action by clicking on the OK button on the pop-up that follows.
On doing this, your Shopify integration status will be moved to an Inactive state.
To reactivate the integration, simply click on Enable Integration button inside the Shopify Details page under Integrations.
---
Re-authenticating the integration
In case you have de-activated the integration between Zoho Inventory and Shopify from your Shopify store by removing Zoho Inventory as an associated app, you can re-enable this integration using the re-authenticate feature.
To re-authenticate the integration,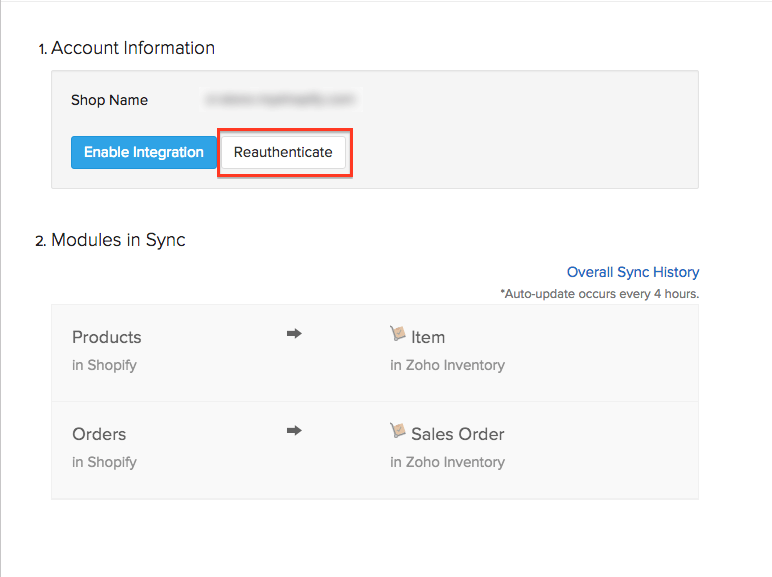 Navigate to Integrations.
Select the Shopping Carts tab.
Click on the Show Details button under Shopify.
Click on the Re-authenticate option under Account Information.
You will be taken to a login interface from Shopify where you have to enter the credentials and log in.
After a very brief evaluation of your credentials, the Shopify store will be successfully reconnected to your Zoho inventory organization.
You will henceforth be able to sync your items and orders between your Shopify store and Zoho Inventory.
Very Important: Make sure that you re-authenticate the existing account by logging into the correct account. If not, you will be warned by an error message and you have to start over from the beginning because the re-authenticate option will only allow you to re-establish an integration with an existing account. This process will not allow you to change the account that is being integrated.