Functions associated with Zoho Inventory contacts
Apart from transacting with your contacts, associating email templates and managing your contacts, there are other functions associated with your contacts in Zoho Inventory.
These are,
---
Emailing a Contact
To email a contact in Zoho Inventory: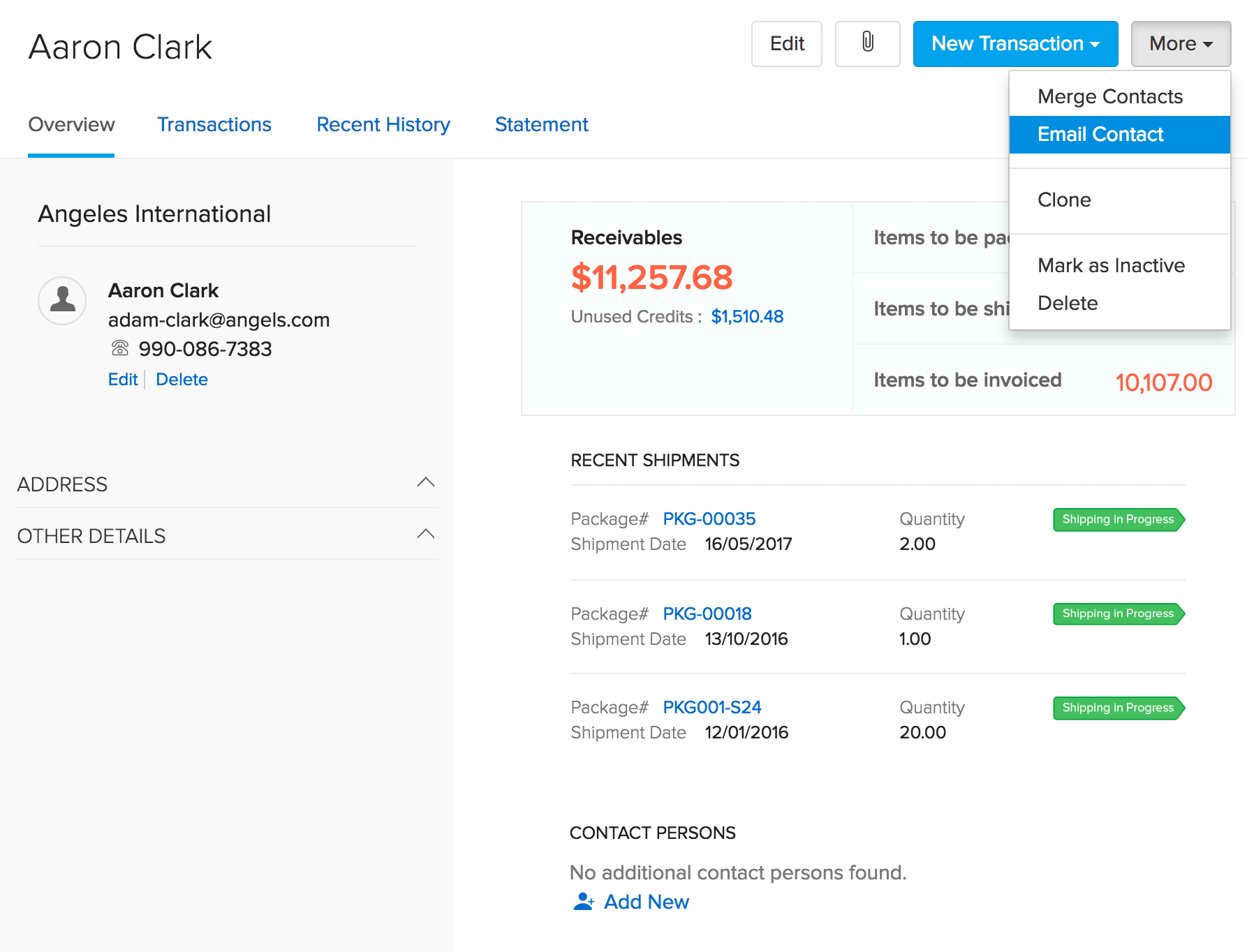 Click on the More button provided on the top right of the contact detail page.
Select Email contact option.
A new pop up window opens.
Here you can add or select from the pre defined contact email address.
Provide subject matter and write the email body text.
Use the rich text editor to customize the email as per your wish.
You also have the provision of adding customer statement if you wish.
In case you wish to attach some other document click on the attachment icon and browse to the desired file.
Click on Send.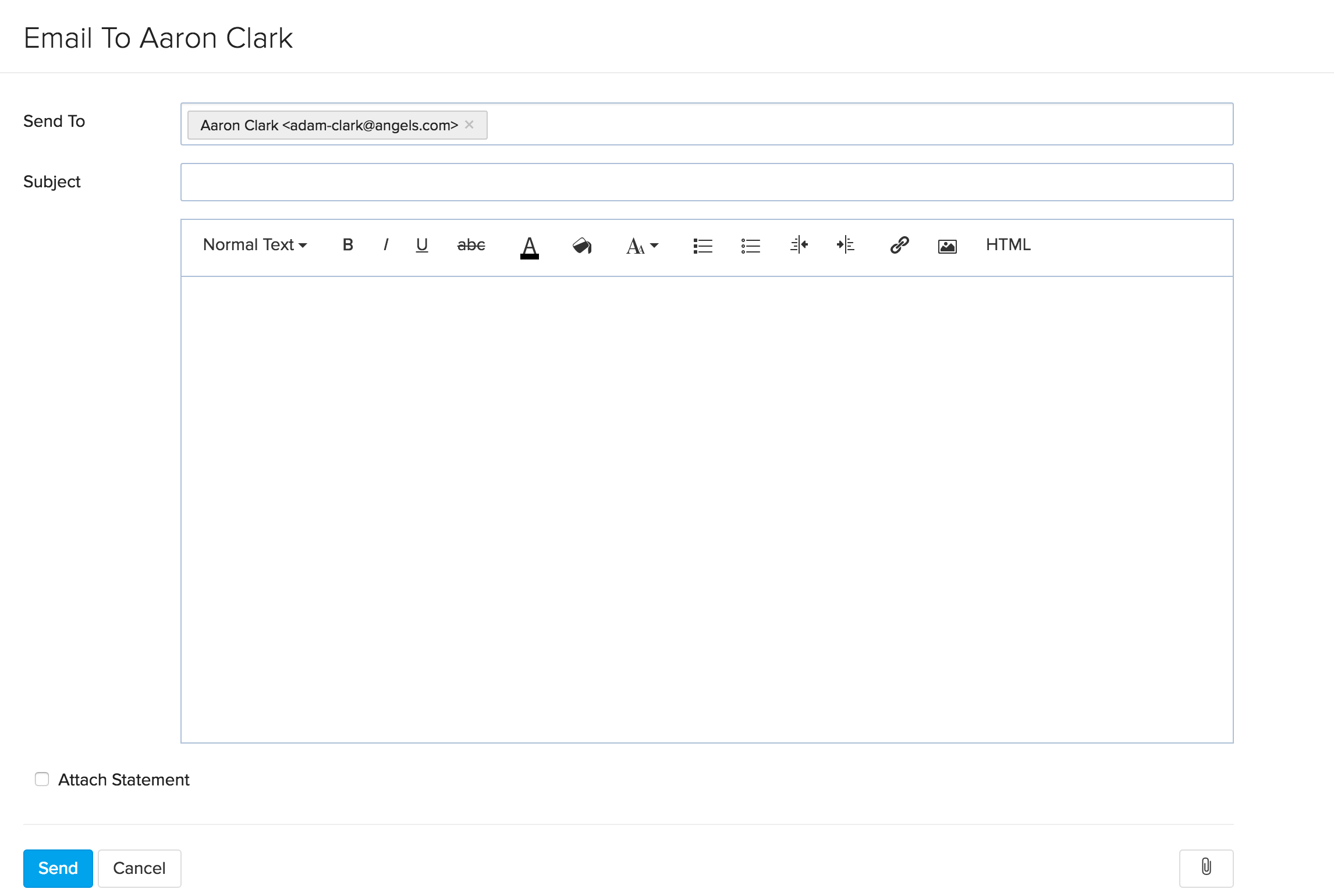 ---
Send out customer statements
You can send a transaction statement of a desired period to the contact very easily.
To send out a customer statement:
Click on the More button on the top right of the contacts detail page.
Select the Customer Statement option.
A new window opens up.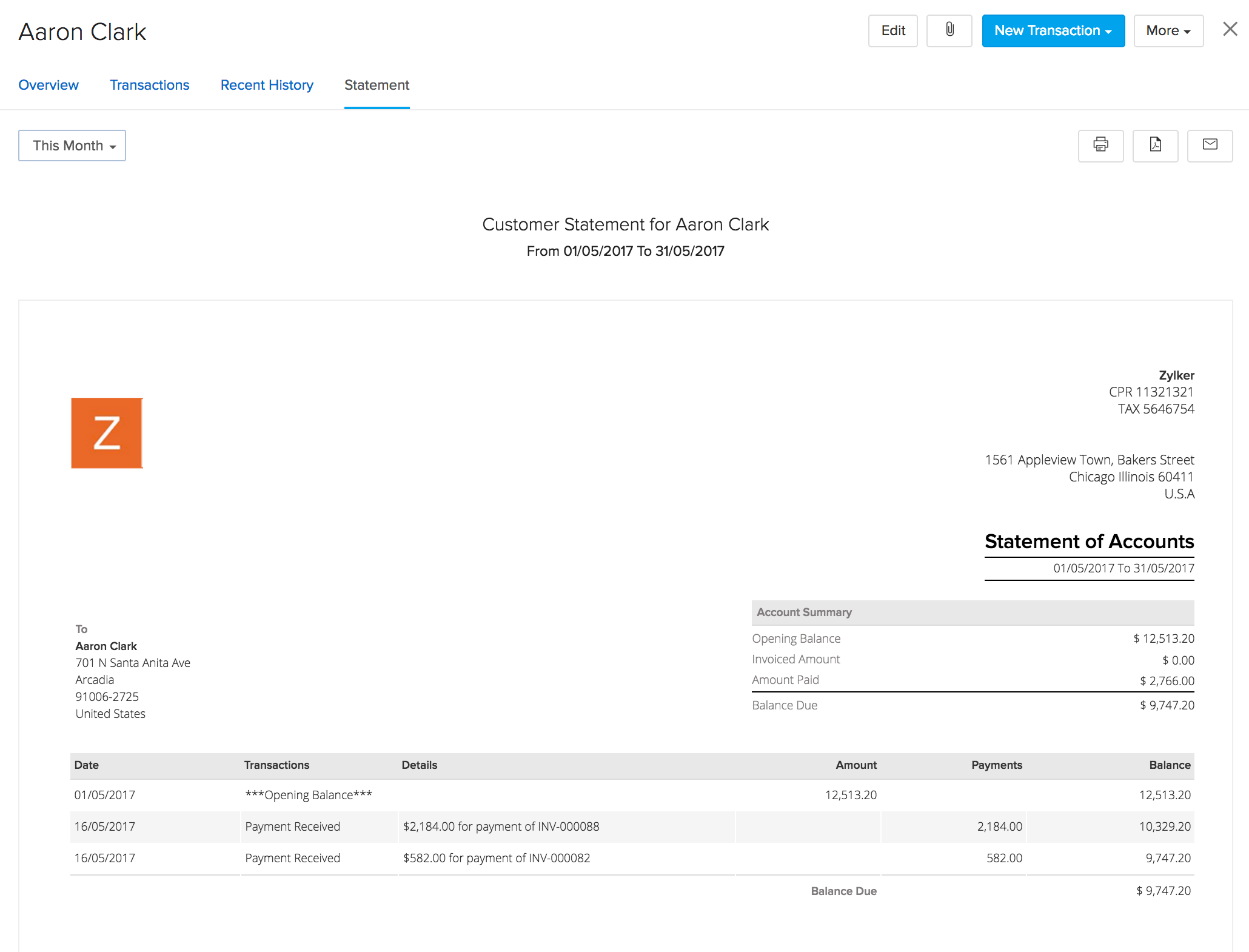 Statements can only be published and sent out to contacts marked as Customer.
Select the date range of the report from the drop down options such as month, quarter, year etc.
In case you need a report for a custom period, select 'Custom' option from the date range drop down and specify the 'From' and 'To' dates in the adjoining fields.
Alternatively you can directly change the dates on the From and To date fields to generate a report for custom period.
Click on 'Run Report' button to generate the report.
The report will be displayed just below the selection panel.
You can share the statement by creating a PDF, taking a print of it or sending by email to the contact by clicking on Email Statement button.
Note: All these options are available right on the top, above the selection panel.
---
Mark a contact inactive
If you don't want to permanently delete a contact but would like to shelf the contact for the time being, you can change the contact's status to inactive. This ensures that the contact can no longer be used in the various Zoho Inventory modules, but remains listed as a contact.
To do so:
Go to the Contacts tab and select the particular contact(check the box before the contact) you want to make inactive.
Click on the Mark as inactive button.

The selected contact has now been deactivated.
The deactivated contact can be restored active again by following the exact same steps.