Reading Time:
3
minutes
The ever-changing ecommerce landscape has arrived at yet another turning point—headless commerce. This emerging term is doing rounds across the ecommerce world, and it is the outcome of consumer behavior and expectations evolving at an alarming pace. Businesses need to deliver exceptional experiences consistently while also ensuring that they stay in the market as a profitable entity. Achieving this feat involves a multi-fold approach: approaching the right audience, adding customers, and more importantly, retaining a strong customer base.
This is where headless commerce comes in, making ecommerce businesses more flexible and adaptable.
What is headless commerce?
Headless commerce is an ecommerce setup where a store's front-end is separated from the back-end. In other words, it decouples the part of the online store that consumers interact with from the back-end of the application that facilitates inventory management, fulfilment, data storage, and more.
How is headless commerce possible?
One of the core drivers of headless commerce is the use of APIs. These APIs bridge the front-end and the back-end, seamlessly transferring information between them.
A conventional ecommerce business has a traditional architecture, where multiple functions like adding items to a cart, tracking subscriptions, checking out, managing content, and more are layered on top of each other. This architecture limits the overall function of the site because changes in one layer impact another layer, making updates slow and painful.
Headless commerce ensures that these layers are independent, making the entire system more customizable and powerful.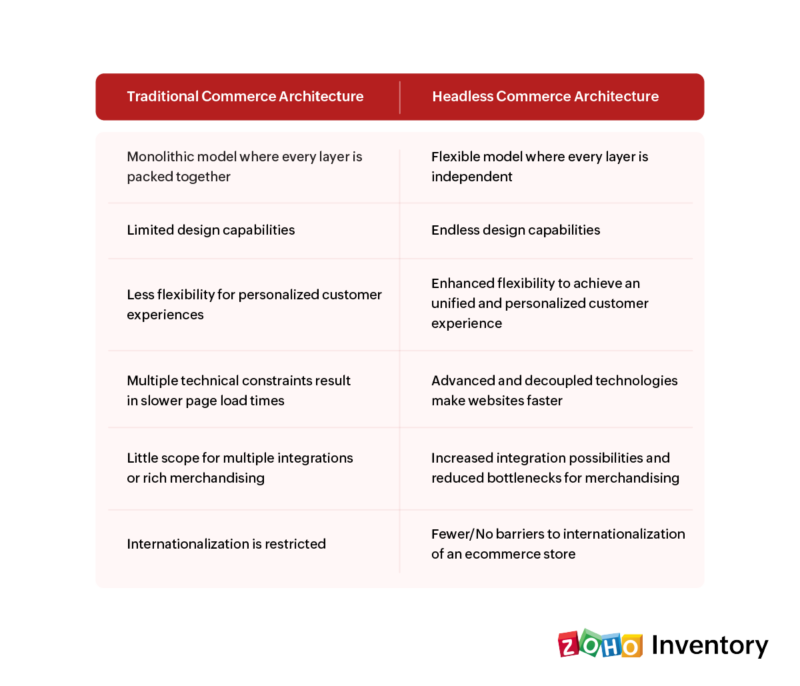 Why should you consider headless commerce?
Headless commerce benefits businesses by converging on the rapidly evolving ecommerce and technology landscapes in a way that can boost competitiveness and satisfy customer experiences. Here's just a few more reasons why businesses should consider going headless.
Enhanced scaling capabilities

Headless commerce ensures hassle-free integrations with critical applications that can have a huge impact on customer experiences. Apart from integrating multiple applications like CMS, OMS, PIM, and IMS, going headless also ensures that businesses can build a personalized front-end operation with a programming language of their choice.

Elevated personalization

Unlike a traditional commerce architecture where developers have restricted freedom to serve data on the front-end, an headless commerce platform allows developers to test multiple iterations parallelly, ensuring elevated conversion rates. With customers expecting a highly personalized shopping experience, transitioning to headless commerce can open up huge avenues for brands to succeed and sustain.

Faster GTM (Go-to-market)

Headless commerce makes the whole ecommerce process more agile. This way, businesses can focus on the front-end independently without having to rely on the back-end and vice versa. This flexibility and independence makes businesses reach markets faster.
What's in it for your customers?
Besides making it easier for businesses, headless commerce comes with multiple customer advantages. They include:
Instant optimization

Unlike traditional commerce models that require more time for updates and changes to be reflected, headless commerce enables rapid optimization and instant updates to a business's front-end. This way, businesses can reach out to customers more actively.

Seamless site navigation

Headless commerce ensures smooth transition of pages across a site, offering an enriched brand experience for customers. A smooth site navigation also paves the way for reduced bounce rates and a rich user experience.
Headless commerce use cases
Some popular headless commerce use cases include:
Integrations with multiple channels

There are businesses who sell across multiple ecommerce channels and need to take care of their accounting and CRM. This includes multiple integrations with products across sales channels, accounting, and CRM. The headless architecture enables integrations across these channels without the need to manage separate tools and developments.

Seamless personalization capabilities

There are businesses that dream of having a world-class, personalized front-end for their customers but are restricted by the capabilities of the overall system. Decoupling back-end and front-end operations opens up endless opportunities for businesses to personalize based on customers' needs.
Getting started with headless commerce
No matter if you are a seasoned enterprise, a budding startup, or even a business that involves complex workflows and multiple integrations, headless architecture can be your right way moving forward.
With Zoho Inventory's unique and well-laid headless commerce solution, you can reap maximum profits from this approach right away. Use our well-documented API to perform all your desired inventory actions while you build a powerful and personalized front-end for your business.