Reading Time:
5
minutes
Inventory management involves hundreds of processes. There are sales and purchases to manage, items to store, stock to be tracked, sufficient levels of inventory to be maintained, and so much more. Taking care of these tasks on your own is manageable, even if not easy, while your business is new or small in size, but things start to get tricky as your business grow. A bigger business means more inventory, which means more work that needs to be done. After a certain point, it stops being possible to manually manage your inventory without risking loss and errors.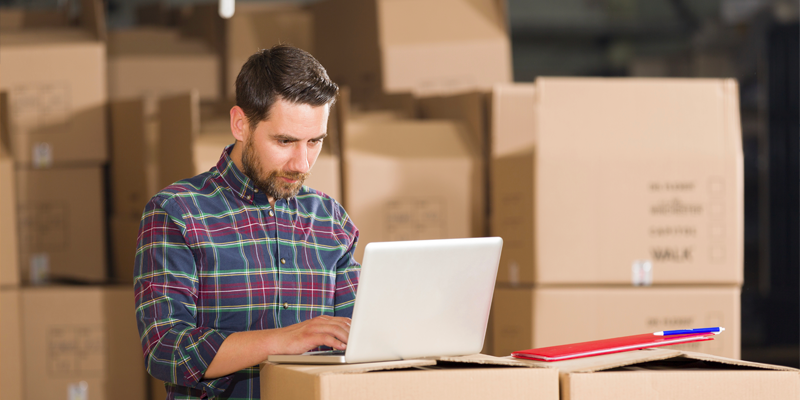 It's around this point when businesses typically switch to using software to handle their inventory management requirements. Inventory management software offers many benefits, including higher inventory turnover rates, greater efficiency, improved performance, more organized warehouses, and reduced costs. Zoho Inventory is a software solution that can help you manage, monitor, and streamline all of your inventory as well as your inventory-related processes. Let's take a look at some of the main benefits that it offers.
What can Zoho Inventory help you with?
Zoho Inventory is an integrated software solution for your complete inventory management needs. With Zoho Inventory, you can check stock levels, manage activity amongst multiple warehouses, generate reports within seconds, and so much more. Let's take a deeper look at what exactly you can expect to do with Zoho Inventory.
Zoho Inventory can help you manage and track your items from the minute you receive them in your warehouse, to the time you ship them to your customers. With item grouping and bundling, you can classify your products into groups based on their distinctive attributes, create product bundles to be sold together as a kit or with discounts, and also manage the products from your inventory that are being used in your production process. If you're just getting started organizing your items, check out our free SKU generator.
With serial number tracking, each individual item is given a unique number, which is then used to track the item throughout the time it's in your possession. This is really helpful for businesses that need to track a large number of items separately, such as electronic parts. In some cases, businesses also use it to track and claim warranties for their products. Batch tracking, on the other hand, is all about grouping items that share similar features or properties into batches and then tracking them together. This is useful for businesses that need to track expiration dates for groups of products, such as any business selling perishables. In cases where products from a certain batch are faulty or have expired, batch tracking can save you the trouble of hunting down all the products from the bad batch, since they'll all be grouped together in the system already.
This option is a must for businesses that sell across multiple channels. While using multiple sales channels is definitely a good thing for growth, it can be a pain to manually update data on each channel. But by integrating your inventory management system with your channels, you can sync information like product descriptions, stock availability, order status, and payment details between your channels in real time. This saves you time and helps prevent misunderstandings caused by incorrect data. Zoho Inventory is integrated with several online marketplaces and shopping carts including Etsy, Shopify, Magento, BigCommerce, and WooCommerce.
If you work with multiple warehouses, then this one's for you. Managing your inventory across several different locations can become complex. And it can become even more difficult if you've got orders to fulfill from different warehouses. That's why Zoho Inventory helps simplify the process by keeping track of your warehouse-level data for you. All you have to do is enable the multi-warehouse feature in the system and enter in relevant information, and Zoho Inventory will take care of all of your warehouses, products, and orders. There are even options to set a primary warehouse and add limit your users' access within the system.
Manage vendor relationships
With the various vendor management features available in Zoho Inventory, you can manage all your vendor bills and transactions with ease.
Vendor pricing lists are the same as other pricing lists, except that they are specifically used for your purchases from your vendors. Using this feature, you can assign new temporary prices for products, which will only be applicable for specific vendors or purchase orders that you choose. Once your price list is ready, you can add it to your vendor bills or directly to your contacts, so that every time you create a transaction for that bill or contact, the prices for the products in question are modified accordingly.

In case you've received an order for a product that you've run out, the best choices for you would be to either place a backorder, or to get that order dropshipped. With the backorder feature, you can create a purchase order with your vendors, when you receive a sales order for a product that you don't have. Then once your vendors supply the order, you go ahead and ship those products to your customer. Dropshipping on the other hand, is slightly different. Instead of having your vendors send the order to you, they'll directly ship it to the customer who placed the order. 
Analyzing your performance is important to understand what parts of your business are growing and what parts need to be worked on. This is where business reports enter the picture. With Zoho Inventory, you have access to detailed business reports on your sales, purchases, and expenses; payables and payments received; inventory; and other business activities, in numbers and graphs for easy understanding. In addition to viewing them under the Reports section of Zoho Inventory, you can also view selected reports on your Dashboard on the home screen, which is a place to get quick insights and data in real time. For a more advanced analysis, you can always check out the Zoho Inventory and Zoho Analytics integration and its customizable reports.
If your business has you traveling often, then using a system that requires your presence in the office might not be the best choice for you. Instead, a mobile app that allows you to touch base with your inventory on the go might be a better option. With Zoho Inventory's mobile app, you can access all of your product information, create sales orders and invoices, manage your orders, and get real-time order updates, all from your phone. The app is available on both the App Store and Google Play.
In addition to its integrations with marketplaces, shopping carts, and reporting tools, Zoho Inventory is also integrated with a wide range of in-house and third-party offerings.
Amongst our Zoho integrations, Zoho Books and Zoho CRM stand out. Zoho Books is an easy-to-use, cloud-based platform for your accounting and bookkeeping, and Zoho CRM is a sales CRM system that can manage all of your customer relationships while streamlining your sales, marketing, and support functionalities. Since both platforms are integrated with Zoho Inventory, all your data is synced in real time, so you can forgeta bout extra data entry and the errors that come along with it.
Our popular third-party integrations include AfterShip to track shipments, UPS, USPS, FedEx, and DHL for shipping orders, and Stripe, PayPal, Razorpay, and Forte to collect customer payments. We're also integrated with Crossfire Cloud EDI, which can help you automate the process of receiving and delivering orders to your 3PL provider.
Inventory management software is the solution that businesses turn to when they find that their manual methods for managing inventory have become insufficient. Using a system like Zoho Inventory can help you grow more efficiently, while taking care of all of your end-to-end inventory management needs including tracking, multiple sales platforms and warehouses, vendor management, reports, and integrations. Take our free trial and find out how Zoho Inventory can help streamline your inventory management processes.