Reading Time:
3
minutes
Warehouse management consists of organizing, managing, and monitoring all the operations that occur in a warehouse, so that everything runs smoothly. As businesses grow, they may have trouble managing their warehouse manually because they typically deal with more inventory, equipment, space, and usually more number of warehouses. It's around this time, that they decide to start using software to help with their warehouse management.
Warehouse management solutions can manage, track and most importantly automate everyday warehouse operations. Warehouse management systems provide better efficiency, performance, more warehouse organization, and even reduced costs.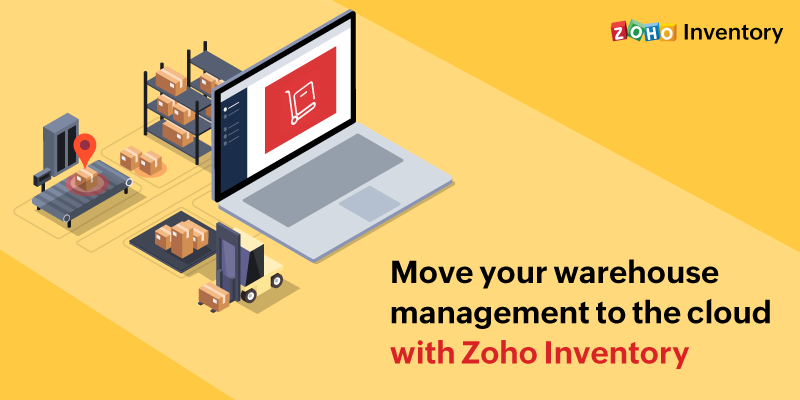 Zoho Inventory is one such solution, that offers advanced warehouse management capabilities. It allows businesses to manage multiple warehouses, check up on their inventory from any location, and track and manage orders across their entire network, all through the cloud. In this guide, we will be walking you through the unique warehouse management features that Zoho Inventory offers.
As mentioned earlier, when a business grows, their warehouse tends to grow with them. This is usually in terms of inventory size, and to store all of this incoming inventory, they may have to expand to other warehouses as well. While physically moving and setting up a new warehouse is a whole headache by itself, a major challenge faced here is moving the data. A typical on-premise warehouse management solution can only store data for one particular warehouse. So when a new warehouse enters the picture, the existing solution will not support another warehouse or its data which pushes the business into purchasing a whole new solution. 
That's why Zoho Inventory gives you the option to manage and monitor your inventory across multiple warehouses and storage spaces, all through the same platform. This gives businesses that have several warehouses the freedom to segregate and individually manage all of their inventory across their warehouses. Therefore even with all your stock spread out, you can still keep an eye on what is being stored and where.
In addition to managing more than one warehouse, you can also fulfil your customers' orders from the warehouse that's closest to them. This is perfect for businesses that have regional, strategically placed warehouses, since it's a way to save time and transportation costs by delivering sales orders faster, which leads to better customer satisfaction.
Say a customer places a bulk order for a certain product with a business. Things are fine, until the business realizes that they don't have enough stock in their warehouse to fulfill the order. So now they're faced with two choices, they can either cancel the order entirely or inform their customer that there may be a delay in fulfilling their order, both of which do not sound good for the business. This type of situation is a result of poor inventory tracking, which can be caused by delays or a complete lack of communication regarding updated stock counts, between a warehouse and the business.
With Zoho Inventory, you can track the movement and location of stock in each warehouse in real-time, so that your stock levels are continuously updated to give you an accurate count every time. This helps you ensure that your warehouse has sufficient quantities of stock, so that you can avoid not having enough stock or even stockout situation. Tracking can be done within your own warehouses, such as internal inventory transfers from one location to another, as well as external, such as when you make sales and would like to track your shipments.
Analysing and keeping an eye on your performance is essential to know whether your business processes are moving flawlessly, or if they could use some help. Without this information, you may feel a little lost when it comes to how to run your business, which could lead you to make uninformed decisions.
To tackle this problem and give you better visibility of how exactly your business is doing, Zoho Inventory offers detailed business reports on your sales, purchases, expenses (payables and payments received), inventory, and other business activities, in the form of numbers and graphs for quick understanding. The information that business reports provide, can be used in demand forecasting, trend identification, business budgeting, business audits, as well as tracking your overall progress and shortcomings. You can also check your stock and manage your sales and purchase orders across multiple warehouses, all from the same platform. This way you can check each location to see how much stock you have and what orders have been fulfilled or are pending.Additionally, besides viewing your business reports under the Reports section inside Zoho Inventory, you can also view selected reports on your Dashboard on the home screen, to receive faster insights in real time.
Warehouse management solutions are automated systems that business owners switch to when their warehouse becomes too big to manage manually. Using a cloud based WMS like Zoho Inventory can help you manage all of your warehouses, sales orders, and transfer orders, give you real-time data about your inventory, as well as give you updated reports on your warehouse's performance to help you ensure better efficiency. Check out our free trial to find how Zoho Inventory can make a difference in your warehouse management routine.