Business Dashboard
Zoho Subscriptions equips you with a powerful dashboard to monitor your business. Track customer signups, upgrades, downgrades and cancellations for all your products.​
Get flexible with pricing plans
Subscription Management has never been so easy! With Zoho Subscriptions, create any number of pricing plans inline with your business strategy and start charging your customers.
Complement plans with Add-ons
Let your customers create ​tailor-made plans to suit their needs. Zoho Subscriptions enables you to create add-ons to add more versatility to your pricing plans. On applying or discontinuing an add-on, Zoho Subscriptions pr, updates their profile and sends email notifications.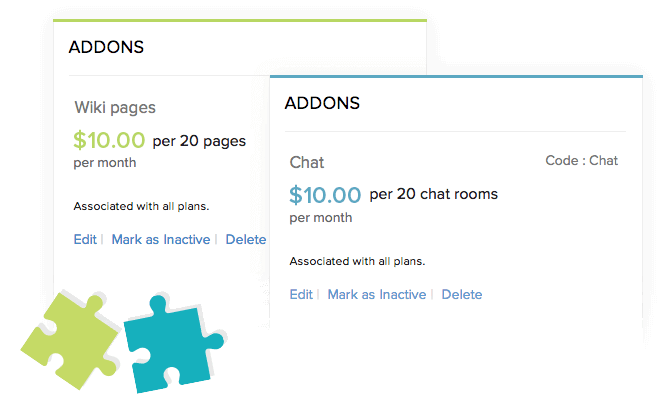 Attract customers with Coupons and Trials
Promote your business ​and increase sales using coupons. Create a variety of coupons to offer discounts to your customers and manage them in Zoho Subscriptions. Allow your customers to take your products for a spin. You can even extend trial periods and automatically convert them into paying customers, when they are ready to pay.
Manage Multiple Subscriptions
Subscription Management gets complicated when lot of customers have multiple subscriptions. Manage multiple subscriptions effortlessly with Zoho Subscriptions. You can ​consolidate invoices for a customer who has subscribed to multiple products or services and adjusts their credits as well.
Record Payments Offline
Put your customers in the ​driver's seat by offering both online and offline mode of payments. Zoho Subscriptions gives you the flexibility to record offline payments made with cash, cheque or bank transfer.