Contacts - Overview
A contact is a person or an organization with whom you do business. The Contacts module in Zoho Inventory is where you save the details of your customers and vendors.
---
Understand Contacts
As a business or a freelancer, you'll have a lot of customers to buy products or services from you. As customers are important to any business, it is essential to save their contact information to create transactions quickly and do business efficiently in the long term. In Zoho Inventory, you can save the details of your customers such as name, email address, phone numbers, billing and shipping addresses, website information and other details in the Contacts module. Apart from saving your customer's information, you can send emails, view customer statements, and create sales transactions for the customer in the contact details page itself. In this document, we'll learn more about how to make the most of the Contacts module.
---
IN THIS PAGE…
Create Contacts
There are two ways to add new contacts in Zoho Inventory:
1. Create Contacts from the Contacts Module
To add a new contact in Zoho Inventory:
Go to the Contacts module in the left sidebar.

Click the button in the top-right corner of the contact page.

Enter the basic information such as the name of the Primary Contact, Company Name, Contact Display Name, Contact Email, Contact Phone, Website information and Contact Type.
| Fields | Description |
| --- | --- |
| Primary Contact | It refers to the main contact to whom the transactions will be created. |
| Company Name | Here, you can enter the official name of the contact's company. |
| Contact Display Name | The name that you give here will appear on all your sales and purchase transactions for that contact. |
| Email | You can enter a valid email ID of your contact. All your correspondence with this contact will be directed to this email ID. |
| Phone | You can add your contact's work phone and mobile number here. |
| Website | If the contact has any website, you can mention the URL here. |
| Contact Type | Choose whether your contact is a Customer or a Vendor. |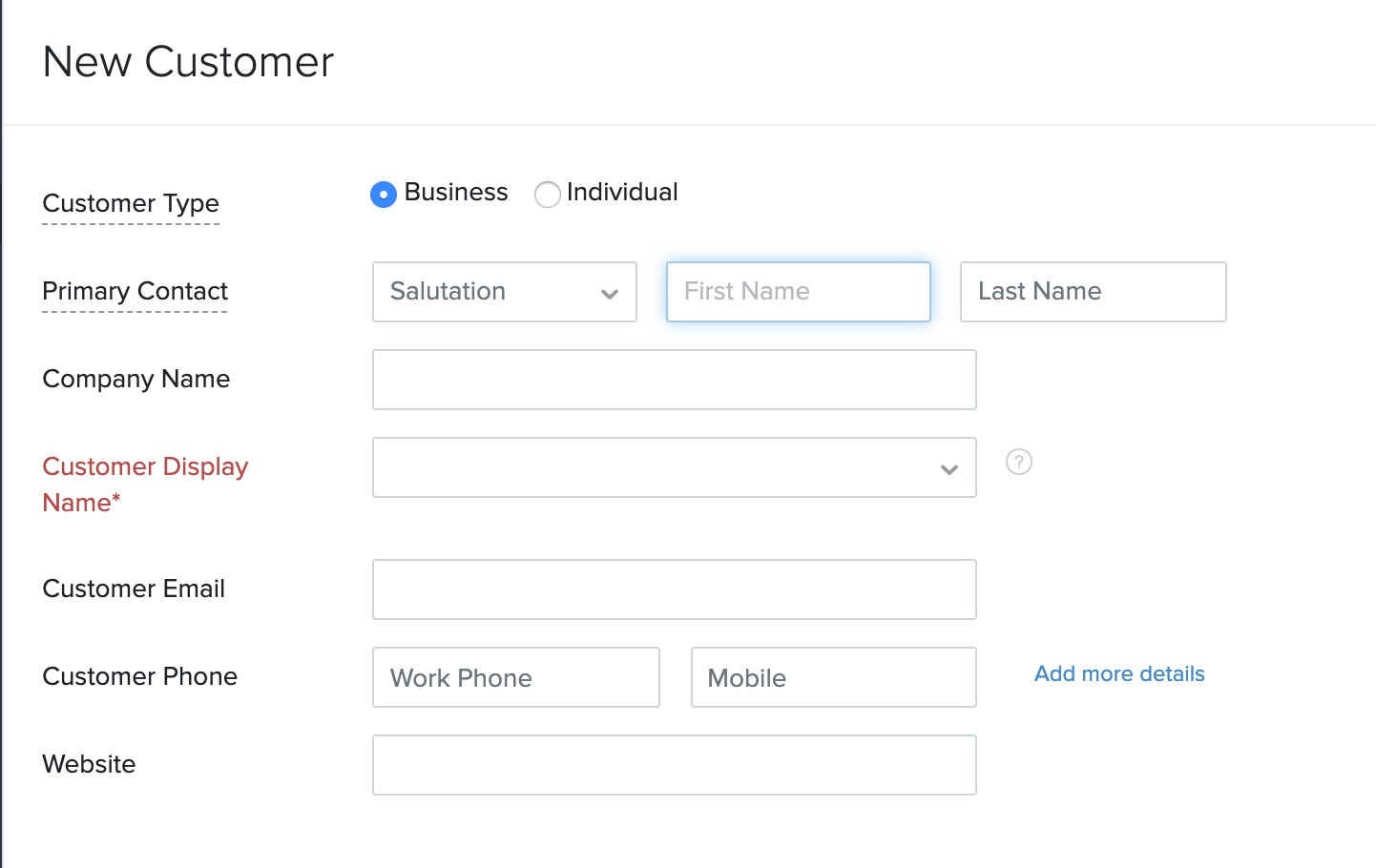 In the Tax & Payment Details section below, you can enter customer currency and payment terms. This section also includes provisions to enter the tax details of your contact. If needed, you can also provide your contact's official social media handle links here.
| Field | Description |
| --- | --- |
| GST Treatment | If your contact is GST registered, then it is mandatory to enter the GSTIN of that contact. |
| Place/Source of Supply | A registered location of your customer/vendor where the items have to be delivered or supplied from respectively. |
| Tax Preferences | Choose whether your customer is Taxable or Tax Exempt. If you go for Tax Exempt, then it is mandatory to enter the reason for tax exemption. |
| Currency | Select the preferred currency with which you'll be creating transactions for this contact. |
| Price List | You can associate a price list for this contact. This will be reflected on all the orders associated to this contact. Learn more about Price Lists. |
| Payment Terms | It can either be due on receipt or you can set a custom payment term. |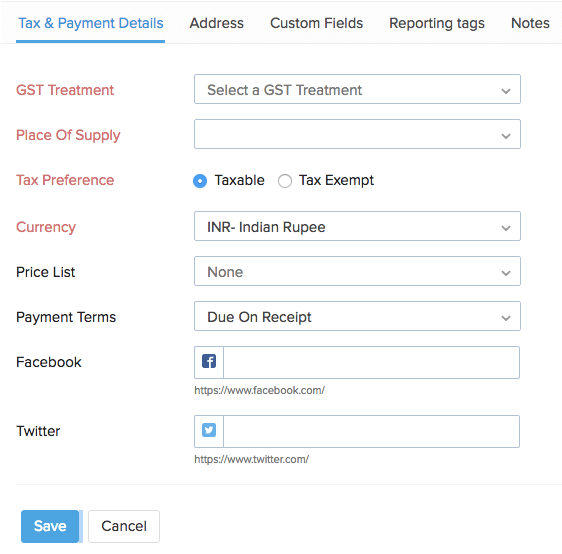 Insight:You can add additional currencies in the Currency Preferences and you can associate them to a customer.
Pro Tip: If you have an overseas customer to whom you wish to invoice in foreign currency, you can select the customer's currency from the drop-down. All the transactions created for the customer will be displayed in their currency.
Go to the Address tab to enter your contact's Billing and Shipping Addresses. If the shipping address is the same as the billing address, then click on the Copy billing address option to avoid re-entering the address.
Insight: If you want to add additional addresses, you can add them (up to 25) in the contact Overview page after you save the contact. Once you add multiple addresses, you can manually select one of the addresses when you create a transaction.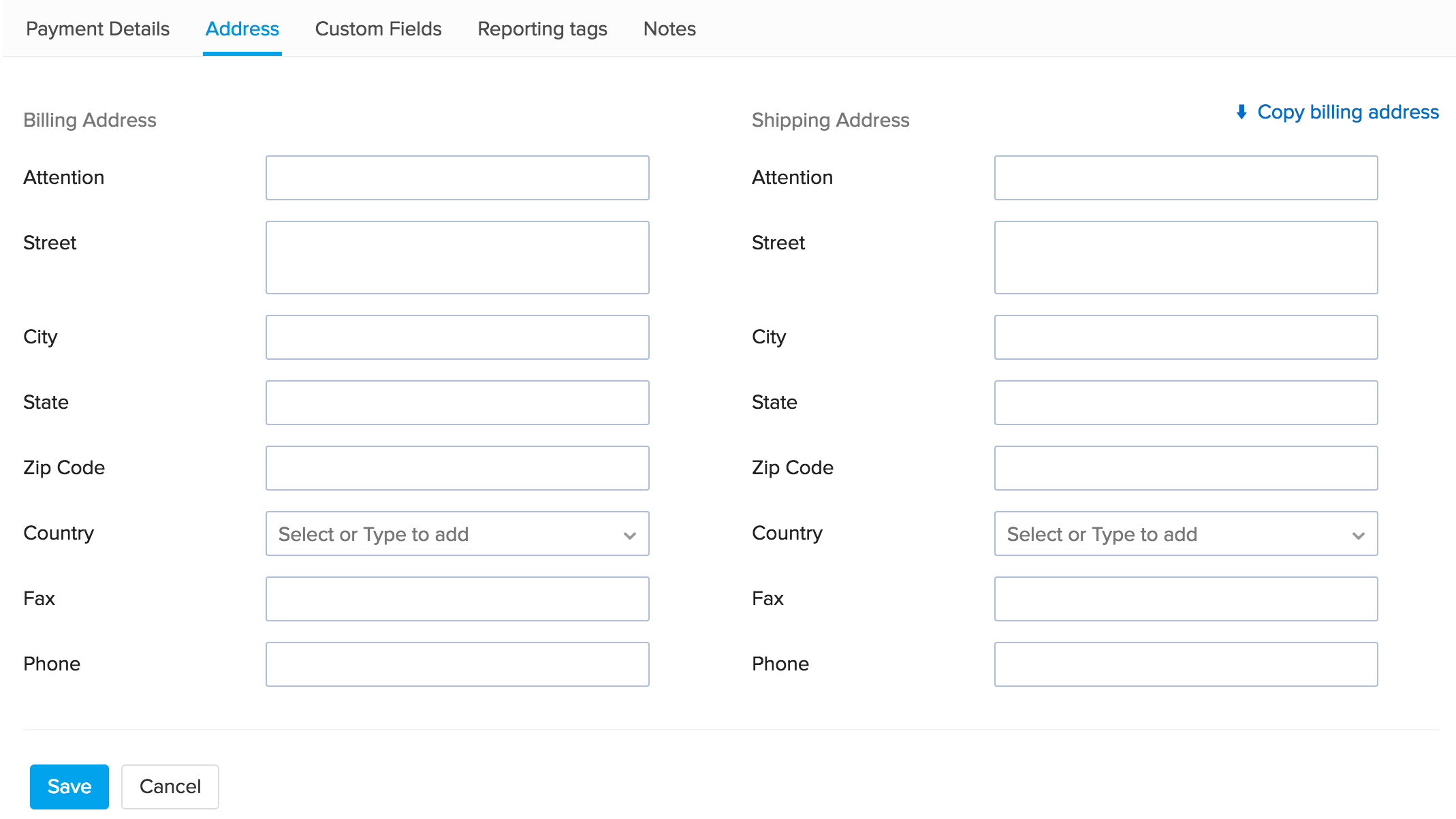 Go to the Custom Fields tab. Here you can view the custom fields you have added in your contact preference. Learn more about contact preferences.
Insight: Custom Fields are additional fields that you add to include additional information regarding your customer. Before you can add those information here, you must create custom fields in the Preferences. Learn more about Custom Fields.

Go to the Notes tab where you can add internal notes about this contact for your reference.

Click Save to create a new contact.
2. Create Contacts from a Transaction
Let us take a scenario where you have filled out the order information but you haven't created the contact earlier. However, in Zoho Inventory, you can create new contacts in the new transaction page itself instead of discarding the changes. 
To create a contact from a transaction:
Create a new transaction (Sales Order or Invoice).
Click the drop-down in the Customer Name field.
Click the + New Customer option.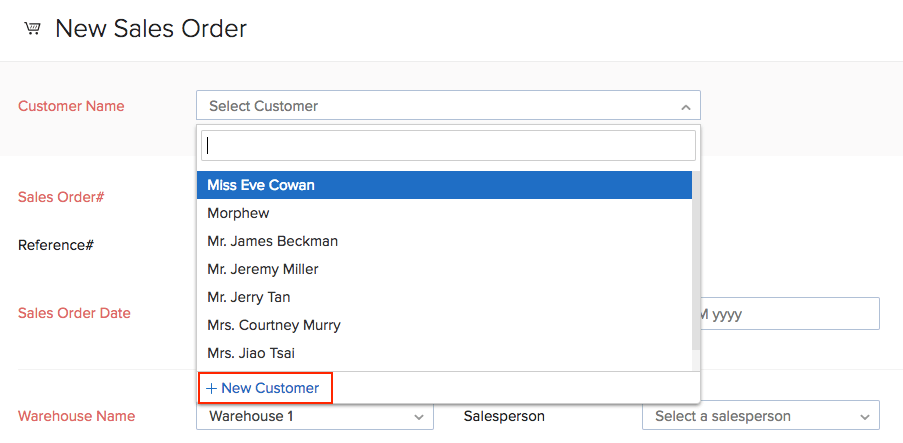 Enter the basic information of your contact. For a detailed explanation on the fields involved, refer to this help section.
Click on the Save and Select button to create the customer and add it to your transaction.
Insight: Likewise, you can create vendors from your new purchase transaction pages.
---
Import Contacts
If you are migrating from an existing system to Zoho Inventory, you can import all your contacts instead of creating them. You can import contacts from:
Import Contacts from Existing System
You can import your contacts and contact persons into Zoho Inventory in the form of a .CSV or a .TSV file. The file size can be up to a maximum of 1 MB.
To import contacts:
Go to the Contacts tab.
Click the Hamburger icon and select the Import Customers or the Import Vendors option from the drop-down.
Choose whether you're importing the customers/vendors or their contact persons.
Download the sample file and compare it with your file to make sure to have it in the right format.
Click the Choose File button and select the file to be imported from your device.
Choose whether to skip or overwrite duplicate contacts.
Select the Character Encoding based on your import file. By default, UTF-8 (Unicode) is selected.
Choose the appropriate File Delimiter. The default delimiter is Comma ( , ).
Click Next.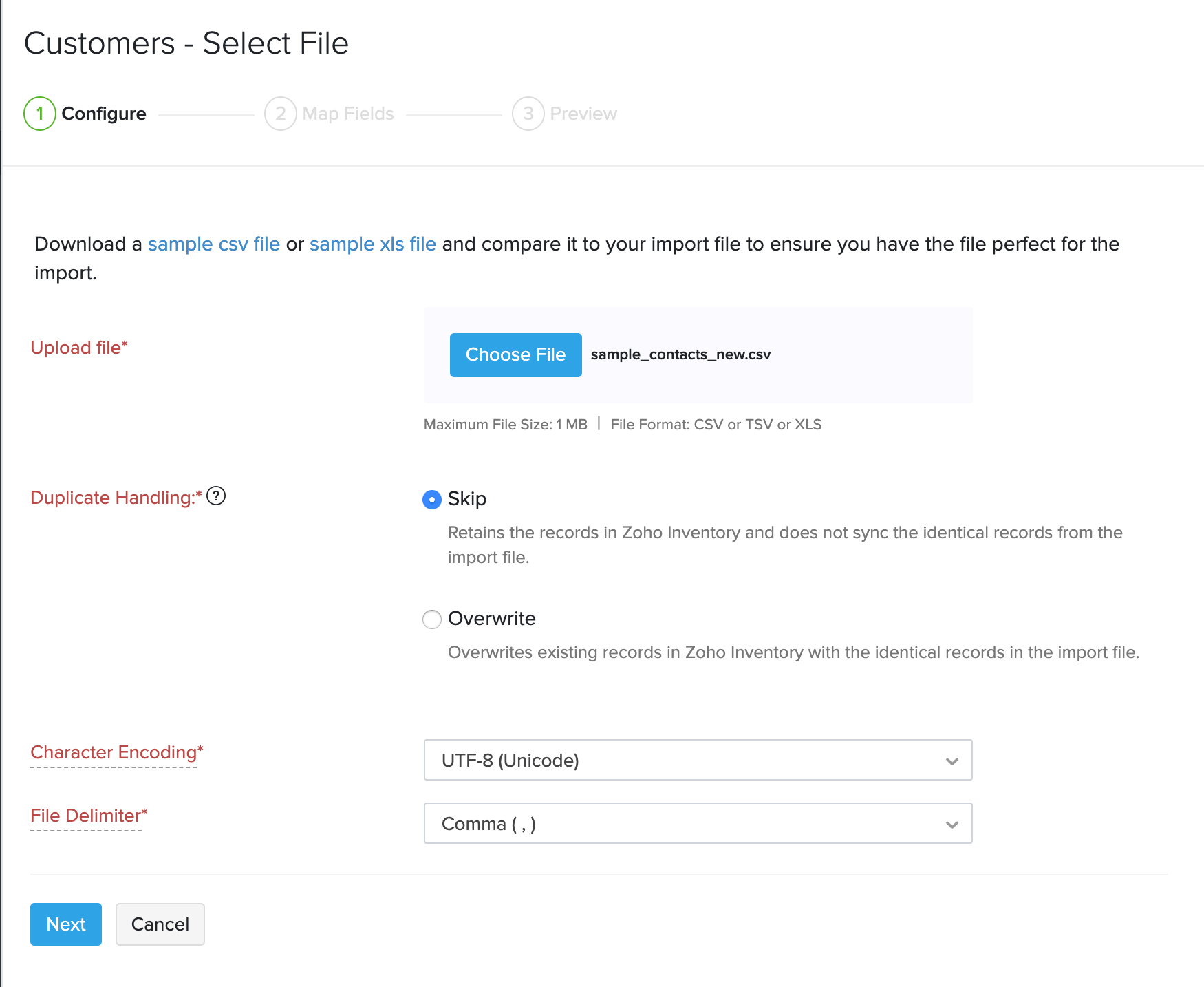 Match the fields from Zoho Inventory (Left) with the appropriate field names in your import file (Right).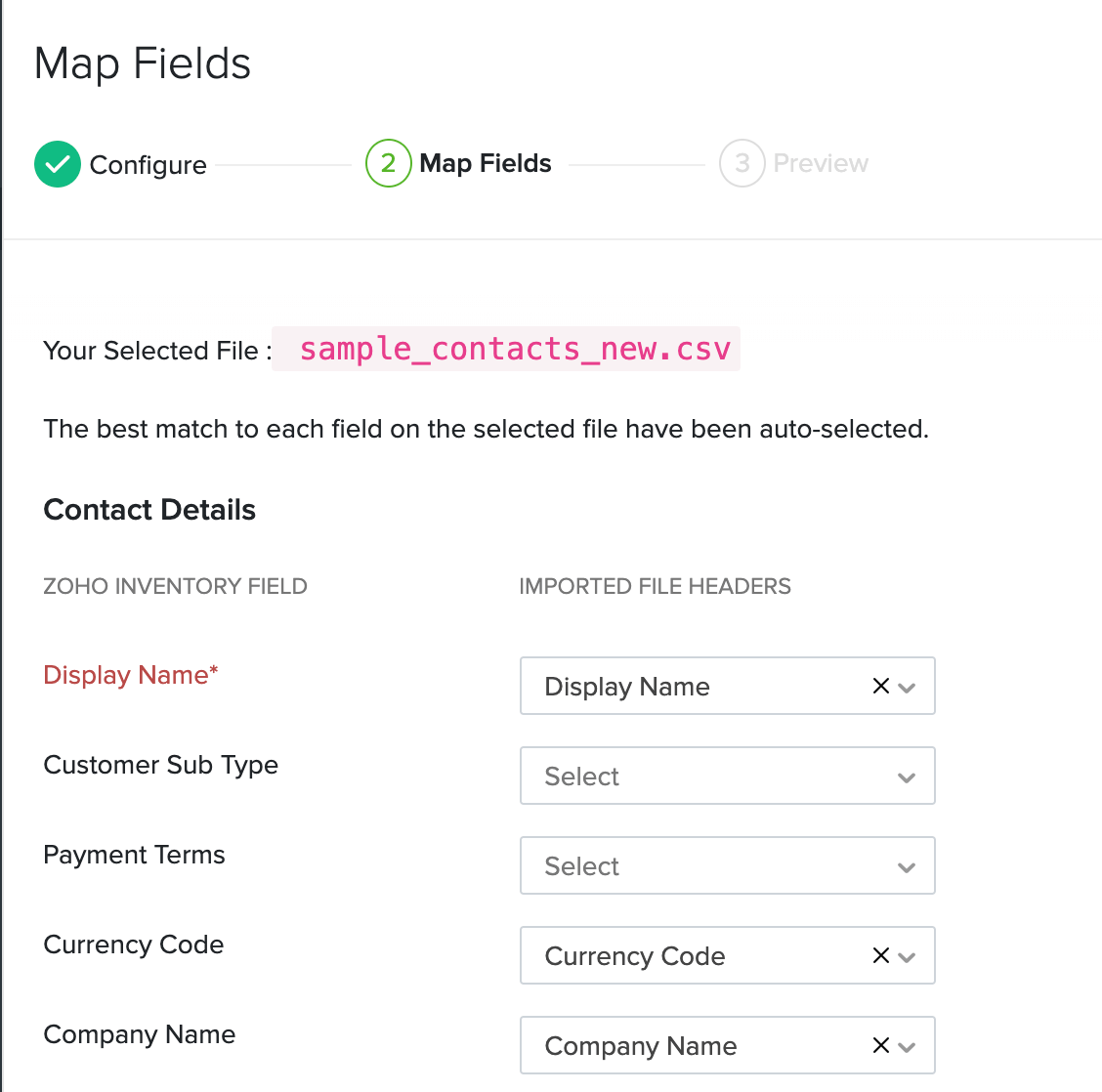 Check the Save these selections for use during future imports option if you wish to use the same mapping of fields in future imports.
Click Next.
You can see the status of all the contacts that are ready to be imported, that are skipped and the unmapped fields. If any contact is skipped, check the file again.
Click Import.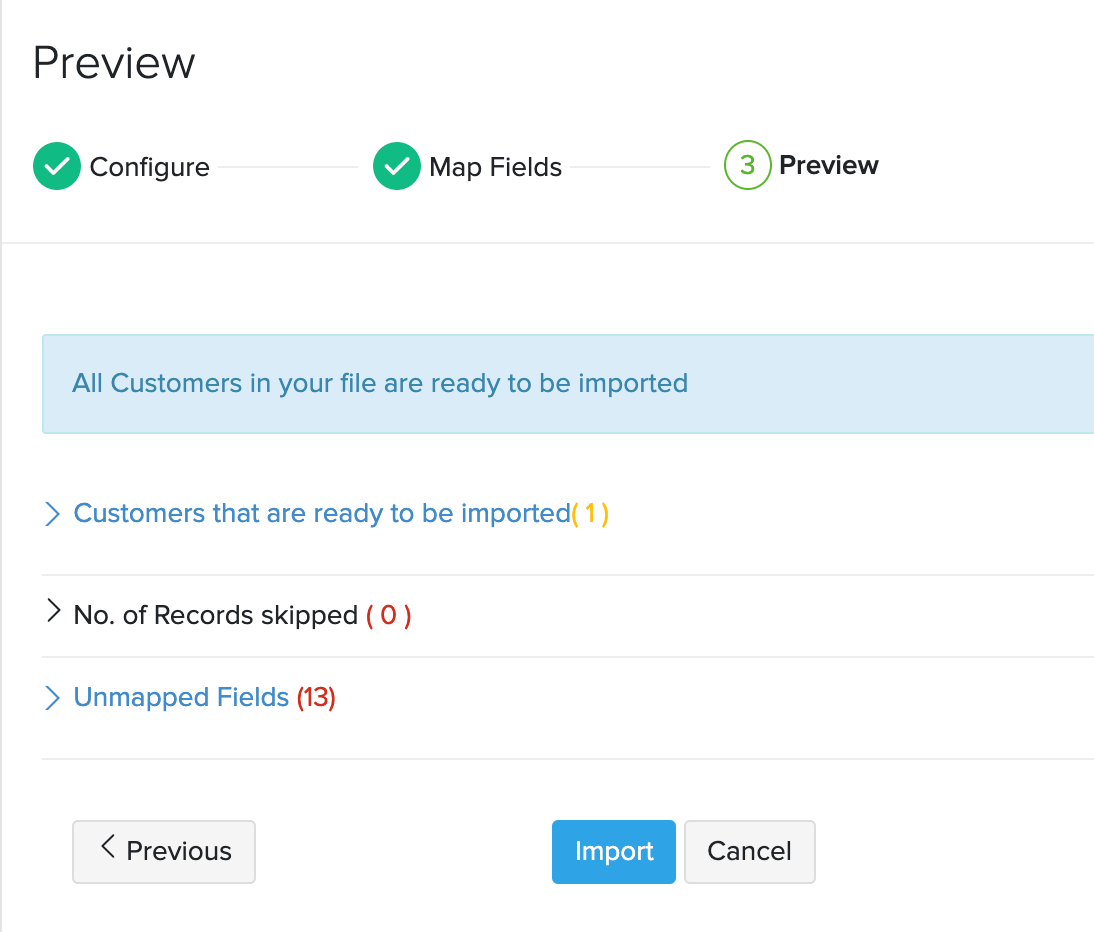 Import Contacts from Zoho Books
The Zoho Inventory and Zoho Books apps are seamlessly integrated and hence, the moment you integrate your organizations in both apps, all your data will be synced i.e., when you add a new contact in Zoho Books, the contact will be available in Zoho Inventory and vice-versa.
Learn more about integrating Zoho Inventory with Zoho Books.
Import Contacts from Zoho CRM
Zoho Inventory can be integrated with your Zoho CRM account. Using this integration, you will able to sync your accounts, contacts and vendors in Zoho CRM, with the contacts module in Zoho Inventory.
This is a two-way integration. Therefore, when you convert a Lead into an Account in Zoho CRM, it automatically gets added as a Customer in Zoho Inventory during the next sync.
Likewise, when you obtain a new Customer from a Marketplace in Zoho Inventory, this customer gets added to your Zoho CRM database.
To know more about the process of integrating Zoho Inventory with Zoho CRM, click here.
Import Contacts from Office365
Office365 is Microsoft's productivity software suite that consists of all office-ready applications. If you have your customer and vendor information in Office365, you can import them into Zoho Inventory.
Before that, you'll have to integrate your Office365 account with Zoho Inventory. After establishing the integration, you can import your contacts from Office365 to Zoho Inventory. Learn how.
Import Contacts from G Suite
G Suite is Google's suite of online apps to connect people in your company. If you have your customer information in G Suite, you can import them into Zoho Inventory easily.
Firstly, you need to set up the Zoho Inventory - G Suite Integration after which, you can import your Google contacts into Zoho Inventory. Learn how.
---
Edit Contact
At any point of time, you can add some missing information or update your contacts' information in Zoho Inventory. To edit a contact:
Navigate to the Contacts module.
Open the contact you wish to edit.
Click the Edit button in the top-right corner of the page.

Update the necessary information.
Click Save to update the changes.
Insight: When you update the billing address or the shipping address of a contact, you can choose to update the changes across all draft transactions of the particular contact.
---