Can I delete my bank account in Zoho Books?
Yes, you can.
However, there are a few points you need to keep in mind before deleting a bank account.
You must Uncategorise and Unmatch all the Categorised & Matched transactions.
Use Exclude option to remove all the other transactions, associated with the bank.
Please note that even though you have satisfied the pre-requisites, there is one case when you will not be able to delete a bank account :
Let us assume you have 2 bank accounts, Bank 1 and Bank 2. And you have earlier defined a transaction rule in Bank 1 with Bank 2 in reference.
In such case, you will not be able to delete Bank 1 unless it is detached or removed from the rule you created.
To Delete a Bank Account :
Click on the Banking module, scroll down and select the bank account you wish to delete. In the screen that follows, click on the Gear icon next to the Import Statement.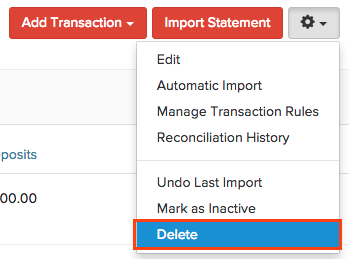 Next, select Delete from the drop-down. You will be asked to confirm your action in the pop-up that follows. Click on the Delete it button to complete this action.