Zoho Books - Paytm Integration
Zoho Books integrates with Paytm–an Indian payment gateway to receive payments from customers using multiple payment options such as credit/debit cards, internet banking, Paytm Wallet and UPI. 
Paytm's UPI mode allows your customers to make payments by entering the UPI ID from any of their UPI-compatible apps like Google Pay, BHIM or PhonePe. 
This integration is applicable only to the Indian edition of Zoho Books and the currency supported is INR. 
In this page..
Enable the Integration
If you have an account with Paytm already, you can enable the integration in no time. Here's how:
Go to Zoho Books > Settings > Integrations. 
Select Online Payments and Paytm will be listed. 
Click the Set up Now button to begin set up.
Note: If you do not have a business account yet, you can create one by clicking Sign Up Now. In the page that follows, provide the details of your business, the address, and other details to submit your request.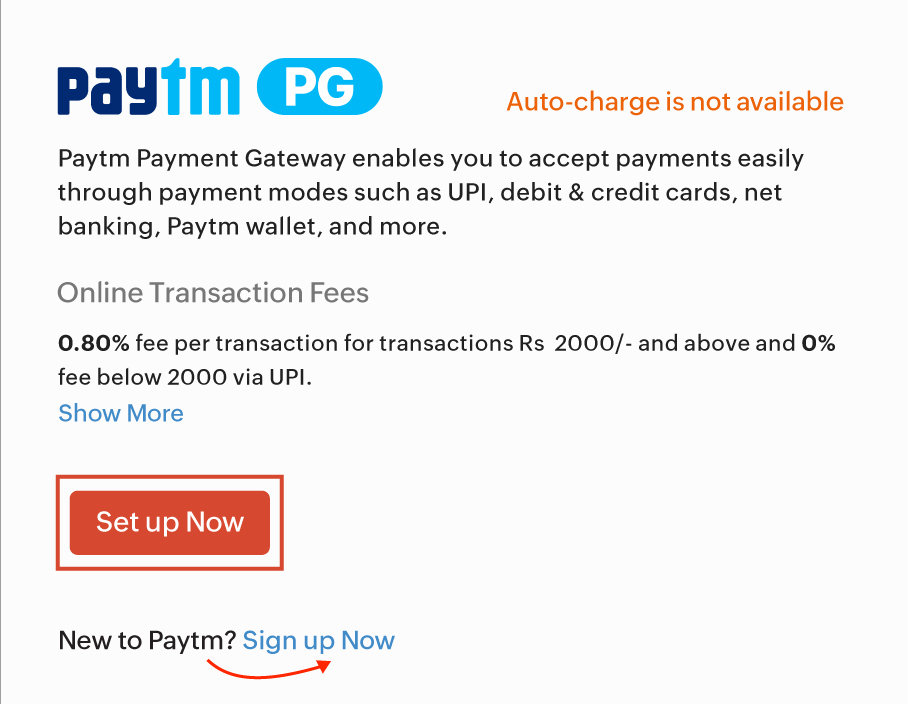 Enter your Merchant ID and Merchant Key.
Insight: The Merchant ID and Merchant Key are provided to you by Paytm when you sign up for their business account.
Select the Bank Account to which you would like to receive and track your payments.
Click Save.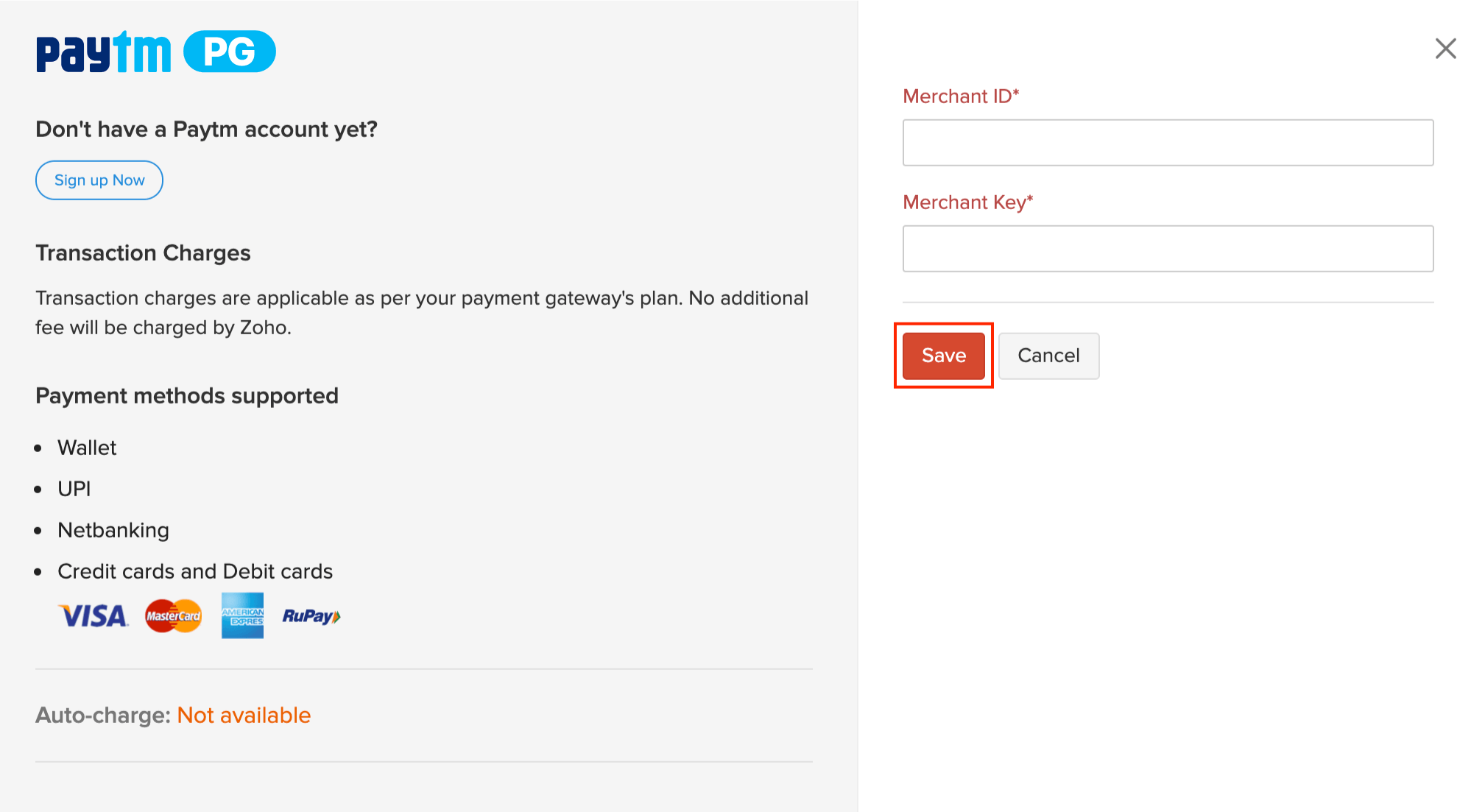 Receive Payments from Customers
Before you receive payments from your customers, you will have to enable Paytm as a payment option in the invoices you create for them. The option will be available at the bottom of your invoice.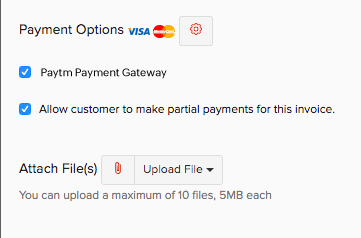 Once you have enabled payment options, your customers can make payments to from their client portal or from the invoice link shared with them. Here's what your customer's will have to do:
View the invoice from the shared link or the client portal.
Click the Pay Now option available in the top-right corner of the invoice. 
Choose a payment mode from the available payment options.
Provided the required details based on the payment mode chosen. 
Click Proceed to Payment. 
Transaction Fees
In some cases, Paytm will levy charges when your customers make online payments via Paytm. These charges will be borne by you (the merchant), and not by your customers. Zoho Books will not levy any additional charges.
You will not be charged any transaction fee for UPI & Debit Card transactions under ₹2000.
| Payment Mode | Fee Per Transaction |
| --- | --- |
| Paytm Wallet | 1.70% |
| UPI | 0.80% |
| UPI & Debit Card transactions under ₹2000 | ZERO |
| Debit Card | 1.10% |
| Credit Card - Visa | 1.90% |
| Credit Card - Mastercard | 1.90% |
| Credit Card - American Express | 2.75% |
| Internet Banking - ICICI Bank | 1.80% |
| Internet Banking - HDFC Bank | 1.80% |
| Internet Banking - Axis Bank | 1.30% |
| Internet Banking - SBI | 1.30% |
| Internet Banking - Other Banks | 1.20% |
Delete the Integration
Your customers will no longer be able to use Paytm to make their payments once you delete the integration. To delete:
Go to Settings > Integrations > Online Payments > Paytm.
Click the Trash icon.
Confirm your action in the dialog box that follows. 

If you would just like to edit your account credentials, click Edit Settings and make the relevant changes.